In October 2018, the Hyundai Kona will make a belated arrival in the already crowded South African compact family car/crossover segment. Sure, it's good, but is that enough to be noticed in a game of automotive 'Where's Wally'? We sent UK correspondent Wayne Gorrett out for a quick test of the UK model to get an idea of what's to come.
The Hyundai Kona is one of the more striking crossovers since the arrival of the Renault Captur a few years ago. Designed by Peter Schreyer, the man responsible for the Kia Stinger and the now-iconic Mk1 Audi TT, the i30-based Kona made its public debut as long ago as June 2017.
Hyundai Automotive SA has confirmed to Cars.co.za that when the Kona makes its local debut it will slot in between the Creta and the Tucson in the Korean importer's local line-up. However, with derivatives in the Creta and Tucson ranges starting from R329 900 and R384 900 respectively, there is just a small R55 000 window in which to position the Kona to avoid clashing with its established stablemates. What are its prospects?
Exterior Styling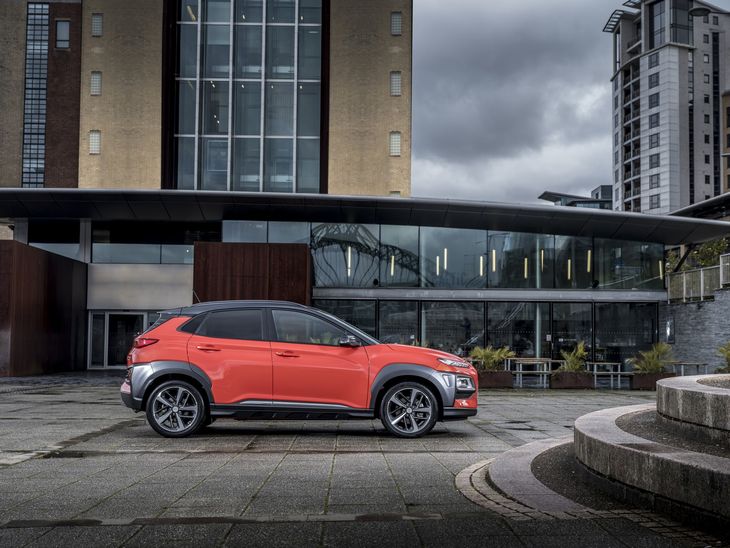 Plenty of black plastic cladding gives it that crossover look but it will only be available as a 2WD model in SA.
As appearances go, the Hyundai Kona stands out as it continues the current trend for dual lighting, with the LED daytime running lights sitting on top of the headlights. A roof-mounted rear spoiler complete with integrated third brake light, a pair of funky roof rails and extensive use of black lower body cladding all emphasise the robust, faux off-road look.
In the UK, the Kona is available in five neutral colours and four rather vivid colours, so your Kona can stand out even more. There are 3 contrasting roof colours and a selection of alloy wheels (ranging from 16- to 18-inch) is available.
The Interior
Although the Kona's cabin layout and execution are not quite as "out there" as the exterior design, the newcomer manages to look pretty stylish inside. The use of colour-coded stitching on the steering wheel and seats and splashes of complementary body-coloured paint on the air vents, gear shifter and starter button surrounds, make it a little easier to forgive the cheap, shiny plastics swathed across the dashboard and door trims.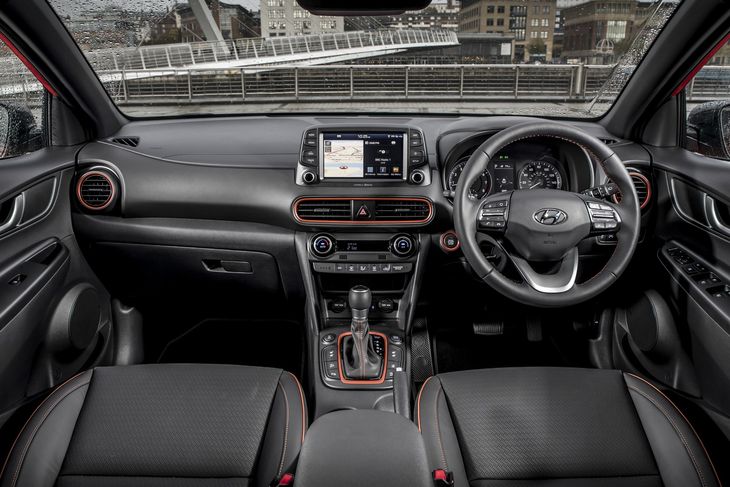 Not quite as exciting as the exterior but the insides appear to be well put together and ergonomically friendly.
If you're expecting the lofty driving position you find in many crossovers, you will be disappointed. The driving position is still rather good, however, thanks to a good range of seat adjustment and a steering wheel that adjusts for both rake and reach.
Like most cars in this sector, the Kona is available with an infotainment touchscreen located in the middle of the upper dashboard and, if recent experience with Hyundai products in South Africa is anything to go by, local models will probably sport an aftermarket-sourced unit, with navigation optional. Hyundai Automotive South Africa sales and operations director Stanley Anderson says that the Executive specification of the Creta and Premium spec of the (current) Tucson provide a good indication of what standard features we should expect on the Kona, these include automatic air-con, multi-function steering wheel, leather trim, electrically-folding side mirrors, a reverse-view camera/rear PDC and probably cruise control.
Shoulder room in the Kona may best be described as snug, but overall the car provides a decent amount of space for a quartet of grown-ups and an almost flat floor and elevated seating means you won't need to sit sideways.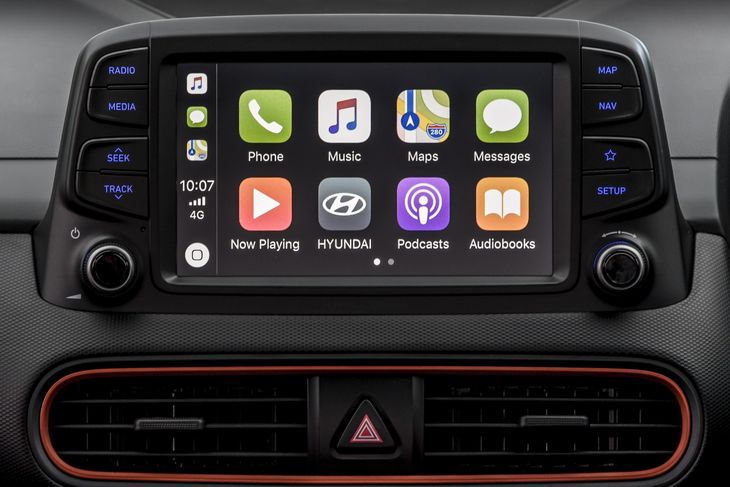 Hyundai's infotainment system incorporates both shortcut buttons and touchscreen accessibility.
Storage for one's daily detritus is adequate and includes cup holders, front door pockets, a decent-sized glovebox and a secret cubby under the central armrest.
The luggage bay, at a claimed 361 litres, is a bit on the small side. If there's only one or two of you, this shouldn't be too much of a problem, as you'll get most of your belongings safely stored under the cover. If you have small children, you should just about be able to fit in a baby buggy diagonally with a bit of space to spare. If you want to include the travel cot and a bundle of cuddly toys though, you'll need to flip down one or both of the 60/40 split folding rear seatbacks to reveal 1 143 litres of cargo space, which is about average for its class.
Engines and Drivetrains
Hyundai Automotive SA has confirmed 2 derivatives for the local market. It will see the introduction of the brand's first 1.0-litre, 3-cylinder turbopetrol engine. The second derivative is the tried and tested 2.0-litre naturally aspirated petrol, which will be exclusively available as an automatic. Both models are front-wheel-drive only.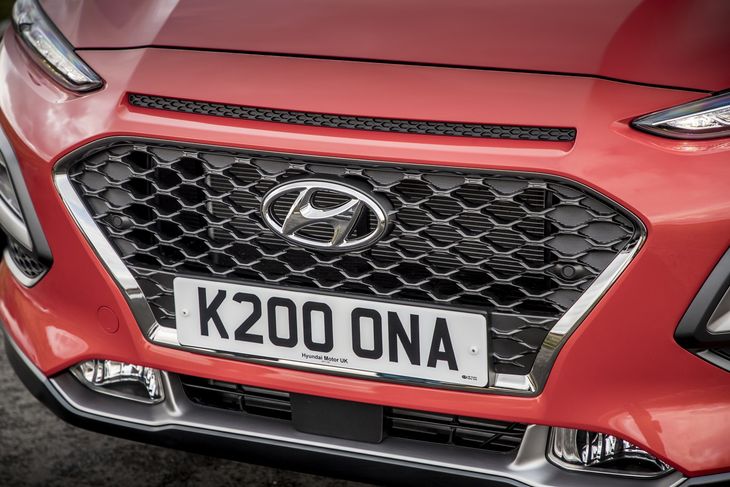 Locally, a new 1.0-litre 3-pot and a 2.0-litre petrol will be the first models to arrive.
The diminutive 1.0-litre, turbocharged 3-cylinder unit offers 89 kW and a healthy 172 Nm of torque. Like many others in the current crop of 3-pot engines, it shows willing and is happy to keep up with quick flowing traffic. It tends to be a touch generous with the revs though when pushing on, with the resultant penalty in fuel consumption. It is paired only with the six-speed manual 'box and 2WD.
Ride and Handling
The Hyundai Kona follows a familiar formula in this area of the market, delivering average performance and safe handling that isn't intended to engage or entertain the driver. The result is a competent car – it doesn't lean noticeably in corners and the steering has a decent sense of weight to it, but the Kona neither handles like a Mazda CX-3, nor soothes like a Renault Captur (when shod with its sportiest rim and tyre combo).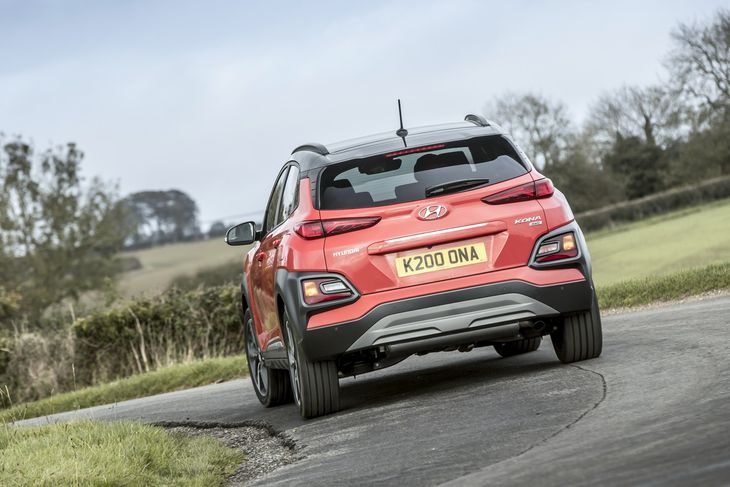 Handling appears to be safe but not exciting. NVH levels are excellent.
The 1.0-litre petrol comes with a 6-speed manual gearbox, which can feel a little clunky and the car understeers in a predictable manner when pushed hard through the twisty bits. While the Kona displays decent body control, the trade-off is a firm ride, while the vague-feeling steering does little to enhance the overall driving experience.
Better news is that the Kona is fairly quiet at motorway speeds, which is good, because the newcomer feels particularly adept at cruising and pootling around town, two things it was expressly designed for. As long as you don't expect more, you shouldn't be overly disappointed.
Safety and Reliability
The Hyundai Kona emerged from Euro NCAP's rigorous crash-test regime with a creditable 5-star safety rating. Its adult occupant protection score of 87% narrowly beat its rating for child occupant protection, where it scored a solid 85%.
While these statistics mainly reflect the strength and design of the Kona's structure, UK and EU models were rated highly for their standard safety equipment, too. It is hoped that South African buyers are afforded the same level of safety, although it remains to be seen if curtain airbags will be standard, Hyundai SA has at least confirmed that all models will have stability control, blind-spot monitoring and cross-traffic alert.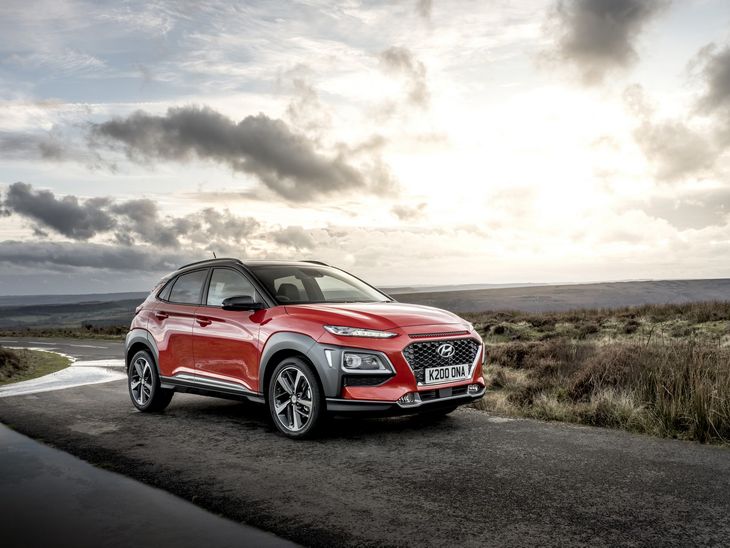 Stability control will be standard fare in the Kona, a solid step in the right direction for Hyundai SA.
The Hyundai Kona is an all-new car, making it impossible to give a definitive verdict on its reliability. However, the brand generally has a good reputation and positive experiences may be expected by owners. The very strong results attained in independent crash safety testing should inspire passenger confidence, too.
Summary
The Kona offers more visual appeal than the brand's other cars, but delivers sensible competence across the board, rather than excellence in any one area. In terms of this author's perspective of the UK market, the Kona's place in the middle of the leaderboard is evident when you look what's around it... other cars in the class trump or at least match the Kona for interior design, quality and versatility, economy and value-for-money.
Considering that the Kona is, by Hyundai Automotive SA's own admission, not as ultimately practical as the wildly popular Creta, the importer doesn't expect the stylish crossover to match its sibling's sales figures. What is clear, however, is that the Kona will appeal to young upwardly mobile singles and dinks in a way that the Creta can't. It certainly is a lot more fashionable than the conventional C-segment hatchback it is based on...
Related content:
Hyundai Tucson Sport (2017) Quick Review
Kia or BMW? Is Actually a Real Question Now
Hyundai Creta vs Suzuki Vitara vs Renault Captur (2017) Comparative Video Review