Hyundai's Grand i10 hatchback range has been updated in South Africa with revised specification and welcomes a new entry-level derivative to the range. See what's changed...
Hyundai's Grand i10 is a popular vehicle in South Africa that offers affordable mobility for the budget-orientated buyer. The Grand i10 has now been updated with revised specification as well as the addition of a new entry-level model.

"We had a relook at the Grand i10 range, change the specification levels and added a new entry derivative with a 1-litre engine and the Motion specification level. The end result is a hatchback model with a variety of derivatives that offer exceptional value," says Stanley Anderson, sales and operations director of Hyundai Automotive South Africa.
The Range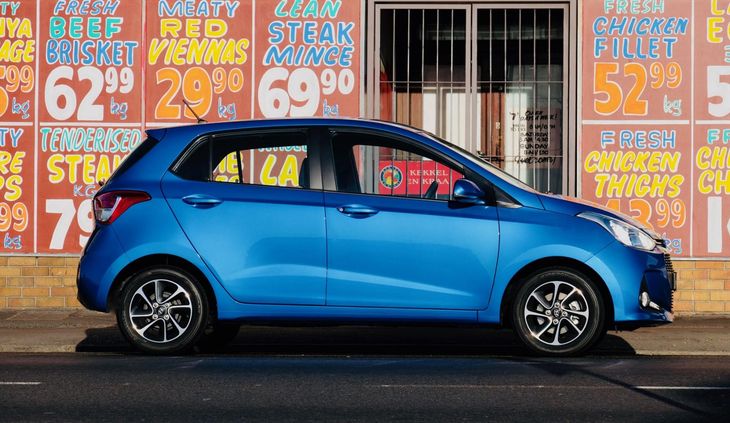 There are 6 derivatives in the Grand i10 range with 2 engine choices on offer.
The Grand i10 Motion derivative is offered with either a 5-speed manual or 4-speed automatic transmission while the Grand i10 Fluid is equipped with a 5-speed automatic transmission. These 3 derivatives are powered by a new 1.0-litre, 3-cylinder petrol engine with 48 kW and 94 Nm of torque. Fuel consumption for this engine is rated at 5.4 L/100 km (manual) or 5.9 L/100 km (automatic).
The remaining 3 derivatives, including the flagship Grand i10 Glide and Grand i10 Fluid with a 5-speed manual transmission as well as the Grand i10 Fluid with its 4-speed automatic, are all powered by a 1.25-litre, 4-cylinder petrol engine with 64 kW and 120 Nm of torque. Fuel consumption is claimed at 5.9 L/100km (manual) or 6.9 L/100km (automatic).
Specification update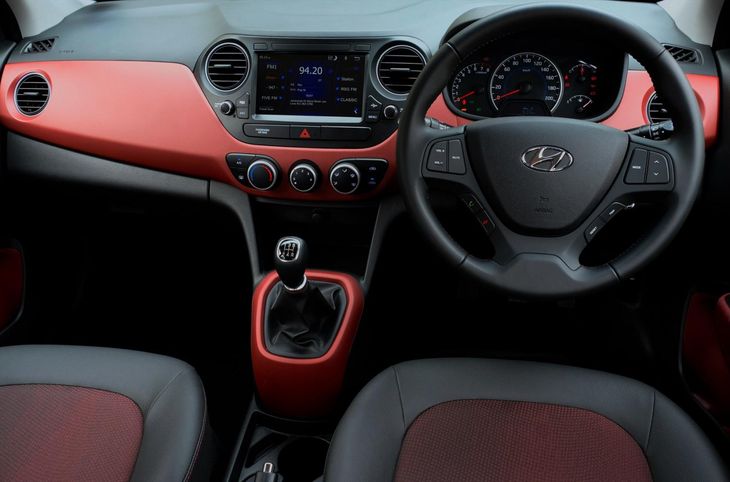 The interior of the Grand i10 now offers more features including an additional front passenger airbag.
All derivatives in the Grand i10 range now have an additional passenger airbag, as well as steering wheel-mounted controls.
The Grand i10 Fluid and Glide derivatives are fitted with electric-folding and heated side mirrors and a full-colour infotainment touchscreen. Customers can also equip these derivatives with an SD memory card that will activate navigation at an additional cost of R2 500.
All derivatives are equipped with USB and Aux ports, fog lamps, full-size spare wheel, 14-inch alloy wheels and driver's seat height adjustment. The flagship Glide derivative is also fitted with rear park distance control.

The Grand i10 offers 256 litres of luggage space which expands to 1 202 litres with the rear seats folded down.
There are 8 exterior colours to choose from including Star Dust, Phantom Black and Polar White to a lovely Flame Orange, Fiery Red, Wine Red, Marina Blue and Sleek Silver.
Hyundai Grand i10 - Price in South Africa
Grand i10 1.0 Motion manual - R149 900
Grand i10 1.0 Motion automatic - R169 900
Grand i10 1.0 Fluid manual - R169 900
Grand i10 1.25 Fluid manual - R189 900
Grand i10 1.25 Fluid automatic - R206 900
Grand i10 1.25 Glide manual - R202 900
The Hyundai Grand i10 is sold with a 5-year/150 000 km warranty, 2-year/50 000 km powertrain warranty and roadside assistance.
Buy a Hyundai Grand i10 on Cars.co.za
Related Content
Spy Shots: Hyundai Atos, i10 and facelifted i20
Hyundai Grand i10 Updated in SA