There's a new Hyundai Elantra compact sedan in South Africa and we got a chance to sample the Korean newcomer. Is it any good? Let's find out.
The Elantra has been a fairly successful product for Hyundai (it sold no fewer than 14 722 units of the outgoing model) and the firm feels confident that the new one, which now makes its somewhat belated arrival on local soil, can replicate this success. The Elantra's rivals include the Toyota Corolla, Mazda3, Kia Cerato and Ford Focus (not forgetting the long-serving Volkswagen Jetta), but given the price and performance of the new 1.6-litre turbopetrol flagship, we think the Honda Civic and forthcoming Subaru Impreza are in its crosshairs too.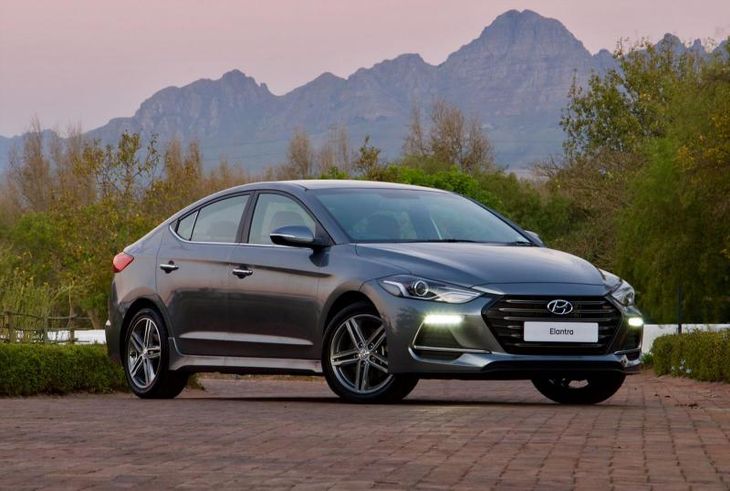 The new Hyundai Elantra now boasts a performance flagship, equipped with a dual-clutch 'box and turbocharged engine.
What's new?
There's evolutionary exterior styling, with the Sport model featuring an aggressive kit with large wheels and prominent exhaust tips. It's not a dramatic change in the visual scheme of things, but the overall design is neat and elegantly upmarket. Engines have mostly stayed the same, with a 1.6, 2.0 doing duty.
However, in the Sport model, there's a 1.6-litre turbocharged petrol engine lifted straight out of the Veloster Turbo. It's good to see an array of transmissions being offered to customers. A 6-speed manual, a 6-speed automatic and we're happy to see the 7-speed dual-clutch transmission make its way into the top-of-the-range derivative.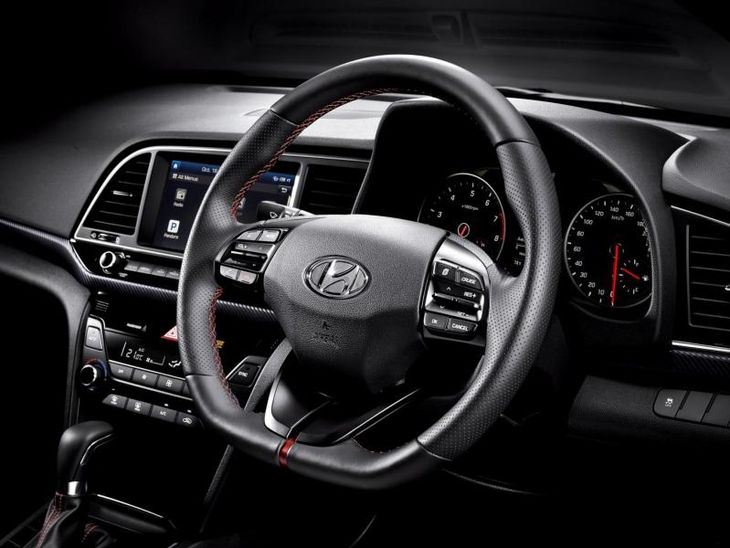 The red trim may not be to everyone's tastes, but it gives the cabin a sporty feel. Fortunately, the car is sporty to drive too.
The drive
There are four derivatives to choose from, but on the launch, we were only exposed to the new 1.6 Turbo Elite range topper. With its rorty 1.6-litre turbo 4-cylinder motor pushing out 150 kW and 265 Nm, we found ourselves grinning by virtue of the Elantra's spirited performance – this is uncharted territory for a brand like Hyundai, especially as far as its sedan offerings are concerned! In this specification, the Elantra is a semi-luxurious performance machine. The engine is willing to please and the 7-speed DCT 'box does a good job of channelling the power to the (front) wheels in a seamless and smooth fashion. You can use the steering-wheel-mounted paddles to make manual gear shifts too, which we enjoyed.
Hyundai claims its new Elantra is lighter and stiffer than the previous model and that the redesigned rear suspension results in a more resolved ride quality and sharper dynamics – claims we could put to the test on the launch. Our route took us through some of the finest driving roads in the Western Cape and we were impressed with how composed the new Elantra feels.

Sharper lines, daytime running lights and sportier alloy wheels make the new Hyundai Elantra stand out a bit more
It's become a bit of a performance derivative, but we're not saying this is a pukka sporty sedan; rather think of it as a well-specced and -built compact family car that boasts better-than-expected acceleration.
Meanwhile, the cabin in the Hyundai Elantra Sport looks a lot more upmarket than its predecessor, even if the fascia layout is neat and workmanlike, as opposed to slick and fashionable. Taking pride of place in the fascia is a new touchscreen infotainment system with satnav and Bluetooth connectivity, which is complemented by auxiliary and USB ports. In flagship spec, the Elantra features maroon seats with red trim on the steering wheel – just a little something to remind you know that you're piloting a sportier-than-standard Elantra, but it won't be to everyone's tastes. As for occupant space, there is generous shoulder-, head- and rear legroom, whereas the boot capacity (at a claimed 458 litres) is good for this segment.
Summary
The Elantra certainly represents a leap forward for the compact sedan segment, which is gritting its teeth in the face of an onslaught of compact family cars/crossovers. Compared with the Elantra, the Corolla feels a tad dated and while the Focus sedan boasts a modern big-turbo-small-capacity engine at a lower price point, its cabin lacks the Korean sedan's build quality and premium finish. We're also impressed with the level of specification (including cruise control, front armrest, rear park assist) and safety features (6 airbags and ISOfix child seat mounting points) offered in this product. Given its specification, performance and price, the Elantra flagship is firmly knocking on the doors of premium-badged rivals...
Hyundai Elantra prices in South Africa (June 2017)
The new Hyundai Elantra comes with a 5-year/150 000 km manufacturer's warranty, with an additional 2-year/50 000 km manufacturer powertrain warranty. Furthermore, there is roadside assistance for 5 years (or 150 000 km) and a 5-year/90 000 km service plan. The intervals are 15 000 km.
| | |
| --- | --- |
| 1.6 Executive | R299 900 |
| 1.6 Executive Auto | R314 900 |
| 2.0 Elite | R349 900 |
| 1.6 Turbo Elite | R399 900 |
Related content
Hyundai Grand i10 (2014) Review
Hyundai i20 Range Expands in SA
Hyundai Kona SUV Teased
Hyundai Creta & Toyota C-HR (2017) Video Reviews
Hyundai Creta (2017) Video Review
Hyundai Elantra (2017): 5 Things To Know
Hyundai Tucson 1.7 CRDi Executive (2017) Review