We recently got the chance to put the updated Hyundai Creta through its paces in the Western Cape. Is it fair to expect that the Korean firm's compact family car will carry on the sales success of the pre-facelift model, or should you look elsewhere?
Last year, the Hyundai Creta comfortably outsold everything in its segment and it's on course for a repeat performance in 2018. Now for 2018, Hyundai South Africa has updated its 3-derivative compact family car range and we took the updated model for a drive along tarmac and gravel roads during its local launch.
What's Changed?
The key changes are cosmetic in nature: the Creta's front end is characterised by a new cascading grille (as featured on the Tucson) and reshaped fog lamps cupped by LED daytime running lights, while the rear features a modified rear bumper and LED detailing. Lower-profile roof rails and restyled alloy wheels complete the look.
Inside, the specification remains generous with leather upholstery, a leather-wrapped multifunction steering wheel (with audio, driver info, and cruise control toggles), a touchscreen infotainment system with MP3/Bluetooth/USB/Aux inputs, plus you can spec an additional satellite navigation function for R 2 522 (September 2018). Safety equipment has always been a key talking point with the Creta and the updated range boasts rear park assist with a reverse-view camera, dual front-, side- and curtain airbags and ABS with EBD. Frustratingly, there's still no form of stability control, but the problem is not a South African one – it's not available in the Creta anywhere.
There is still just one level of trim: Executive, with the option of a naturally-aspirated 1.6-litre petrol engine (with 90 kW and 150 Nm) paired with either a 6-speed manual gearbox or 6-speed automatic transmission. The flagship derivative is powered by a 1.6-litre turbodiesel engine (with 94 kW and 260 Nm) with an automatic gearbox.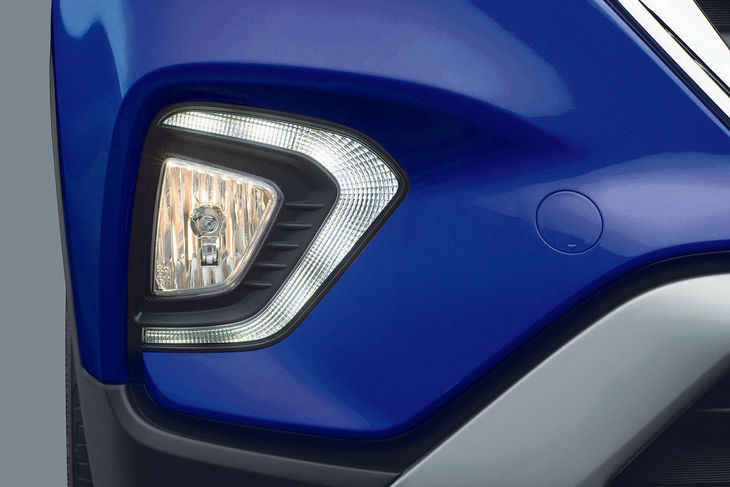 New fog lamps with integrated daytime-running lights are just some of the visual changes in the facelifted Hyundai Creta
What's It Like To Drive?
We drove the 1.6-litre turbodiesel automatic on the launch route, which comprised some sweeping mountain passes, as well as a section of muddy road riddled with potholes. We've always liked the Creta; it's an unpretentious, and especially spacious, vehicle, with reasonable practicality and spec. It's satisfying to drive to boot.
Compared with its petrol-powered siblings, the turbodiesel has a massive advantage by virtue of its 110 Nm of extra torque. Apart from the better fuel consumption (Hyundai claims 7.4 L/100 km, compared with the petrol auto's 8.4 L/100 km), if you go on a long family journey with the luggage bay loaded (it's said to have a 402-litre capacity, which is one of the biggest in the segment), you're likely to appreciate the additional shove – and you wouldn't have to work the engine especially hard.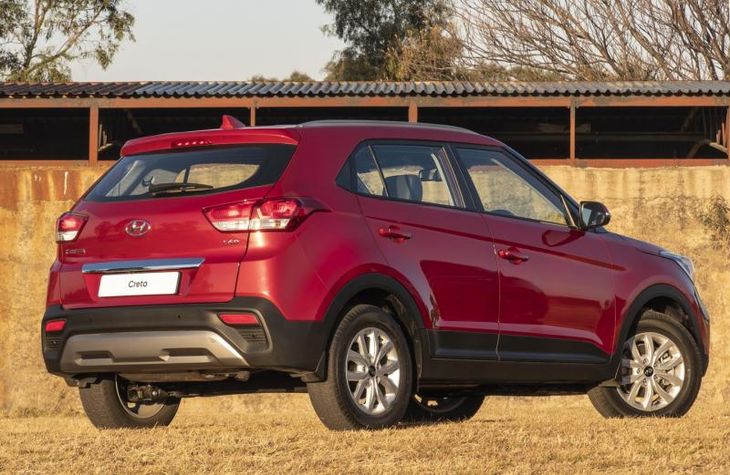 With a ground clearance of 190 mm, the Creta is well prepared to take a lot of punishment on gravel and light off-road routes.
Meanwhile, the Creta's driving experience is generally satisfying, even if road noise tends to intrude at higher speeds. The engine only "clears its throat" once you're really pressing on (and using all of the available revs), but the noise is mostly muffled, plus the automatic 'box shifts commendably smoothly. When we left the tarmac and traversed some muddy, rutted farm roads, we were impressed with the how well the Creta's suspension soaked up the majority of the bumps. It was only when negotiating truly horrible sections (where we were forced to slow right down to drive through unavoidable potholes) that impacts sent jarring noises reverberating through the cabin. Having said that, with a ground clearance of 190 mm, we believe that the Creta can take a lot of punishment on gravel and light off-road routes.
Verdict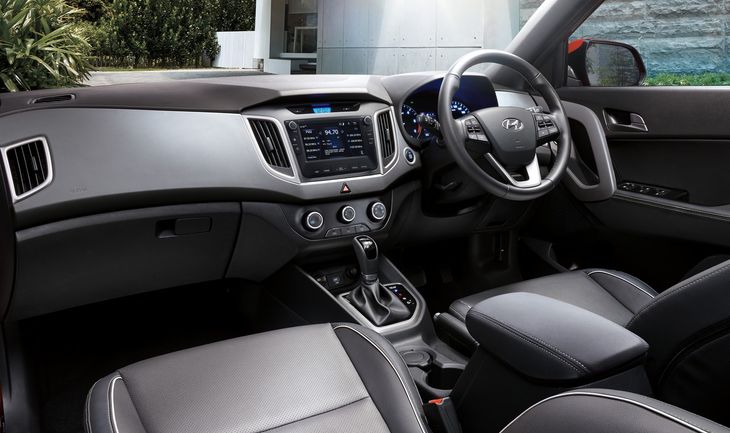 Thanks to fair specification and a simple layout, the cabin of the Hyundai Creta remains a pleasant place.
While the visual changes bring a fresh look to the Creta, its driving experience remains largely unchanged. It's still nimble on its feet, with a pleasantly light steering, and thanks to that generous ground clearance, pretty useful if you want to traverse gravel roads. It can also tow up to 750 kg, making it quite a versatile compact family car.
The facelifted Hyundai Creta should continue to be a popular choice for small-family transport; we'd heartily recommend the turbodiesel-powered derivative (if you can afford it, of course) as it offers commendable in-gear punch, as well as the benefit of good fuel economy. With almost double peak torque compared with its petrol-powered siblings, we think the turbodiesel option makes the most sense if you routinely have 4 people aboard and a luggage bay heavily packed with cargo.
Prices for the Hyundai Creta in SA (September 2018)
These include a 5-year/90 000 km service plan, a 7-year/200 000 km warranty (comprised of Hyundai's 5-year/150 000 km warranty – with an extended 2-year/50 000 km drivetrain warranty) and roadside assistance for 5 years or 150 000 km (whichever lapses first). It's interesting to note that the facelifted version pricing hasn't changed dramatically either: the outgoing Creta cost R329 900, R349 900 and R384 900 for the 1.6 manual, 1.6 automatic and 1.6 turbodiesel automatic respectively.
| | |
| --- | --- |
| Creta 1.6 Executive (manual) ­ | R339 900 |
| Creta 1.6 Executive (automatic) | R359 900 |
| Creta 1.6 Executive Turbodiesel (automatic) | R399 900 |

Further reading:
Want to buy a Hyundai Creta?