Remember Honda's cute city electric car concept? Well, it's taken a few big steps closer to production and next week what you see here will be showcased at the Geneva Motor Show. This is the Honda e Prototype.
Back in 2017, Honda revealed its Urban EV Concept which had tongues wagging. Not only was its retro styling dripping in cool, but its electric tech under the skin made a bold statement of intent for Honda's EV strategy. Now, the Honda e Prototype has been revealed ahead of a public debut at the 2019 Geneva Motor Show.
Honda claims this e Prototype is near production ready and says that the final version will begin production later this year. Featuring things like flush pop-out door handles and cameras replacing the side mirrors, the Honda e Prototype certainly looks fresh and we're happy to say that not too much in terms of design has been lost from the original concept. Inside, the cabin looks spacious and modern and features a massive intuitive and customisable dual screen horizontal display with all the latest applications and connectivity services.
This is the first compact Honda car on a dedicated electric vehicle platform and Honda claims it has a range of over 200 km and with the fast charge functionality, 80% of battery is available after just 30 minutes of being plugged in. It also features rear-wheel drive, which Honda claims will deliver a fun and emotive experience.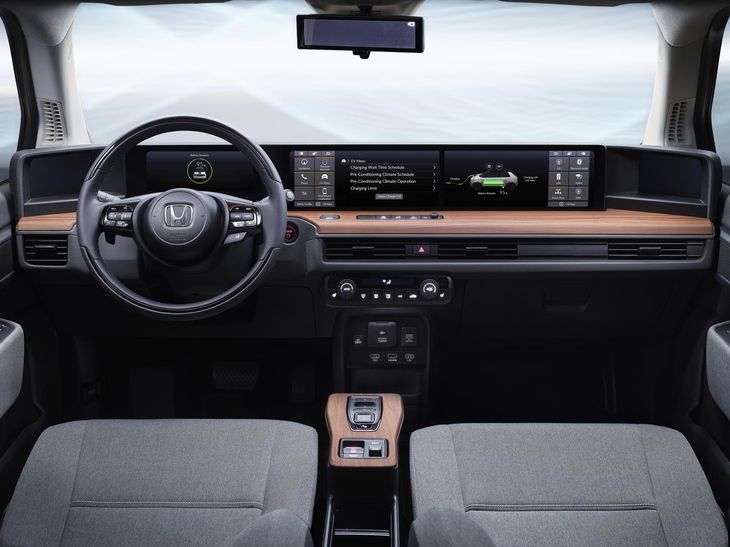 The Honda e Prototype cabin featuring a futuristic connectivity and infotainment setup
Further Reading
Honda's Radical New Full-Screen Cabin
Honda's Urban EV concept previews electric future