The recently-launched Civic Type R hot hatch has reaffirmed Honda's ability to produce a visceral performance vehicle (regrettably, only on the odd occasion, these days), so can the Japanese marque maintain momentum and successfully instil its sportiest DNA in the Jazz compact hatchback? We review the new Jazz 1.5 Sport to see if it ticks enough boxes to keep driving enthusiasts satisfied.
We like: Purposeful looks, comprehensive spec, still one of the most practical cars in its class
We don't like: Uninspiring to drive, CVT auto 'box saps driver engagement, coarse engine note
Alternatives (prices as of April 2018):
Want to go faster? For just R10k more, you can get behind the 'wheel one of the most enthralling compact hatchbacks of all. The Ford Fiesta ST trounces the Jazz Sport both in terms of outright performance and involvement. However, it lacks the Honda's practicality and will soon be replaced.
Want a slightly more premium car? The new Volkswagen Polo has arrived and it comes to the party dressed in smart, sophisticated attire. The Volkswagen offers similar power, but considerably more torque and has near-unimpeachable build quality. It doesn't have any sporty ambitions, however.
Is a premium German product within reach? Why yes, it is. For the same price at the 1.5 Sport, an Audi A1 is within your grasp, but it doesn't produce as much power from its compact engine, plus you'll need to fork out for options to bring it up to the same level of spec as the Jazz.
Strapped for cash? If bang-for-buck value is what you're after, then consider the Renault Clio GT Line. Should reasonably sporty performance, generous specification and outright affordability be your main requirements, then give the French car a long, hard look.
The #CarsAwards winner: The Mazda2 has gatecrashed the hatchback party thanks to a combination of fair spec, a satisfying driving experience, and an excellent warranty. It's hard to ignore.
Compare the Honda Jazz Sport to its rivals here.
What is it?
The demure (if supremely practical and reasonably well-made) Jazz compact hatchback is not a product upon which most people would expect to see a Sport badge on the tailgate, but Honda nonetheless thought it prudent to enter the lukewarm hatchback market with its 1.5 Sport. The Jazz is a sensible product that appeals to mature buyers and thanks to its rear seats that fold flat, generous spec and overall comfort, the Japanese hatchback's a good allrounder... even if sportiness is not its forte.
Honda claims the 1.5 Sport was inspired by the Type R and while it's not going to break lap records, the newcomer, which effectively supercedes the Dynamic derivative as the flagship, seems an intriguing addition to the Jazz line-up. It's an interesting direction from Honda and we can see why the brand's trying to target a younger audience. Next time you see a Jazz on the road, take careful note of the age of its driver. Most times it's someone older, but can a sportier version change that?
How does it fare in terms of…
Kerb appeal?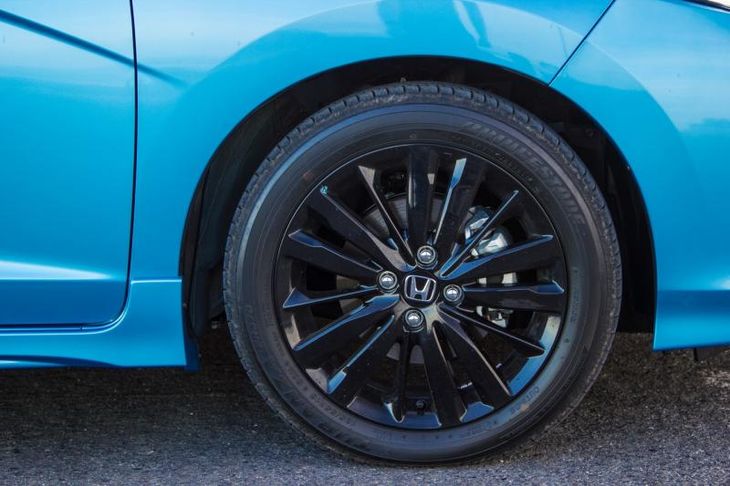 Gloss black 16-inch alloy wheels add to the JDM theme, but don't impact on ride quality too negatively.
Honda has done a stellar job in making the Jazz Sport look the part. There's an exciting palette of colours to choose from and our test unit came finished in a sharp-looking SkyRide Blue metallic. At first glance, there's a distinct aftermarket JDM (Japanese Domestic Market) look about it, with its glossy black 16-inch alloy wheels, red pinstripe details fore and aft and a substantial spoiler mounted on the tailgate. From a front 3-quarter angle, the 1.5 Sport definitely looks purposeful thanks to its new LED daytime running lights and gloss black detailing. The cabin too has received some sportier tweaks in the forms of subtle red stitching and metallic sports pedals.
The sporty changes are not just of a visual nature either, there are mechanical upgrades as well, even if they don't seem hugely significant: the suspension has been reworked (new damper settings), the steering rack's been beefed up and the braking system now sports discs all round (where other versions have drums at the rear).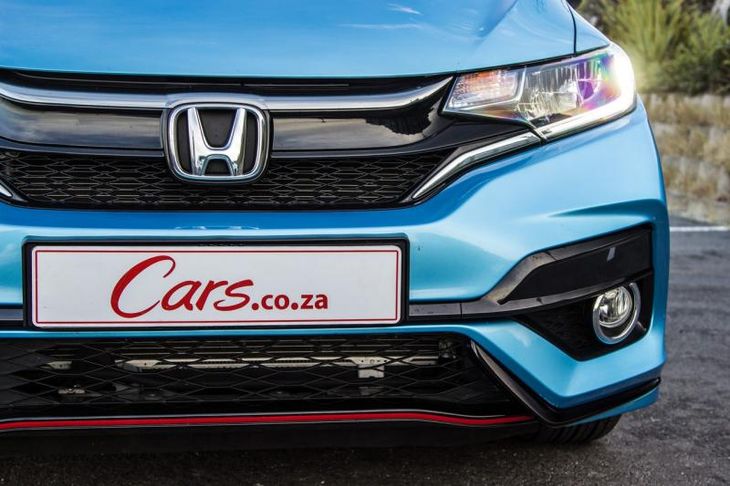 The combination of red detailing and new sharp-looking LED lights make the Honda Jazz Sport look purposeful
Comfort & Practicality?
Sporty aspirations aside, you're still going to be ensconced in a Honda Jazz – a vehicle renowned for its practicality, comfort and sensibility. The cabin boasts best-in-class capacity and if you're regularly carrying considerable loads of cargo, you'll find that the luggage area offers oodles of space when the seats are folded flat.
The headroom availed to taller folk is commendable and rear legroom is impressive too, given the size of the vehicle. In terms of cabin quality, we feel that the Jazz's interior has fallen behind in the past few years; there's plenty of cheap-feeling plastics in the cabin. That being said, we anticipate those plastics to be quite durable.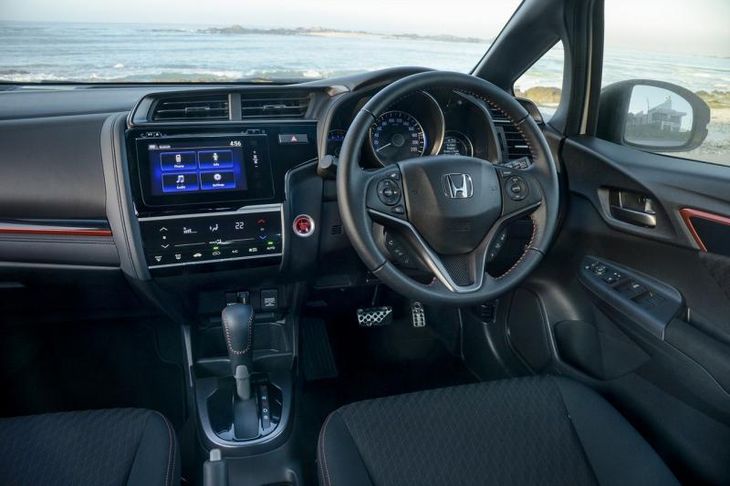 Comprehensive specification is required at this price and the flagship Jazz delivers
Being the flagship derivative in the Jazz family, you'd expect the Sport to well-equipped – and it is. Push-button start, keyless entry, 6-speaker audio system, 7-inch touchscreen display, Bluetooth connectivity, USB/HDMI connectivity and a reverse-view camera are just some of the standard features. Safety has always been well covered by Honda and the flagship Jazz Sport is no exception: there are 6 airbags, ABS with EBD, Vehicle Stability Assist (VSA) and Hill Start Assist (HSA).

The flat-folding flat rear seats are genius – undoubtedly one of the best features of the Honda Jazz
Performance & driving engagement?
Under the bonnet sits a revised version of the 1.5-litre 4-cylinder petrol motor (claimed peak outputs of 97 kW and 155 Nm of torque), which drives the front wheels through a continuously-variable automatic transmission (CVT). A CVT wouldn't be our first choice for a sporty driving experience and it's interesting to note that in European markets, the 1.5 Sport is available with a manual 'box.
As expected, you need to rev the naturally aspirated engine hard to get the most out of it and those who've grown accustomed to the compact turbo engines will find the lack of immediate torque a little offputting. For those who were born and raised on rev-happy motors, it'll be business as usual as peak power arrives at a lofty 6 600 rpm!
Frustratingly, the engine's performance characteristics don't seem particularly well calibrated, or at least suited to, the leisurely way the CVT operates. Even in Sport mode, the engine tends to make more noise than deliver purposeful acceleration and when you're approaching the redline, the cabin is filled by a raucous din. Alas, despite the paddle shifters located on the wheel, the vehicle doesn't deliver as much driver involvement as we believe it would if it came with a manual gearbox.
The 1.5 Sport is zippy enough in short bursts, but the lack of torque becomes apparent when you try to perform 80-120 kph overtaking manoeuvres, for example. This problem will be exaggerated in the thinner air of Gauteng, where naturally-aspirated motors suffer a small power dropoff, so plan your freeway overtakes very carefully.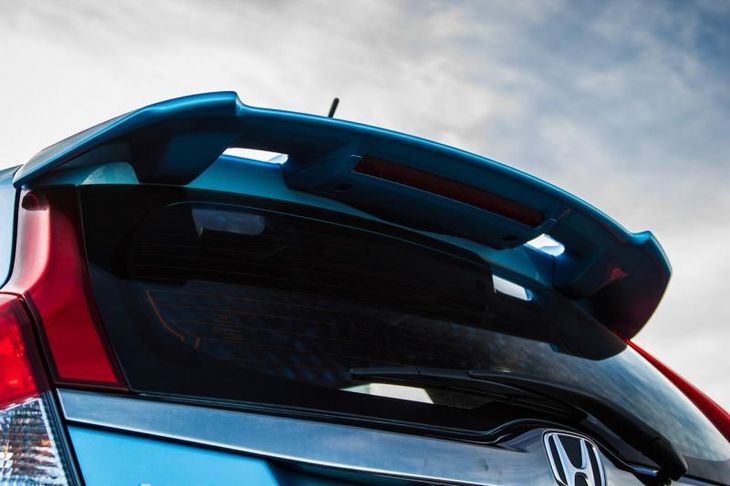 The racy-looking wing is a nice touch, even if we doubt it generates additional rear downforce.
It's when you're NOT driving like an extra in the Fast and the Furious franchise that the 1.5 Sport recoups some territory. Unlike some humdrum cars that have received sporty makeovers, the 1.5 Sport isn't compromised. It's ride quality is firm, yes, but not rock hard, and you'll find the car adept at soaking up potholes or floating over speed bumps. The steering is light/largely lacking in heft and feedback, but within the confines of an urban environment the small turning circle makes up for that.
Price and after-sales service
The new Honda Jazz 1.5 Sport (R310 000) is positioned atop the Jazz range and replaces the Jazz Dynamic CVT. It comes with a 5-year/200 000 km warranty and a 4-year/60 000 km service plan, as well as a 3-year AA Roadside Assistance package. Services are at 15 000 km intervals.
Verdict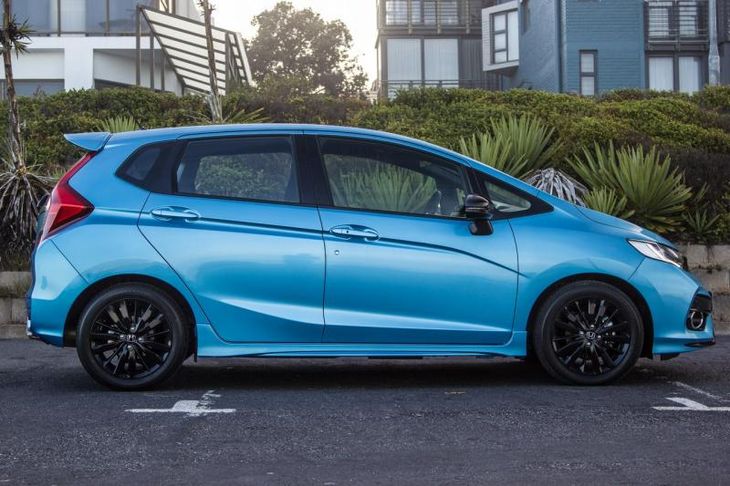 It certainly looks the part, but the driving experience is unfortunately not sporty enough to merit a Sport badge.
It's introduction is a ballsy move by Honda, but the Jazz 1.5 Sport doesn't live up to its badge. Insofar as delivering the fun of spirited driving, the engine and transmission combination is not involving whatsoever. The CVT is clearly not the most appropriate choice of transmission in this application; we think that a slick-shifting 6-speed manual 'box would've made the Jazz flagship far more satisfying to drive. CVTs are typically mapped for economy and you cannot fool petrolheads by installing paddle shifters behind the 'wheel! Despite the powertrain dampening the car's sporty feel, the newcomer's balanced handling and sharp steering are praiseworthy, however.
It is regrettable that when it comes to sporty driving, the 1.5 Sport seems a packaging exercise that's not a patch on its rivals... cars such as the aforementioned Fiesta and Clio are far more engaging/enjoyable to drive spiritedly, even if our test unit delivered a ride quality that struck a good balance between sportiness and comfort.
In summary, then, we appreciate that Honda has seemingly gone out of its way to market the Jazz to new, younger car buyers. We feel that the 1.5 Sport is expensive in relation to most its competitors, but, that being said, if you forget about the sportiness for a second, you're still getting an accomplished and highly practical hatchback. The Honda Jazz is still one of the most sensible purchases in its segment; despite the Sport's high price, there is much value to be had in lesser-priced derivatives.
Further reading:
12 Well-Specced Cars Under R250k in SA
Honda Civic Type R (2018) Launch Review
Volkswagen Polo (2018) Launch Review
Suzuki Swift Sport (2016) Review
Want to buy a Honda Jazz