Honda South Africa has launched its all-new Civic Type R at the Dezzi Raceway in Durban. We attended the launch and sampled the fire-breathing newcomer both on track and public roads in the vicinity. Is the Type R as good as the hype suggests, or should you look elsewhere for your hot hatch thrills? Let's find out.
Honda South Africa used to be synonymous with sporty, fun-to-drive compact sedan and hatchbacks, but the brand is much more buttoned-up these days. It's easy to understand why – the performance segment is but a tiny part of the market and there's much more potential for volume sales in the entry-level budget cars and family SUVs ( Honda launched the family-friendly BR-V and CR-V in 2017, for example). There's also been a new Civic launch, which saw the debut of the marque's first turbocharged motor, however, the only thing sporty about the sedan was the Sport badge slapped on its rear. As for the previous Honda Civic Type R, it offered a whirlwind drive on the track, but while we were enthralled with its circuit-cutting prowess, commuting in one was an uncomfortable affair; the ride quality was just too harsh.
The timing is perfect then, for the all-new Honda Civic Type R to make an entrance. The hot hatchback market has seen some new arrivals and 2018 looks set to be a cracking year for this segment. In South Africa, the Honda Civic Type R has landed first, while an all-new Renault Megane RS is due in the next few months. Frustratingly, the Hyundai i30 N is still not confirmed for SA and overseas reports suggest that the Korean firm has produced a winner. The Volkswagen Golf GTI range should be expanded with a Performance Pack derivative at some point in 2018, which plugs the gap nicely between the standard car and potent all-wheel-drive R model.
To be fair, the Honda Civic Type R has always been a left-field choice in the hot hatch market. After repeatedly shunning turbocharged motors in favour of high-revving naturally-aspirated screamers, the previous generation Type R debuted with a rapid 2.0-litre turbopetrol motor under its bonnet. It was just a pity that even a short drive from home to the fast-food drive-through tended to be a white-knuckled affair...
2018 Honda Civic Type R: What's changed?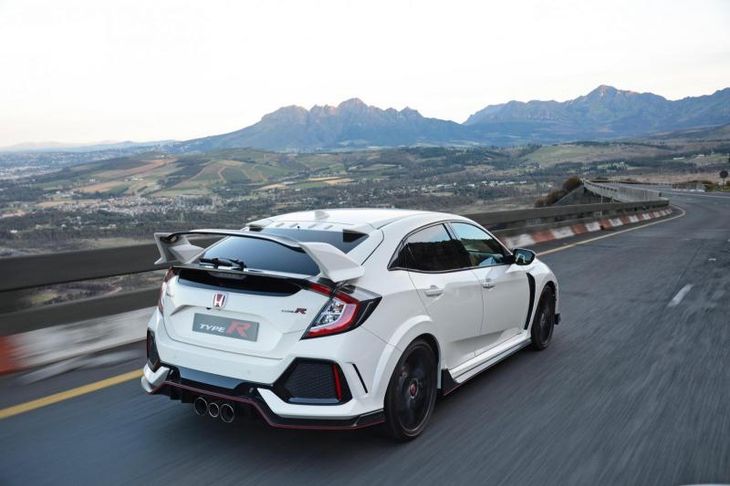 2018 will see a proper hot hatch battle take place as new models are launched. In SA, Honda's Civic Type R is out the blocks first.
A lot, actually. Just look at it. With its assortment of wings, spoilers and go-faster parts, the Type R is outrageously wild. Few cars are as head-turning and polarising. Some will adore the Honda's looks, while a mature audience will detest its Fast and the Furious image. We get that hot hatches have to be all-rounders, but this has meant that some have become a bit soft. Younger buyers are image conscious and want to show that they've bought the car of their dreams. On looks alone, and in the right colour (Championship White, please), the Type R won't look out of place as a poster on a teenager's bedroom wall. Our favourite bit has to be three pipe exhaust setup. It's not just for show: thanks to clever "plumbing" the car is quiet enough to tiptoe through the suburbs, yet emits a fighter jet-like whoosh upon full throttle.
Looks aside, a lot has changed under the sheet metal. The new body is stiffer and overall weight has been reduced, and the new car is longer and lower than the outgoing model. There's a big focus on aerodynamics and the wings all serve a purpose, some of them facilitate cooling, while others aid road-holding. Furthermore, there's a trick suspension setup with an all-new adaptive damping system. With the new Comfort mode, you can, in actual fact, live with the car on a daily basis and not have your spine realigned each time you drove over an uneven patch of tarmac. The new car also features a new power-steering setup, which is calibrated to each of the three driving modes (comfort, sport, Race). The new Honda Civic Type R rides on 20-inch alloys wrapped in 245/30 R rubber.
Power comes from a turbocharged 2.0-litre 4-cylinder motor, which produces 228 kW and 400 Nm. The car is front-wheel driven and the gearbox is a 6-speed manual, which features rev-matching tech to flatter the novice, while on the other side of the coin, experts can exploit the helical limited-slip differential when attacking the twisties. The motor is essentially the same as the outgoing car, but a number of refinements have been applied and the engine is now a tad more efficient and responsive. Honda claims its new Civic Type R can blitz from 0 to 100 kph in just 5.8 seconds and it'll run onto a top speed of 272 kph.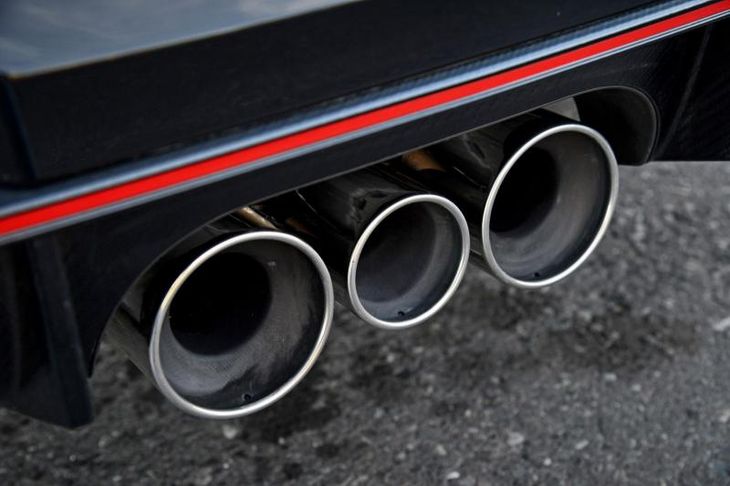 Three pipe arrangement is not just for show as it improves noise
A plethora of features
Honda's new Civic Type R comes packed with features, which you'd expect when buying a flagship model. The front seats are wonderfully supportive and are of the racing-bucket variety, plus the cockpit is adorned with a beautifully crafted aluminium gearknob and a thick, ultra-direct steering wheel. The dashboard features a comprehensive 7-inch setup that displays info such as gearshift indicator, turbo boost pressure gauge, G-force meter, and lap-time recorder. The 8-speaker sound system features USB ports and HDMI connectivity (it's also Apple CarPlay compatible), while integrated satellite navigation, a reverse-view camera with park sensors, auto lights/wipers and the dual-zone climate control system sweeten the deal. In terms of safety, the Honda Civic Type R has an uprated Brembo braking system with ABS anti-lock control, including electronic brake force distribution (EBD) and emergency brake assist (EBA). Hill Start Assist (HSA), six airbags and Vehicle Stability Assist (VSA) are also standard.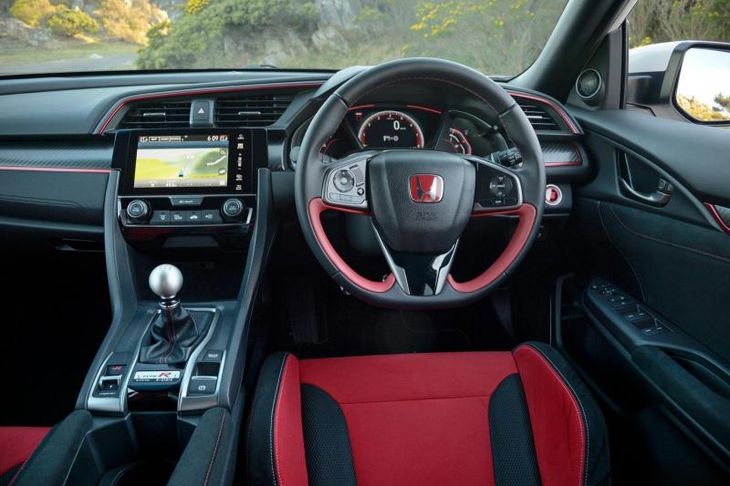 The Civic Type R pilot seat. Manual gearbox and quick steering make for a delightful combination
What's it like to drive?
We had the opportunity to sample the Honda Civic Type R on a variety of roads and the current front-wheel-drive Nurburgring record holder did not disappoint. The first leg of the journey was on a national highway and with Comfort mode engaged, throttle response was toned down and you could be fooled into thinking you're behind the wheel of a faster-looking Honda Civic Sport. The car's on-road refinement came as a pleasant surprise as did the ride quality, which was admirable given the Type R's low-profile tyres.
With the damping set at its softest, higher-speed compliance was impressive. It took us a few moments to get the perfect clutch-to-throttle modulation, but once we were in the groove, shifting cogs was a pleasant affair. It's great to see that Honda has not forgotten how to deliver incredibly snappy shifts; each ratio goes neatly into the next.
As we turned off the highway and took some back roads to get to the track, we selected Race mode. The throttle becomes ultra responsive, the dampers adopt a firm attitude and when you're pressing on, that gearshift action is magical. The engine's power delivery is superb, with a little pause as the turbo pressure builds around the 1 800 rpm mark. Then once boosting, the Type R's motor flings you towards the horizon with the engine showing no sign of letting up until you hit the limiter. Snatch the next gear and repeat. It's staggering how well the car pulls in-gear... the engine feels as if it gets stronger from 5 000 rpm.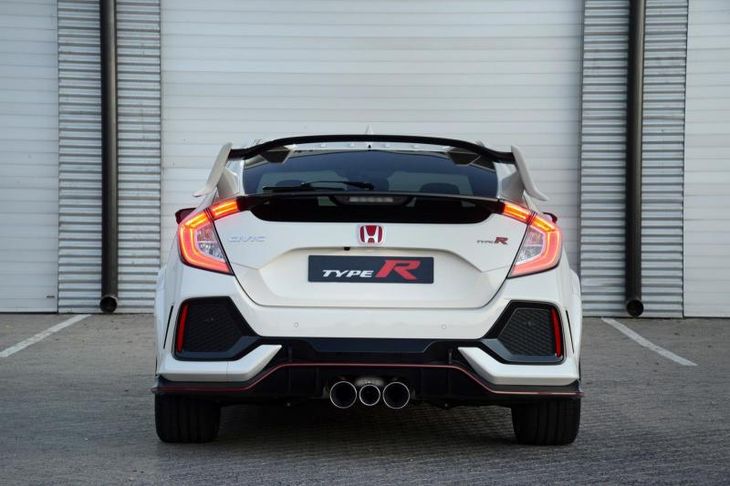 With its outrageous aero kit and three pipes, the Honda Civic Type R is a visual masterpiece
Once we arrived at the Dezzi Raceway near Port Shepstone, we had the opportunity to really put the car through its paces. Dezzi Raceway is a fascinating setup as it combines some exciting off-camber corners and the elevation changes ensure a guaranteed thrill of a ride. The Honda's stability and grip are to be commended as it was only when you're trying too hard that you encounter a bit of understeer and hear the tyres squealing in protest. We loved the sharp turn in and direct steering, and the massive Brembo brakes are exceptional at bringing the car under control when you pile into a corner too quickly. We actually enjoyed coming into a corner faster than usual as we could exploit that limited slip differential's prodigious grip halfway through the corner and power out at the limits of adhesion.
Verdict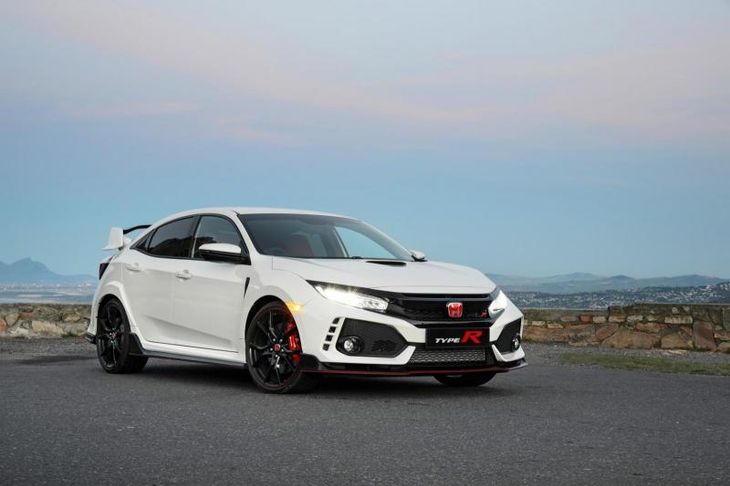 The new Type R addresses its predecessor's shortcomings and expands on its skillset. The result is a sensational driving weapon
The new Honda Civic Type R has addressed its previous model's major shortcoming and expanded on its established strengths. Sure, at the price, a Volkswagen Golf R is likely faster and easier to drive in a straight line, but it isn't even a comparison when it comes to scything through corners and for driver involvement. The manual gearbox may be on borrowed time thanks to the ease of use and convenience of the dual-clutch gearbox, but when it's mated to something properly engineered for driving fun, its demise is postponed for a while longer.
Usually, hardcore track-orientated cars are one-trick ponies and almost impossible to live with on a daily basis. However, you could drive the Type R to work and back day in and day out in Comfort mode, with the engine barely boosting. Pricing is competitive too, with the newcomer just fractionally more expensive than the outgoing car, yet it offers so much more, plus you won't need to have a chiropractor on speed dial.
Right now, a day after the launch, we're still a bit giddy over the power delivery and sheer fun factor, and the overall feeling is that this is one ballistic road-legal weapon.
It's an out-the-park strike from Honda, which needs a credible halo model. The timing could not have been better either as 2018 will see more rivals make their debut. We can't wait to put the Honda Civic Type R up against the new Renault Megane RS and its other rivals at some point in 2018. Given how well it has been received at launch, we'd be so bold to say our early money is on this bewinged warrior from Japan.
Honda Civic Type R Price in South Africa
The new Honda Civic Type R comes in some sensational colours. We'd pick the traditional Championship White in a heartbeat and you can see how striking this car looks in the photos. However the Sonic Grey Pearl and Rallye Red are also beautiful on the eye. The vehicle comes with a comprehensive five-year/200 000 km warranty, as well as a five-year/90 000 km service plan and a three-year AA Roadside Assistance plan. Scheduled services are at 10 000 km intervals.
Honda Civic Type R R627 900
Further Reading
Honda Civic Type-R (2016) Review
5 Cool Performance Cars Coming to SA in 2018
Honda CR-V 1.5T Executive (2017) Review
Honda Civic Sedan 1.5T Sport (2016) Review
Track Race: Audi RS3 vs Merc-AMG A45 vs Honda Civic Type R vs BMW M2 [Video]
Want to buy a Honda Civic?