The facelifted Haval H2 compact family car has landed in South Africa and we had a chance to sample the latest version of a former Cars.co.za Consumer Awards – powered by WesBank semi-finalist. Do the improvements make it an even stronger proposition?
Vehicle-launch press conferences are usually a mixed bag of messages: superfluous PR fluff interspersed with genuine nuggets of information. In Haval's case, the headline news is significant: South Africa is now the biggest market for the SUV brand outside of mainland China. It's impressive, considering the next biggest country is mighty Russia.
Haval is a fledgeling brand in South Africa (in our market, it's been around for less than half a decade), but its sales figures are noteworthy. Since its local introduction in May 2017, the H2 has been Haval's best-selling model (more than 7 235 units have found homes in Mzansi). As a matter of fact, it's the 3rd-best seller in its market segment, Haval claims. Interestingly, China sold about 10 000 per month for 4 years in a row, which is one way of saying that Haval's home market is comparatively humungous.
What's on offer?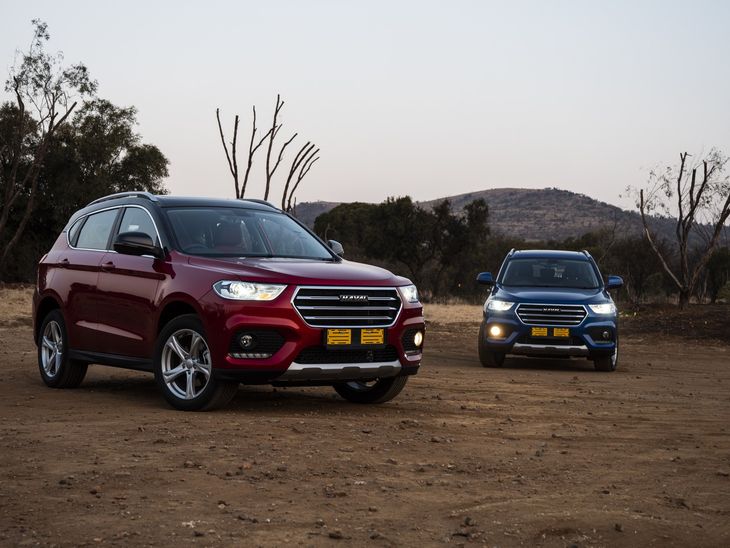 The updated Haval H2 has landed in SA, complete with fresher looks and generous specification.
The updated range comprises 4 derivatives. The solitary engine offering is a 1.5-litre 4-cylinder turbopetrol (with peak outputs of 105 kW and 202 Nm), mated with either a 6-speed manual gearbox or a 6-speed automatic transmission. In terms of fuel economy, Haval claims 8.2 and 9.0 L/100 km respectively. The trim levels are City and Luxury.
The latest H2 gains a revised grille, new arrow-design headlamp cluster, fresh foglights and a revised lower bumper. Newly-designed 18-inch wheels and a panoramic sunroof (on Lux versions) are also notable additions. At the rear, the newcomer benefits from a new splitter plate and larger exhaust tips. The rear aspect is characterised by additional protective cladding and a redesigned bumper, while the taillights are hexagonally-shaped. The facelifted H2 is further distinguishable by a chrome strip that links the taillights.
On the inside, the H2's infotainment cluster gains Apple CarPlay compatibility, while Bluetooth hands-free and audio streaming functionality, as well as cruise control, are standard across the range. Curiously, however, there's no Android Auto... The steering wheel features controls for the audio system, Bluetooth and cruise control.
Safety-wise, the H2 is now equipped with 6 airbags as standard as well as ABS with EBD, brake assist and electronic stability control. Every derivative comes with rear park distance control with a reverse-view camera, as well as a tyre-pressure monitoring system. To reiterate, Lux versions feature panoramic sunroofs, which is rare in this segment.

A panoramic sunroof is now available in our market, but it only features on the top-spec versions.
What's it like to drive?
We had a chance to put the facelifted Haval H2 through its paces on the R44/Clarence Drive near Gordon's Bay in the Western Cape. It's an exhilarating route, known for its spectacular scenery and excellent tarmac. Annoyingly, the road's almost too smooth (so, not ideal for evaluating a car's general ride quality) – even the most track-focused hypercars ride sublimely on that route! What we hadn't factored in was the wind. Recently, Cape Town and its surrounds have been buffeted with excessively gusty winds; so strong, in fact, that they've prevented ships from leaving the harbour. For road users, it has been a battle to keep cars in their lanes, with the lateral gusts doing their best to push vehicles off course. Surprisingly, the Haval H2 delivered great grip and road-holding; despite the fact that its aimed at a budget family-car market, it exudes a big-car feel.
The big-car feel is a wonderful thing, especially in the compact family car segment, where many offerings are based on puny compact hatchbacks. It's pleasant and endearing to pilot a vehicle that doesn't cost the earth, yet feels upmarket/premium. The steering is good, with a reassuring solidity in feel at low speeds, but with sufficient weighting as you pick up pace. As we mentioned, the tarmac was too good to evaluate ride quality, but we can mention there was a touch of road noise from the 18-inch tyres at higher speeds.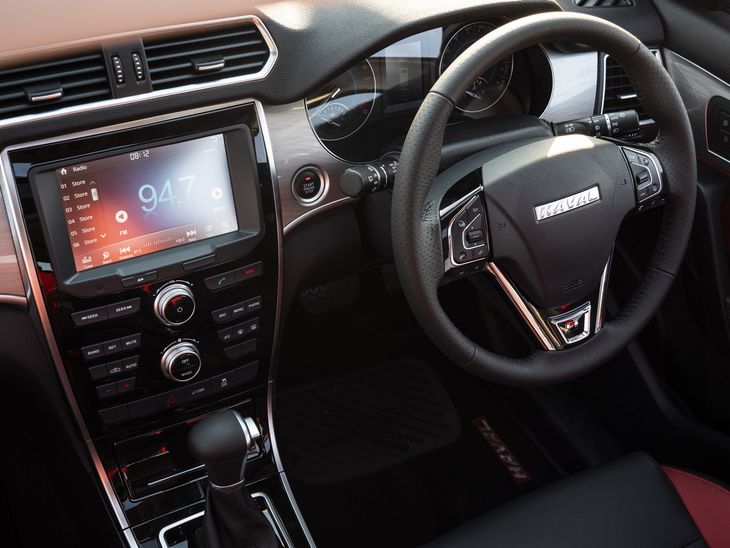 The cabin feels modern and solidly finished.
Speaking of speed, our vehicle for the launch evaluation was the top-spec H2 Luxury with an auto 'box. We found the performance adequate, but the engine could have been freer-revving in nature. Not only did the engine feel "tight", it was quite vocal at higher revs. We'll attribute that to the vehicles being brand new; our red unit (pictured at the top of the article) had only 180 km on its odo'. We suspect that power delivery would be a lot smoother and progressive after the vehicle had been run in (clocked up more mileage).
Still, there's a lot to like here. Many would expect that the cabin quality would be middling (given the H2's particular price point), but in truth, the Haval's solid build quality and good-quality finishes rank among the best in the compact family-car class. The soft-touch dashboard feels wonderfully upmarket and the fascia boasts all the convenience features one'd expect. Apple CarPlay makes its debut, with the USB port located neatly in the centre armrest to keep your phone out of sight, but curiously Android Auto is not supported. We had a good poke around the cabin and noted the rear legroom is decent enough for an adult male to sit behind himself. The luggage space is reasonable too.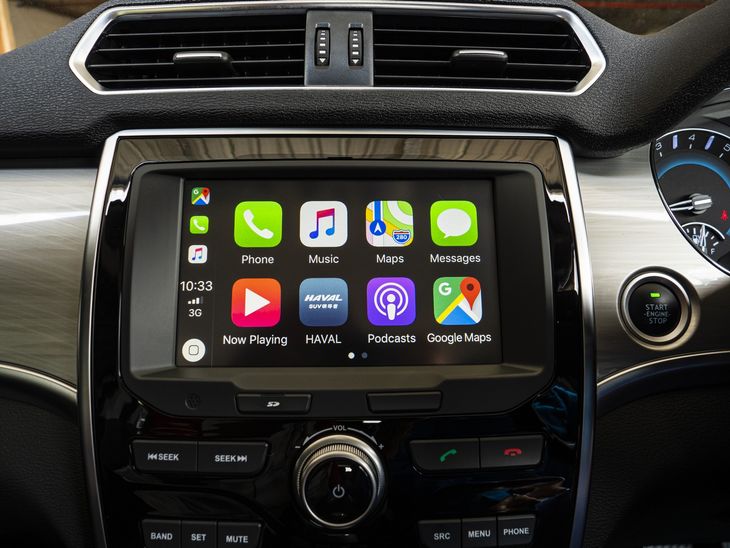 Apple CarPlay makes its debut in the Haval H2
Summary
Our time with the facelifted Haval H2 was short, but suffice to say we're itching to delve deeper into what this updated Chinese model has to offer. We'd love to get our hands on a unit that has been run in and drive it on some gravel roads. With 180 mm of ground clearance, it surely should offer more than enough ability to traverse the odd gravel route or farm road? As for rivals, this is one of the most hotly-contested segments in the market, with the likes of the Renault Duster, Volkswagen T-Cross, Hyundai Creta, Ford EcoSport and many more are fighting for their place in the sun. Haval is proof that the Chinese brand is dynamic; its products' quality gets better with each new model we test.

Should you buy one? Keenly priced, with solid aftermarket support and a substantial warranty/service plan, the Haval H2 again represents astonishing value; it should continue right where its predecessor left off. Impressively, the price hasn't increased dramatically either – the starting price of the previous range was R264 900 and the flagship offering retailed at R324 900 (updated pricing is at the bottom of this article). We're keen to spend more time with the H2 and eagerly looking forward to giving it a thorough evaluation.

The updated Haval H2 looks to continue its sales success story.
Haval H2 – price in South Africa (January 2020)
H2 City 6MT - R269 900
H2 Luxury 6MT - R294 900
H2 City 6AT - R304 900
H2 Luxury 6AT - R329 900
The Haval H2 is sold with a 5-year/100 000km warranty, a 5-year/60 000 km service plan and with 5-year/unlimited km Roadside Assitance.
Related content:
Haval H2 facelift (2020) Specs
Haval H2 1.5T Luxury Auto (2017) Video Review
Haval H2 1.5T Luxury Auto (2017) Review [with Video]