As if the abysmal performance of the Nissan NP300 "Hardbody" in recent Global NCAP crash testing abroad was not enough cause for concern, the inability of locally sourced Toyota Yaris, Hyundai i20 and Kia Rio to score more than 3 stars for occupant safety suggests that South African consumers are paying exorbitant prices for vehicles that are either under-specced in terms of safety (compared with their European counterparts)... or generally of inferior quality.
"We think it's misleading for Nissan to call its NP300 bakkie "Hardbody" ". Alejandro Furas, technical director of Global NCAP (New Car Assessment Programme) had good reason for saying that at a press conference at Kyalami, Johannesburg, earlier today. (FRIDAY) He witnessed the bakkie – the country's sixth bestselling light commercial vehicle in October, with 704 sales – crumple alarmingly in a near head-on impact with a barrier representing a vehicle of similar size and weight at a crash test facility outside Munich some 6 weeks ago.
Made in Nissan's Rosslyn, Pretoria plant, the 1-tonne double-cab is also exported to other African countries. The one which was propelled into that barrier at 64 kph was bought from a South African dealership, the buyer not letting on what was to become of it. Nissan calls the NP300 "Africa tough", but the crash data revealed that it's anything but. The front end was destroyed, its crumpled remains protecting the children (dummies simulating three and 18 month-olds) in the back, hence the bakkie's 2-star safety rating for children.
While the data gleaned from the dummies leads to the safety rating – trauma to the head and chest indicating life-threatening injuries – it's the vehicle wrecks that tell the NCAP engineers whether the body shells are stable or not.
Only 1 of out the 4 SA vehicles which were crashed tested in that Munich facility in September was found to be stable – the Kia Picanto. And even then, the Picanto's front passengers' footwell area was rated as unstable. Both the Hyundai i20 and Toyota Yaris (with the Picanto, they account for 65% of the sub-R200 000 passenger vehicles sold in South Africa) were found to have an "unstable" body shell. None of them scored more than 3 out of a potential 5 stars for adult or child protection. Both the Hyundai i20 and the Kia Picanto were given a 3-star safety rating for adults and two stars for children, the seat carrying the 3-year-old in the Picanto having come loose from its fastening on impact.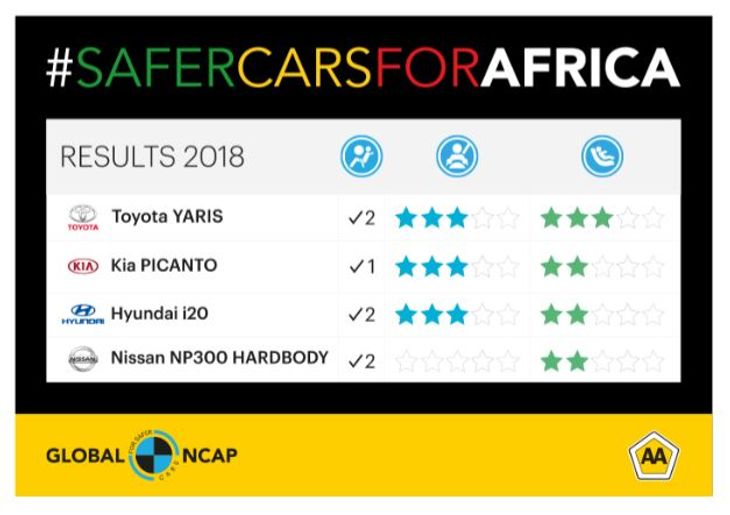 Best of the 4 in terms of ratings was the Toyota Yaris, scoring a 3-star safety rating for both adult and child passengers. Only the Yaris had three-point belts in all seating positions, the seatbelt being any car's primary safety mechanism.
"That's of high concern to us," Furas said. What's also of concern to the organisation, and should be for all South Africans, is the fact that the manufacturers wouldn't (and couldn't) put the SA versions of the i20, Yaris and Picanto on sale in the US, Europe or Australia.
The legislation wouldn't allow it, and consumers wouldn't stand for it. No vehicle should be sold anywhere in 2018 without electronic stability control (ESC) – the technology that prevents cars from skidding out of control – and both front and side airbags, Furas said. Particularly when you consider that an ESC module for a car in production (if it has ABS brakes) costs no more than 60 USD (the equivalent of R866) and an airbag even less.
And how's this for outrage-inducing? A version of the Hyundai i20 sells in Europe with ESC as a standard feature, along with 6 airbags, for (the Euro equivalent) less than the SA model, which has just 2 airbags and no stability control.
As for the issue of stable versus unstable body shells, Furas said those same cars, sold in the developed world, were found to have stable body shells during crash tests. "Some manufacturers sacrifice structural performance to save money," he said.
"It can be inferior steel quality, a sped-up assembly line to save costs, poor welding or lack of production control," he added.
Whatever, the situation was summed up by one of the local journalists at the press conference when he asked: "So international manufacturers are offering less safety to us in their cars, for more money... in other words, deliberately taking advantage of 3rd-world consumers?"
Yes, said Furas. "They are taking advantage of those consumers' lack of knowledge about vehicle safety features."
So it stands to reason that the solution lies in consumer awareness and activism. "We expect that as we test more cars in developing countries, and the media publishes our findings, which get shared on social media, consumers will start demanding better safety," he added.
In countries such as Australia, the shift was massively influenced by fleet managers – both State and corporate – who began insisting that they only buy 4- or 5-star cars, Furas said.
"South African consumers are no less important than Europeans, Australians, Japanese or Americans, so why should they receive inferior safety features?" he asked. "Lower production costs led to higher profits for manufacturers in developing countries, financed by a high rate of fatalities and injured people."
Nissan NP300 Crash test and zero rating:

Related content:
Children on the back of a bakkie – new law falls short
Kuga Fires: Here's What You Need to Know
Not all parking bays are created equal
3 Must-ask Questions for a Used-Car Salesman
The Motor Industry Ombudsman Of South Africa - In-Depth Q&A
Car Theft Insurance Claims: When Are You Negligent?