Most buyers looking for a 7-seater SUV will, in all likelihood, head straight to a Toyota or Ford dealership to sample the keenly priced Fortuner or Everest offerings, but are they perhaps missing out on another worthy contender in this segment? The Hyundai Santa Fe 2.2D Premium appears to be a strong product, but just how good is it?
We like: Refinement, performance, excellent ride quality, spacious
We don't like: Pricey
Fast Facts:
Price: R599 900 (as of February 2019)
Engine: 2.2-litre turbodiesel
Power/Torque: 142 kW/450 Nm
Transmission: 8-speed automatic
Fuel economy: 7.8 L/100km (claimed)
Load capacity: 547 to 1 625 litres
Own a Hyundai? Tell us about your experience here.
SERIOUS ABOUT BUYING?
Check full specification details and finance estimates here!
Some Hyundai dealers regularly offer specials, take a look at specials here!
What is it?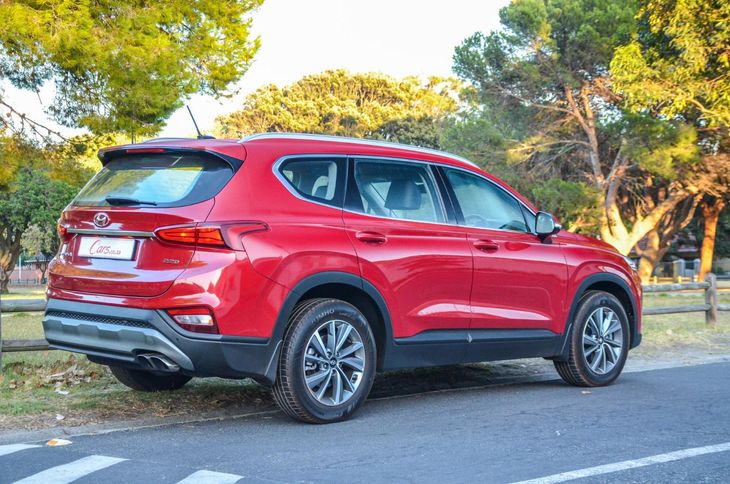 The new Santa Fe looks bolder than ever and comes well-equipped, even in base specification.
This is the new, 4th-generation Santa Fe, which came to market late last year. Not only does it now look more striking than its predecessor, thanks to its bolder cascading grille, but it's a more refined product – both in terms of build quality and driving character.
It's a 7-seater (for those who will regularly need seating space for 6 passengers), but unlike its ladder frame bakkie-based rivals (Fortuner, Everest, Isuzu MU-X and Mitsubishi Pajero Sport), the Santa Fe is a unibody SUV. Where its rivals place more emphasis on ground clearance and rugged off-road ability, the entry-level, front-wheel-drive Santa Fe on test here is a family mover through-and-through. How does it perform? Let's see...
The Good
Performance
Nestled under the bonnet of the Santa Fe is a 2.2-litre turbodiesel engine that offers 142 kW and 450 Nm of torque – outputs that eclipse those of the equivalent Fortuner (2.4L) and Everest (2.2L) by a fair margin. It's a more refined engine too (a lower level of NVH is prevalent in the cabin) and, by virtue of its new 8-speed automatic transmission, the 2.2D Premium delivers surprisingly brisk acceleration (once the initial turbo lag subsides).
The transmission is responsive to throttle inputs and it executes gear changes in a smooth, unobtrusive manner, all of which aids driving refinement. The Santa Fe gets up to highway speed fairly quickly and, if required, there's sufficient in-gear shove to facilitate quick overtaking manoeuvres.
Hyundai claims the new transmission helps to reduce fuel consumption by between 3 and 4% (compared with the previous model) and, while the firm claims an average figure of 7.8 L/100km, we saw quite acceptable figures of around 8.6 L/100 km during our test.
Overall, we were mightily impressed with the performance and level of refinement offered by this new Santa Fe.
Handling and ride quality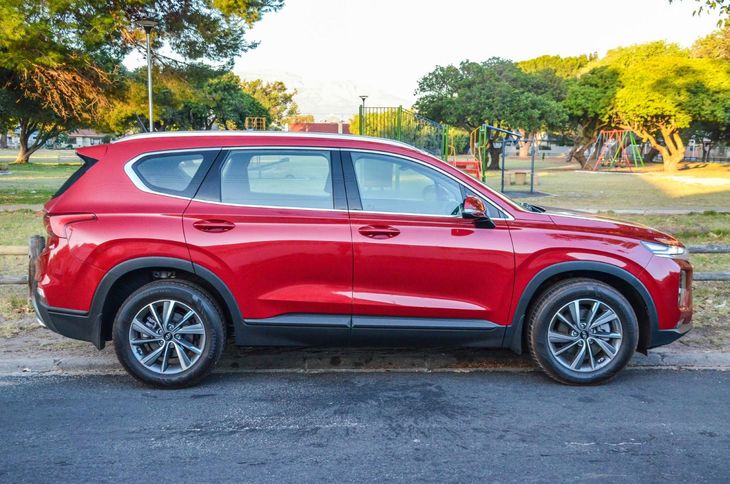 Ride quality is a major highlight of the Santa Fe and its performance is impressive.
Another strength of the Santa Fe is undoubtedly its impeccable road manners. Riding on 18-inch alloy wheels and fitted with McPherson struts up front and a multi-link suspension at the rear, it maintains a composed ride over various road surfaces; even harsh imperfections are "ironed out".
Not only does it have a more pliant ride quality than its bakkie-based rivals (including the Everest), the Santa Fe has a positive and well-weighted steering feel. It feels positively planted when cornering (a tribute to well-balanced body control), which is an admirable trait in a fairly hefty, let alone softly-sprung, people-mover. Overall, it offers an admirably comfortable and reassuring driving experience, which will please family car buyers.
Solid, spacious cabin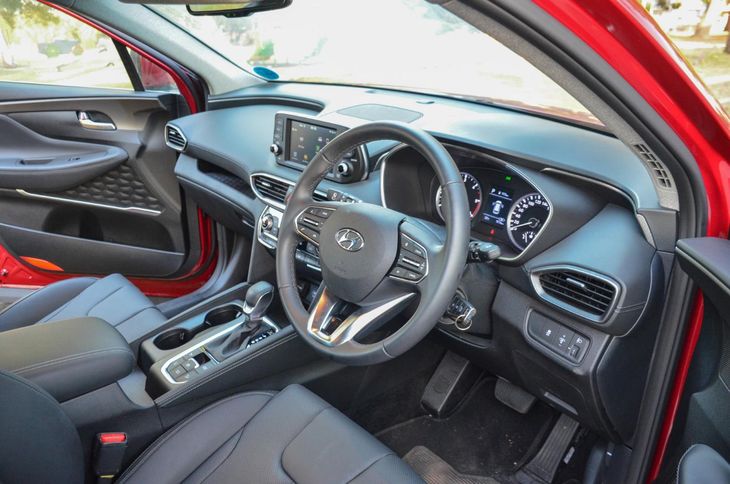 The interior design is pleasing to the eye and standard specification is generous. Those leather seats are very comfortable...
Step inside the Santa Fe and you're welcomed by a capacious cabin that's not only attractively designed, but solidly built and well-specced. We found the leather seats comfortable and, in the case of this Premium derivative, the driver's seat is manually adjustable, including for height.
The steering column is adjustable for rake and reach and the leather-bound 'wheel equipped with remote buttons for audio, Bluetooth and cruise control functions. The neat 7-inch infotainment touchscreen is easy to navigate and offers full Apple CarPlay and Android Auto compatibility.
Other nice-to-have features include rear park distance control with a reverse-view camera, automatic headlights, dual-zone climate control (automatic aircon), front and rear electric windows, a quartet of USB ports (including 2 at the rear), as well as an auxiliary audio input.
In terms of safety equipment, the Santa Fe has a total of 6 airbags, ABS with EBD and electronic stability control with traction control.

Super-practical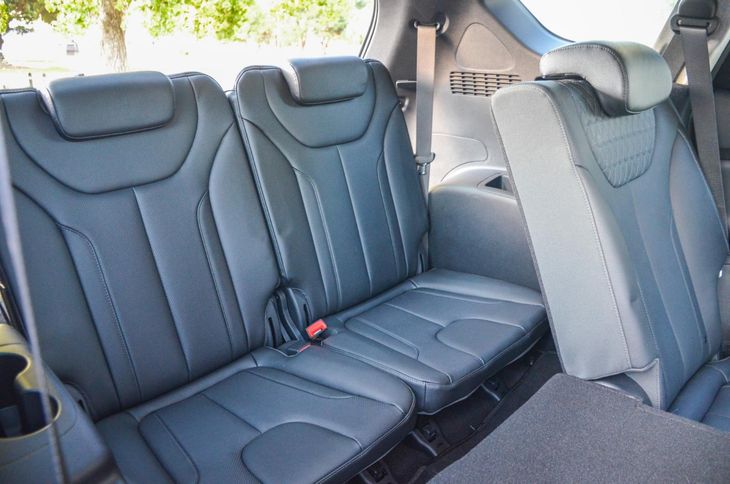 The third row is very spacious, even for adults and the seats fold completely flat into the floor which is a bonus.
There's no shortage of space in the Santa Fe and passengers should find the rear quarters to offer ample headroom, shoulder room and legroom, no matter how tall you are. More so, the middle row can be shifted forward at the press of a button to gain access to the 3rd row of seats.
With the 3rd row of seats folded flat into the load bay floor, space is generous (at 547 litres) and, when you fold all the rear seats down, you have access to a capacious 1 625 litres. However, with the 3rd row of seats in place, luggage space is, predictably, quite limited.
The 3rd row is best suited to accommodate children and rearmost passengers are afforded a cupholder each. Having said that, even average-sized adults may find the 3rd-row seating tolerable over short distances. The Santa Fe has one of the most spacious 3rd-row seating setups that we have experienced in a long time (Hyundai is said to have increased legroom by 127 mm and headroom by 190 mm). Impressive indeed...
The Not-so-good
A tad pricey
Honestly, there's really isn't much in the way of serious criticism that we can level at the Santa Fe, other than its price at R599 900, which is roughly R80 000 more than the equivalent cab-on-chassis offerings from Ford, Toyota, Isuzu and Mitsubishi.
Hyundai, like many importers, is at the mercy of the exchange rate and its pricing, especially at the top end of the market, does not necessarily align with what consumers are prepared to pay for its products. That partly explains the Santa Fe's relatively low sales numbers in our market.
Nonetheless, prospective buyers will be pleased to know that the Santa Fe is backed by a comprehensive 5-year/150 000 km vehicle warranty, 7-year/200 000 km drivetrain warranty and a 5-year/90 000 km service plan.
Buy a new or used Santa Fe on Cars.co.za
Verdict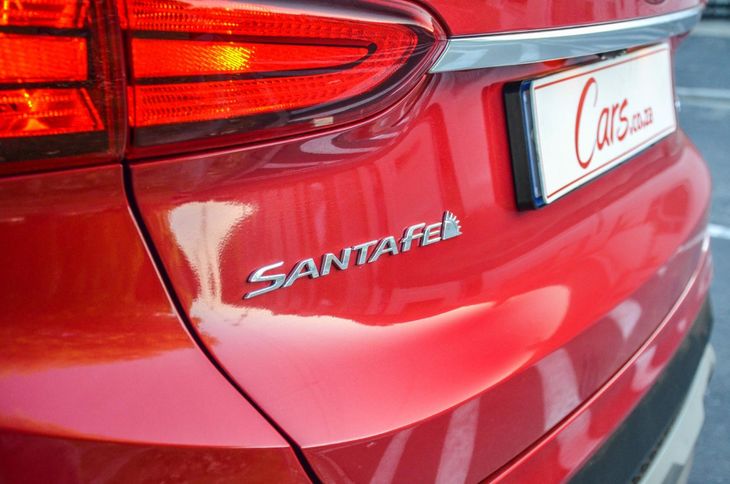 The Santa Fe's practicality and high levels of refinement and comfort make it worthy of consideration in the 7-seat SUV segment.
The Santa Fe 2.2D Premium impressed us overall. It looks good, offers sufficient performance/fuel efficiency and delivers an exceptionally comfortable ride. Its interior is spacious, well-made (perceived build quality is high), plus it comes well-specced with standard features.
Should you consider the Santa Fe over its more popular rivals? Well, provided you can afford it, definitely! While the price difference between the Hyundai and its Japanese and American rivals may seem large, consider that the Santa Fe is more refined in terms of engine noise and ride quality; it should be easier to live with on a day-to-day basis. It's arguably more practical too, especially if you are looking for a spacious family car.
For example, in the Fortuner, the 3rd-row seat folds up and to the side, resulting in an awkward luggage space. This is not the case in the Santa Fe, which has a more practical, flat load floor. What's more, a lengthy warranty and service plan make it a good long-term ownership proposition. It may not have set the sales charts alight, but that should not detract from the fact that the Santa Fe is a top-notch (albeit 2-wheel-drive) Adventure SUV.
Alternatives (click on the names for specification details)
Toyota Fortuner 2.4 GD-6 Automatic
The Toyota Fortuner is a popular choice in this segment and, in 2.4 GD-6 guise, it offers 110 kW and 400 Nm of torque and makes use of a 6-speed automatic transmission. Priced from R515 600, it's significantly cheaper than the Santa Fe, but it's not as refined in terms of overall ride quality.
Ford Everest 2.2 XLT Automatic
The 2.2 XLT Automatic is priced from R522 700 and powered by a 2.2-litre turbodiesel engine (118 kW/385 Nm), mated with a 6-speed automatic transmission. Like the Fortuner, the Everest is not as refined, nor as solidly-made as the Santa Fe, but it still represents good value in this segment.
The Kia equivalent of the Santa Fe is the Kia Sorento and it's powered by the same 2.2-litre turbodiesel engine offering 147 kW and 440 Nm of torque together with an 8-speed automatic transmission. The Sorento was updated in 2018 to offer more value and it's now only available as a 7-seater. The entry-level Sorento 2.2 CRDi LX is priced from R579 995.