Hyundai has revealed the all-new i10 hatchback ahead of its public unveiling at the 2019 Frankfurt International Motor Show. Here's what's new.
At first glance, you'll see a fresh and updated design, while under the skin there are big changes in the connectivity and active safety departments. This all-new Hyundai i10 is designed, developed and made in Europe.
"The i10 has consistently been one of our sales drivers and the historic base of growth for Hyundai in Europe, and we stay committed to our customers looking for an A-segment car by introducing this all-new model," says Andreas-Christoph Hofmann, Vice President Marketing and Product at Hyundai Motor Europe HQ. "The All-New Hyundai i10 is the latest example of our democratisation of new technologies for our customers. We are launching it with the tagline "Go Big." to emphasise the feeling that customers will get from this uncompromised city car - it might seem like a small car, but it makes a big statement!"
When compared to the outgoing model, the new i10 has a lowered roof (20 mm) and a wider body (20 mm), and if you're wanting some more visual oomph, 16-inch alloy wheels are available. The cabin has also been given a refresh and is aimed at a youthful audience. The boot boasts a volume capacity of 252 litres and the boot's lift-in height has been dropped by 29 mm, making access a little easier.
The 8-inch colour touchscreen includes Apple CarPlay and Android Auto, and there's a wireless charging pad to ensure your devices never die. Hyundai is also offering its app as well as LIVE services which range from real-time traffic info to weather. The new i10 also offers up forward collision avoidance tech as well as lane-keeping assist, driver attention warning and intelligent speed limit warning.
In terms of engines, Hyundai is offering up 2 choices. First up is a 1.0-litre 3-cylinder with 50 kW and 96 Nm. The second engine is a 1.2-litre 4-cylinder which produces 62 kW and 118 Nm. Both engines are available with either a 5-speed manual transmission or a 5-speed automated manual gearbox.
South African availability is yet to be confirmed, but we'll be joining Hyundai SA on a trip to the Frankfurt Motor Show and will update soonest.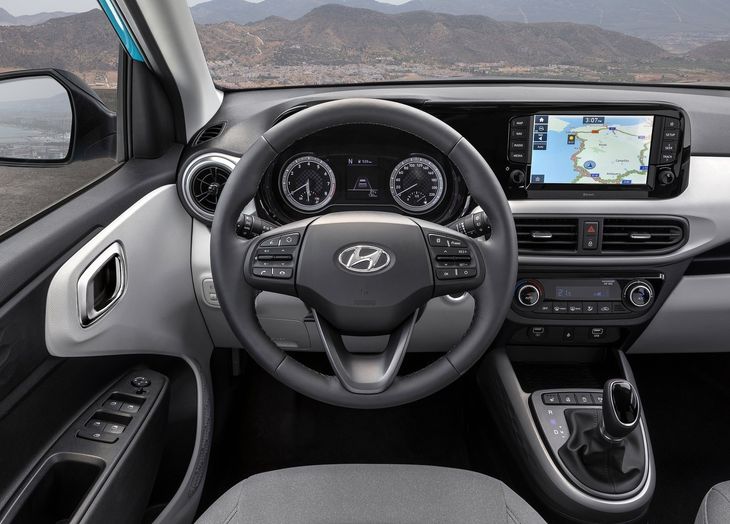 The updated Hyundai i10 features a smart connectivity package complete with Android Auto and Apple Carplay
Further Reading
Dramatic Redesign for Hyundai i10
Hyundai SA Confirms Kona N Performance SUV