Ford recently added 2.0-litre turbodiesel automatic derivatives to its Tourneo Custom range. With provincial travel bans lifted, Cars.co.za journalist Gero Lilleike loaded up the range-topping 2.0 Limited with hikers and equipment and headed for the Otter Trail in the Tsitsikamma National Park. How did the newcomer perform? Let's find out!
We Like: Practicality, seating flexibility, loading capacity, performance and efficiency
We Don't Like: Excessive body roll, the extra cost of AdBlue
Fast Facts
Price: R740 900 (September 2020)
Model tested: 2.0 Limited AT
Engine: 2.0-litre turbodiesel
Power/Torque: 136 kW/415 Nm
Transmission: 6-speed automatic
Fuel economy: 6.7 L/100km (claimed)
Fuel Tank Capacity: 80 L
What is it?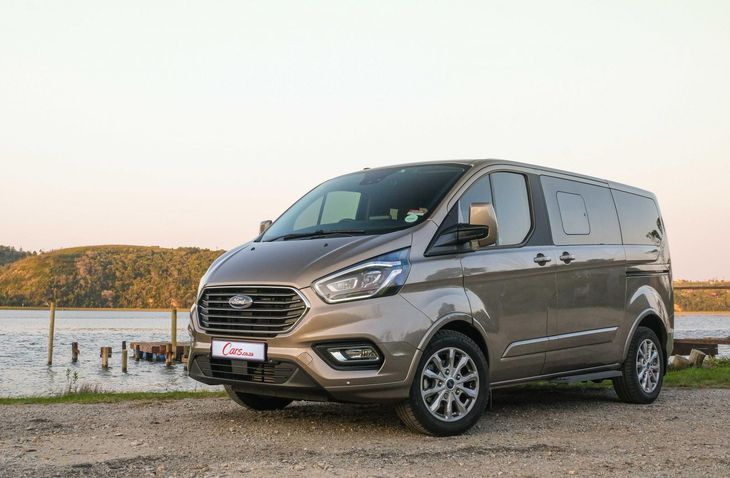 Now with a 2.0-litre turbodiesel and a 6-speed automatic transmission, the Tourneo Custom should appeal to a broader audience.
The people-moving Tourneo Custom and its Transit Custom panel-van sibling form part of Ford's commercial vehicle line-up. The Tourneo Custom first came to the South African market in 2013 and it rivals products such as Volkswagen's Kombi, Hyundai's H1 and the Mercedes-Benz Vito.

Ford has broadened its local Tourneo Custom line-up with the addition of 2.0-litre turbodiesel derivatives (in 96 kW and 136 kW guises), which are powered by the same engine that does service in the Ranger and Everest, but with a particular focus on efficiency, featuring AdBlue technology, which is a first for Ford in South Africa (more on this later). What's more, this engine offering is also exclusively available in conjunction with a 6-speed automatic transmission, which will appeal directly to both family and business customers seeking higher levels of comfort and convenience.
With restrictions for inter-provincial travel relaxing under Level 2 Covid-19 lockdown regulations, the famous Otter Trail on the Garden Route was once again open to visitors (with restrictions, of course). A total of 6 hikers and their gear had to be transported from Cape Town to the start of the trail in the Tsitsikamma National Park on the Garden Route – the 1 600-km journey would undoubtedly test the long-haul touring ability of the Tourneo Custom, but also its load-carrying capacity and interior flexibility. Let's take a closer look at what the Tourneo Custom has to offer…
How it performs in terms of…
Practicality and Flexibility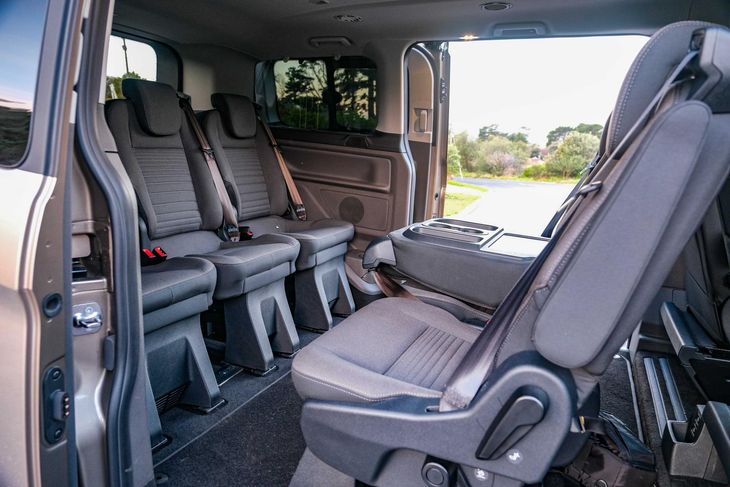 The seating arrangement can be rearranged depending on your needs or the individual seats can be removed altogether.
Having packed for a gruelling 5-day hike into the wild, our hiking party congregated around the Tourneo Custom in Cape Town with a staggering amount of luggage that needed to be loaded into the Ford. If fitting in 6 full backpacks and extra luggage didn't present enough of a challenge, 2 surfboards and surfing paraphernalia had to be accommodated as well, which added another layer of complexity to the loading process.
I was concerned that the 6 occupants and their mountain of luggage wouldn't fit in the bus, but the Ford swallowed the whole lot. In the Tourneo Custom, you can effectively choose how you want to arrange the rear-passenger seating to best serve the load-hauling requirements of the vehicle. Half a dozen individual seats are fitted and you can opt to have 2 front-facing rows or have the 2 rows facing each other, or, if so required, you can even remove individual seats completely to open up the rear cabin for much larger items. The seatbacks can also be folded down if necessary.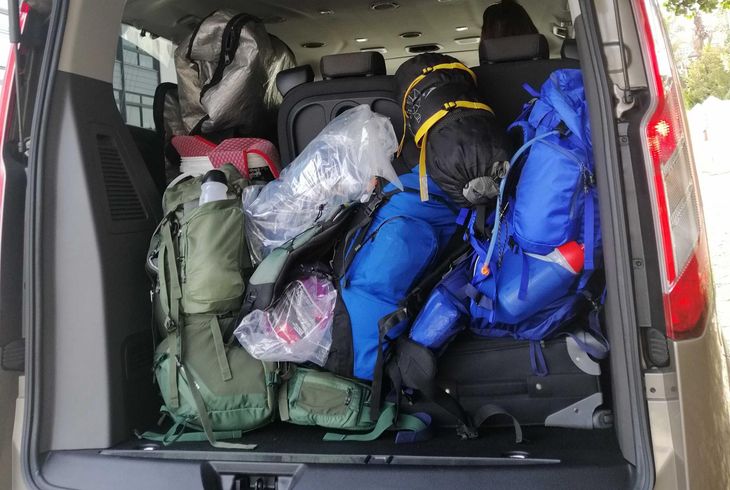 With 2 seats folded down, the amount of luggage the Tourneo Custom carried was impressive, including 2 surfboards!

To get this cargo aboard, all we needed to do was fold 2 seats down, which freed up the necessary length to accommodate the surfboards (this also provided more space for the bulky backpacks). The centre seatbacks are also fitted with cup/bottle holders and a flat surface, which is particularly useful for rear passengers. Later in the trip, the Tourneo Custom was loaded to capacity (with 8 people), all of whom travelled in comfort!

With the 6 rear-passenger seats in place, the Ford's luggage bay isn't particularly deep, but I was surprised by how many items could be stacked on top of one another, so much so, that by the end of the packing exercise, everything was in and there was still more loading space available.
Other nice-to-have practical features in the Tourneo Custom include rear air conditioning and 8 USB ports for charging devices. This test unit came equipped with the optional 230V power socket (R1 170), which is useful if you require a power source for laptops, cameras or other equipment.
Interior execution and features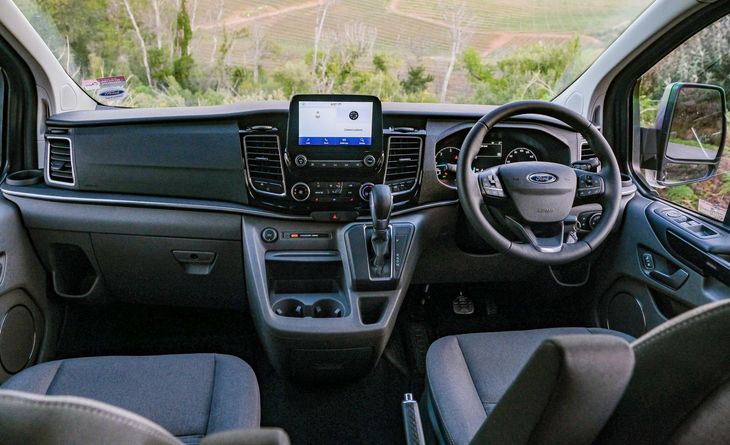 An updated dashboard and Ford's SYNC3 infotainment system boosts the cabin ambience appreciably.
Unlike its lesser Tourneo Custom derivatives, this range-topping 2.0 Limited Automatic features a new dashboard design that's borrowed from Ford's passenger-car range. The most noticeable feature of this upmarket fascia is the 8-inch infotainment touchscreen that utilises Ford's SYNC3 operating system/user interface. Not only is the system's display easy to read, its menus are simple to navigate. It's the first time that SYNC3 has been offered in the Tourneo Custom range and buyers will be happy to know that the system is both Android Auto and Apple CarPlay compatible.
The vertically-orientated fascia has a more premium look to it thanks to strategic chrome detailing and the overall build quality is good, although it's evident that some parts, such as the air conditioning controls and some plastic trim elements, have been sourced from Ford's budget-car parts bin.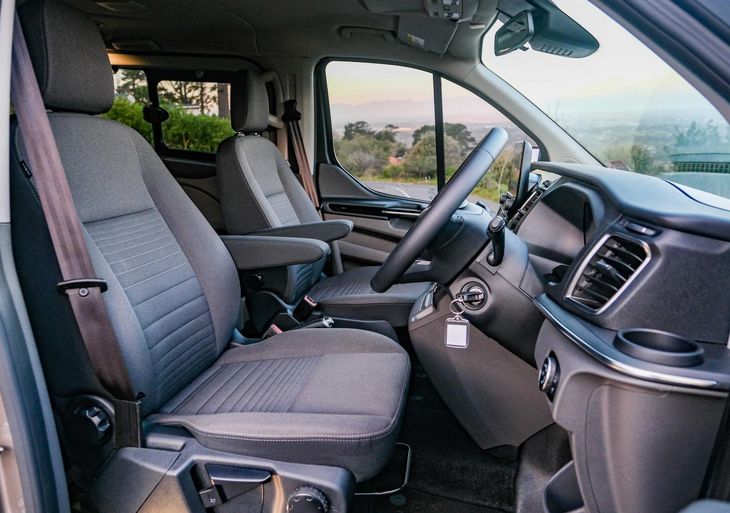 Armrests and heated seats are particularly welcome on longer journeys.
Comfort levels inside the Tourneo Custom are relatively high and luxury features such as the standard heated front seats and adjustable armrests are major highlights. Extra options worth considering include front and rear parking sensors, which are hugely beneficial to manoeuvre the Tourneo Custom safely in confined spaces. Moreover, the reverse-view camera (R4 200) with guidelines gives the driver another layer of confidence when reversing. With that said, we do feel that these features should be standard on this range-topping Tourneo Custom derivative. You may also want to specify the optional safety package, which includes lane-keeping aid, lane departure warning, blind-spot detection and cross-traffic alert (R4 800).
We found the optional adaptive cruise control (R9 200) particularly useful; the system effectively uses a radar system to manage the distance between the Ford and vehicles you're following, which takes the stress out of driving in congestec traffic, but also results in a much more relaxed drive on longer journeys as you just have to focus on steering. Rear passenger comfort is also enhanced by virtue of rear air-conditioning vents.
Performance and efficiency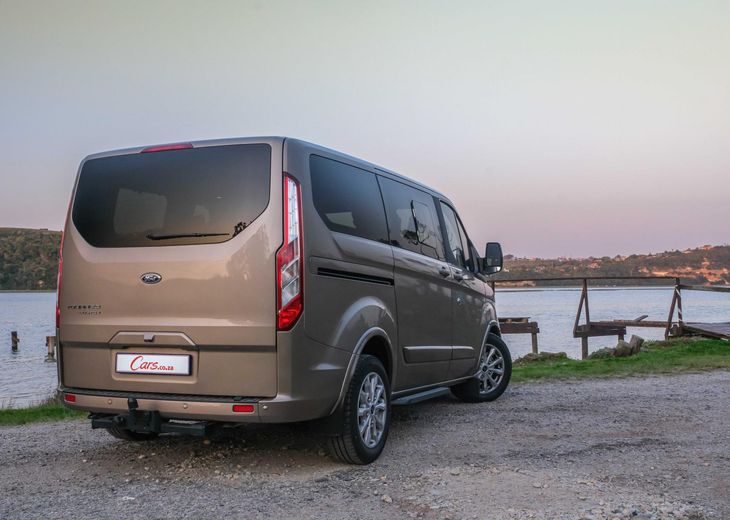 Overall performance is good, as is fuel economy. The transmission could be smoother though...
The Tourneo Custom Limited is powered by Ford's familiar single-turbocharged 2.0-litre diesel engine, which we have sampled in both the Ranger double cab and the 7-seater Everest adventure SUV. In the Limited specification, this engine produces peak outputs of 136 kW and 415 Nm.
Those outputs help to get the Tourneo Custom up to highway speeds fairly quickly and while the motor's performance is satisfactory, overtaking oomph is not as plentiful as one would like under full load, much like our progress on the Otter Trail (ahem). The 6-speed transmission does a fair job, but its shifts weren't as smooth as we'd hoped and, under harder acceleration, the 'box seems to shift indecisively (it went gear-hunting on a number of occasions). You can, of course, use the manual shift button on the lever to accuate gear changes by yourself... if you'd prefer that.
Ford claims an ambitious claimed fuel consumption figure of 6.7 L/100 km. The lowest we managed to achieve was 8.2 L/100 km, but ended our journey with an average of 8.8 L/100 km, which we'd say is acceptable considering that the Tourneo Custom was fully loaded during the trip.
In an effort to help reduce harmful emissions, this engine operates low-sulphur grade diesel in conjunction with Ford's AdBlue technology – the first time it has made an appearance in South Africa. Our test unit was supplied with a 10-litre canister of diesel exhaust fluid, which is a clear, near-odourless urea-water solution that converts Nitrogen Oxide (NOx) emissions into nitrogen and water, which results in the Ford spewing fewer harmful emissions into the environment. What's more, a particulate filter further reduces solid particulates by as much as 99%, the firm claims.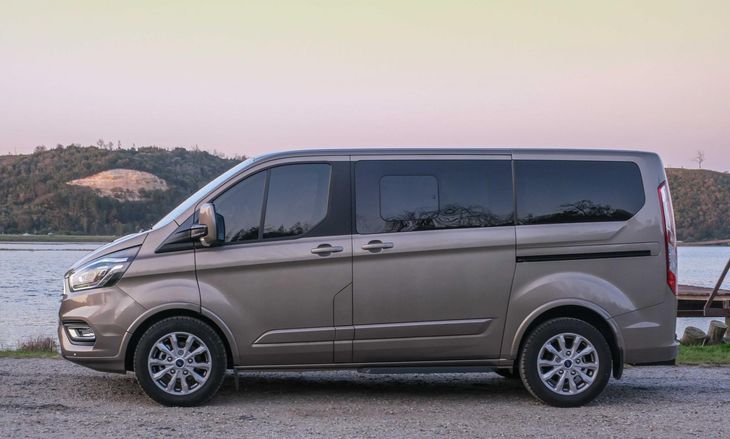 Owing to its tall and boxy shape, the Tourneo Custom suffers from noticable body roll while cornering.
We travelled in excess of 1 500 km before we received an AdBlue notification in the instrument cluster requesting a refill, which can be done by filling the 21-litre tank beneath the diesel filler. The AdBlue levels can also be checked regularly via the Driver Assist menu in the touchscreen infotainment system. While there are environmental benefits to using AdBlue, the downsides are that if your AdBlue tank is empty, the engine won't start so you definitely need to make sure that you have enough AdBlue with you at all times. In addition to the cost of diesel, you will also have to factor in the cost of AdBlue into your running costs. AdBlue can cost as much as R415 for 10 litres, but saving the world comes at a price, right?
In terms of ride and handling, the Tourneo Custom rides particularly well over poor road surfaces and we found the going quite comfortable on this journey. However, because the slab-sided Ford is quite tall, which is accentuated by high seating positions, body roll is quite apparent under hasty cornering. Suffice to say, it's a people-mover and the roll can be largely mitigated by simply reducing speed and making smoother steering inputs.
Price and warranty
The Ford Tourneo Custom 2.0 Limited costs R740 900, which includes a 4-year/120 000 km warranty and a 6-year/90 000 km service plan.
Buy a new or used Ford Tourneo Custom on Cars.co.za
Verdict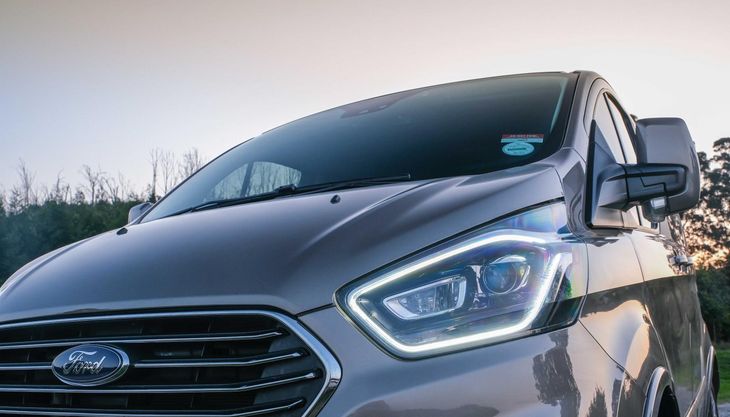 The Ford Tourneo Custom Limited is a well-rounded product in this segment.
This Tourneo Custom 2.0 Limited Automatic proved to be hugely capable and flexible in terms of its people and load-carrying abilities. More than this, however, the addition of the new 2.0-litre turbodiesel engine to the range is most welcome as it endows Ford's people-mover with sufficient performance to conduct it's carrying duties in a comfortable, relatively refined manner. The automatic transmission, although not as smooth-shifting as we hoped it would be, is bound to attract significantly more attention from buyers in this segment as it adds a crucial layer of driving convenience that was previously lacking in the Tourneo Custom range. It has also made Ford's protagonist more competitive against its rivals!
Ford must also be commended for introducing its AdBlue technology to the local market and for actively seeking to reduce harmful emissions. However, in these cash-strapped times, many buyers are looking to cut costs and the additional outlay that topping up with AdBlue fluid will require in terms of long-term running costs may detract from what appears to be a very well-rounded product from Ford.

In terms of pricing, the Tourneo Custom 2.0 Limited Automatic is competitively-priced against its equivalent rivals in the Volkswagen Kombi and Hyundai H1 ranges respectively and standard specification (including the safety features) is fairly comprehensive. As previously mentioned, the value offering could have been strengthened by reducing the number of options and cutting the additional cost to the client. Nonetheless, as an overall product, the flagship of the Tourneo Custom range definitely deserves a closer look if you are shopping in this segment... and price range.
Related Content:
Ford Expands Tourneo Custom Range in SA
Ford Maverick Bakkie Spied: Here's What We Know