It will never come to South Africa, but it's still an impressive machine to look at. This is the 2021 Ford F-150 Raptor.
Due to Ford's F-Series bakkies being assembled in left-hand drive only, it's highly unlikely you'll ever spot one in South Africa. Granted, there will be people who will either get creative with an import or get in touch with the growing industry of engineers who specialise in right-hand drive conversions, but as it stands, this is your best look at the newcomer. The closest thing you can get to one of these is the Ranger Raptor, a thoroughly capable bakkie that loves playing in the mud, sand, and rocks.
Under the bonnet is a revised version of the 3.5-litre twin-turbocharged Ecoboost V6, but Ford has said it will be releasing a thundering V8 Raptor R derivative in 2022. Strangely, outputs for this new motor were not announced, but we expect power and torque to be in the region of 340 kW and 700 Nm if the predecessor's 336 kW and 692 Nm are anything to go by. Ford claims its new powertrain features updated turbochargers and a trick active exhaust system. A 10-speed automatic gearbox is on duty.
The key thing to remember about the Raptor is its offroad capability. You can get 35- or 37-inch tyres that are factory approved, and with the largest rubber fitted, the updated Ford F-150 Raptor features 33.1 degrees of approach angle, a maximum 24.9 degrees of departure angle, and 24.4 degrees of break-over angle. There's a monster 332 mm of ground clearance too.
Ford has fitted the Raptor with a new Terrain Management system complete with different modes that adjust stability control, dampers, throttle mapping, and steering. There's also the lunatic Baja mode for those who want to let loose in the dirt. An electronic locking rear differential and available Torsen front limited-slip differential are fitted as standard.
Under the skin, there's a new steel frame that has reinforced areas to deal with the offroad activities. There's a new 5-link rear suspension setup and there are new electronically-controlled Fox Live Valve internal bypass shocks. Ford is claiming these are the largest shocks ever installed on a Raptor and they can change the damping rates independently at each corner 500 times per second.
And then there are those looks. Cue the heart eyes emoji - this is one beautiful beast!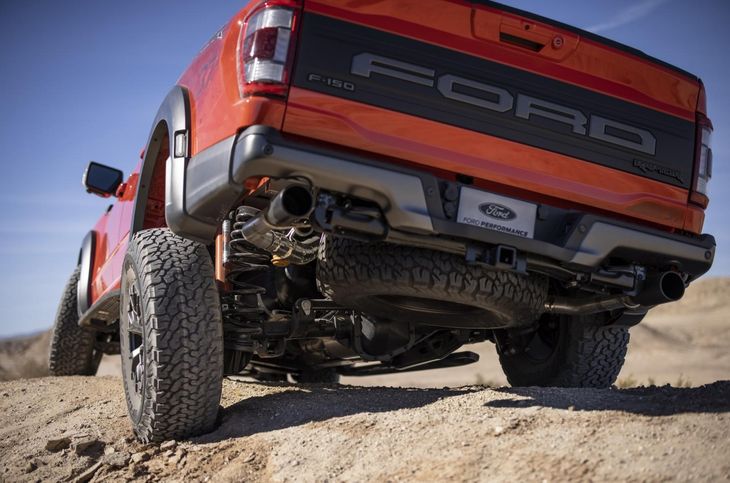 Further Reading
Spy Shots: 2023 Ford Ranger Raptor
Is this the world's fastest bakkie?
Ranger Raptor switches tyres for SA