As Toyota's performance arm, Gazoo Racing, gathers momentum, a high-performance Hilux is expected to come to market in 2023 and it will take square aim at Ford's next Ranger Raptor and Volkswagen Amarok R (if it's produced).
Render courtesy of Duwyne Aspeling, Cars.co.za
A facelifted Hilux bakkie is headed to South Africa and it will usher in not only cosmetic and infotainment updates but also welcome engine power increases, which is great news for local bakkie enthusiasts. However, a high-performance bakkie battle is on the brew and the next 2-3 years will see some formidable bakkies coming to market, notably from Toyota and Ford.
In many ways, Ford's Ranger Raptor has set the benchmark for high-performance bakkies and it's no surprise that a brand such as Toyota (which has vast experience in high-performance offroading with its Dakar GR Hilux) is keen to unseat the Ranger Raptor and claim its share of this new niche market.
Currently, Toyota does not offer a high-performance Hilux that can match the offroad capabilities of the Ranger Raptor and even the Hilux GR Sport falls short. However, a high-performance GR Hilux is on the way and its development is very exciting indeed. We know that the GR Hilux nameplate was trademarked in Australia earlier this year and it's expected to come to market with the next-generation Hilux in 2023.

An all-new Ford Ranger is expected to come to market in 2022 with an all-new Ranger Raptor following shortly after, which sets the scene for an epic bout with the forthcoming GR Hilux.
The GR Hilux will undoubtedly feature a significantly beefed up appearance to differentiate itself from the standard Hilux. It's also likely to be equipped with an uprated suspension system, improved brakes and an enhanced chassis, all combining to ensure notable offroad performance.
V6 Power War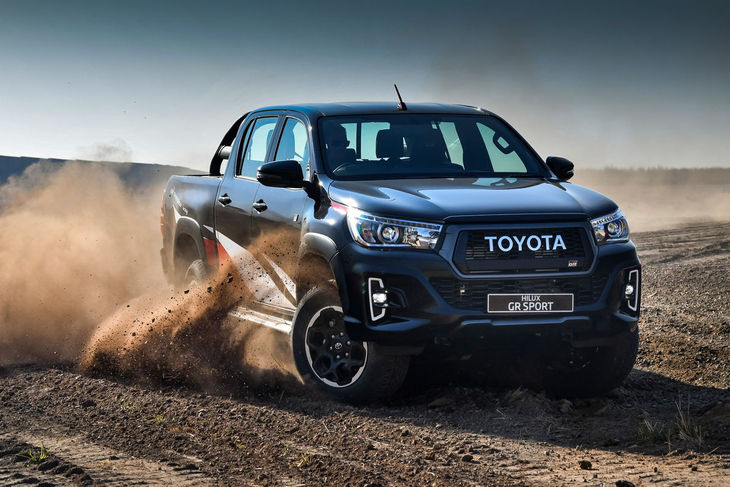 A potent GR Hilux will not only get local Toyota fans excited, but it might cause a major upset in Ford's Ranger Raptor camp!
But what about the engine? Previously we speculated about the possibility of a naturally-aspirated 5.0-litre V8 engine, the same that does duty in the Dakar Hilux and Lexus RC F which could offer as much as 335 kW and 600 Nm. However, a more realistic bet would be the iconic 4.0-litre V6 engine which offers 175 kW and 375 Nm or even an uprated version of the current 2.8-litre turbodiesel engine.
However, reports suggest that Toyota will go with a turbodiesel engine, which nullifies both the V8 and V6 petrol options above. However, it has recently emerged that an all-new V6 diesel powerplant could very well make its way into the next-generation Hilux and it's likely to feature in the range-topping GR Hilux.
This powerful new 3.3-litre V6 diesel is expected to appear in the new Land Cruiser 300 and may very well offer roughly 200 kW and 650 Nm which would be ideal for application in the GR Hilux. It's suspected that the 2.8-litre turbodiesel offering will feature in the next-generation Hilux too, but will likely be further updated.
As for the next Ranger Raptor, it's been reported that it too is likely to receive a 3.0-litre V6 turbodiesel engine with roughly 186 kW and 600 Nm while the current 157 kW/500 Nm 2.0-litre twin-turbodiesel engine is also likely to carry over to the next-generation Ranger.
Furthermore, as Ford will be responsible for the development of the next Volkswagen Amarok, there's a good chance that the relationship will spawn a high-performance Amarok R which will be based on the new Ranger Raptor and could pack as much as 220 kW!
We certainly look forward to a future showdown between the new Ranger Raptor, GR Hilux and Amarok R!
As always, we will keep you updated as more information on the Toyota GR Hilux becomes available. Stay tuned!
Buy a new or used Toyota Hilux on Cars.co.za
Related Content
Toyota Hilux GRMN: Should It Happen?
Toyota Hilux by Wald is a Boss