After a troublesome (to say the least) 12 months, the Ford Kuga has returned to the market as a facelifted offering that hopes to avoid and allay the negative public sentiment towards its maligned predecessor.
As crises go, the Ford Kuga fire saga is a major one and, judging by the preceding 48 hours of emotive, sometimes acerbic, twitter conversation we've monitored (in response to the introduction of this facelift model), the proverbial dust has clearly not settled.
In the media conference for the introduction of its updated family car, Ford did not deny the Kuga predicament but focused the firm's message on efforts to improve the brand's overall customer satisfaction in the local market. For the record, more than 90% of affected Kugas have received a phase 1 upgrade, which is a software update to the engine management system. Around 60% of affected cars have had a phase 2 upgrade that includes hardware and software upgrades to the cooling system.
Suffice to say the maligned 1.6-litre Ecoboost engine does not feature in the facelifted model's lineup, but it's interesting to note that despite the negative publicity, sales of other Ford models do not seem to have been negatively affected. Kuga sales took a hit, but trust in the Ford brand still appears to be strong as the Ranger leads vehicle sales in the first half of 2017. The Blue Oval also plans to invest significant capital in its dealer network in order to improve service delivery, experience and delivery.
The facelift

Top spec Titanium model with its black-outlined taillamps shows a strong, muscular design.
As it turns out, facelifted Kugas have been in the country for some time – Ford employed them as courtesy cars for owners affected by the Kuga recall campaign. Now, however, the newcomer's officially available – it's better priced than before (offers more value for money), plus it appears particularly well-specced on the safety front.
The styling upgrade is quite comprehensive; in line with Ford's new familial design language, the front end features a much sharper, more front-on face with outlined grille and headlights... It's a handsome (if brutish) look and the rear of the car, where black-outlined tail lights create a very prominent and muscular appearance, mirrors the theme. Overall, it appears to be quite a distinctive contender in a segment that's already got some stylish competitors in the forms of the Tiguan, Tucson and 3008.
All-turbo lineup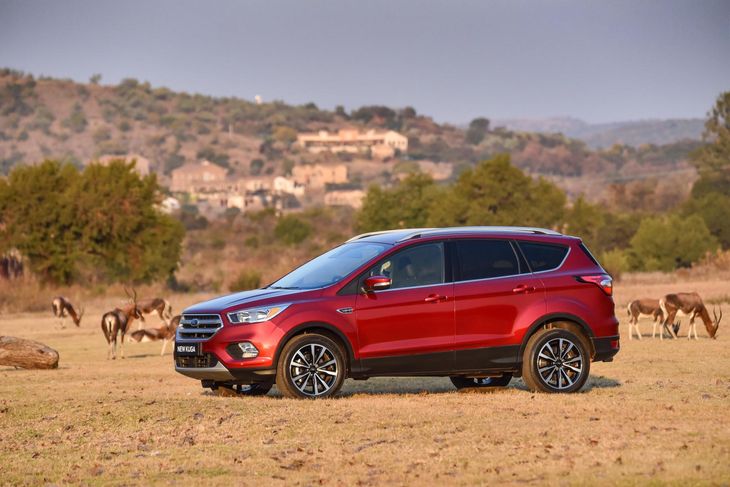 The mid-range Trend model is available in 1.5 turbopetrol and 2.0 turbodiesel guises.
The engine range is an all-turbocharged lineup. It's in line with its global downsizing trends and all powerplant have been used either in the pre-facelift Kuga, current Focus and the slow-selling Fusion family sedan. The 1.5-litre turbocharged engine is paired with either a 6-speed manual or a 6-speed automatic gearbox and is only available in front-wheel-drive. The outputs are good with the manual models producing 110 kW and 240 Nm and the autos upped to 132 kW and 240 Nm. Our experience with the automatic on the route from East London up to Hogsback at the foot of the Drakensberg revealed that the engine and transmission are well-matched and power delivery is more than adequate, but the claimed fuel consumption figure of 6.2 (manual) and 6.9 L/100 km (auto) is going to take some doing. We averaged 11.0 L/100 km!
Ford also offers a 2.0-litre turbopetrol with 177 kW and 340 Nm of torque, if you feel you need more grunt on long-haul journeys. It's only available in all-wheel-drive configuration and with a 6-speed auto. Despite market trends, the obvious choice is the 2.0-litre turbodiesel, its 132 kW and 400 Nm are delivered smoothly and with a refined engine note. Fuel consumption is vastly superior to the petrol derivatives with a claimed 5.4 L/100 km. We averaged about 7.5 L/100 km during our 200 km stint.
Inside story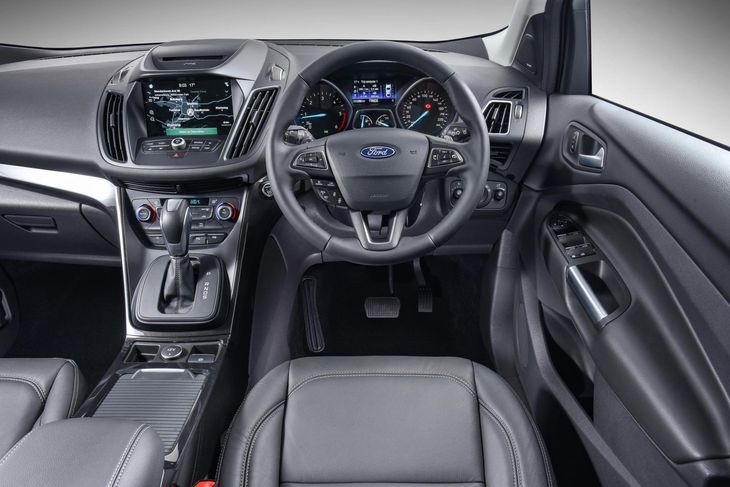 Kuga cabin less full of buttons thanks to Sync3 but also more soft-touch materials in use.
We've found that in recent Ford models, a measure of build quality and attention to detail have gone awry... Casual panel gaps and flimsy plastic joins haven't really engendered a premium feel. The facelifted Kuga addresses some of those issues, however. The cabin is neat and most of the touch surfaces are plush and pliant. Dig a little deeper, however, and the build integrity remains a trifle questionable. The gaps in the interior door panels are quite large and the glovebox seal isn't exactly tight.
Gripes aside, the seats are very comfortable over long journeys and passenger space is roomy with a pleasingly expansive feel to the design. The luggage bay capacity is in line with segment standards at 456 litres and, with the rear seats folded down, utility space of up to (a claimed) 1 653 litres becomes available.
The installation of Sync3 across the range brings the connectedness of the Kuga right up to date: navigation is optionally available, plus Android Auto and Apple Carplay are supported. Sync3 is one of the best touchscreen systems on the market with a simple interface and big buttons that are easy to press when stabbing on the move.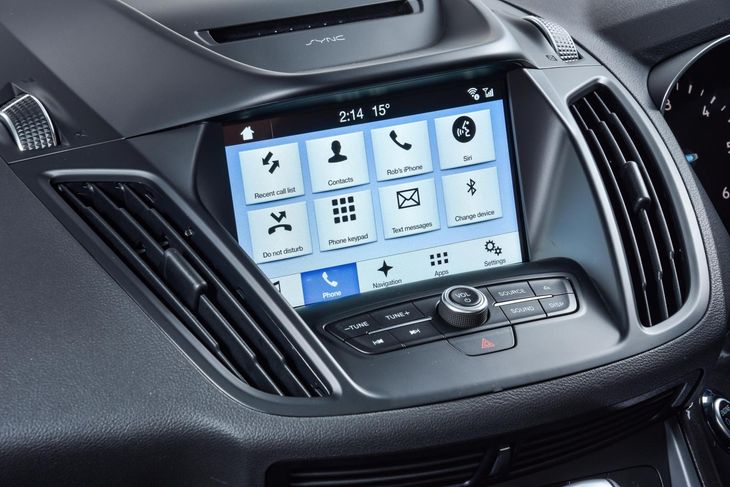 The Sync3 interface is characterised by big buttons; it makes pressing menu options on the move easier.
The drive
The Kuga rides and drives extremely comfortably. The suspension is on the firmer side for an SUV, but it's supple and soaks bumps up well. It's not quite as firm nor quite as dynamic as the Mazda CX-5, but as a compromise between comfort and sportiness, it probably strikes a better balance.
Safety
Ford has loaded the Kuga with safety features to a virtually family car/compact SUV class-leading level, especially with regards to those systems that enable motorists to avoid an accident altogether. As standard, the Kuga has ESP with traction control, ABS, EBD, hill start assist and a reverse-view parking camera. What's more, there's an optional pack that adds kit such as automatic parking, blind spot detection, lane keeping aid, active city stop and adaptive cruise control.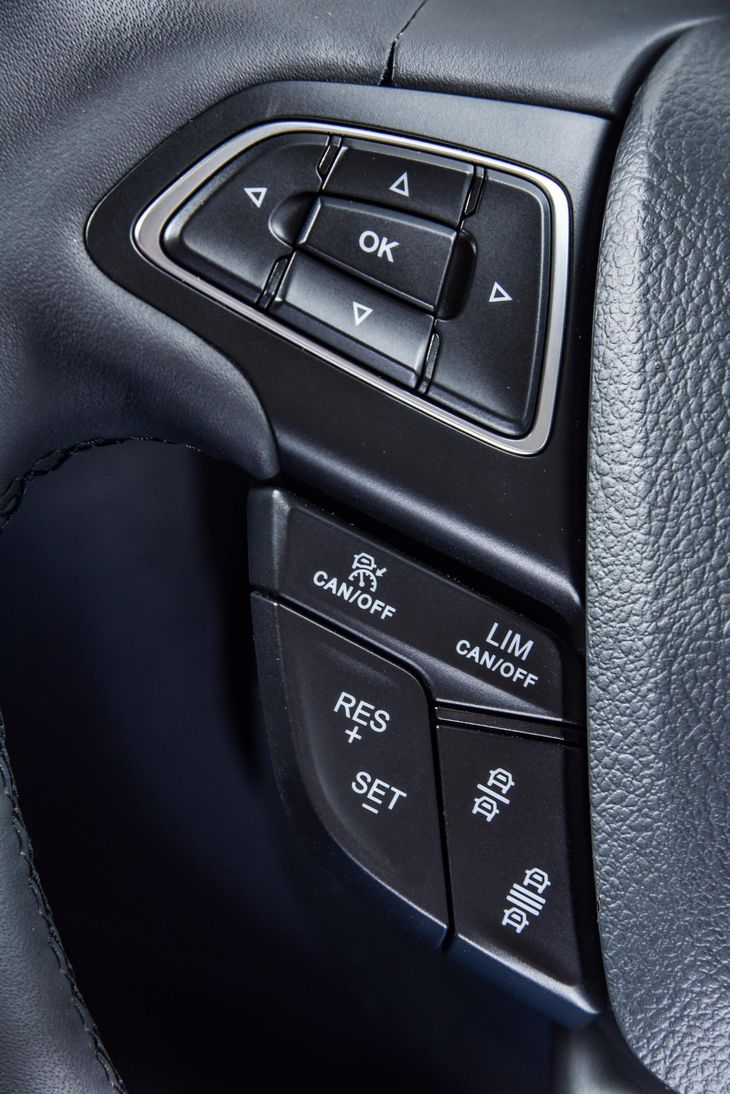 Cruise control buttons, complete with adaptive cruise control settings.
Summary
Putting the Kuga fire sage aside for the moment, in terms of value for money the facelifted Kuga appears to be an excellent offering. In fact, in order to try and entice buyers back to the Kuga, the local subsidiary of the Blue Oval has reduced the asking prices of the derivatives compared with those of the previous model.
Ford certainly isn't the first brand forced to perform a sudden, wide-ranging recall and, in all likelihood, it won't be the last. In the eyes of many observers and commentators, the aforementioned crisis was handled poorly at times; it has tarnished the brand's name to such an extent that every tweet about a Kuga seems to be accompanied by a fire-extinguisher-related verbal barb. It appears Ford is going to significant lengths to rectify the situation, but it may be a case of closing the latch after the horse has bolted. It will be interesting to see if this aggressive pricing strategy and new customer-driven approach results in a favourable return for the Kuga – it might.
Pricing for Ford Kuga (September 2017)
| | |
| --- | --- |
| 1.5 Ecoboost Ambiente 6MT FWD SUV | R368 800 |
| 1.5 Ecoboost Ambiente 6AT FWD SUV | R381 900 |
| 1.5 Ecoboost Trend 6MT FWD SUV | R406 400 |
| 1.5 Ecoboost Trend 6AT FWD SUV | R427 900 |
| 2.0 TDCI Trend Powershift 6AT AWD SUV | R483 900 |
| 2.0 Ecoboost Titanium 6AT AWD SUV | R497 900 |
| 2.0 TDCI Titanium Powershift 6AT AWD SUV | R506 900 |
Related content
Ford Kuga Recall: Phase 2 Starts
Ford Announces Figo/Ikon Recall: What this means
Ford Kuga complaints: Industry Ombudsman clarifies
Kuga Fires: Here's What You Need to Know
Comparative Review: Mazda CX-5 2.2DE AWD Akera vs Hyundai Tucson 2.0CRDi Elite [with Video]
Comparative Review: Hyundai Tucson vs Kia Sportage vs Renault Kadjar vs Volkswagen Tiguan
Interested in buying a Ford Kuga?