Following the much-publicised recall of 1.6-litre turbopetrol Ford Kuga derivatives earlier this year, Ford South Africa has now issued yet another fire-related recall for its entry-level Figo and Ikon models. Herewith the latest details...
What Ford's fire-related Figo and Ikon recall this week lacks in drama – images of dozens of vehicles ablaze at roadsides, and a nationally televised recall, a la Kuga – it makes up for in numbers. While the Kuga recall, announced in January, involved "just" 4 556 vehicles, the Figo/Ikon recall Ford put into motion this week applies to 15 600 cars (petrol engines only) built in India between 2004 and 2012.
And while 16 of those cars have caught fire globally, none of those fires happened in South Africa, at least "not that we are aware of", 2 Ford spokesmen told me on Wednesday.
Some readers may recall footage of a Figo in flames outside the Nelspruit Mediclinic in mid-January, at the height of the Kuga catastrophe, but Ford says it doesn't know whether or not that fire was linked to the reason for this recall.
Ford SA went about this latest recall very quietly, e-mailing the owners to tell them that their car was part of a "customer service action" to replace the power steering's high-pressure hose which may split, resulting in a power steering fluid leak.
"A power steering fluid leak could result in fumes being emitted from the engine compartment, and it may also be possible for power steering fluid to come into contact with the vehicle's exhaust system components, creating the potential for smoke and, in extreme cases, fire. Please contact your Ford dealer immediately…"
There was no press release; not until the first journalist got wind of recall and asked Ford SA for more detail.
Second-hand buyers may be oblivious
Undoubtedly many of those Figo/Ikon owners won't hear about the recall directly, having bought their cars second-hand and failed to register their details with the manufacturer.
"It's a big problem," Ford's Rella Bernades told me last week, when discussing Phase 2 of the Kuga recall, which rolls out from July. "If the owner of a car that's part of a recall isn't on our system, they won't get the recall notice from us."
In the case of the Kuga recall, six months down the line, 87% of the affected SUVs have had the fire-proofing modification done, meaning about 500 of them haven't, despite months of hard-to-miss publicity around the issue. That's quite a scary amount of "it won't happen to me" going on, if you ask me.
What you should know, if you own a Figo or Ikon
Note your VIN
Note that the recall applies to cars built between August 9 2004 and March 24 2012, not to the year they were sold or first registered. You may be driving a 2013 model Figo, for example, which was built before March 2012 and is, therefore, part of the recall. To check without calling Ford, note your VIN and click here to find out the month and year your Ford was built.
It won't cost you anything, but a loss of convenience

You won't have to pay a cent for the replacement of that high-pressure hose with a new "updated" part, and while the work will take "less than a day", "due to service scheduling requirements" the dealership may need to keep your car longer than that. And you may not get a courtesy car. In its email to owners, Ford SA "respectfully reminded" them that it was up to the dealerships to provide "alternative transport" and this could "unfortunately" not be guaranteed.
Phase 2 of Kuga recall commences
Adding to the chance of that alternative transport not being available for you is the fact that from July, Ford will invite the 4 556 Kuga owners whose vehicles are part of that safety recall to return their cars to dealerships for Phase 2 of the recall – the installation of a sensor to alert the driver when the coolant level drops.
While they will be given latest-model Kugas to drive as courtesy cars during that process, each dealership will only have one or two of those vehicles available, so the SUV recall process will no doubt add to the demand for courtesy cars at Ford dealerships countrywide in the coming weeks.

While it's alarming to be told your car is a fire risk unless you get it to your dealership, and fast, for a modication, recalls – even fire-related ones – are fairly common.
In February 2015, for example, Mercedes-Benz SA recalled 2 200 cars to fix a problem "with an engine compartment seal that could ignite".

Finally, this advice applies generally: If you didn't buy your car new, make sure you register with the OEM (original equipment manufacturer) so that you are notified about any recalls directly.
Recap of earlier this year...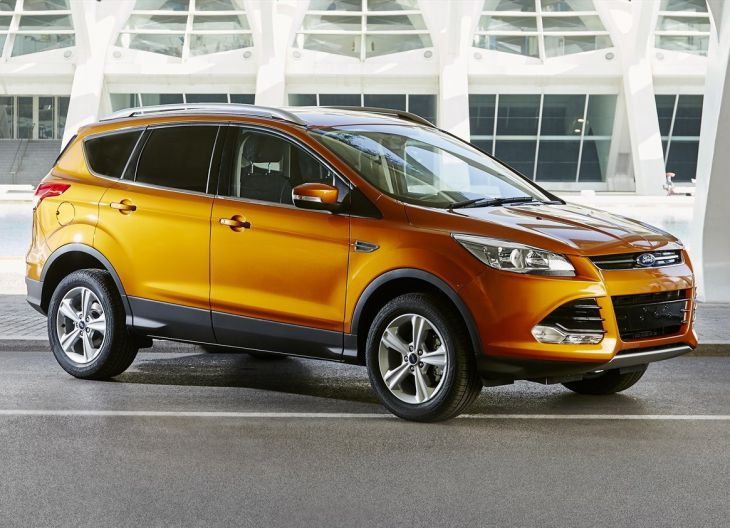 Ford was embroiled in a controversial fire saga pertaining to its 1.6-litre EcoBoost Kuga derivative that eventually resulted in the recall of some 4 556 units in South Africa. In the wake of the recall, Ford is now offering extended cover on all Kuga models sold in South Africa. The newly launched Ford Kuga PremiumCare Extended Plan offers 6 years or 200 000 km cover.
Jeff Nemeth, President and CEO, Ford Motor Company of Southern Africa commented, ""While we cannot make up for any inconvenience or discomfort that our customers may have experienced as a result of the recent events affecting the 1.6-litre Ford Kuga, we want to reassure every Kuga owner that their safety is our first priority, matched by our unwavering commitment to customer satisfaction and ownership peace of mind. Accordingly, we have extended the cover on all Kuga models sold in South Africa to a total of 6 years or 200 000km, whichever comes first. Introduced at no cost to our customers, this extended cover testifies to our confidence in the Kuga and the actions that form part of the safety recall implemented for the 1.6-litre model."
The Ford Kuga PremiumCare Extended Plan will also be automatically added to Kuga models in Namibia, Botswana, Swaziland and Lesotho. All derivatives, including the Kuga 1.6, 1.5 petrol and 2.0-litre diesel will be covered and the plan will be loaded to each Kuga's Vehicle Identification Number (VIN) based on the original New Vehicle Warranty start date.

Nemeth added, "The extended cover assures that customers will benefit from worry-free motoring long after the Kuga's standard four-year/120 000km New Vehicle Limited Warranty expires. We trust this will assist in restoring customers' confidence in our products and the Ford brand."

Over 1 000 components are covered by the Ford Kuga PremiumCare Extended Plan and some of these include the engine and emissions systems, transmission, drivetrain, electrical components, suspension, brakes, axles and steering. The air-conditioning and heating, audio and safety systems are also covered, along with the Kuga's driver aids, comfort and convenience features.

Owners are advised to have their vehicles serviced at an authorised Ford dealer according to the specified service schedule and to ensure proper maintenance between services as recommended in the vehicle's owner manual.
Any queries regarding the Ford Kuga PremiumCare Extended Plan can be directed to Ford Customer Service at 0860 011 022 or e-mail CRC3@ford.com.
Previously...
Ford South Africa has announced it has issued a voluntary recall of 1.6-litre EcoBoost Kuga derivatives that were sold on the local market between December 2012 and February 2014. This comes after reports that at least 45 Ford Kugas have caught fire.
The widely-held public perception that Ford South Africa had unnecessarily delayed action in the matter has caused a backlash on social media, with many wondering how many more would catch fire before the brand would take notice. Sadly one person passed away in his car. Reshall Jimmy was on holiday in Wilderness when his vehicle caught alight. His family reached out and set up a Facebook page called Ford Vehicles Burning. It didn't take long for the page to feature numerous photographs of burning Ford Kugas on the side of the road.
What Now
On the afternoon of 16th January 2017, Ford South Africa held a press conference where it addressed the situation. According to Ford, the fires were caused by, "overheating that can lead to a broken cylinder head & oil leak. If leaking oil reaches hot engine components it can cause a fire." As it stands, the issue surrounding the fire only affects one model. It's the 1.6-litre Ecoboost. If you have a Ford Kuga which is a 1.5 or a 2.0-litre, you do not need to panic or worry as it does not affect you.
The National Consumer Commission didn't hold back at the press conference. "A product that poses any risk to our consumers does not have a place in our market," said NCC commissioner Ebrahim Mohammed. "It is for this reason that the NCC requested an urgent meeting last week to inform Ford of our decision to authorise a safety recall of the vehicle in terms that will be determined by the NCC," said the commissioner.
Ford South Africa announced a voluntary recall for this model. All Ford Kuga 1.6 Ecoboost units sold between December 2012 and February 2014 are affected. Currently, this comprises 4 556 units and owners have been urged to get their vehicles checked.
If you own a Ford Kuga 1.6 and you see any indication of overheating, you're instructed to immediately pull over and switch off the engine. Do not open the bonnet at all. Your next action is to phone Ford South Africa on 0860 011 022. If you own a Ford Kuga, you're requested to bring your vehicle into your nearest Ford dealership for the safety recall. The vehicle will have its parts replaced, software updated and oil leak checks conducted. You will be given a courtesy car.
Read our consumer journalist Wendy Knowler's take on the Ford Kuga saga
Official Ford South Africa Statement
" PRETORIA, South Africa, January 16, 2017 – Ford South Africa is issuing a safety recall for Kuga models equipped with the 1.6-litre engine to address an engine overheating condition that could cause a fire. A total of 4,556 vehicles are affected by this safety recall in South Africa, and were built between December, 2012 and February, 2014. Ford Kuga models with 1.5-litre and 2.0-litre engines are not affected. We have investigated the incidents as they have been reported to us, removing many parts for detailed examination in our engineering facilities in Europe and North America. The data collected from the recent incidents and the maintenance checks we are conducting through our dealers have helped us to determine the root cause of the fires.
While we continue to investigate the Kuga 1.6 engine compartment fires, based on the current data we have determined that the fires are due to engine overheating. This is caused by a lack of coolant circulation which can lead to a cracking in the cylinder head and, therefore, an oil leak. If the leaking oil reaches a hot engine surface, it can potentially catch fire. We are not aware of any injuries resulting from the engine compartment fires. With this safety recall, all affected vehicles, including those that have already been checked, must be taken to a Ford dealership as soon as possible. This safety recall comprises two stages.
The first stage involves replacing affected components on the cooling system, verifying and updating the software and conducting an oil leak check on the cylinder head. If any Kuga 1.6 owner sees any indication that the engine may be overheating or experiences warnings on the instrument cluster, they should pull over as soon as it is safe to do so, switch off the engine and ensure all occupants are safely out of the vehicle. For safety reasons, the bonnet must not be opened. The emergency services should be called first, if required, then Ford's Roadside Assistance on 0861 150 250. Supported through the AA, this service is available 24/7.
The 1.6 Kuga is safe to drive, provided the integrity of the cooling system is maintained, and this safety recall has been actioned. The next stage will make the cooling system even more robust, and is likely to involve further changes to parts and warning systems. We are currently ensuring that the changes we make are complete and thoroughly tested – and will communicate with our customers as soon as this stage commences. Every effort is being made to minimize inconvenience, and reassure customers that their safety is our top priority. We are committed to keeping our customers mobile. Should a customer experience any engine overheating problem with their 1.6 Kuga, or delays in the repair due to a shortage of parts, arrangements will be made through the nearest Ford dealer and Ford Customer Service to provide a courtesy car while the vehicle is repaired. Any customer concerns or queries can be directed to Ford Customer Service at 0860 011 022."