The Ford Figo has grown throughout its evolution, so much so that it's now bigger (and pricier) than most budget cars. It still offers great value-for-money, however, plus its added practicality makes it a good candidate for the "crossover treatment". That's how the Figo Freestyle came to be; we put the flagship derivative through its paces.
We Like: Energetic engine, generous standard spec, impressive cabin space, great value.
We Don't Like: No automatic option, an EcoSport is oh-so-close price-wise
Fast Facts
Price: R263 200
Model Tested: Ford Figo Freestyle 1.5 Titanium
Engine: Naturally-aspirated 1.5-litre petrol
Power/Torque: 91 kW/150 Nm
Transmission: 5-speed manual
Fuel Economy: 5.5 L/100km
Load capacity: 256 litres
Serious About Buying?
Check out full specification details and finance estimates here.
Some Ford dealers regularly offer specials: Look at New Car Specials here!
What is it?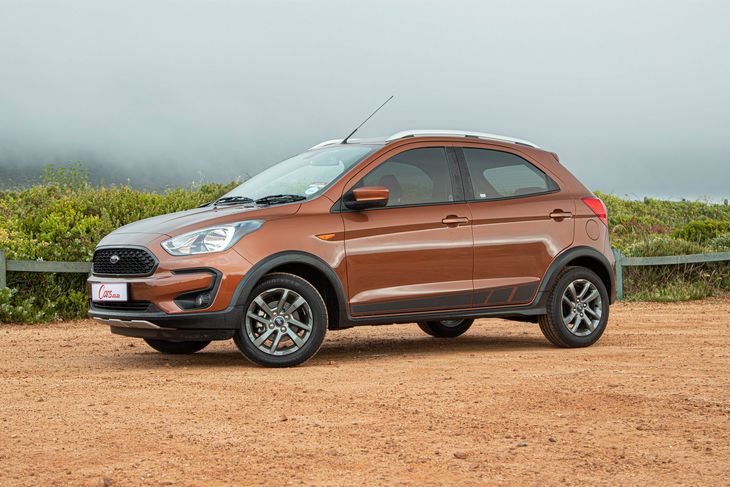 It's easy to spot the Figo Freestyle with its chunky looks, unique bronze exterior finish, as well as roof rails.
Ford has clearly been paying attention to the lower end of the market. With local buyers' appetite for small crossovers seemingly as ferocious as ever, the Blue Oval has introduced a model to rival the Renault Sandero Stepway, Suzuki Ignis and others. It's a well-timed introduction too, with the Honda WRV set to be launched on the local market before the end of the year. Interestingly, Volkswagen offered a comparable Polo Vivo Maxx until recently, but the derivative has disappeared off the brand's website and our pricelists (an updated version will probably appear eventually).
A small crossover is a essentially a pocket-friendly hatchback with a hiked-up ride height. The additional ground clearance (usually just enough to be noticeable) contributes to an SUV-like appearance, but also facilitates kerb-mounting- and dirt-road ability. Compared with its hatchback and sedan siblings, the Figo Freestyle rides 16 mm higher, which is impressive. There are bigger wheels (wrapped in chunkier rubber), wheel-arch mouldings, skid plates to protect the vehicle's underside, plus roof rails (for added practicality). The range comprises 2 derivatives; they have the same powertrain, just different specifications. Is the Figo Freestyle worthy of your attention, or should you rather spend more on an EcoSport?
How it performs in terms of…
Performance and Economy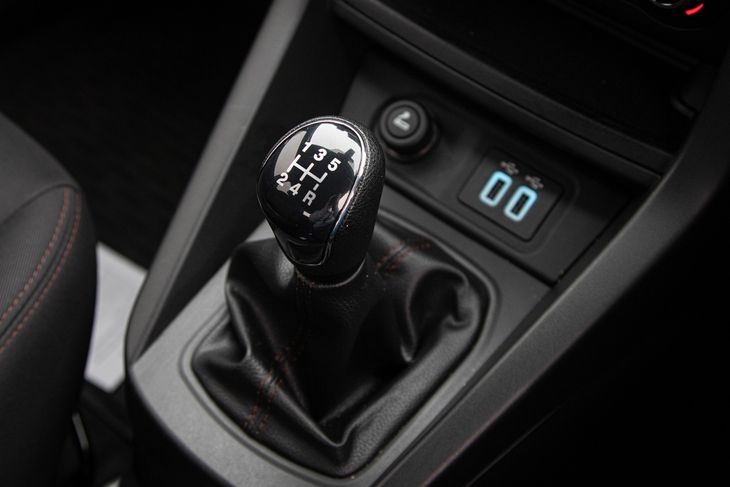 A slick and easy to use 5-speed manual is a joy. Note the 2 illuminated USB ports located aft.
The Ford Figo Freestyle is powered by a 1.5-litre naturally-aspirated motor that produces 91 kW/150 Nm and drives the front wheels via a 5-speed manual gearbox. Incidentally, the standard Figo's motor produces 88 kW, but can you can feel the Freestyle's extra 3 kW? Nope. This non-turbo motor offers the same power output as the Fiesta's 1.0-litre 3-cylinder turbopetrol, although its maximum torque is 20 Nm lower. While most of the models in this segment are turbocharged, there's still something refreshing about the linear performance of a naturally-aspirated engine...
In terms of fuel efficiency, Ford claims an average consumption figure of 5.5 L/100 km for the 1.5 Titanium and, during this evaluation, the test unit's trip computer indicated 6.7 L/100 km, which is quite reasonable. There's a 42-litre fuel tank and Ford claims a theoretical range of 764 km.
Performance, ride & handling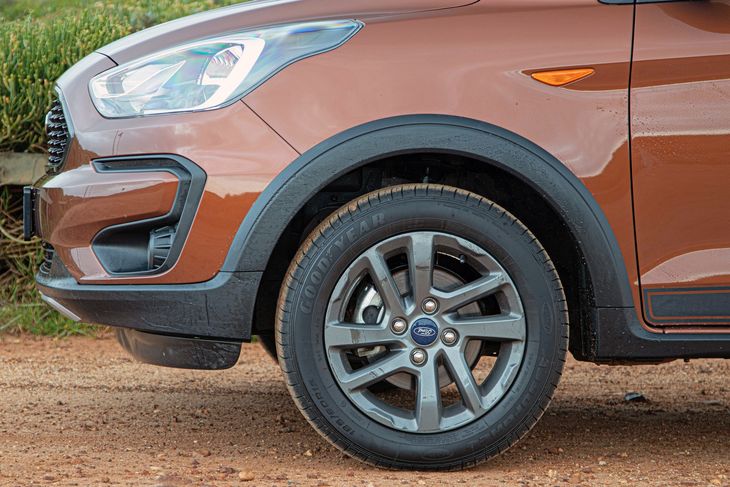 The 1.5 Titanium is shod with 15-inch alloys. Notice how much higher the Freestyle sits comparied with the standard Figo.
The Figo Freestyle produces a surprisingly impressive turn of speed; the motor's happy to be revved and emits a pleasingly rorty 3-cylinder thrum. The Ford's 5-speed manual gearbox and clutch work well together – shifts are light and direct, and the car's happy to grind it out in gridlock traffic thanks to an effortless clutch-action. The steering setup is a tad vague, but there's sufficient sharp- and directness to instil driver confidence.
By virtue of its elevated body (with a ground clearance of 190 mm), the 1.5 Titanium has a slightly higher-than-usual centre of gravity. This, in combination with a softly-sprung suspension, makes the Ford's handling less than razor-sharp. The test unit does lean in tighter corners, but it's only really noticeable when pressing on. The upshot is a pliant ride quality; the suspension and chunky tyres soak up the worst of the bumps.
The added ground clearance is not just for the sake of a purposeful appearance either – the Figo Freestyle can climb kerbs and traverse gravel roads with ease. We also liked the driving position; you sit a bit higher than in the conventional Figo, with the benefit of a tad more visibility.
Interior execution and features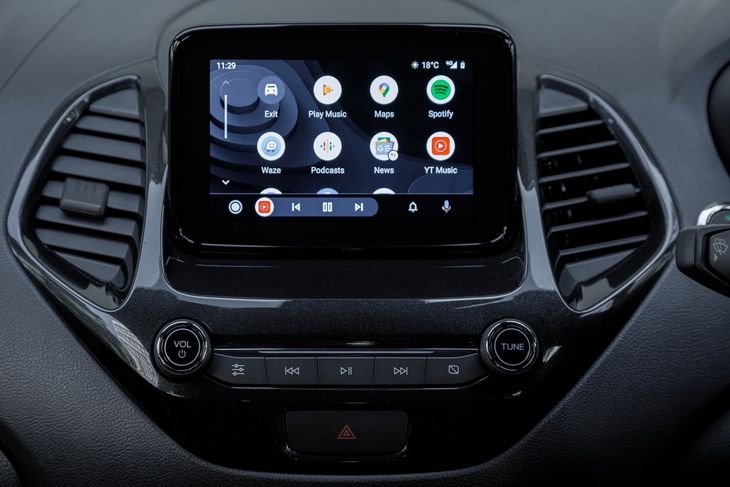 A vehicle sold in 2020 without some form of connectivity is not going to win the hearts and minds of the younger generation.
Ford's SYNC infotainment and connectivity package is a must-have in car that's tailor-made for the tech-obsessed generation and, in Titanium trim, the Figo Freestyle does not disappoint. It offers Android Auto and Apple Carplay compatibility, Bluetooth handsfree telephony and audio streaming, as well as a pair of USB ports, which are conveniently illuminated. The SYNC touchscreen offers crisp graphics and its menu system is very intuitive. With your smartphone plugged in, you gain access to music streaming- as well as navigation services, such as Google Maps.
As the flagship in the Ford Figo range, the 1.5 Titanium comes fully loaded with interior features. There are automatic headlights and -wipers, climate control, as well as keyless start. A minor inconvenience is there's no way to open the tailgate other than pressing a keyfob button.
One "overt crossover" touch we appreciated was the provision of rubber-, rather than carpet, mats. Not only are these easier to clean, but they trap dirt. There's one in the load bay too, which is handy when you need to transport garden refuse or indulge in outdoor activities that involve mud. Given how dirty our shoes' soles get and how quickly cars' footwell carpets become soiled, why can't more OEMs offer rubber mats as standard?
In terms of safety, the Figo Freestyle 1.5 Titanium comes with 6 airbags and ABS, but no electronic stability control. The cabin's build quality is fair, or at least acceptable for this price point. We dare not nitpick; by current standards, R263k isn't an exorbitant price for a new, top-spec budget car.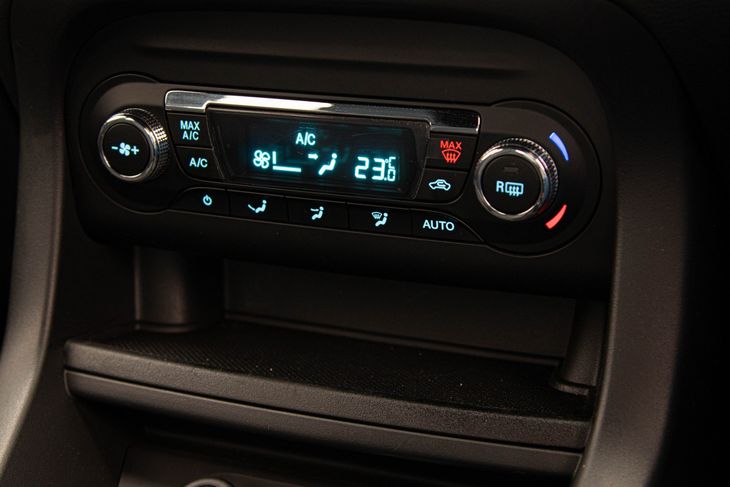 Climate control is a nice-to-have feature. Note the storage area below it, useful place for your phone.
Practicality
Compared with the Renault Sandero Stepway, the Figo Freestyle's 256-litre load bay capacity is a mite smaller than that of its French rival. If you need more luggage/utility space, you can, of course, fold the Ford's 60/40-split rear seatback down, which is useful if you want to lug around long items such as curtain rails and mountain bikes. If you need more space, those roof rails aren't just for show – you could always mount a roof box.
What's more, the Ford's rear passenger area is surprisingly large (bigger than in the Stepway). In fact, we suspect aft occupants are afforded more room in the Figo Freestyle than its more premium sibling, the Fiesta. The cabin is well thought-out, with sufficient storage areas for oddments.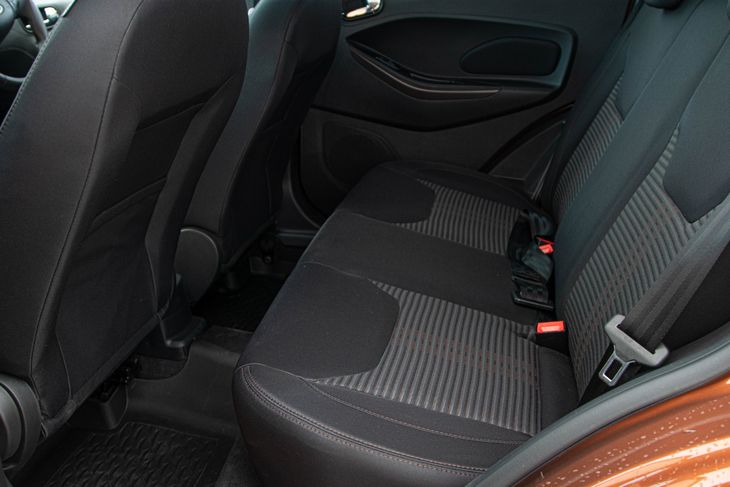 The Figo Freestyle's load bay may not be as big as that of its Sandero Stepway rival, but we'd favour Ford's better legroom.
Price and warranty
The Figo Freestyle range starts from R241 100 and this 1.5 Titanium costs R263 200, which includes a 4-year/60 000 km service plan and 4-year/120 000 km warranty.
Verdict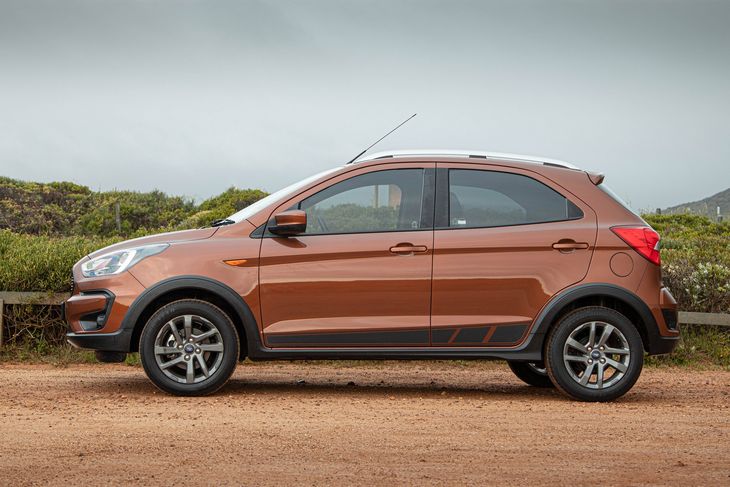 With its ready-to-go-anywhere looks, potent engine and great spec, the 1.5 Titanium's positives outweigh the negatives easily.
The charming Ford Figo Freestyle has a lot going for it: generous spec, a great engine, impressive occupant space and a pretty reasonable price tag. However, it's not a compact family car, more of a smartly-packaged (and looking) budget car, because it is exclusively available with a 5-speed manual gearbox – an automatic transmission would have greatly enhanced its appeal to those who commute in congested traffic conditions.
Call it a triumph of style over substance if you like, but vehicles that offer elevated ground clearance and rugged looks at a fraction of what SUVs cost certainly have their merits, especially if your budget can't quite stretch to the R300k mark for a new Ford EcoSport or one of a myriad compact family cars in the new vehicle market. If that applies to you, then the Figo Freestyle certainly deserves a second look before you dip into the pre-owned/demo market. It will be interesting to see how this sub-segment evolves in the next 18 months... Toyota could introduce a budget quasi-SUV in the form of the Raize or the Yaris Cross and an all-new Dacia (Renault) Sandero Stepway was revealed in September 2020. Watch this space!
Related Content:
Ford Figo Freestyle (2020) Specs & Price
Renault Sandero Stepway Techroad in SA
Captur bits for new Renault Stepway