From a 12-inch touchscreen infotainment screen with SYNC 4 technology, a digital instrument cluster, over-the-air updates and Ford Pass smartphone app, the new Ford F-150 sports a number of interior features that may be carried over to the next-generation Ford Ranger.
In revealing the new generation F-150, North America's top-selling pick-up truck for the past 43 years, Ford has introduced a number of high-end features that could ostensibly be carried over to the upcoming Ranger, which will be produced alongside the 2nd iteration of the VW Amarok at Ford Motor Company of Southern Africa from either the latter half of next year or in early 2022. For the latest info on the upcoming Ranger that emerged this week, click here: 2022 Ford Ranger: More details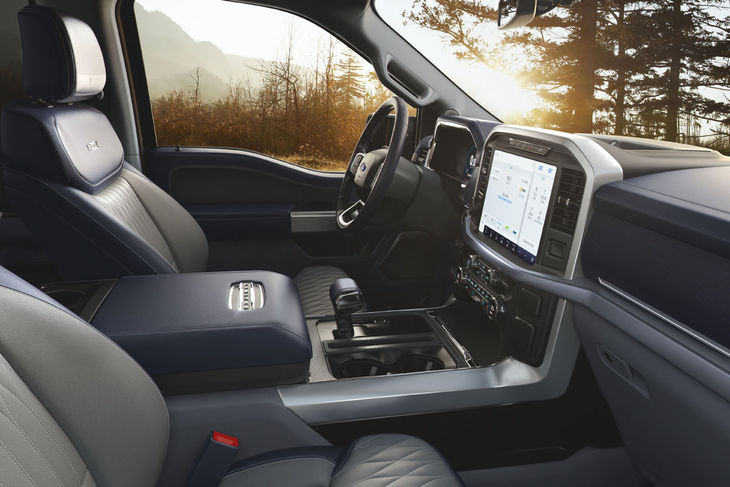 The 12-inch touchscreen infotainment system is powered by SYNC 4 and supports wireless Apple CarPlay and Android Auto.
To skip to exterior design, engine line-up and safety features of the F-150: New Ford F-150 offers clues to next Ranger
In top-spec, the newcomer's fascia is dominated by a new 12-inch touchscreen infotainment system that allows customers to split the screen and control multiple functions simultaneously. An 8-inch touchscreen is standard on base- and mid-spec derivatives, but both versions feature an improved quality reverse-view camera and access to the new digital owner's manual.
The system incorporates the all-new SYNC 4 interface, which is said to have twice the computing power of its predecessor with more natural voice control, real-time mapping for the satnav, customisable information on demand, and it can wireless connect with smartphones to access Apple CarPlay or Android Auto, as well as SYNC AppLink apps like Waze and Ford+Alexa.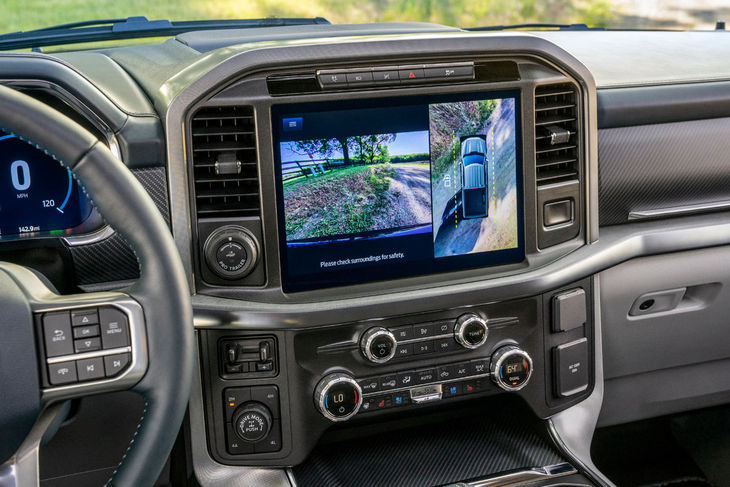 360-degree camera view and improved reverse-camera picture make it easy to manoeuvre the F-150 in town... or off-road.
In North America, customers can access more than 10 000 hours of on-demand content, live channels, ad-free music, sports, entertainment, news and personalised recommendations, plus they can search for related content with available SiriusXM with 360L satellite and streaming service. The new 8-speaker Bang & Olufsen sound system is fitted on the XLT derivative upwards, while the 18-speaker B&O Unleashed system (with speakers in the headliner and front headrests) is optionally available on top-spec versions of the F-150 and standard on the Limited derivative.
Meanwhile, something that will undoubtedly be on the wish-list for the upcoming Ranger, is the optional 12-inch digital instrument cluster, which features a large info-on-demand area, along with model-specific graphics that respond to the selectable drive modes. The system can also display off-roading data and turn-by-turn navigation, for example.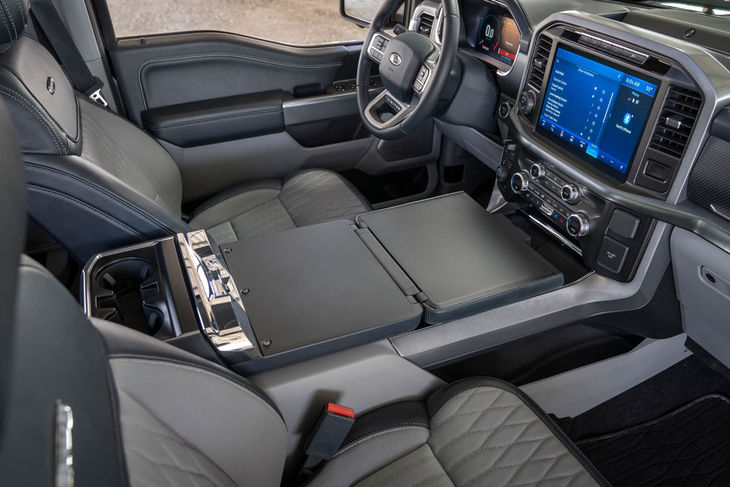 The optional Interior Work Surface is ideal for those who need to access their laptop, review documents or unpack their lunch.
What's more, the new F-150 is also North America's first full-size pickup to offer standard over-the-air firmware updates, including all-new functions and features throughout the life of the pick-up. Ford says the updates can support preventative maintenance, reduce repair trips, provide improved performance and "result in more vehicle up-time".
Ford further offers 911 Assist, which automatically alerts emergency responders in the event of an accident, as well as FordPass, a smartphone app that allows F-150 drivers to start or unlock their vehicle from a distance, as well as control of features such as Zone Lighting, Trailer Theft Alert, Trailer Light Check and Pro Power Onboard.
Zone Lighting, for example, allows occupants to turn on and off individual sections of exterior lights through SYNC 4 or remotely with the FordPass app on their phone.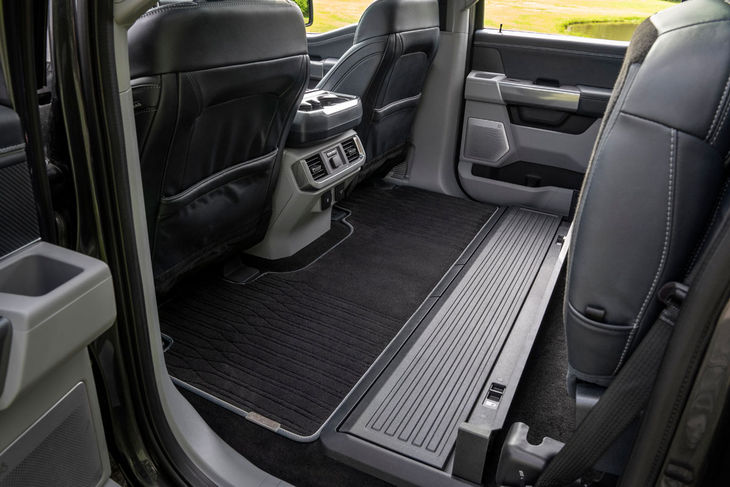 Secured storage is often an issue for double-cab owners, but Ford offers a lockable, fold-flat rear storage bin in the F-150.
The sheer size of the F-150 also affords Ford the chance to equip its wildly popular truck with features that one would not expect in a one-tonner double cab, which is the staple of the South African new-vehicle market. Optional Max Recline Seats, for example, flat to nearly 180 degrees, with the bottom cushion rising to meet the back cushion and the upper back support rotating forward up to 10 degrees for maximum comfort.
The new optional Interior Work Surface, which folds out over the centre console/between the front seats is ideal for signing documents, working on a laptop or enjoying a meal when parked. To aid its installation, Ford has created a stowable transmission lever, which away at the push of a button, and allows full access to the large work surface.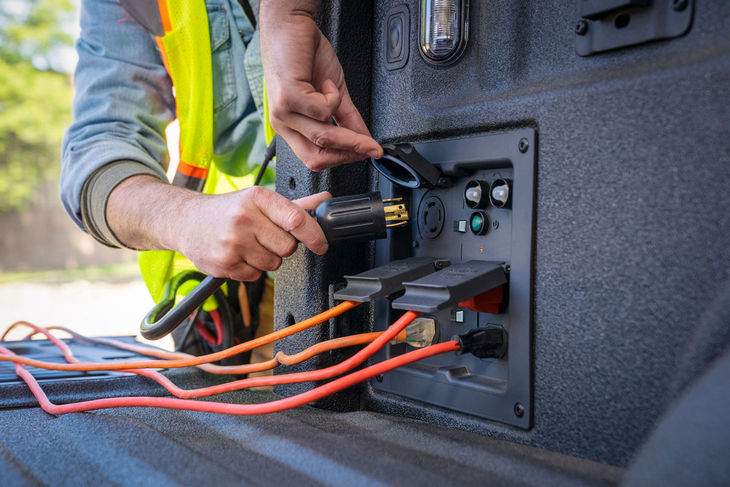 Pro Power Onboard self-charging generator supplies power to cargo bed-mounted 120V 20A outlets, plus a 240V 30A outlet on the 7.2-kW version.
Also available is a lockable, fold-flat rear storage bin that extends the width of the rear seats. To access it, its operator simply needs to lift the bottom cushion of the rear seat, dropping valuables in and locking them away for safekeeping. It even has a divider to keep gear organised!
Lastly, the F-150 is equipped with Pro Power Onboard that "brings generator levels of power to work sites, campsites and everyday life". The system is available with 2.0-kW, 2.4-kW and 7.2-kW outputs and accessible through in-cabin outlets and up to 4 cargo bed-mounted 120V 20-amp outlets, with a 240V 30-amp outlet on the 7.2-kW version.
For more: New Ford F-150 offers clues to next Ranger
Further Reading:
2022 Ford Ranger: More details emerge
Next Volkswagen Amarok to be built in SA
How the AmaFord changes everything
2022 Volkswagen Amarok: What We Know So Far