The revised Ford EcoSport recently arrived in South Africa. The improvements over its predecessor are significant, but given the stiff competition in the compact family car segment, they needed to be. Does the Blue Oval deliver? We put the newcomer to the test.
We like: Cabin space, practicality, connectivity, lively performance, better spec
We don't like: Some minor interior quality issues
Fast Facts
Price: R306 900 (October 2018)
Engine: 1.0-litre 3-cylinder turbopetrol
Gearbox: 6-speed automatic
Fuel economy: 6.3 L/100 km (claimed)
Power/Torque: 92 kW/170 Nm
SERIOUS ABOUT BUYING?
Where does it fit in?
Back when it was launched in 2013, the EcoSport was quite the revelation. Ford took what we knew and loved about hatchbacks and applied them to a raised body baby SUV. As South Africa's small crossover craze gained momentum, the EcoSport soared... sometimes, as many as 1 000 units were sold a month. It's also critical to note that there were few competitors back then, making Ford one of the early trendsetters in this (now) ultra-competitive segment. Fast forward to 2018 and the market is now flooded with rivals from many manufacturers. It is key, then, that the new Ford EcoSport carry the baton and continue where its popular predecessor left off.
Also Read: Ford EcoSport: (2018) Specs and Price

Even though it is not marketed as an offroad vehicle, the 206 mm of ground clearance proved useful on some rocky dirt roads.
What's good about it?
Performance/Efficiency balance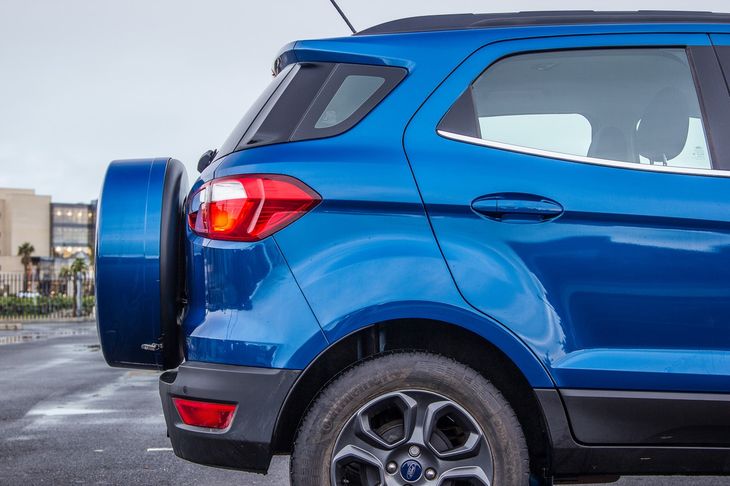 We're glad to see the spare wheel being kept outside the car. It adds to the visual appeal and frees up more luggage space.
Powering the Ford EcoSport is the tried-and-tested 1.0-litre turbocharged 3-cylinder engine. It's quite far along in its lifespan, yet continues to impress with its in-gear punchiness and outright power despite its small capacity. It's completely understandable why the motor has bagged so many category wins in the World Engine of the Year Awards. In this latest EcoSport, it's tuned to deliver 92 kW and 170 Nm, with power going to the front wheels via an all-new 6-speed automatic gearbox.
Although there's always a discrepancy between claimed and real-world fuel economy (as it appears on the trip computer), experience has shown derivatives powered by this diminutive EcoBoost engine really struggle to match Ford's claimed figures. However, things have improved and we put this down to the new transmission. Whereas Ford claims a 6.3 L/100 km on the combined cycle, we found ourselves averaging under 8 L/100 km, with the majority of our driving taking place on the open road.
Good standard specification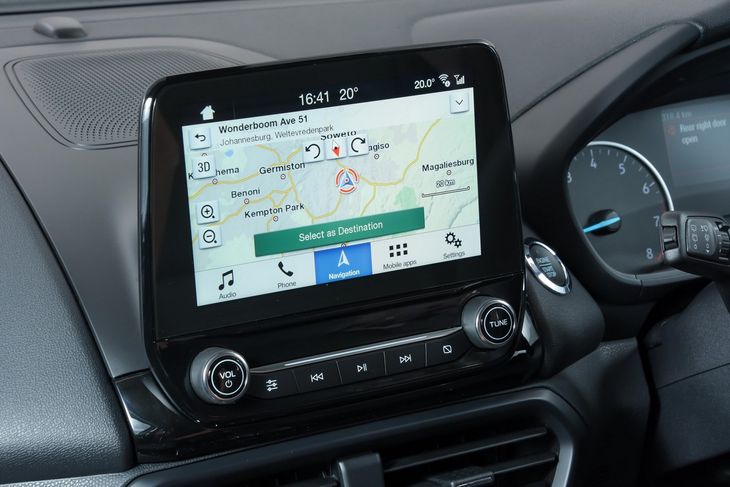 Android Auto means you have access to Google Maps and more
One of the key changes in the latest-gen EcoSport is the overhauled cabin. The infotainment setup has been replaced by an all-new Sync3 unit straight from the Ford parts bin and we simply adore its interface. Not only does it boast Android Auto/Apply CarPlay compatibility, but you can actually utilise your phone's features in the car, like Spotify music streaming and vitally, Google Maps, making the need for navigation redundant. There are 2 USB ports located in the centre console (with which you can charge devices, for example) and we appreciated the fact that these are illuminated, so it is easier to figure out where you should plug in our smartphone et al.
There are also nice convenience features such as rear parking sensors, front fog lights, tyre pressure sensors, a cooled glovebox and remote audio toggles on the steering wheel (but cruise control is reserved for the Titanium derivative). Shift paddles are also availed, but we preferred leaving the transmission to shift gears automatically. Meanwhile, safety is an avenue in which the Ford EcoSport has been improved considerably – it now features 7 airbags, as well as stability control.
Ride comfort & off-tar ability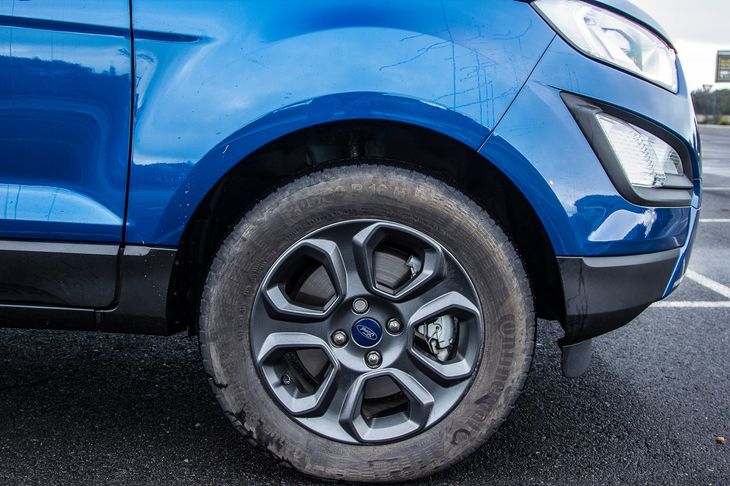 These alloy wheels are a nice blend of ride quality and sportiness. Note the car is a touch firm on the more coarse gravel roads.
In this segment, ease of use is critical and we're happy to report that the revised Ford EcoSport is a pleasantly simple to drive and manoeuvre around town. The perky compact engine and automatic transmission work well together. In terms of ride quality, the newcomer rides on 16-inch alloy wheels in Trend specification, which offers a nice blend of comfort and agility. The suspension is reasonably damped for South African roads, but those who want to venture off the tarmac (from time to time) will find the suspension a touch firm when traversing really rutted roads. The ground clearance of 206 mm helps immensely though and makes up for the lack of all-wheel drive.
The steering follows the same pattern as the majority of players in the segment. It's not the most direct and there's not much feel, but it is light enough and offers enough weighting to instil confidence. As we expected, the EcoSport does tend to roll a little when you're pressing on, but this is par for the course for small crossovers; there is little amiss in terms of the Ford's general road holding. Overall, refinement is fair (given the price tag), although we did encounter some wind noise at highway speeds.
Practicality
When images of the all-new EcoSport were released, we were worried that the trademark spare wheel on the back had been dropped. Thankfully it wasn't (for the South African market) and this is great for 2 reasons. Firstly, the spare wheel on the EcoSport's tailgate gives it a nice butch appearance and secondly, the absence of a 'wheel in the luggage bay means there's more loading space for your detritus. Ford claims a capacity of 333 litres and, when you fold the seats down, 705 litres is available.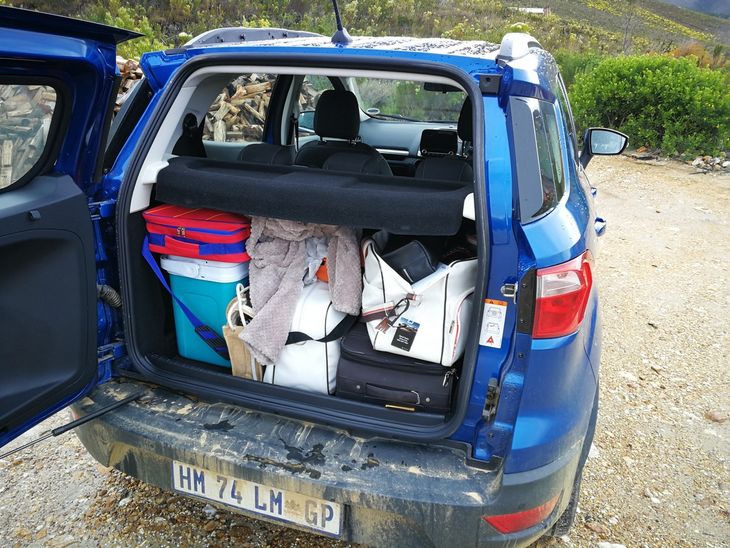 Ford EcoSport boasts a generous luggage bay, which can carry enough supplies for a long weekend away.
Where does it fall short?
Unfortunately, build quality was not one of the Indian-made previous EcoSport's strong points. However, this revised EcoSport is sourced from Ford's Romanian factory and only the entry-level derivative is built in India. While quality has improved both inside and out, there are still a few bits of shoddy workmanship. Our test unit had some loose rubber trim along the bottom of the doorframe and upon inspecting other new EcoSport demo units we noted similar issues. Look, at this price point, it's not a dealbreaker, but when you consider how well the Fiesta is assembled, it's puzzling to see (especially considering that the Fiesta and EcoSport share the same platform).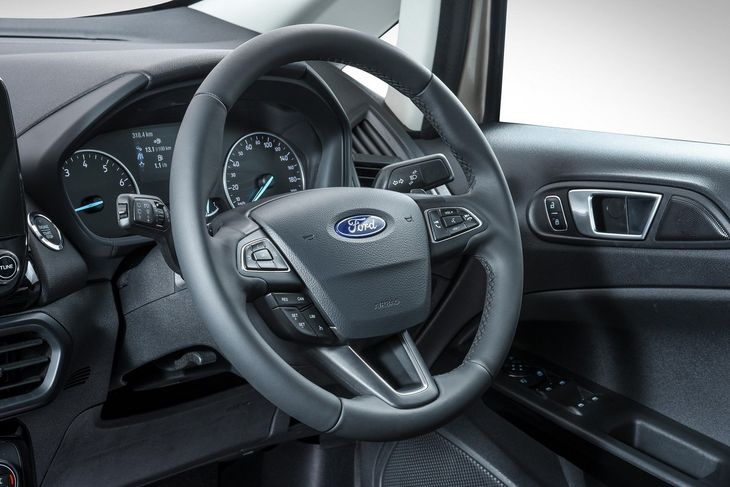 The 2nd generation of Ford's EcoSport has benefitted from over 2 300 new parts and the cabin (Titanium trim shown) feels more upmarket.
Pricing & Back-Up
The Ford EcoSport range starts from R267 500 (for the 1.5-litre turbodiesel engine in Ambiente spec). This Trend Auto retails for R306 900, while the asking price for the flagship Titanium Auto is R346 900. All versions come standard with a 4-year/120 000 km warranty, 4-year/60 000 km service plan, 3-year/unlimited distance roadside assistance and 5-year/unlimited km corrosion warranty.
Verdict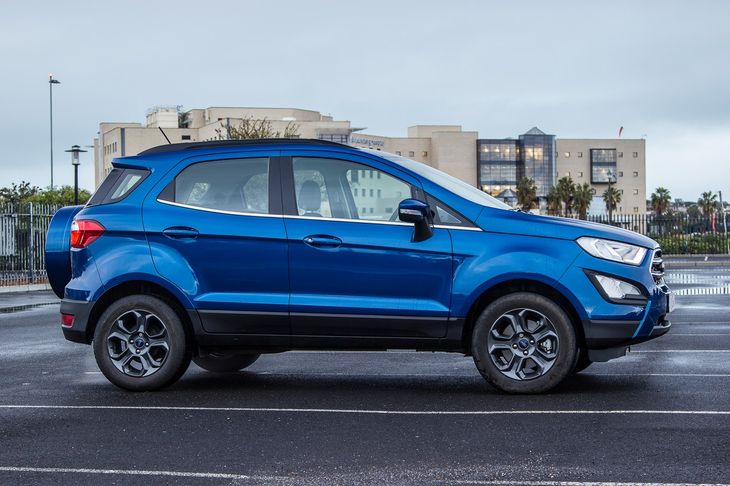 It may only be an updated version of a car that we know well, but this EcoSport really moves the game on for the segment. Not only has the number of onboard features and the array of safety equipment improved dramatically, but it retains all those little traits that made it such a popular model. The range is diverse too, with the option of manual and automatic, as well as petrol and diesel. We think going the automatic route will take away the stresses of driving in commuter traffic and given its more-than-fair specification, we regard the Trend a better value-for-money proposition than the top-spec Titanium, which is a finalist in its category of the 2018/19 #CarsAwards.
What's more, the EcoSport is more capable than you'd expect when it comes to travelling on gravel and there's just enough interior and loading space for it to qualify as a near-ideal small family car, although rear legroom at the back is admittedly not the greatest for full-sized adults. Ford claims that 2 300 parts have been changed on this new EcoSport and if our experience of the vehicle during its tenure in our test fleet is anything to go, this new version will continue to sell in respectable numbers.
Alternatives (click on the names for detailed spec info)
The Duster follows the example of EcoSport... It's been extensively revised, so much so that it feels like an all-new contender. There's a focus on more features without losing any of the traits that endeared itself to us. The Duster is a popular vehicle and we expect the new one to be just as good.
Hyundai facelifted its Creta compact family SUV recently. It offers petrol and turbodiesel options and is arguably better suited to families thanks to a bit more space.
The most stylish of the lot, this Toyota sacrifices space in favour of looks. As great and modern as it looks, its load bay lags behind the best of this squad.
Honda South Africa has tweaked its HR-V compact SUV in an effort to keep pace with the segment. We've yet to drive it, so we can't pass judgment on it yet.
Looking for a new / used Ford EcoSport to buy?
Find one on Cars.co.za today by clicking here