Aston Martin has shown its first production Electric Vehicle (EV) at the Shanghai Auto Show. Meet the Rapide E!
The Rapide E is Aston Martin's first step towards an electrified future with its zero-emission luxury brand, Lagonda, expected to produce a fully electric production crossover by 2022 which will be based on the recently-revealed Lagonda All-Terrain Concept.
Dr Andy Palmer, President and Group CEO, Aston Martin Lagonda, commented: "Unveiling the Rapide E will be a huge moment for Aston Martin. As our first all-electric production car, it is a truly historic step. One that signals Aston Martin is prepared for the huge challenge of an environmentally responsible and sustainable future. As a car company we cannot afford to passively allow that future to come to us; we have to actively chase it. Only by doing this can we learn and prepare, but also preserve those things we love as drivers and car enthusiasts. That's why it was so important to me that in embracing EV technology we should not let go of those unique qualities that define an Aston Martin. I believe Rapide E embodies that desire and paves the way for a hugely exciting future."
Electric Power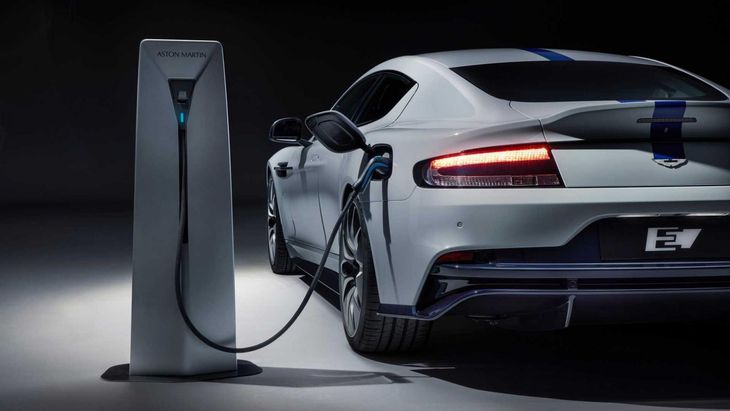 The Rapide E delivers both performance and a claimed range of 322 km.
Gone is the 6.0-litre V12 engine which is now replaced by an 800-volt electrical architecture battery with 65 kWh capacity and wrapped in Kevlar and carbon fibre. A total of 5 600 lithium-ion cells produce 448 kW and 950 Nm which is directed to rear-mounted electric motors with a limited-slip differential.
In terms of performance, the rear-wheel drive Rapide E will sprint from zero to 100 kph in roughly 4 seconds with a top speed of 250 kph.
The Rapide E is said to have a range of 322 km and almost 300 km charge can be achieved in an hour using a 400 V/ 50 kW charger. Faster charging can be achieved by using an 800 V/100 kW outlet which can charge almost 500 km in one hour.
Particular attention has been paid to enhancing the Rapide E's aerodynamic performance which ultimately increases range. Aston says that the Rapide E is 8% more aerodynamically efficient than the previous internal combustion model.
On the inside, the previous analogue dials are replaced by a 10-inch digital display provides all vehicle information to the driver including battery charge, motor power levels, regenerative performance and real-time energy consumption. Carbon fibre is used extensively in the cabin to reduce overall weight and improve efficiency. Owners can also make use of a dedicated app to view key vehicle information remotely.
The Rapide E, developed in collaboration with Williams Advanced Engineering (WAE), is the first electric production vehicle to be produced at Aston's new production facility in Athan, Wales and only 155 units will be available worldwide.
Buy a new or used Aston Martin on Cars.co.za
Related Content
Aston Martin Lagonda All-Terrain Concept Shown
Aston Reveals Gorgeous DBS GT Zagato
Aston Martin Valkyrie: Power Numbers Confirmed
Aston Martin launches EV conversion programme for classics