Audi has unveiled a faster and more hardcore version of its R8 supercar. Imbued with the R8 V10 Plus coupe's powertrain and tech, the R8 Spyder V10 Plus is now the fastest convertible in the Audi family.
The standard Audi R8 Spyder has only just arrived on South African shores, yet Audi Germany has added more firepower to the Spyder and created the Spyder V10 Plus.
Power has increased and the 5.2-litre naturally aspirated V10engine has gone from offering 397 kW and 540 Nm to a mental 449 kW and 560 Nm of torque, available from the 8 700 rpm redline. Audi claims its R8 Spyder V10 Plus shaves three-tenths off its non-Plus 0-100 kph sprint time, which means it'll take just 3.3 seconds. Top speed has increased too with a claimed figure of 328 kph.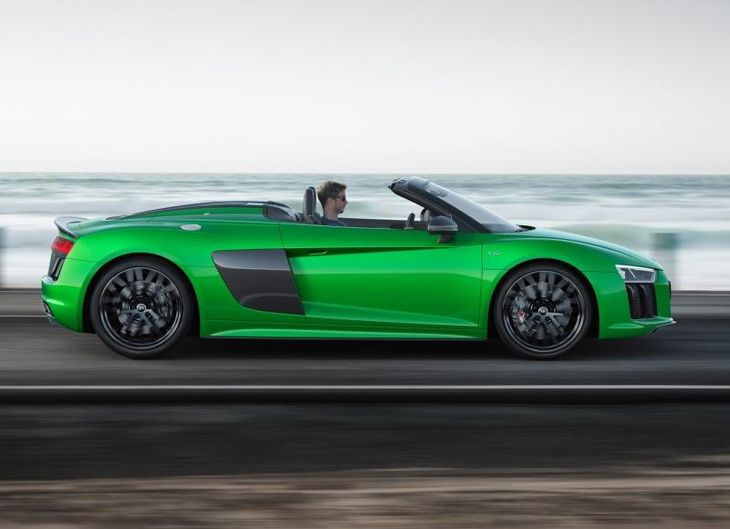 The Audi Spyder V10 Plus is now the fastest convertible offered by Audi.

All that shove goes to a quattro all-wheel drive setup via a seven-speed dual clutch gearbox. A clever torque distribution system can send up to 100% of the torque to one axle, should the situation arise. At 1 695 kg, the roof mechanism and body strengthening material add around 140 kg in weight, but importantly, it's 25 kg lighter than the standard Spyder V10.
Further Reading
See price and specification for the new Audi R8 Spyder here
Audi R8 V10 (2016) First Drive [with Track Video]
Audi R8 V10 Plus (2016) Review

Part 1: Audi R8 vs McLaren 570S with Drag Race

Part 2: Audi R8 vs McLaren 570S Track Race
Interested in buying a used Audi R8?
Click here to search for one on Cars.co.za
Watch the Audi R8 Spyder V10 Plus