With 1 600 Nm and 820 kW, it isn't slow.
Hispano Suiza has revealed an even more exclusive version of its Carmen. The Spanish brand is channelling its 1930s design legacy with the Carmen range, which is being positioned as a contemporary supercar with outrageous styling, clever materials and battery power.
With its new Boulogne variant, Hispano Suiza has taken the Carmen platform and made it even lighter, whilst adding power.
The car's styling is theatrical, featuring unpainted carbon-fibre bodywork, shaped with dramatic pinch-points over the wheel arches. CNC machined copper components abound, both inside and out, giving the Boulogne a wonder contrasting texture and colour theme, in relation to its carbon-fibre weave exterior surfacing.
Low mass and enormous power combine to give this Spanish supercar tremendous performance. The Carmen Boulogne's platform is a monocoque carbon structure too and weighs only 195 kg.
Although the 80 kWh lithium-ion battery pack isn't the largest power source available, Hispano Suiza claims it can spin the Carmen Boulogne's electric motor to a peak power output of 820 kW.
With 70 kW more than the standard carbon and 60 kg less weight, the Boulogne version is said to be capable of 0-100 kph in 2.6 seconds and a top speed of 290 kph.
Range and recharging numbers are impressive too. Hispano Suiza says that a Carmen Boulogne should run 400 km on a single charge, although that implies that it is not being driven at its performance potential.
Hispano Suiza's Carmen is a low-volume project, feature an enormous amount of handmade componentry. As such, it certainly is not a cheap investment for any enthusiast. The company will only build five of these Boulogne versions, priced at R28m a piece. Customers are expected to receive their cars by 2022.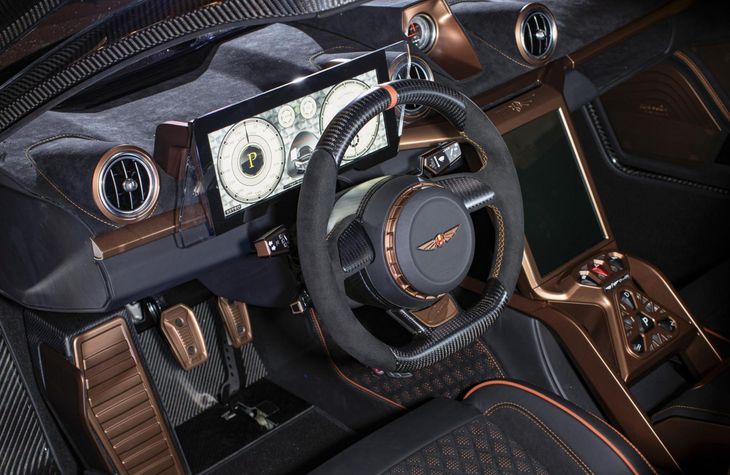 Further Reading
Koenigsegg unveils a 400-kph 4-seater
Pagani Imola is Most Potent Huayra