We have conducted an extended (month-long) test of the Ford Kuga 1.5T Trend automatic to discover what it's like to live with. The relatively downsized 1.5-litre turbopetrol engine is mated with an automatic transmission and our test unit was also generously and luxuriously specced. Let's take a closer look...
Ford Kuga 1.5T Trend automatic - Quick facts
Price: R422 900
Avg fuel consumption: 7.0 L/100 km (claimed)
Engine: 1.5-litre 4-cyl turbopetrol
Power: 132 kW
Torque: 240 Nm
Load volume: 456-1 653 L
Airbags: 7
Warranty: 4-year/120 000 km
Service plan: 4-year/80 000 km

The Kuga's exterior treatment still looks fresh, even though an all-new version will be introduced in the near future.
What is it?
The Ford Kuga has been on the market for some time now but remains a popular choice among compact SUVs. Even though it was introduced to the local market in 2013, we think the looks are still sharp enough for the Kuga to remain competitive against newer rivals. In 2014, the model underwent an upgrade which included new engine and transmission pairings, and it's this newer 1.5T EcoBoost Trend derivative that we've been testing.
Petrol-powered motivation
The Kuga is available in all-wheel-drive guise, but our test unit was front-wheel drive. While you might initially think that the Kuga is too large for a FWD setup, you never really notice which wheels are handling the power, mostly due to the very smooth gearbox modulating the power delivery. All-wheel drive is available for this model for an additional R31 000 and unless you constantly tackle gravel roads or slippery conditions, then it's probably not worth it.
The turbocharged 1.5-litre engine does seem a little overwhelmed in this application. Power is healthy at 132 kW, but available torque is relatively low at 240 Nm. While it is a smooth motor, it does have to work hard to move the car around. I found myself having to constantly add extra throttle in most driving situations, not just when overtaking. As such, fuel consumption suffered, and we averaged 9.1 litres/100 km.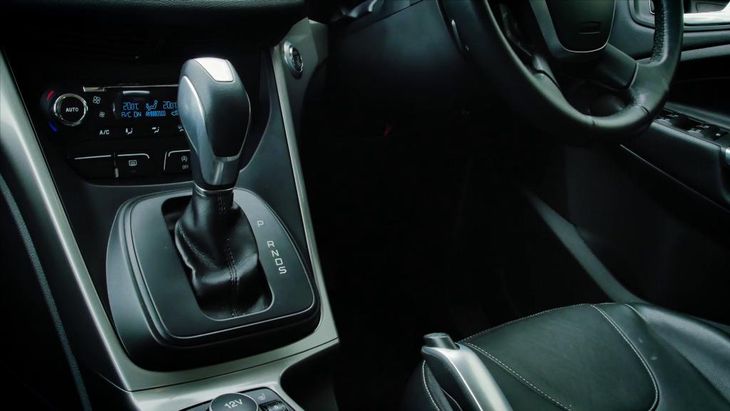 An automatic transmission makes light work of the daily commute, although fuel consumption wasn't as good as expected.

Although Ford claims an average fuel consumption figure of 7.0 L/100 km, I don't feel that your average will ever be much better than what we achieved. Under ideal conditions – cruise control on a flat freeway at 100 kph – the Kuga was still showing an instantaneous fuel consumption reading of 9.0 L/100km.
That said, the Kuga rarely feels underpowered, it's just that the engine needs to be worked harder for optimal performance. The big advantage of the automatic 'box was that it made stop-start traffic infinitely more bearable. Given the state of traffic on our roads at the moment, I can't imagine purchasing anything other than an automatic. Keyless entry with a push-start ignition is also a convenient, day-to-day feature, although this does make it easier to lose the key.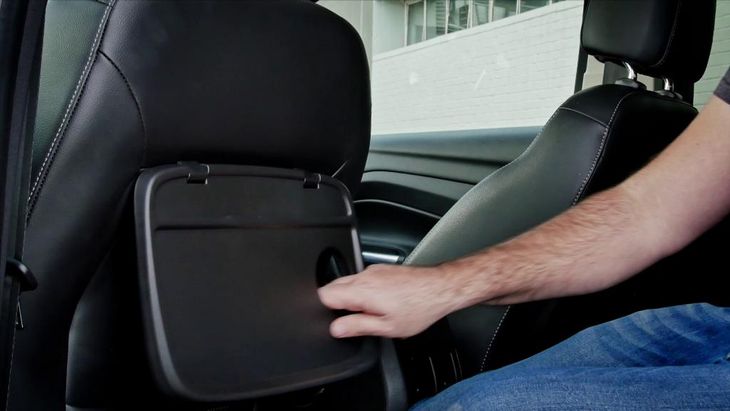 Fold-out trays on the backs of the front seats are very family friendly.
Interior comfort and features
Despite its smaller engine, the Kuga does feel like a big, solid, comfortable family vehicle. The Kuga is sold in the United States as the Endeavour and while it is a European-designed and -built car, it does feel somewhat "American" in its demeanour. The ride quality is comfortable and definitely set up for cruising; the Kuga is great for long distance journeys.
The front seats, in particular, are lounge-like and the heated seats are an absolute treat in winter. Space for front passengers is generous and the cabin feels anything but cramped. I particularly appreciated the quality of the leather and other materials. It almost feels like no expense has been spared, and that's a welcome feeling at this price point.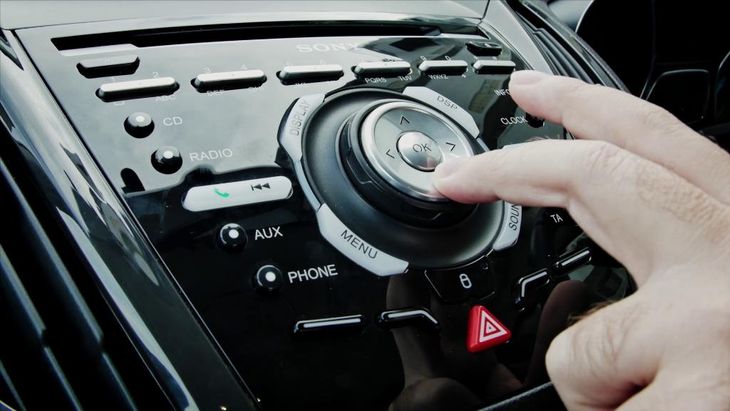 The infotainment interface is not the newest in the Ford stable, but its functionality wants for nothing.
The rest of the interior is modern enough, but Ford's SYNC1 system is starting to feel dated, with its small infotainment screen and a large collection of small buttons on the centre dashboard.
However, it is very functional. We liked the voice control features and once your phone is bluetoothed, you can just forget about it, making use of the steering wheel controls or voice activated features to play music and control calls. Using the system becomes second nature, a sign that it's quite intuitive.
Rear space and load area
Rear seat passengers have ample room and are well catered for. Nifty touches include sturdy food trays for each passenger, mounted to the back of the front seats. A 230V, 2-pin plug point in the footwell is great for charging laptops and other larger devices, or sorting out rear entertainment for the little ones.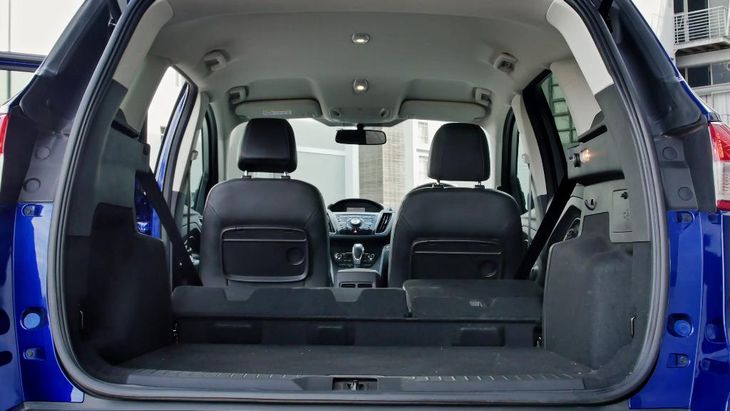 The Kuga's loading space is very versatile and often transported mountain bikes during its test tenure.
A particularly well thought out feature is the one-touch folding function of the rear seats. They fold in a 60/40 split and it's a distinctly no fuss affair that will be appreciated by busy mums and dads with lots on their hands. Using one hand, simply lift a lever fitted to the side of each seat (positioned just below your hip if you are sitting on the back seat) and the seat springs down flat automatically.
With the rear seats fixed in place, the boot space is already generous and noticeably deep, but with the seats folded flat, there shouldn't be much that you can't fit in a Ford Kuga. The car was popular in the office amongst those of us with bicycles, and Cars.co.za colleague Ashley Oldfield borrowed the car on a few occasions to transport his mountain bikes. Our video features a demonstration of the folding function and the load space with seats in place and folded down.
Verdict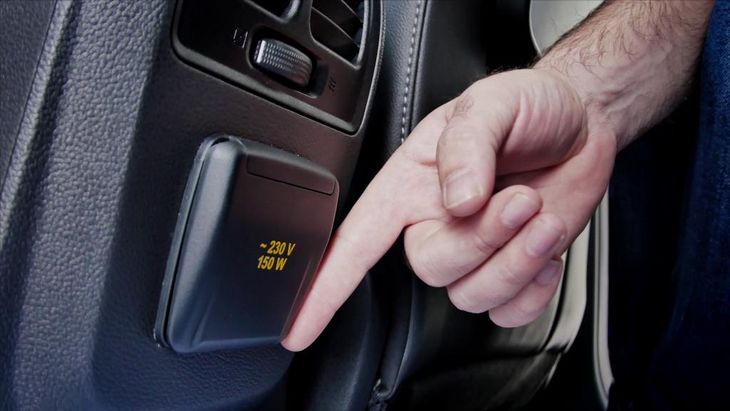 The provision of a 230V electrical outlet in a vehicle is rare in our market, but was well received by the team.
The Kuga is a spacious, practical vehicle that will undoubtedly become a useful member of the family. While its infotainment system is a little dated, having already been replaced elsewhere in the Ford stable by SYNC2, the reality is that some rivals at this price point do not offer nearly as much functionality.
With a car of this size, perhaps a diesel engine would be better suited to daily driving. However, the 2.0-litre turbodiesel is only available with all-wheel-drive, and at R488 900, it would be virtually impossible for the potential fuel savings to offset the initial outlay. In that sense, the petrol engine's downsides are not enough to rule it out as being the best option in the line-up, if you are not interested in having all-wheel drive.
The price of this Kuga has crept up over time to R422 900, from a launch price of R379 900. However, with generous standard specification, the Kuga has been able to hold its own amongst a barrage of newer rivals such as the Mazda CX-5, Hyundai Tucson and Renault Kadjar. At current pricing, the Kuga is still in line with the competition in terms of price and specification.
Related content:
New Ford Kuga Revealed
SUV Comparison: Ford Kuga vs Honda CR-V vs Subaru Forester
Ford Kuga Ambiente Automatic Joins Local Range
Interested in buying a Ford Kuga?
View full specs on the 2016 Ford Kuga 1.5T Trend auto
Find a used Focus Kuga on Cars.co.za
We can help you find a new Ford Kuga here