The next incarnation of the Kuga compact SUV features a number of exterior and interior changes as well as a new turbodiesel engine.
Ford has revealed the new Kuga that will be offered with a host of improvements including updated interior / exterior styling and the inclusion of convenience features such as SYNC 3 connectivity, hands-free parking and an enhanced version of Active City Stop. A new 1.5-litre TDCi diesel engine will also join the lineup.
Also see: SUV Comparison: Ford Kuga vs Honda CR-V vs Subaru Forester
Styling changes
The look of the new Kuga is enhanced with a large upper trapezoidal grille and a smaller lower grille that are flanked by sleek headlights with integrated LED daytime running lights. The taillights have been redesigned too and buyers can also choose from a new range of 17, 18 and 19-inch alloy wheels in a variety of finishes. Two new exterior colours, including Guard Grey and Copper Pulse, will be offered. The new Kuga is equipped with a power-operated retractable towbar that's stored below the bumper and the hands-free tailgate is opened and closed using a kicking motion beneath the rear bumper.
On the inside, Ford has refined the Kuga's interior by employing improved ergonomics. There are fewer buttons and the steering wheel and air-conditioning controls are more intuitive and easier to use than in the current generation vehicle. The steering wheel is heated for added convenience and all automatic models will come with paddle-shift controls to facilitate manual gear shifting at the driver's discretion. An electronic parking brake and door lock indicator are also included.
New Features
Ford's SYNC 3 connectivity system will allow drivers to control audio, navigation, climate control functions and connected smartphones using more conversational voice commands. SYNC 3 is accessed via the 8-inch touchscreen that incorporates swipe and pinch functions (for the first time in the case of the Kuga), much as those employed by modern smartphones. Apple CarPlay is available to iPhone users while Android users can activate Android Auto for a range of functions.
"Whether you are craving your morning cappuccino on your daily commute or covering the cost of a journey by transporting a package, SYNC 3 brings to life innovative new ways of staying connected on the move. Designed to complement modern smartphones, with an intuitive 8‑inch touchscreen, SYNC 3 understands more natural speech, is faster, and offers an easier-to-read graphical interface," says Christof Kellerwessel, chief engineer, Electronic and Electrical Systems Engineering, Ford of Europe.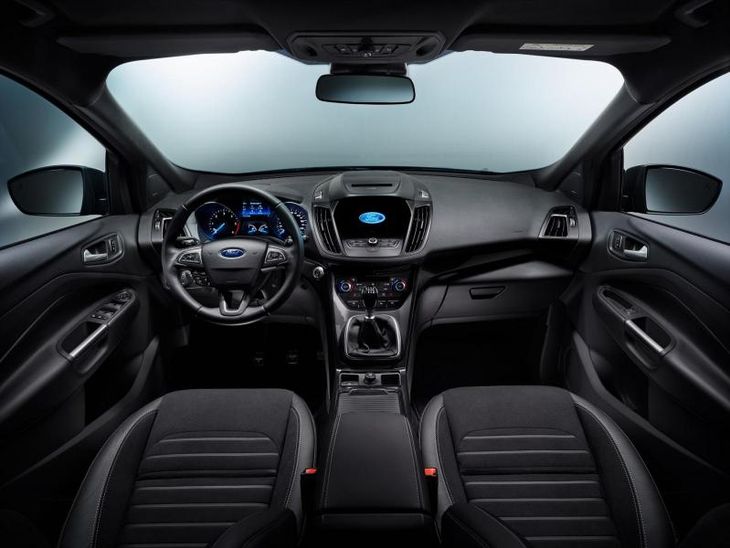 In an effort to make parking simpler, the new Ford Kuga is equipped with Perpendicular Parking that enhances the semi-autonomous Active Park Assist. The system uses sensors to locate parking spaces alongside other cars, including parallel spaces, and proceeds to steer the vehicle into the space while the driver is only required to accelerate and brake. Supplementary features such as Cross Traffic Alert and Park-Out Assist are also included.
An enhanced version of Active City Stop collision avoidance system operates at speeds up to 50 kph. Sensors are used to detect stationary objects in the road and if the driver fails to react, the system will reduce engine torque and apply the brakes automatically to avoid a collision. Features such as Intelligent All Wheel Drive, Curve Control and Torque Vectoring Control are also offered.
The new Kuga is also fitted with Adaptive Front Lighting System for the first time. The system monitors ambient light conditions and automatically optimises visibility by adjusting the beam angle of the new bi-xenon headlights to one of seven settings, taking into account factors such as vehicle speed, steering angle and distance to objects in front of the vehicle.
New engine for Kuga
Ford is introducing a new 88 kW 1.5-litre turbodiesel engine for the new Kuga and the engine will be offered on front-wheel drive derivatives with fuel efficiency expected to improve by about 5% with a claimed fuel consumption figure of 4.4 L/100km.
The new Kuga will also be offered with a 110 kW 2.0-litre turbodiesel engine in front-wheel-drive as well as all-wheel-drive versions. Ford's 1.5-litre EcoBoost engine will be offered with outputs of either 88 kW or 110 kW in front-wheel drive configuration while an uprated 134 kW all-wheel drive version will also be offered.
Ford South Africa has not confirmed when the new Kuga will become available in South Africa. We will keep you updated as more details become available.