Hyundai is preparing to reveal an all-new, 7th generation Elantra on 17 March 2020 and the firm has dropped a few teaser images and a short video to whet your appetite.
Based on the teaser images you see here, the new Elantra's design has become slick and edgy with a coupe-like silhouette and some eye-catching angular body lines. Hyundai calls it a sporty-four-door coupe and says it stands longer, lower and wider than the outgoing Elantra.
'Parametric Dynamics' is the term used to describe the new Elantra's design language but perhaps the most intriguing styling feature will be its grille, which is briefly teased in the video below. It's certainly bold but we will have to reserve full judgement until we see the new Elantra in full.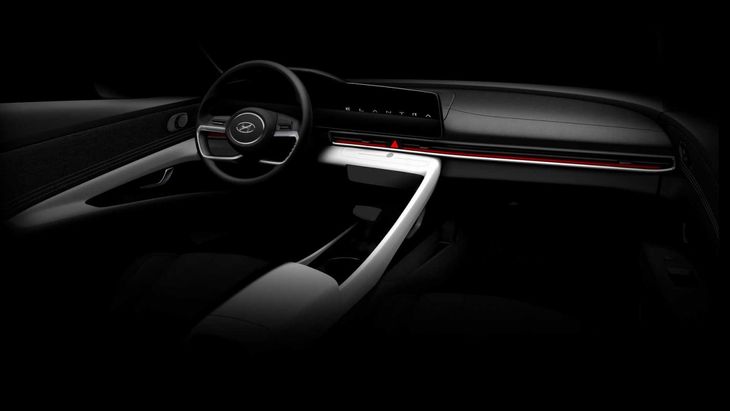 The new Elantra's interior is expected to be radically different from the outgoing version.
As for the interior, it looks slick, stylish and minimalist with very few buttons seen. Hyundai calls it an 'Immersive Cocoon'. It appears most of the Elantra's functions will be accessed via a large touchscreen which transitions nicely into the instrument cluster screen. Again, however, we are cautiously optimistic and we will have to wait and see how the production Elantra squares up to these teasers.
Powertrain details for the new Elantra are scarce but we hope that Hyundai matches the new sporty look with a suitable powertrain that will do the product justice. It's worth noting that the current Elantra Turbo Elite Sport employs a 1.6-litre turbocharged engine with 150 kW and 265 Nm and is equipped with a 7-speed dual-clutch automatic transmission.
Thankfully, we won't have to wait too long for official details as the new Elantra will be revealed in Hollywood on 17 March 2020. Stay tuned!
Buy a Hyundai Elantra on Cars.co.za
Related Content