Data specialists Lightstone Consumer have conducted an independent study among all major automotive manufacturers in South Africa to determine the current labour rates charged at franchised dealers. Consumers should find the results both interesting and insightful, take a look!
Lightstone Consumer has released results of its latest independent dealer labour rate study conducted in April 2017. The study incorporates telephonic interviews with Service Managers from 897 Passenger and Light Commercial Vehicle (LCV) dealerships from 37 car brands across South Africa. More so, the study accounts for the Warranty Labour Rate, Maintenance/Service Plan Labour Rate and the Retail Labour Rate.
It's important to note that most new cars are sold with maintenance plans and vehicle owners are therefore rarely familiar with Maintenance/Service Plan or Warranty Labour Rates, which are reimbursed to the dealers on completion of maintenance or warranty work. The Retail Labour Rate, however, is the rate charged for work on a vehicle that doesn't have a maintenance/service plan or in cases where the maintenance plan has expired. The Retail Labour Rate is therefore of particular interest to the consumer.
Most expensive to cheapest labour rates in South Africa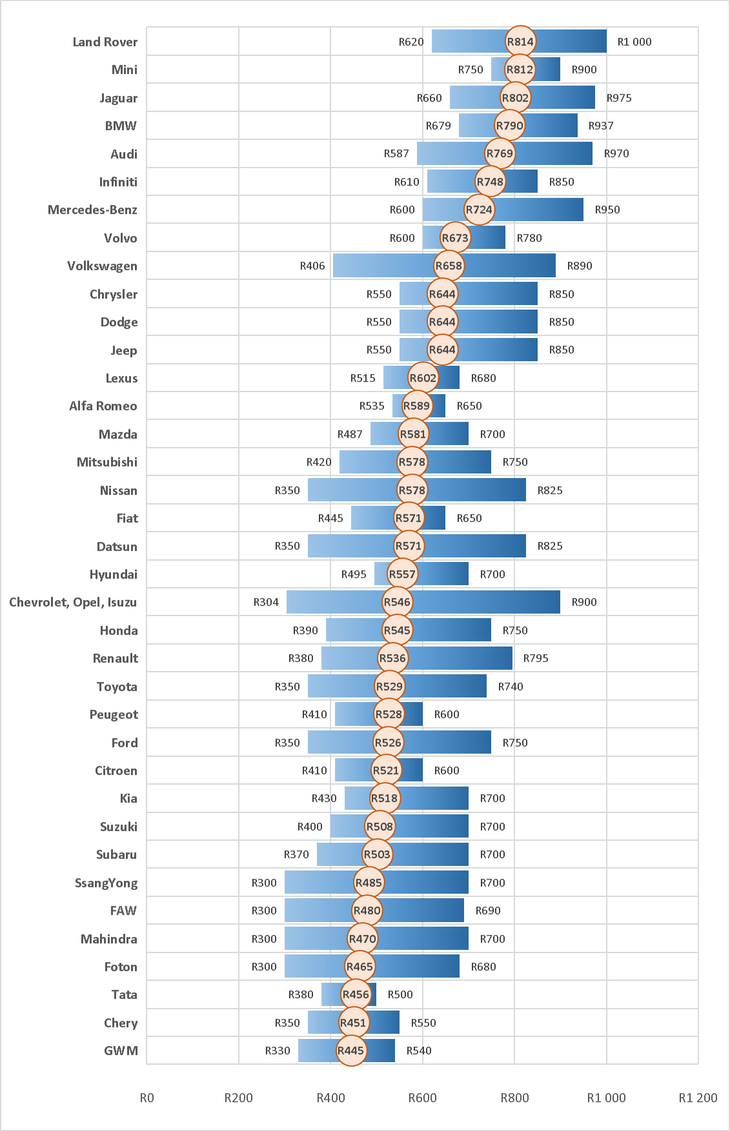 The survey results reveal labour rates as high as R1 000 and as low as R300 and the values vary depending on the brand and location of the dealership. Land Rover has the highest average retail labour rate of R814, while Mini comes in close second at with an average rate of R812. Jaguar is the third most expensive car brand with an average labour rate of R802. BMW and Audi charge an average amount of R790 and R769 respectively.
When Lightstone Consumer initially released its Dealer Labour Rates data back in August 2016, the Top 5 most expensive car brands were Audi (R847), Jaguar (R832), Land Rover (R809), Mini (R755) and BMW (R745).
At the lower end of the spectrum, GWM offers the cheapest average retail labour rate of all at R445, followed by Chery at R451, Tata at R456, Foton at R465 and Mahindra at R470.
Related content:
Dealership Labour Rates (2016) Which Brands Charge Most?
Children on the back of a bakkie – new law falls short
Car Auctions: Opportunity and Risk
3 Must-ask Questions for a Used-Car Salesman
The Motor Industry Ombudsman Of South Africa - In-Depth Q&A