The BMW 330e and (locally manufactured) Mercedes-Benz C350e represent their brands' most affordable plug-in hybrid vehicles (PHEVs) on the market (July 2017); it's no surprise that they are direct rivals. We put the pair of PHEV sedans through their paces to see which one is the better buy
What exactly is a plug-in hybrid, you may ask? Essentially, it cleverly combines a standard combustion engine with an electric motor and its battery pack. The principle is simple as the petrol engine does the majority of the open road driving, while the electric motor takes over where the petrol engine suffers the most: in traffic and when pulling away from a stationary position. When the battery is depleted, you have the option of using the petrol engine to charge it up (which substantially increases consumption) or (as opposed to the first wave of hybrids that were introduced in South Africa) you can plug it in either at home using a conventional plug point or at one of the few charging points dotted around the country.
As it stands, there are a few brands that offer plug-in hybrids on the local market. BMW has launched its iPerformance range which comprises the 330e, 740e and X5e, plus the range will be expanded soon to include the 530e 5 Series derivative. The i3 Range Extender (REX) is essentially a "range anxiety eliminator", but the i8 sportscar is certainly a true PHEV. Mercedes-Benz has PHEV versions of its C-, E- and S-Class models as well as some of its SUVs, Volvo offers a plug-in hybrid version of its XC90, as does Porsche with its Cayenne.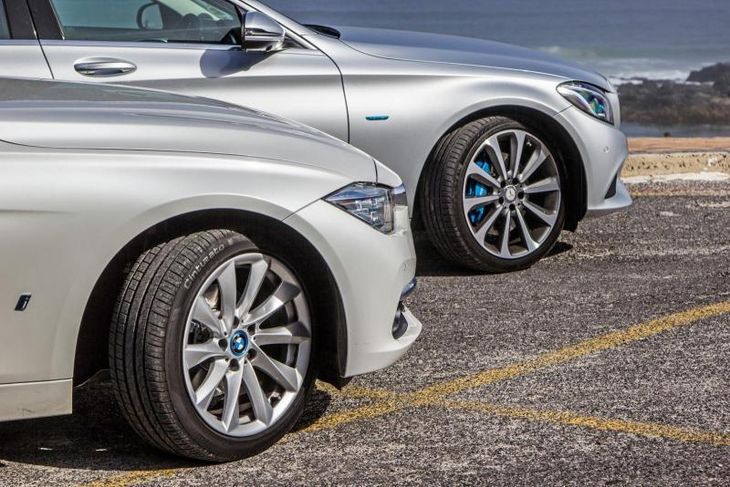 Judging by their side views, the i badges and blue brake callipers are the only clues that these 2 are not conventional German business class sedans.
Visually, these vehicles look much like their standard siblings, but it's only upon closer inspection that you realise that these are not derivatives powered exclusively by internal combustion engines! The BMW features discrete 'i' badging and there are blue finishes on the grille. The Mercedes-Benz, on the other hand, features blue brake callipers and detailing around the headlights. Each vehicle features a subtle 'e' on the rear boot badges too. Unless you know what you're looking at, these are 2 otherwise "normal-looking" German first class sedans.
At a glance
| | | |
| --- | --- | --- |
| | BMW 330e | Mercedes-Benz C350e |
| Power/Torque | 185 kW / 420 Nm | 250 kW / 600 Nm |
| We Like: | Ease of use, build quality, generous specification | Performance, generous specification |
| We Don't Like: | Not as efficient as claimed | Build quality is not up to par, not as efficient as claimed |
| Price | From R789 000 | From R804 900 |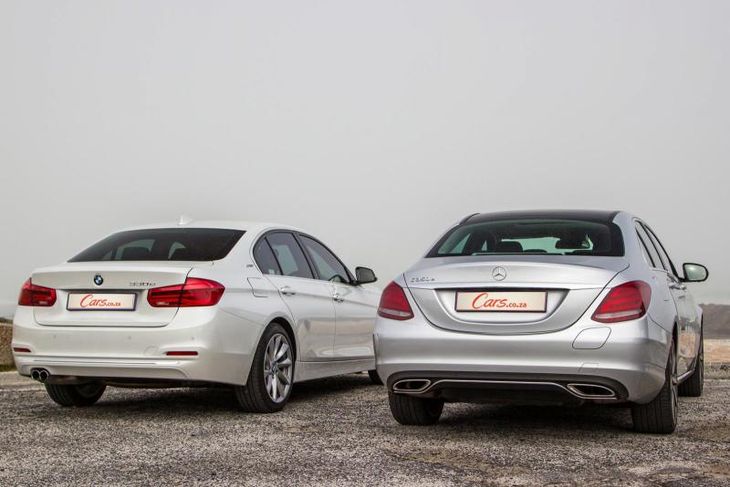 The rear boot space has been reduced in order to accommodate the batteries. Note the flap on the rear of the Mercedes
Powertrain comparison
Both the Mercedes-Benz C350e and BMW 330e utilise 2.0-litre 4-cylinder turbocharged petrol engines assisted by electric powertrains. The BMW offers up peak outputs of 185 kW and 420 Nm, while the Mercedes-Benz is more potent at 250 kW and 600 Nm. The similarity continues as both vehicles feature torque converter automatic transmissions.
The really impressive technology lies in the electrical systems. There's an electric motor supplied by a lithium battery, which can be charged on the go via F1-style brake energy harvesting or when plugged into a power outlet. Mercedes-Benz and BMW claim their respective products can be charged completely (from empty) using a domestic plug in 3.5 hours.
The numbers make for interesting reading. Mercedes-Benz claims its C350e costs R11.62 to charge, while the BMW can be charged for R14.25. Interestingly, both cars can be driven solely on electric power for limited distances and neither are slouches. If you're gentle with the throttle, you can get some solid distance on pure electric power: while the claims of 31 km (Mercedes-Benz) and 49 km (BMW) were a bit optimistic, our video test (a link appears at the end of this review) showed that double figure distance is possible without using any petrol propulsion. Each car features various modes to maximise either performance or efficiency, and you can force each to drive solely on pure electric power (battery state permitting).
In terms of claimed consumption figures, the BMW sits at 1.9 L/100 km and the Benz at 2.8 L/100 km, which would give them theoretical tank ranges of over 2 100 km and almost 1 800 km. In practice, however, given unpredictable traffic conditions and absent-minded (read: uneconomical) driving styles – some people may simply forget or not have the opportunity to charge their vehicles optimally in between commutes – we expect the BMW to be more frugal than the Benz, but that neither should regularly achieve anything near those figures!
Cabin executions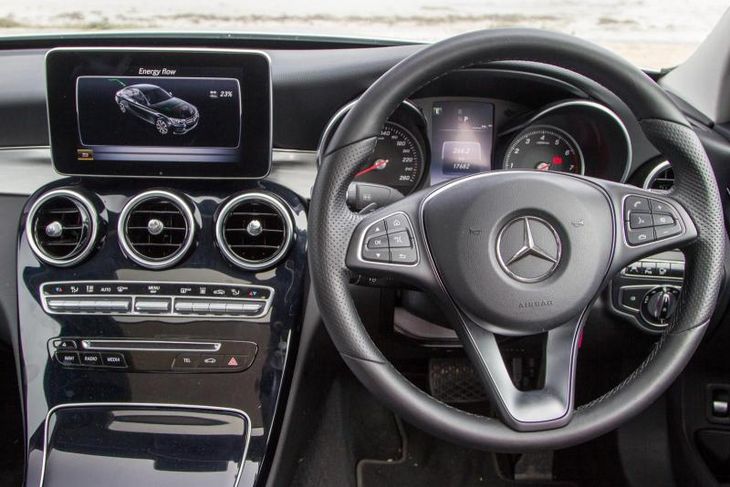 The Benz's interior looks the most premium, but there are some weak plastics on the centre dashboard.
The locally made Mercedes-Benz C350e's cabin certainly looks the part and there is no shortage of luxury touches dotted around the interior. However, we discerned a few creaks and rattles that emanated from the cabin; the plastic fascia insert, in particular, exhibited a bit of play. Perhaps our test unit had had a tough run, but the vehicle was not wearing well and the automated boot made a noise when in operation (closing). Still, in terms of first impression and general ergonomics, the Mercedes-Benz C-Class has a classy cabin.
The BMW 3-Series interior doesn't feel like it has changed much over the years and it's only when you're using the infotainment system that modern functionality really makes its presence felt. We'd say that it's marginally better built than the Mercedes-Benz. Interestingly, it's one of the few 3 Series derivatives that are not assembled in South Africa.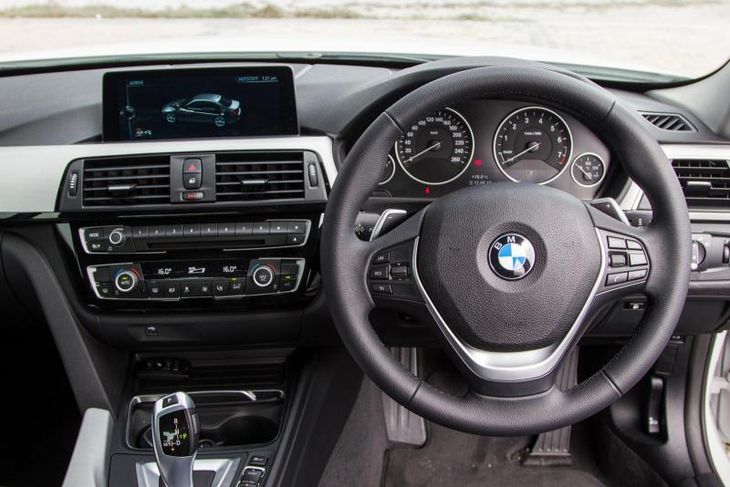 It doesn't look the most modern, but it is solid and built well
The driving experience
All the electric componentry has added significantly to the weight of these two vehicles and you can experience the added heft from behind the wheel. In cut-and-thrust driving, the BMW 330e feels the wieldier of the two; some smart packaging has allowed the 330e to retain its hallmark 50:50 weight distribution, but the C350e feels comparatively cumbersome compared with the (non-hybrid) C250 sedan we drove a while back. However, the Benz the winner in the ride quality stakes purely on the basis of its air suspension, which is standard fare.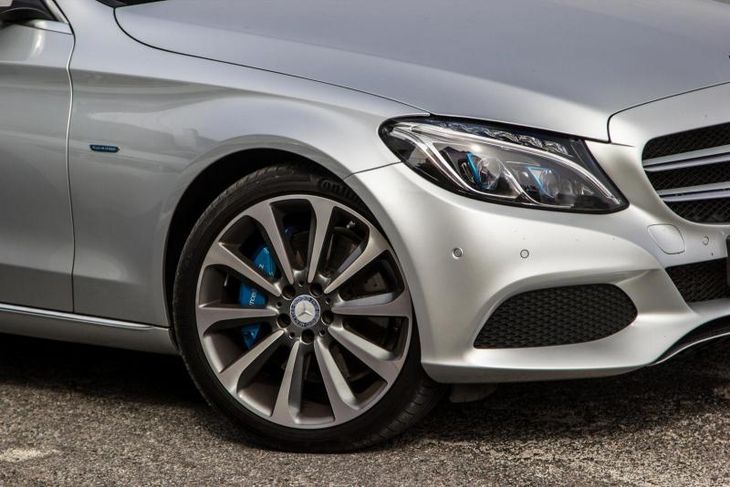 Despite its low-profile rubber, the Benz utlised its standard air suspension to deliver a more pliant ride quality than the BMW.
Verdict
As smartly-made and advanced as these cars are, the South African government sadly offers no support in the form of tax breaks or other incentives to make purchasing a PHEV a more attractive proposition. As it stands, both brands' equivalent turbodiesel products offer better performance at a cheaper price and as impressive as the BMW 330e is (it's our choice in this comparison), it's hard to justify its R200 000 premium over a standard BMW 320i. Still, these cars are the precursors to a new wave of more environmentally friendly personal transport solutions and, as such, are aimed at ecologically-minded early adopters and those whose lifestyles these vehicles would suit to a tee. Given the cars that were at our disposal, the BMW feels nicer to drive, suitably upmarket, very comfortable, has a lower fuel consumption and, as our experiment showed, outlasted its Stuttgart rival when running on battery power alone. Considering all that, plus its price advantage, the 330e nudges ahead of the C350e in our opinion.
Watch the BMW 330e and Mercedes-Benz C350e video:
Related content:
Check our comparison tool and see how these two cars stack up
Read a full review of the Mercedes-Benz C350e here
BMW 330e & Mercedes-Benz C350e (2017) Electric Range Challenge
Volvo XC90 T8 Twin Engine AWD Inscription (2016) Review
Interested in buying a BMW 3 Series?
Search for a new/used example on Cars.co.za
Interested in buying a Mercedes-Benz C-Class?