The C3 is Citroen's answer to the market's current crop of safe-but-predictable compact hatchbacks, as well as the entry point to the returning French marque's product line-up. Is the newcomer any good, however? We spent some quality time with the entry-level 1.2 Feel derivative.
We like: Unique and bold styling, peppy engine, comprehensive specification, eager performance, keen pricing.
We don't like: Long clutch travel, notchy gearshift action, new Citroen aftersales programme still unproven.
Fast Facts
Price: R249 900
Engine: 1.2-litre naturally-aspirated 3-cylinder
Power/Torque: 60 kW/118 Nm
Transmission: 5-speed manual
Fuel consumption: 5.7 L/100 km (claimed)
​​Load capacity: 300 litres
Own a Citroen? Tell us about your experience here.
SERIOUS ABOUT BUYING?
Where does it fit in?
Citroen's is desperate to undo years of haphazard servicing and mismanagement, which has left many of its SA customers disappointed and disillusioned. With an entirely new management team and a strong product line-up, the brand's local management has reasons to be optimistic, however. Spearheading the return is what you see here: the C3. It's diving into one of the most competitive segments, where the likes of the Ford Fiesta, Kia Rio, Hyundai i20 and Renault Clio all fight for the scraps left over by the dominant Volkswagen Polo. The C3 is available in 2 flavours: 1.2 Feel and 1.2T Shine, with the latter adopting a perkier turbocharged engine. The former is the derivative under scrutiny here.
How it fares in terms of…
Kerb appeal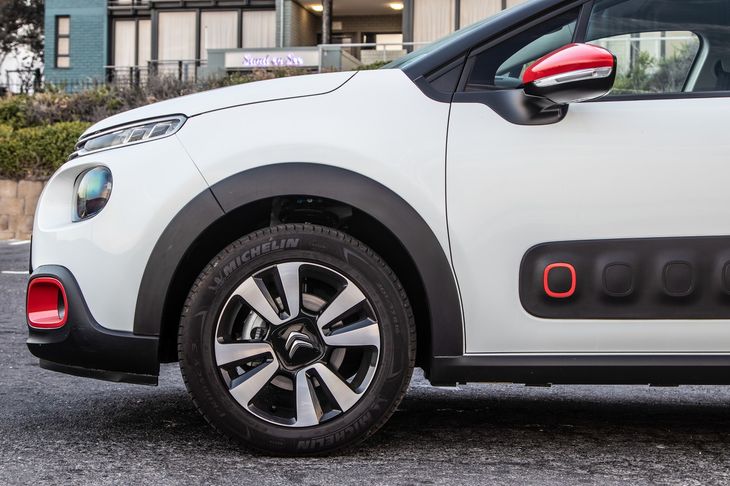 With its distinct Airbumps on the flanks and quirky styling, there's no mistaking the C3 for anything but a Citroen.
We live in an era in which car design has become predictable due to safety, aerodynamics and brand identity, so it's refreshing to see something as challenging as the Citroen C3. The narrow headlights and colour elements, as well as the Airbumps adorning the flanks are unique and unlike anything in this segment. While the styling may be a bit too "out there" for some, there's no denying it stands out from the rest of the segment... You can't say it's not interesting.
Both C3 derivatives sport attractive-looking wheels, with the top-spec adorned with 17-inch units. Our test unit came shod with 16-inch examples wrapped in Michelin rubber. There's also a contrasting roof colour scheme: ours was red, which smartly matched all the other splashes of red across the vehicle. This segment could be accused of being a touch too boring and predictable, and therefore, we think the Citroen C3 adds some flavour and emotion to this segment.
Driving experience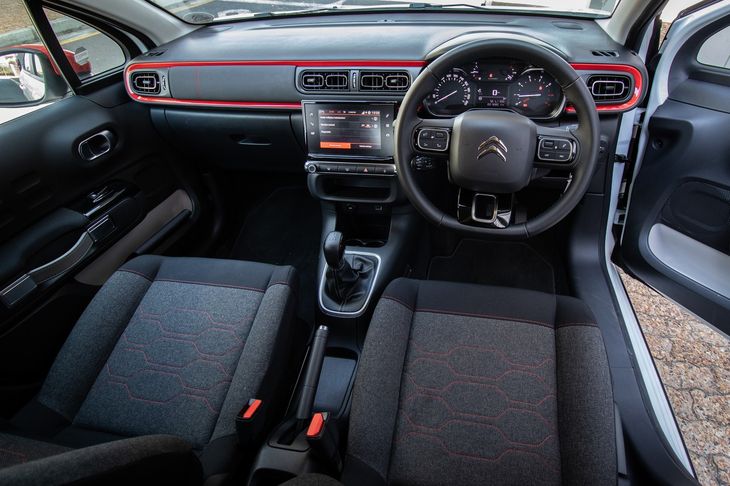 The cabin is dripping with funkiness, charm and vibrant colour touches.
To reiterate, there are 2 powertrain options in the C3 range. The 1.2 Feel is powered by a naturally-aspirated 1.2 3-cylinder motor, which produces a workmanlike 60 kW and 118 Nm. Those peak outputs may not sound substantial, but when you factor in the derivative's low kerb weight (just 975 kg), the engine doesn't need to work all that hard to get the compact French car going. Citroen claims a 13.2-second 0-to-100 kph time, which seems sluggish. Well, to be fair, the C3's 5-speed manual gearbox doesn't help in that regard – it's not particularly smooth-shifting. Not only are the gear changes notchy, but the clutch pedal's travel is excessively long. Due to the combination of those factors, forward progress is not fluid, which is a shame, given the willingness of the engine. The good news is that Citroen does offer an automatic transmission for the C3, but in conjunction with the excellent turbocharged 1.2-litre 3-cylinder motor.
That being said, despite its middling engine outputs and odd gearshift action, the C3 1.2 Feel punches well above its weight... so much so, that this author was, at one point, "almost certain" he was at the 'wheel of the turbocharged higher-spec 1.2T Shine, which, of course, has an automatic transmission, so the illusion was fleeting. The naturally aspirated C3 does lose a bit of grunt when it's travelling on the open road, however; if you want to execute a swift 80-120 kph overtaking manoeuvre, you have to work the car's gearbox extensively. Still, the good fuel economy makes up for the lacklustre shift action, with our test unit returning a more than reasonable 7.2 L/100 km from a 45-litre tank.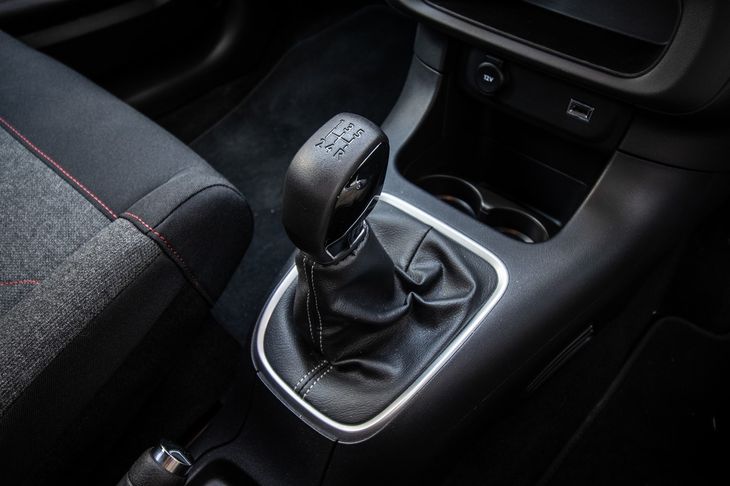 The 5-speed manual gearbox isn't the best, with a notchy shift action and the long travel clutch requires effort.
In terms of handling ability and ride quality, the C3 is about average when compared with its rivals. It's nowhere near as hands-on or engaging as something like, say a Ford Fiesta, nor does it have the Volkswagen Polo's enviable level of on-road refinement. However, considering that those rival derivatives cost substantially more than the C3, we're prepared to cut the newcomer some slack. The softly-sprung suspension is the "culprit" behind its imprecise body control... it never really tightens up. It can wallow a little through corners, not helped by the light steering. Don't get us wrong, we love a light steering setup in town and at slower speeds, but when one travels at 3-digit kph speeds, a measure of weight and firmness is reassuring; it just makes the car feel more stable. Another negative aspect is that due to the front seats' lack of side bolstering, you feel like you're about to slide out of your seat if you go around corners too quickly.
Interior quality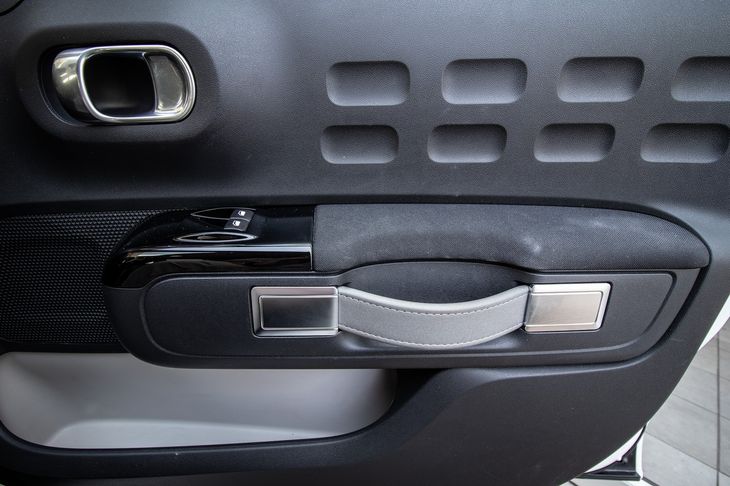 The charm continues with these cute luggage straps as door handles.
Citroen is a quirky brand, which is evident in its eccentric cabin layouts. Consider the door handles you see above, they're luggage straps and there's inverted Airbumps on the interior panelling. What we really like is the design of the cabin, it's genuinely interesting and undeniably stylish. Some of the plastics feel a bit cheap though, but nothing surprising nor unforgivable at this price point. The vehicle feels solidly finished, despite the lack of soft-touch materials.
The first thing that is likely to catch your eye is the large infotainment touchscreen, which controls many of the car's features. While it does help to unclutter the fascia, its user experience is a bit flawed: there's no quick way to access something such as heating-, cooling and ventilation settings without diving into a menu and tapping on the screen a few times. On the plus side, Apple CarPlay and Android Auto are supported, which adds a few more features to the car.
In terms of space utilisation, the Citroen C3 is indeed a small car on the inside. Rear legroom is just about acceptable (taller occupants will battle with knee room, however) and the claimed load-bay capacity is 300 litres, which is notably less than what its main rivals are said to offer. The Kia Rio, for example, is said to accommodate up to 325 litres, while the Suzuki Baleno comes with a relatively generous claimed capacity of 355 litres.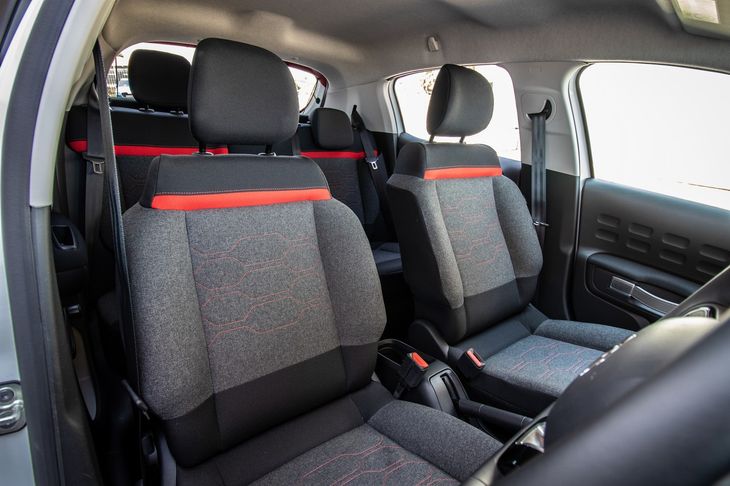 The C3's cabin execution is youthful and cute, but we do wish those attractive front seats offered additional side support.
Standard features
If there's one aspect that Citroen has really got spot-on with the C3, it's the 1.2 Feel's standard specification. Unless you spend thousands on optional extras or opt for the higher-spec derivatives of other brands, there's little (or nothing) to touch the C3's features list at this price point. The safety spec alone deserves special recognition: there are 6 airbags, anti-lock brakes with EBD, stability control, hill assist, as well as tyre pressure sensors. Commendable indeed!
Other standard features include cruise control with speed limiter, automatic air conditioning, electric front windows, a 7-inch touchscreen infotainment system with USB/Bluetooth/Aux/12V connectivity, Apple CarPlay- and Android Auto compatibility, daytime running lights, leather-wrapped steering wheel/handbrake, multifunction steering wheel, trip computer and 60/40 folding rear seats. In fact, it's easier to tell you what's not fitted to the Citroen C3: rear parking sensors, rear electric windows and automatic headlights. The support of Apple CarPlay and Android Auto is a big plus, because you gain access to streaming music services and critically, navigation via Google Maps/Waze/Apple Maps.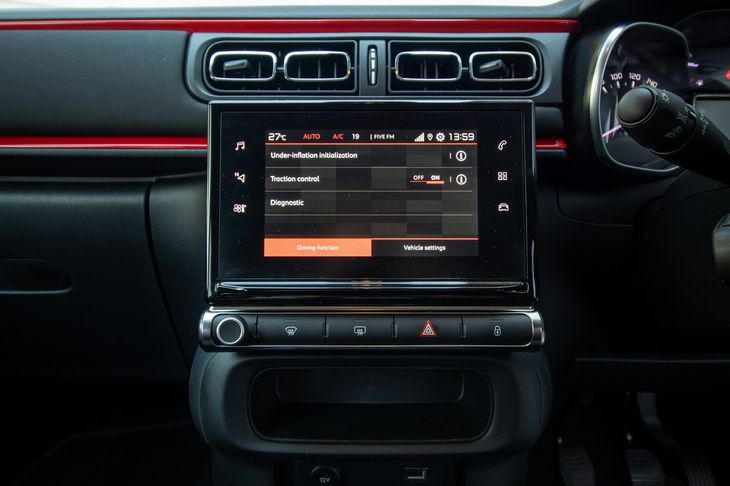 The Citroen's comprehensive infotainment system, which has removed the need for many buttons dotted around the cabin.
Price and after-sales support
The asking price of the Citroen C3 1.2 Feel is R249 900 and comes with a 5-year/100 000 service plan, warranty and roadside assistance. The top-spec 1.2T Shine costs R299 900.
Verdict
Despite the seemingly furious rush by consumers to snap up manufacturers' small crossover and compact SUV models, there's still a strong case to be made for the compact hatchback. The sales numbers of the Volkswagen Polo alone are quite staggering and its rivals are fighting over the proverbial scraps. However, at this price point, we have to consider naturally-aspirated offerings as rivals to the C3 1.2 Feel; products such as the Kia Rio, Hyundai i20 and Suzuki Baleno come to mind, all of which have strengths and weaknesses... Both Koreans offer excellent build quality, but are slightly down on safety features, while the Suzuki's cabin space and luggage capacity is arguably segment-leading.
So, should you buy a C3? There's no doubt about Citroen's ability to produce stylish and well-specced compact hatchbacks. During its tenure in our test fleet, the 1.2 Feel drew numerous positive responses and you can't help but develop a soft-spot for its charms and quirks. It also looks unlike anything else in the segment, so for those who crave individuality, this Citroen will "tick the box". It's not the most engaging nor fun-to-drive car, but those aren't pillars for success in this segment. We weren't particularly pleased with the long clutch pedal travel and notchy gearbox, but there is an automatic option available, which is coupled with a punchy turbocharged motor for R50k more. We've experienced this combination in the Citroen C3 Aircross and we think it's more suitable for those who commute in congested traffic. If you don't need a large load bay, nor need to frequently transport more than 2 people, the Citroen C3 is worth a look.
A big question many of you have asked is: "Has Citroen's after-sales and servicing has improved since the brand's return?" Citroen South Africa claims to offer comprehensive cover for all of its products, including a 5-year/100 000 km service plan, 5-year/100 000 km warranty plan, 5 years (or 100 000 km) roadside assistance, 12-year anti-perforation cover and a 3-year paint warranty. It's a good start; we're hopeful Citroen SA will "put its money where its mouth is".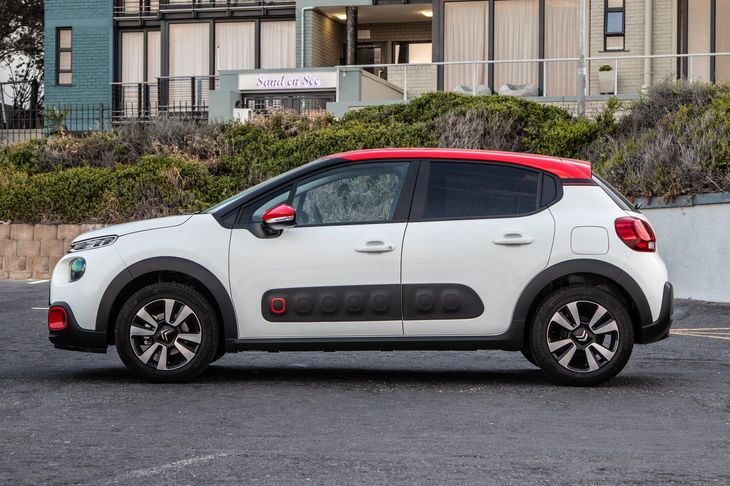 The Citroen C3 is a charming and cool hatchback, but is that enough to compete at this level?
Related content:
Citroen Returns to South Africa
Citroen C3 Aircross 1.2T Feel (2019) Review
Peugeot, Fiat tie-up creates world's 4th-largest car firm