Chevrolet's family-friendly Captiva has been around since 2007 and has now received another significant update. Is it enough to keep this capable, but ageing product in the hunt?
We like: Standard features, seven seats, space, power/performance
We don't like: Dated control interface and instrumentation, dynamic refinement
Alternatives:
For better economy: You'll have to consider spending much more money on something such as the new Kia Sorento if you want to beat the Captiva for fuel economy and retain the diesel/automatic drivetrain combination and seven seats. For the same money, you'll have to sacrifice automatic gearshifting and opt for the Nissan X-Trail 1.6dCi SE and specify third-row seating as an option.
For more space: At the price, it is not possible to beat the Captiva's combination of spaciousness and a 7-seater configuration and an automatic/turbodiesel drivetrain. As an alternative you may want to look at the new Volkswagen Caddy, which offers a more van-like body that maximises utility. A turbodiesel automatic derivative of the Caddy is offered for similar money.
For better value: Provided you absolutely must have automatic transmission and seven seats, you can't fault the Captiva on the value front. If you're willing to settle for something slightly smaller and powered by a petrol engine (yet retain seven-seat capability), then the significantly more affordable Nissan X-Trail 2.5 4x4 SE could be worth looking at. It's far less economical, however.
The more things change…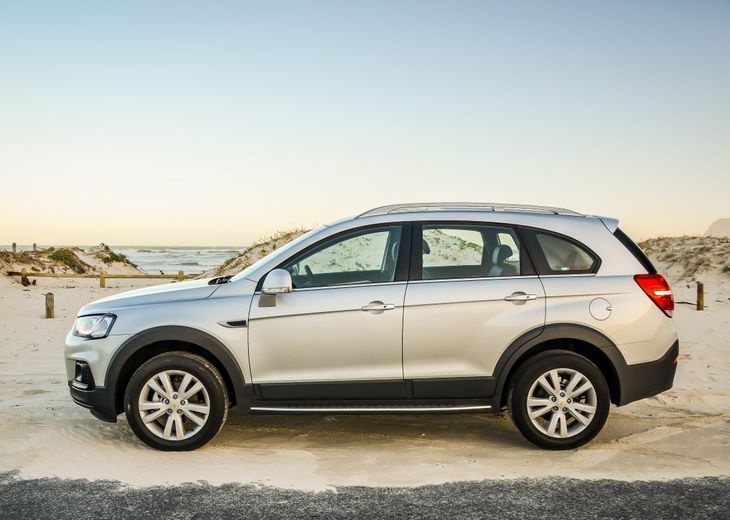 18-inch alloy wheels and side steps are standard fitment on this LT model.
Given its positioning as one of the very few seven-seater SUVs at this price level, the Captiva has built itself a relatively sizeable niche in South Africa, with around 17 000 units sold locally since it was introduced back in 2007. These days, however, an eight-year product lifecycle is almost unheard of in the motor industry, so General Motors' decision to continue with a facelift, as opposed to an all-new model, is a brave one.
Nevertheless, this model soldiers on and in 2.2D LT specification, as reviewed here, the Captiva offers an almost unmatchable combination of space, seven-seat carrying ability, turbodiesel power and economy and an automatic transmission. In fact, it has no direct rivals at the price.
What's new for 2016?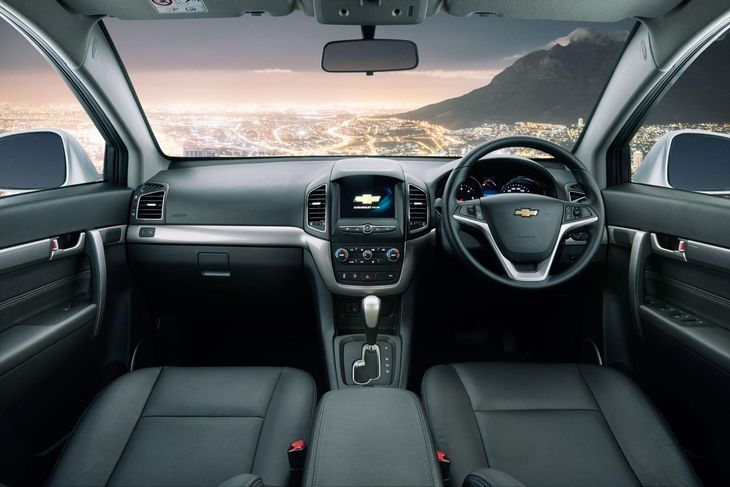 New leather steering wheel and 7-inch MyLink infotainment system are major changes inside.
Although the exterior design changes are not major, the revised grille and LED-infused headlamps endow the Captiva with a more modern appearance. The standard 18-inch alloy wheels and side steps round off a design that is dating quite gracefully... but dating nonetheless.
The bigger changes have occurred inside, where the Captiva gains the brand's latest-generation MyLink infotainment system, boasting a seven-inch touch-screen interface and Apple iPlay and Android Auto compatibility. Note the Instagram video below to see this system in action.
For more on the workings of these connectivity systems, read this article
Furthermore, there have been changes to the trim (leather steering wheel) and instrumentation. Subjectively, the finishes also appear improved compared with those of the pre-facelift model. However, the changes can't hide a cabin that is ageing in general design and layout, most notably in terms of the graphics of the small trip-computer display.
How does it fare in…
Performance and fuel economy?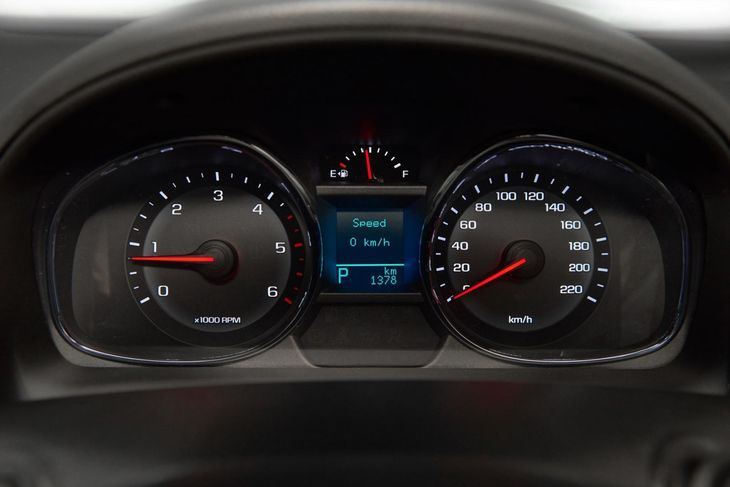 New instrumentation, but the trip computer display appears dated by comparison.
This Captiva is powered by Chevrolet's 2.2-litre four-cylinder turbodiesel engine that delivers a strong 135 kW and 400 Nm of torque, figures that the competition simply can't beat at this price level. Power goes to the front wheels via a six-speed automatic transmission.
Though the Captiva's gearing favours leisurely cruising, it is no slouch in urban driving conditions (as evidenced by the sub-10 second 0-100 kph sprint) and offers pleasing driveability in general daily traffic conditions. The transmission could be a little smoother, perhaps, but we're nit-picking here, especially given the Captiva's excellent showing on the open road. Refinement and smooth, powerful overtaking are very likeable hallmarks of this drivetrain.
It is also relatively economical. Chevrolet claims a combined-cycle consumption figure of 7.8 L/100 km, a figure you're only likely to broach on long, relaxed cruises. Including town and city driving we averaged around 9.0 L/100 km, which is not a bad return given the size of the vehicle, as well as the fact that it was mostly driven loaded to maximum with people and their detritus.
Comfort and practicality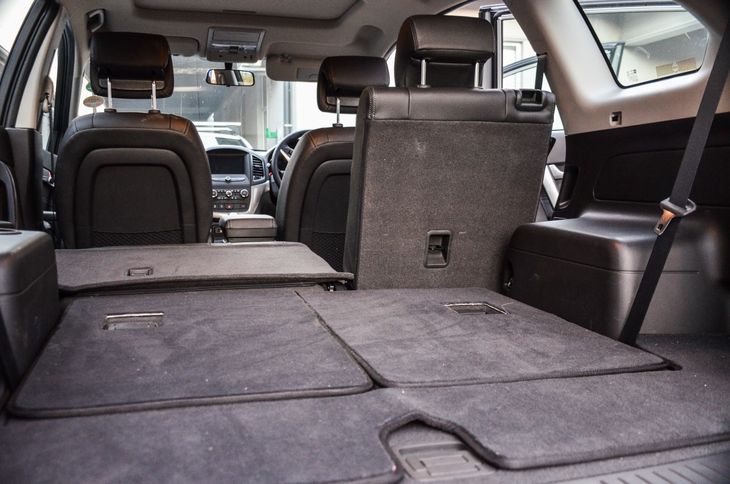 Large flat load surface when the third-row seats are folded down.
The Captiva is a somewhat oddly sized vehicle at this price level. It is slightly longer, wider and higher than most of its five-seater rivals, so you have to look to the likes of Nissan's X-Trail and the ageing Mitsubishi Outlander for direct rivals (at least in terms of interior packaging).
Unlike the Nissan, the Chevrolet comes with seven seats as standard, though those two rearmost seats are only suited for use by children. More often than not the Captiva is likely to be used with the rear seats folded away, resulting in a capacious boot area with a flat floor. There is also a nice hidden compartment at the rear of the luggage area where dirty or wet items can be stored out of sight.
The second row of seats proved to be comfortable on longer trips and there are multiple drinks holders provided throughout the cabin. A large storage box is located between the front seats.
This model's LT specification level incorporates a number of comfort-boosting features, such as an electrically adjustable driver's seat and even a sunroof. We also found the new infotainment system easy to use. Note that Android Auto is not yet active in South Africa.
Needless to say, with the Captiva's blend of features, refinement and spaciousness, it proved to be a very comfy family-hauler during our test period.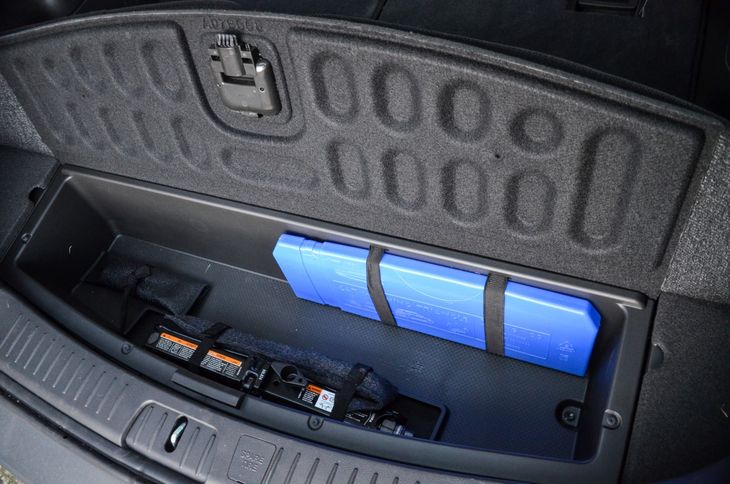 Neat lidded storage compartment in the luggage area.
Safety specification?
Notwithstanding its relative age, the Captiva impressively still carries a five-star EuroNCAP safety rating. Included in the safety features suite are the usual suspects, including electronic stability control, front, side and curtain airbags and ISOfix child seat anchorages. But you also get what Chevrolet calls Continuously Variable Real-Time Damping with Trailer Stability Assistance. This system is claimed to simulate the effect of distributing weight evenly across the vehicle and is activated when a heavy load is detected in the rear. Hill Start Assist and Hill-Descent Control are also included in the standard package.
On the road, the Captiva feels stable and predictable, but it can't match some newer rivals for ride refinement over a variety of surfaces. It tends to feel its size (a somewhat lumbering vehicle) compared with the likes of the X-trail and the five-seat rivals. Finally, though the steering is largely devoid of any feel, and although this model does not feature all-wheel drive, grip levels from those large tyres are high, so the Captiva feels safe and secure on the road.
Verdict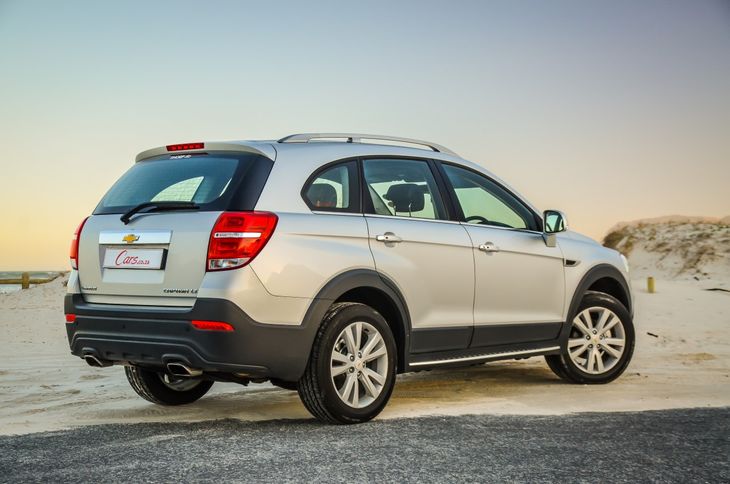 Captiva has aged well and continues to offer solid value.
The Chevrolet Captiva is not one of those "must-have" vehicles that leaps off the price lists as an obvious choice in its segment of the market. Instead, it appears to be a vehicle aimed at buyers looking for a particular blend of attributes that the competition struggles to match at the price. In turbodiesel form, you can't really beat this Captiva for performance and economy, along with the comfort of an automatic transmission. And, as a usable family car –​ as opposed to a five-seat "crossover" bought partly as a fashion statement – the Captiva's more sober approach is refreshingly honest.
Pricing
The Chevrolet Captiva 2.2D LT Automatic sells for R431 300 and comes with a five-years/120 000 km vehicle warranty and three-years/60 000 km service plan. It requires servicing every 15 000 km.
Compare the Chevrolet Captiva with the Nissan X-Trail and Mitsubishi Outlander here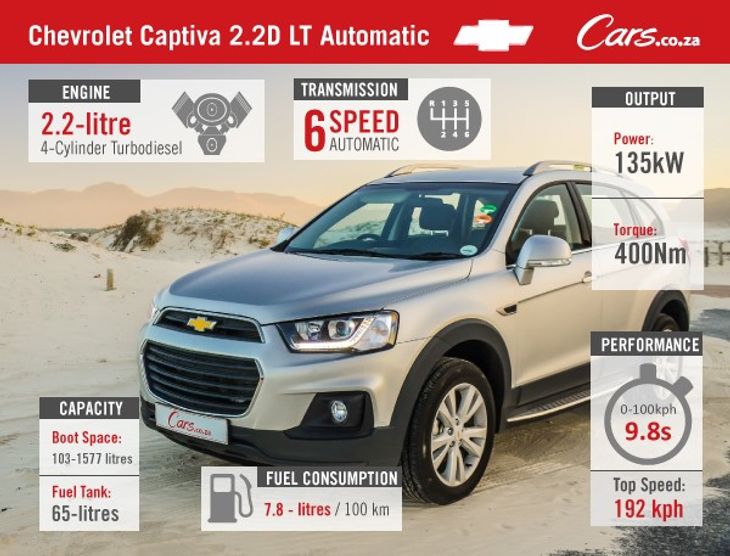 Interested in buying a new/used Chevrolet Captiva? Search for one on Cars.co.za