The final phase of the 2020/21 Cars.co.za Consumer Awards, powered by WesBank took place at Gerotek in early November when judges convened at the world-class testing facility to evaluate the finalist vehicles.
The judging panel, which included the Cars.co.za editorial team and a host of judges from all walks of life, tested 39 vehicles in 13 categories.
Their scores are being tabulated by auditors PwC and combined with the feedback of thousands of South African vehicle owners from the Cars.co.za Ownership Satisfaction Survey to decide each category winner (the judges' scores and the survey data will have an equal weighting). The consumer feedback has been compiled in partnership with vehicle information specialists Lightstone Auto.
Have your say and complete our Ownership Satisfaction Survey here
The Cars.co.za Consumer Awards, powered by WesBank, made waves 6 years ago when the awards programme was launched as a comprehensive and statistically significant evaluation of the thousands of models available on the South African new-vehicle market.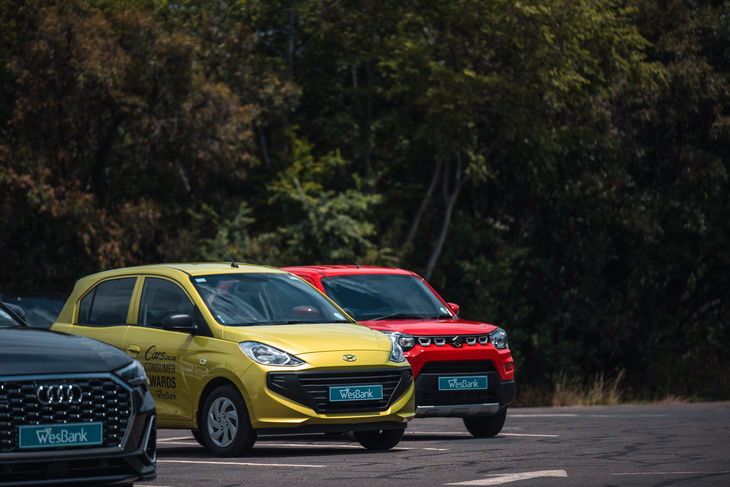 The new Entry Level category includes some of the cheapest cars on sale in SA such as the S-Presso and Atos.
Unlike other automotive award programmes, the Cars.co.za Consumer Awards, powered by WesBank considers all vehicles that are on sale on a given date (1 October 2020, in the case of the 2020/21 instalment). From this pool, the judges pick semi-finalists and finalists using a rigorous set of criteria, including the feedback from owners and market insight from Cars.co.za's deep knowledge of the automotive market.
The finalists are then pitted against each other over 2 days at Gerotek, with specific judges assigned to each category. Their inputs are weighted, based on the category, and combined with the customer data from the Ownership Satisfaction Survey to truly find the best vehicle in each category.
This process means that if a manufacturer offers poor service support or sub-par durability, it will show up in the Ownership Satisfaction Survey and act as a counterbalance to excellent on-track and -road performance at Gerotek. Similarly, a car brand may prove to offer exceptional service and durability (based on the gathered survey data), but if its product doesn't stand out above its peers on merit, it could fall short in the final phase.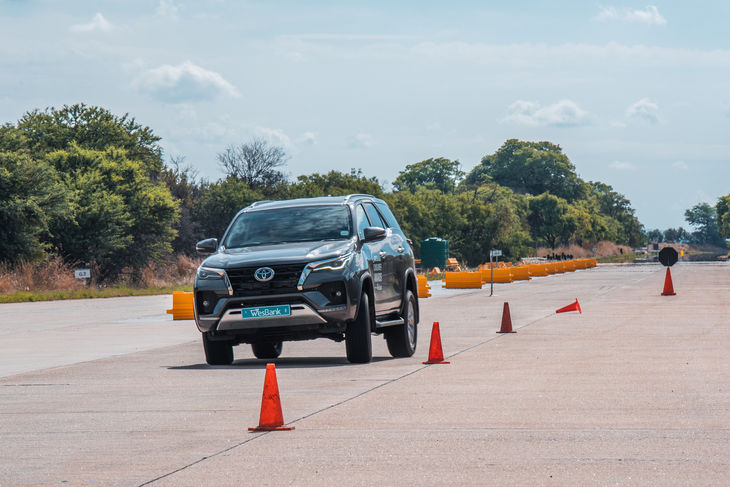 Toyota's brand new Fortuner was put to the test in off-road and on-road conditions. It passed the slalom test too...
For this year's programme, 2 new categories were added. Entry Level was the first category to be added and caters for first-time buyers looking to get the absolute best bang for buck. "Budgets are extremely tight in 2020 more so than usual so it made sense to add a category that offers advice at the lowest end of the market, below our usual Budget Car category," said Ashley Oldfield, Cars.co.za Content Manager.
The price threshold for the Crossover category was lowered, which allowed for the creation of a Premium Crossover category. With demand for crossovers and SUVs increasing every year (because a growing number of buyers seek vehicles that are capable of taking them on adventures by offering increased ground clearance and a modicum of off-road ability), it made sense to split the Crossover category to reflect the market better.
With very little movement in the Performance Car world and prices rocketing to stratospheric levels, the category was removed for 2020/21. Fear not, petrolheads, it may return next year, depending on how many new contenders are added to the segment in the next 10 months or so.
The other category that was removed this year was Premium Hatch, which has also seen little movement in terms of new introductions in 2020, but it could also make a return next year with the Volkswagen Golf 8 and Audi A3 Sportback scheduled to be introduced locally in the near future.
The Cars.co.za Consumer Awards, Powered by WesBank is now into its 6th year and has cemented its place as the premier vehicle awards programme in South Africa, combining real public input on the vehicles that they own (less than 5 years old) and a multi-faceted judging process.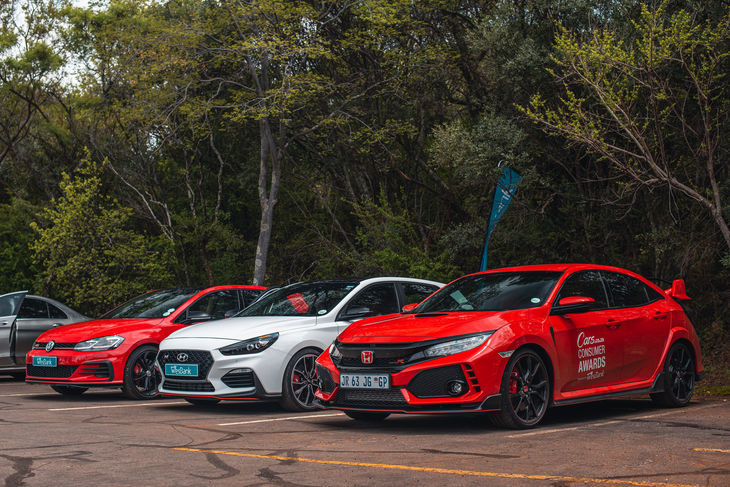 Three of the best hot hatches money can buy. It will be tough to pick a winner here.
"As South Africa's leader in vehicle and asset finance, it is important to us to align our brand with impactful industry initiatives, particularly those that add value to consumers. There are many aspects to consider when making a major budget-impacting decision such as buying a car. As such, consumers should have access to credible opinions and objective data on the models of cars and features available in the market, to assist them in making an informed purchasing decision," says Ghana Msibi, CEO of WesBank Motor.
Cars.co.za has more than 65 000 vehicles listed on its site and it welcomes over 5 million monthly visitors. It also hosts South Africa's top-ranked YouTube channel, while its vehicle restoration programme and car-enthusiast sub-brand SentiMETAL celebrates SA's automotive heritage.
The 2019/20 #CarsAwards finalists in their respective categories are:
Hyundai Atos 1.1 Motion

Suzuki S-Presso 1.0 S-Edition

Suzuki Swift 1.2 GL
Suzuki Baleno 1.4 GLX

Suzuki Ignis 1.2 GLX

Toyota Starlet 1.4 XR
Ford Fiesta 1.0T Trend auto

Suzuki Swift 1.4T Sport auto

Volkswagen Polo 1.0 TSI Comfortline auto
Kia Seltos 1.5 CRDi EX+

Renault Duster 1.5 dCi Prestige

Volkswagen T-Cross 1.5 TSI 110kW R-Line
Citroën C5 Aircross 1.6T Shine

Mazda CX-5 2.0 Dynamic auto

Toyota RAV4 2.0 AWD GX-R
Ford Everest 2.0 Bi-Turbo 4WD XLT

Isuzu M-UX 3.0 4WD

Toyota Fortuner 2.8 GD-6 4x4 VX Auto
BMW X3 xDrive20d M-Sport

Range Rover Evoque P250 R-Dynamic SE

Volvo XC60 D5 R-Design
BMW X5 xDrive30d M Sport

Land Rover Defender D240 HSE

Volvo XC90 T8 Twin-Engine R-Design
Mazda CX-3 2.0 Individual Plus

Subaru XV 2.0i-S ES

Toyota C-HR 1.2T Luxury
Audi Q3 Sportback 40 TFSI quattro S Line

Mini Countryman Cooper S

Volvo XC40 T5 AWD R-Design
Honda Civic Type R

Hyundai i30 N

Volkswagen Golf GTI TCR
Ford Ranger 2.0 Bi-Turbo 4x4 Wildtrak

Toyota Hilux 2.8 GD-6 4x4 Legend Auto

Volkswagen Amarok 2.0BiTDI Highline Plus 4Motion
Audi A4 40 TFSI Sport S Line

BMW 330is Edition

Mercedes-Benz C300 AMG Line
Also See:
2020/21 Cars.co.za Consumer Awards - Powered by WesBank; Finalists