The locally developed GTV6 is undoubtedly the most revered Alfa Romeo model ever sold in South Africa. Bred for the track, the 3.0-litre "Alfetta" GTV was, in its heyday, the most powerful Alfa road car ever produced.
Built in Alfa Romeo's (then) factory in Brits, the GTV6 came to fruition in 1983 as a result of a collaborative effort between Alfa South Africa and Autodelta (the Italian parent company's specialist competition arm), once the Italian marque's Arese head office had given the project its blessing.
Back then BMW and Alfa Romeo were at loggerheads in the Group One circuit racing championship, with the former's 535i (powered by an in-line 6-cylinder) having the measure of the Alfa GTV, with its 2.5-litre V6.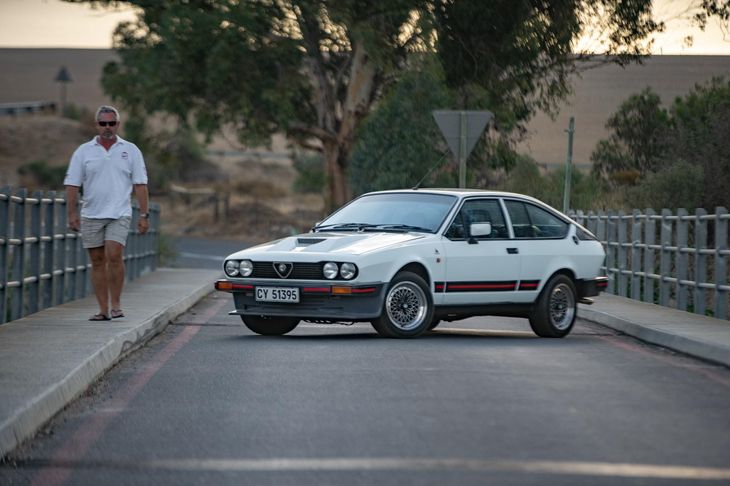 Hannes Pienaar from Cape Town and his beloved GTV6 3.0, one of several Alfa Romeos in his collection.
Alfa Romeo needed a foil for the rampant 535i and its solution was this: the GTV6 3.0. To homologate a racing car for Group One, a manufacturer had to produce at least 200 road-legal examples (fit for public consumption) and it is believed Alfa Romeo built approximately 220 units of the 3.0.
Powered by a 128 kW 3.0-litre "Busso" V6 fed by half a dozen Dellorto carburettors (even though its 2.5 predecessor was fuel injected), the GTV6 3.0 featured dramatic styling, a custom lightweight bonnet (with its distinctive V-shaped air duct and iconic Compomotive alloy wheels.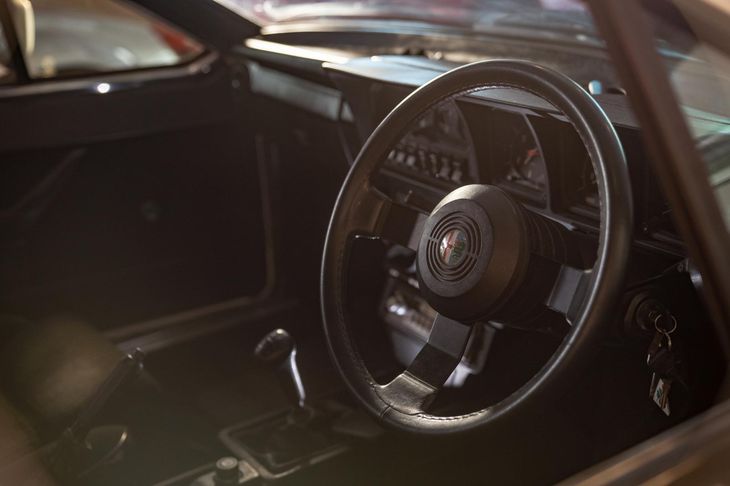 Very '80s cabin, but with such a magnificent sound coming from under the bonnet, you won't even notice.
The new race car made its competition debut in 1983 at the Lodge Group One International 2-hour at Kyalami… and won! Next up was a 1st and 2nd place in the Group One class of the Castrol 3-hour race at Killarney.
Although Alfa Romeo would withdraw from South Africa a few years later due to international sanctions against the Apartheid government, the Milanese brand's SA-flavoured GTV6 was the fastest locally-made road car and, to reiterate, most powerful Alfa Romeo production model of its era.
Based outside Cape Town, Hannes Pienaar is an avid car collector. His prime focus is on Alfas, however, and from an early age he realised that one day he needs to own this special South African car, the GTV6 3.0.
Quick facts:
Alfa Romeo GTV6 3.0
Produced: 1983-1985 (approx 220 units)
Engine: 3.0-litre "Busso" V6
Power/Torque: 128 kW/222 Nm
Transmission: 5-speed manual
0-100 kph: 8,36 sec (as tested by CAR magazine)
Top speed: 224,2 kph (as tested by CAR magazine)
Related content:
SentiMETAL Ep.8: Volkswagen Split-Window Crew Cab
SentiMETAL Ep.7: Ferrari Testarosa
SentiMETAL Ep.6: Mercedes-Benz 190 SL
SentiMETAL Ep.5: Opel Kadett Superboss
SentiMETAL Ep.3: Nissan Skyline GT-R "Hakosuka"
SentiMETAL Ep.2: Porsche 911 (930) Turbo "Widowmaker"
SentiMETAL Ep.1: Jaguar E-Type