Ford South Africa is gearing up for expanded production in 2019 at its upgraded plant in Silverton, Pretoria and Cars.co.za Journalist, Gero Lilleike, headed to Silverton to help build the pre-production units of the Ranger Raptor which is due to launch locally in the first half of 2019.
Ford South Africa's plant in Silverton is where the popular Ranger bakkie and Everest SUV are built for local consumption and export markets, but it's also where the highly-anticipated, high-performance Ranger Raptor bakkie will come to life in the not-too-distant future.
In an effort streamline production and accommodate the production of the Ranger Raptor, Ford has invested nearly R3-billion to expand and upgrade its Silverton plant, a process which has taken more than 18 months to complete. A wide range of upgrades and enhancements have been implemented at the plant, including the installation of 25 new robots in the Body Shop. A total of 115 fully automated robots are now responsible for handling and welding of components. Installed production capacity has increased and up to 168 000 vehicles are expected to roll off the production line in 2019.
Ockert Berry, VP of Operations, Ford Middle East and Africa commented, "The Silverton Assembly Plant has been transformed to achieve our highest-ever installed capacity. This required a total rethink and re-engineering of many of our established production processes and operations throughout the plant to improve throughput, efficiencies and ergonomics to reach the projected production targets."
"While gearing the plant up for the higher volumes was a key objective, this had to be managed alongside a significant increase in production complexity associated with the unique characteristics of the Ranger Raptor, the introduction of a new engine programme, and extensive product enhancements planned for the 2019 Ranger and Everest," Berry states.
Building the Ranger Raptor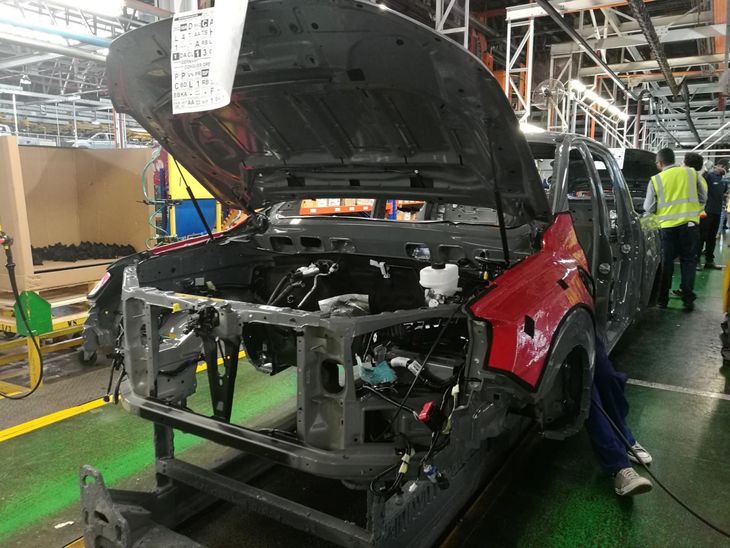 The Ranger Raptor has no less than 350 unique parts. These are the pre-production units being built...
The forthcoming Ranger Raptor brings its own set of complications to the production line as the Ranger Raptor is vastly different to the standard Ranger model and the assembly line has therefore been re-engineered to accommodate both Ranger configurations.
"Accommodating the Ranger Raptor's long-travel suspension, 150mm wider track, 168mm wider body and much bigger tyres required significant upgrades at numerous points along the assembly line," Berry states. "There are around 350 parts that are unique to the Ranger Raptor, which adds a lot of complexity to the line."
A new engine line has also been installed to accommodate the new 157 kW 2.0-litre bi-turbodiesel engine that will power the Ranger Raptor but which is also expected to be offered in selected Everest and Ranger derivatives in 2019 along with a new 10-speed automatic transmission.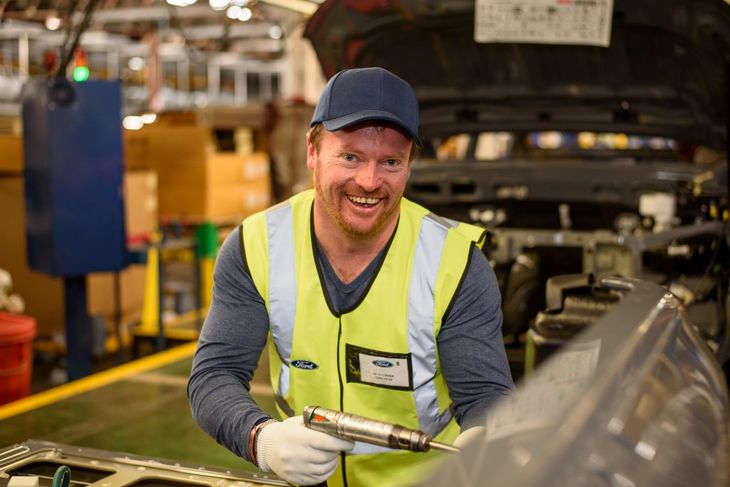 Gero Lilleike works on installing the tailgate mechanism on a Ranger Raptor pre-production unit.
Seeing Silverton plant in full operation is a fascinating experience but Ford arranged a unique event that would place local media representatives on the production line to work on actual pre-production Ranger Raptor units.
The pre-production Ranger Raptor units are built to expose any production issues but they also undergo various quality and safety tests before full-scale production starts.

Media representatives were split into groups and positioned at various stations on the production line under the watchful eye of trained professionals who would offer guidance and support but also to ensure that quality control was maintained.
Gero was positioned at the tailgate station with the task of installing the tailgate mechanism on various Ranger derivatives as well as the pre-production Ranger Raptor units. He was guided by a veteran of the trade, a friendly fellow by the name of Jacob, who has been employed at Silverton plant for 33 years. Jacob's expertise proved to be invaluable in helping to get the mechanism installed in time without having to bring the entire production line to a grinding halt.
While we look forward to testing the Ranger Raptor on local soil, Ciro De Siena did drive it with much enthusiasm in the Australian Outback earlier this year. If you have not yet seen the video, do yourself a favour and give it a watch below!

Buy a new or used Ford Ranger on Cars.co.za
Related Content
First Ford Ranger Raptor Built in SA
Ford Ranger Raptor (2019) International Launch Review
Ford Ranger Raptor: 7 Things You Need to Know
Ford Everest to be updated, now features Raptor engine