The first trial units of the highly-anticipated Ranger Raptor have rolled off the production line at Ford's Silverton Assembly Plant in Pretoria.
Ford South Africa is gearing up to start full-scale local production of the high-performance Ranger Raptor bakkie which is due for introduction into the South African market in the first half of 2019. The first batch of 10 trial units have already rolled off the production line at Ford's Silverton Assembly Plant in Pretoria as part of the Tooling Trials (TT) build-up phase.
Ford has invested R3-billion in upgrading the plant in preparation for Ranger Raptor production next year. An additional R160-million investment will ensure that growing demand for the Ranger is met with production expansion expected in 2019.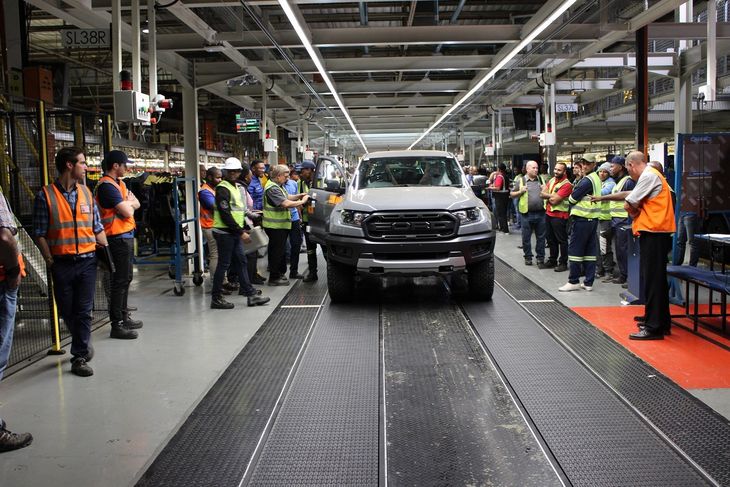 The Ford Ranger Raptor will be produced in SA for local and international markets.
"This is a momentous occasion for everyone at Ford, as we witnessed our first Ranger Raptor TT unit coming off the line after more than 18 months of extensive upgrades and modifications to the Silverton assembly plant," said Ockert Berry, VP Operations, Ford Middle East and Africa.
"The Ranger Raptor is an exciting and very important model for us, as it pioneers an entirely new dimension for the pick-up or bakkie market and represents the first Ford Performance model to be produced in South Africa, destined for export to customers throughout Europe, the Middle East and Africa," Berry adds.
The Ranger Raptor will be powered by a new 2.0-litre bi-turbodiesel engine (built at Ford's Struandale Engine Plant in Port Elizabeth) which will offer 157 kW and 500 Nm of torque and mated to a new 10-speed automatic transmission.
It's also worth mentioning that the Ford Ranger 4x4 Wildrak automatic is a finalist in the 2018/19 Cars.co.za Consumer Awards - powered by WesBank.
If you want to see what the Ford Ranger Raptor is capable of, watch Ciro De Siena drive the Ranger Raptor in the Australian Outback below!
Buy a new or used Ford Ranger on Cars.co.za
Related Content:
Ford Ranger Raptor (2019) International Launch Review
Ford Ranger Raptor: 7 Things You Need to Know
Shelby F-150 Confirmed for South Africa
Facelifted Ford Ranger Confirmed for SA in 2019
Roush tuning now available for Ford Ranger
2018/19 Cars.co.za Consumer Awards – powered by WesBank; Finalists