German tuning specialists, Brabus, have revealed a hardcore, armour-plated vehicle based on the Mercedes-Benz G-Class.
At the start of the nationwide COVID-19 lockdown, I created a list of 10 Cars To Survive The Apocalypse featuring some impressive machinery that could very well ensure your survival when things get hairy. This new Brabus Invicto is yet another vehicle that you need to consider if you are looking to survive significant threats such as gunfire, explosions and all the apocalyptic stuff you see in the movies…
Based on the Mercedes-Benz G-Class, the Brabus Invicto features what the firm calls a 'Shelter Cell' which comprises a 'self-contained, self-supporting, bolted structural cell' with no joints and the armour components are mounted to the cell without any gaps, which in effect is a full metal armoured jacket for ultimate protection.
Brabus says that the Invicto offers maximum VR6 Plus ERV protection standards which means it can withstand a sustained AK-47 attack and explosive attacks (up to 15 kg of TNT).
The added armour and other components has resulted in a weight increase of around 1 000 kg over a standard G-Class and Brabus therefore had to make modifications which include a reworked front and rear axle construction, new wheel suspension as well reinforced springs, stabilisers and shock absorbers. The braking system has been modified to cope with the added load and the special run-flat tyres that travel for almost 50 km after being shot out.
Engine Fire Power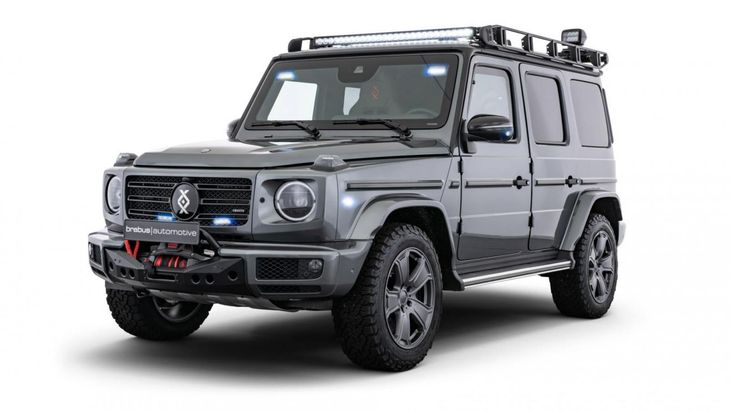 Brabus has squeezed more power and torque from the G63's 4.0-litre bi-turbo V8 engine.
Brabus has worked its magic on the 4.0-litre twin-turbo V8 engine found in the G63 which in standard form produces a notable 430 kW and 850 Nm. However, fitted with Brabus' B40S-800 performance kit and PowerXtra engine control unit, outputs increase substantially to 588 kW and 1 000 Nm.

Zero to 100 kph is claimed at 8.2 seconds with a top speed of 210 kph.
The Brabus Invicto is offered in various trims to suit a customer needs ranging from the Invicto Luxury to the Invicto Pure and the hardcore Invicto Mission, the latter of which is suited for military operations, police or special forces and security firms.
As you can expect, the Brabus Invicto doesn't come cheap and pricing is said to start at about €354 600 which translates to roughly R6.9 million.
Buy a Mercedes-Benz G-Class on Cars.co.za
Related Content
Mercedes-AMG G63 Edition 1 (2019) Review
G-Class Bakkie Render Is Our Kind of X-Class
Brabus Unleashes Monster G-Class