Like its predecessors, the love-it-or-hate-it 3rd-generation X6 is a controversial model in BMW's line-up, but, as Gero Lilleike recently discovered, there is much to like about the quad-turbodiesel powerhouse that is the M50d derivative. We sampled it over the course of more than 1 500 km to bring you this review…
We Like: Powerful performance, efficiency, comfort and luxury features, bold styling
We Don't Like: Pricey and the fact that this engine will soon be discontinued
Fast Facts
Price: R1 843 848
Engine: 3.0-litre, 6-cylinder quad-turbodiesel
Transmission: 8-speed automatic
Power/Torque: 294 kW / 760 Nm
Fuel Efficiency: 7.2 L/100 km
Load Capacity: 580 to 1 530 litres
What is it?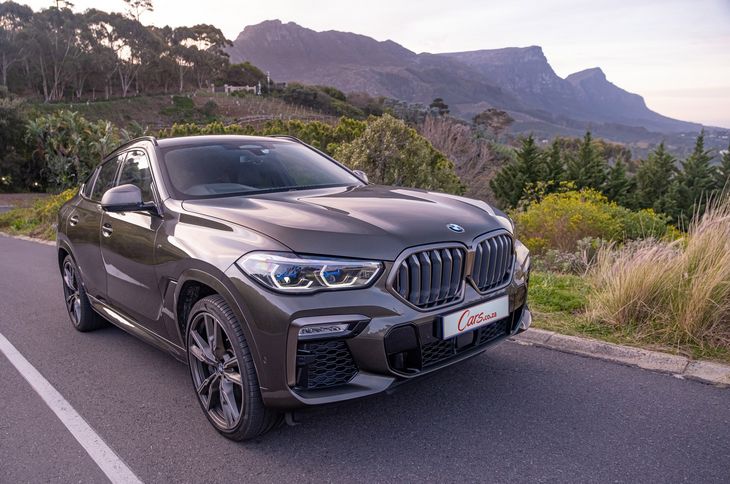 The X6 M50d wears a mean face with its large, chiselled kidney grille and BMW's Laserlight headlights. It's no wallflower...
The Premium SUV Coupe sub-segment owes its existence to the emergence of the 1st-generation X6 in 2008, for which brands such as Audi, Mercedes-Benz, Porsche and Range Rover have created rivals in the shapes of the Q8, GLE Coupe, Cayenne Coupe and Velar. This market niche favours form over function, polarises opinion and, again, the new X6 is a car that you'll either love... or loathe.

Nonetheless, when the BMW X6 stands before you in the metal, there is no denying that its design is meant to impress. With its chiselled illuminated kidney grille and shod with large 22-inch wheels, the Bavarian brand's self-styled Sports Activity Coupe has no shortage of envy-inducing kerb appeal, which is its raison d'etre. This test unit came finished in Manhattan Metallic (which is perhaps not the X6's finest hue) and the imposing front-end look was further enhanced with the fitment of the optional BMW Laserlight headlights (R18 900). Needless to say, this X6 looks pretty mean...
The X6's precursors have drawn criticism for being less practical than their boxier X5 siblings (due to their distinctive sloping rooflines) but, as we discovered during this test, we think the 3rd-generation X6 is actually far more accomplished than it gets credit for. Moreover, the X6 M50d might even be the pick of the range (if your budget can stretch that far). Let's take a closer look at what it offers...
How it performs in terms of...
Engine performance and efficiency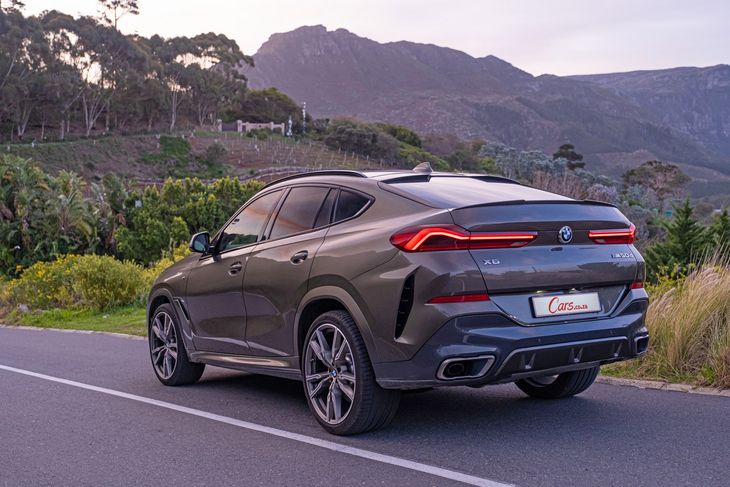 There's loads of torque on offer from this mighty quad-turbocharged engine and it's more frugal than you might expect...
There's good news and bad news as far as the M50d's powerplant is concerned. Let's start with the good news – the star of the entire package undoubtedly sits under the bulging bonnet of this particular X6 derivative. This is where you will find a powerful quad-turbocharged, 3.0-litre straight-6 diesel engine. Yes, you read that correctly, the motor is augmented with 4 turbochargers!
What's the purpose of all this turbo-tech wizardry? Well, in simple terms, it's all about producing a particularly flexible torque delivery... and the X6 M50d is duly deeply impressive in this regard. There are 2 low-pressure turbochargers that provide boost low in the rev range (below 2 000 rpm), while the 2 high-pressure turbochargers come on song a little higher up on the rev counter to unleash the engine's mammoth maximum torque figure of 760 Nm between 2 000 and 3 000 rpm; the peak power output (294 kW), meanwhile, is produced at about 4 000 rpm.
The result is mega performance with virtually no turbo lag. The X6 M50d is responsive and quick to get a move-on with BMW claiming a 0-to-100 kph time of 5.2 sec, which is rapid for an SUV that weighs more than 2.2 tonnes. As you can imagine, overtaking acceleration is copious; with so much torque in reserve, the M50d's unlikely to be caught flat, um, footed. The grunt is utterly addictive.
The 8-speed automatic transmission does an excellent job of executing seamless shifts on its own, but if you wish to manually drop a cog or two to get the most from this beast of an engine you can utlise the steering-mounted paddle shifters. Furthermore, you can dive into the drive-mode menu and individually configure settings for the transmission, steering and suspension to your preference. With all modes set to Sport or Sport Plus, prepare yourself for some eminently responsive and veritably rapid performance. However, other drive modes, such as Comfort and Eco Pro, prove their worth when you're commuting, when the modes (especially the latter one) will do their bit to ensure that the M50d consumes as little fuel as possible, provided you tailor your driving style accordingly.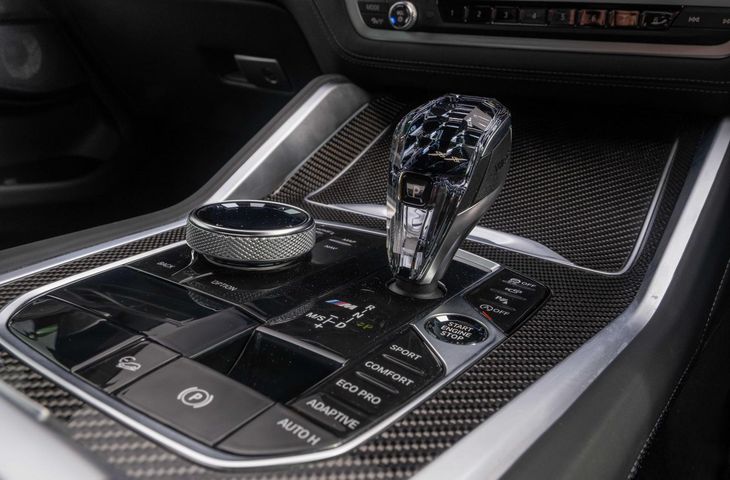 Choose a drive setting to suit your mood and enjoy, the X6 M50d will do the rest.
Given this engine's performance potential, you may be forgiven for assuming that it would not be particularly frugal in terms of fuel consumption, but the test unit wasn't nearly as thirsty as I thought it might be. We took the X6 M50d on a journey from Cape Town to Knysna and back; while BMW claims a fuel consumption figure 7.2 L/100km, which is very ambitious, we saw a return of 9.2 L/100 km, which is anything but disappointing. As always, bear in mind that the Bimmer's diesel consumption will increase substantially on spirited runs…
With all that good news out of the way, here's the bad news: the B57S engine at the heart of the M50d will soon be discontinued. Due to cost complications; it will no longer be offered in BMW's lineup in 2021. When you've explored the talents of this engine, as we have, it's a saddening development. It's one of the best performing and most powerful diesel engines to ever feature in a production car.
Handling and ride comfort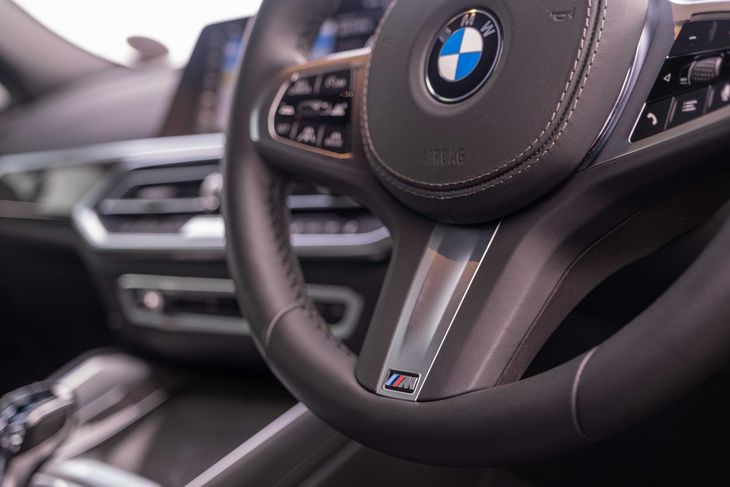 The X6 M50d is well-balanced with high levels of ride comfort while being equally sporty when it needs to be.
Apart from being blown away by the stellar on-road performance of the X6 M50d, we also came away impressed with the high levels of refinement and ride comfort it has to offer. The cabin is well insulated from noise – even if you're working the engine hard, very little noise, vibration and harshness translate to the cabin, which is what we've come to expect from a luxury car of this calibre.
As mentioned, the suspension's responses can be electronically adapted to suit driving conditions, but we mostly had the suspension set to Comfort mode and found the ride quality to be forgiving and smooth over poor and bumpy surfaces, which is admirable, given the overtly sporty rims and tyres fitted to this test unit. The steering is relatively light, but can be firmed up if you prefer a "meatier feel".
With a low, wide stance and equipped with all-wheel drive, the X6 hugs the tar under hard cornering and despite its heft, the SUV proved quite agile. The M50d wears its comfort hat well when required (especially on long journeys), but it's equally adept at displaying its sportier side when ordered to do so. As such, the X6 displays a breadth of talent, which is also reflected when you step inside…
Interior execution and features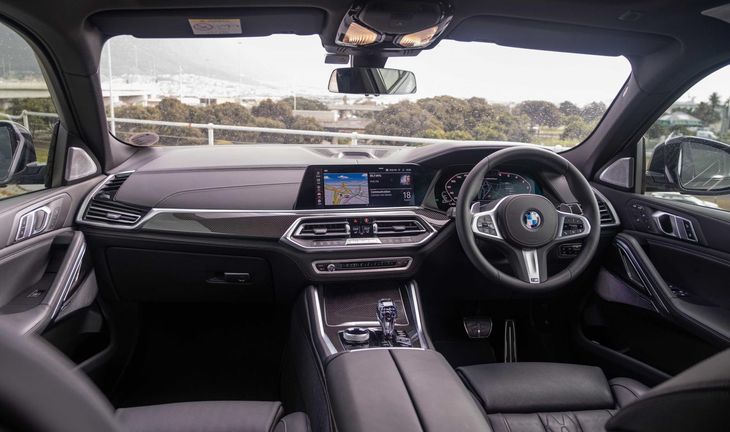 The X50d's smartly trimmed cabin is packed with a plethora of comfort and convenience features.
The razzle-and-dazzle show continues inside the X6 M50d, although it needs to be noted that the test unit came generously-equipped with a number of nice-to-have features from BMW's extensive optional-extras list. Noteworthy additional adornments include Individual Black Merino leather upholstery (R18 100), a panoramic glass roof (R17 800), Bowers & Wilkins Diamond Surround Sound System (R65 200), rear-seat entertainment system (R38 400) and heated front and rear seats (R5 550), which were particularly cosy during a recent spell of icy weather in the Cape.
The large central touchscreen infotainment system features a logical layout and can also be controlled using the rotary controller in the centre console, or by using the mounted controls on the steering wheel. Also, BMW's gesture control is standard and it's fun to use at first, but we found it took some practice to get your gestures sufficiently refined to be reliably understood by the electronic interface.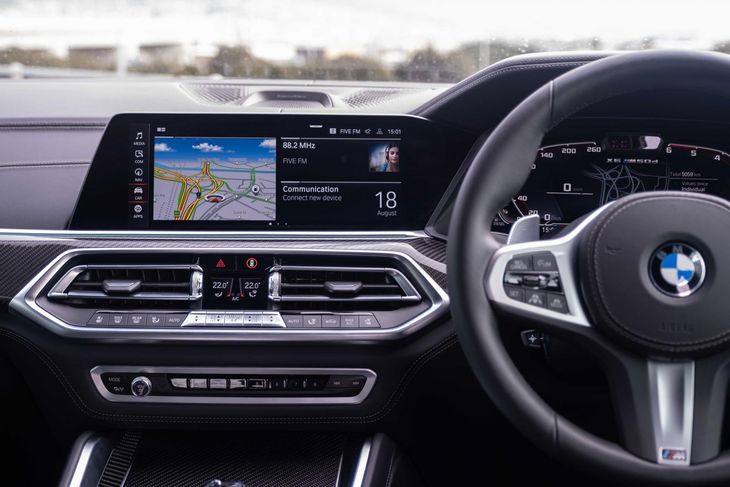 The X6's infotainment system is well structured and simple to navigate.
For the driver's convenience, information is also displayed in the head-up display, which means you barely have to lift a finger to get the desired result. Moreover, the digital instrument cluster can also be configured to your liking with various display options at your disposal. For instance, the navigation map can be integrated into the instrument display, which means the main screen can be dedicated to media playback, for instance. With the rear-seat infotainment option ticked at R38 400 (including a DVD player), you can be sure that the kids will be entertained on those longer journeys.
Other impressive features include the 4-zone climate control system, as well as the adaptive cruise control (with stop/go function), which makes driving that much less stressful, especially in congested traffic situations. This forms part of BMW's Driving Assist Professional package (R21 900), which also includes features such as parking assist, lane-departure warning and pedestrian warning with city brake activation. Furthermore, a surround-view camera system is helpful when manoeuvring the X6 in (or out) of tight parking spaces and rear cross-assist will alert you if there is traffic approaching.
Apart from the extensive list of luxury and comfort features fitted, we can also report that the general perceived interior build quality is very good; it's difficult to fault what the X6 interior has to offer.
Space and practicality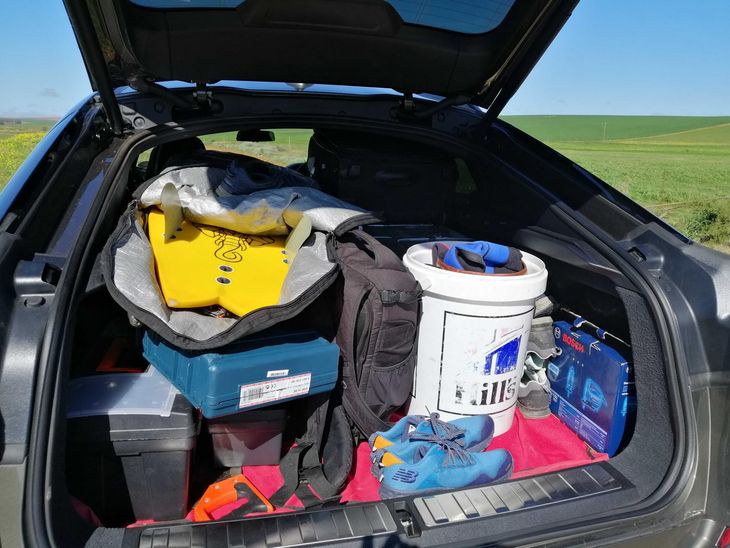 The fact you can't see that there are 8 medium-size beehives loaded in the X6 speaks erm, volumes, for its load-carrying ability.
The first 2 generations of the X6 were heavily criticised for their limited load-carrying ability, but we didn't find the 3rd-generation model's load bay that compromised. Yes, the X6's rear-half isn't as boxy as the X5's and its roofline reduces the SUV's interior space as it slopes toward the edge of the tailgate. The net result is a shallower, tapered load cavity, but it's still hugely spacious, as I discovered.
My mission to Knysna involved relocating empty beehives, but I also wanted to surf on the way there, which meant I had to pack everything, including a surfboard, gear and luggage into the load bay. I was worried that it wouldn't all fit, but I was pleasantly surprised: with the rear seats folded flat, everything could be fitted in neatly and there was even space for more! I could've taken 2 surfboards...
BMW claims the load bay can accommodate 580 litres, which expands to 1 530 litres. The X5, by comparison, is said to offer 650 litres, expanding to 1 870 litres with the rear seats folded down.
Another common criticism of the X6 pertains to its rear headroom, which is also limited by virtue of the model's sloping roof. I had rather tall rear passengers seated in the back during my trip and they commented positively on rear-occupant space and comfort. The aforementioned rear entertainment system (with a DVD player) is also well worth considering if you plan on travelling with young kids.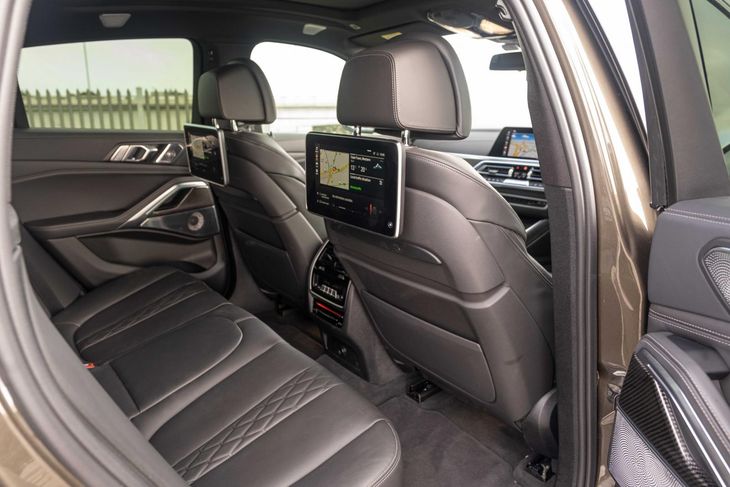 There's ample space in the rear too and the kids will love the rear entertainment system on those longer journeys.
I did encounter a quirk with the operation of the hands-free electronic tailgate, however. While changing into my wetsuit while standing behind the BMW with its tailgate open (the key was placed in the load bay), either my feet or my towel triggered the hands-free sensor (located underneath the X50d's rear bumper) and the tailgate started closing spontaneously – it nearly hit my head!
For buyers who will be using the X6 to tow, an electronic towbar can be fitted for R11 500 and the X6 has a braked tow-rating of 3 500 kg, which is ample to tow a horse box or boat trailer.
Pricing and warranty
The BMW X6 M50d is priced from R1 843 848 and is sold with a 2-year/unlimited km warranty and a 5-year/100 000 km maintenance plan.

Buy a used BMW X6 on Cars.co.za
Verdict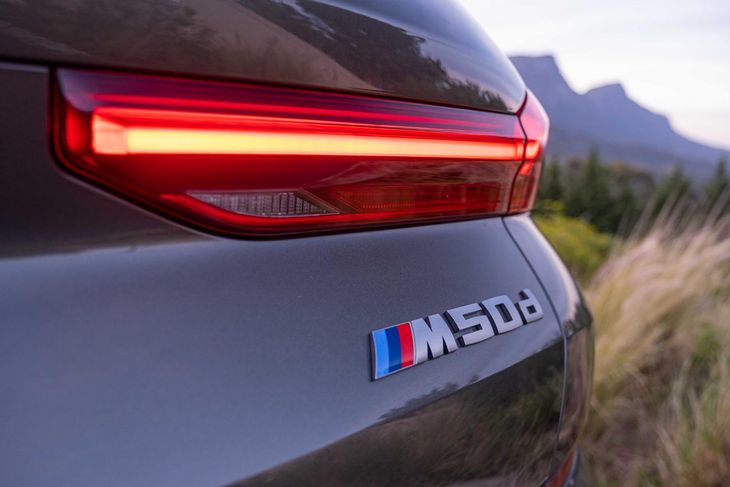 The BMW X6 M50d is pricey compared against its rivals but it's definitely worth considering if your budget can stretch that far.
If power and status mean a lot to you, you're most likely to find much to like about the new X6. It has a striking road presence and its coupe-like styling turns heads (for a variety of reasons). Importantly though, it offers more than enough performance to match its expressive design. The X50d's quad-turbodiesel engine is hugely impressive. Suffice to say it can propel the X6 at a heady pace, yet it's reasonably refined and returns admirably low fuel consumption at times. The interior, when specced with all the bells and whistles, is a luxurious space to occupy, especially on longer journeys.
Yes, we found the BMW X6 marginally compromised in terms of practicality, but it's still hugely capable (as we discovered during the aforementioned unconventional test). With this in mind, buyers will have to decide what's more important to them... If outright practicality and maximum load capacity is the end goal, then the X5 may well be worth a closer look, but then you need to be happy to sacrifice all that kerb appeal. Then again, it's also worth noting the equivalent X5 M50d is significantly cheaper too (it's priced from R1 680 148, making it just over R160 000 cheaper than a standard X6 M50d).
Moreover, this X6 M50d' asking price easily breaches the R2-million mark by virtue of being loaded with options, which makes it a pricey proposition compared with (albeit less muscular) rivals such as the Audi Q8 45TDI quattro (R1 573 500) and Mercedes-Benz GLE 400d 4Matic Coupe AMG Line (R1 761 800). For performance aficionados, the BMW's surfeit power and torque will be a decisive advantage, but bear in mind that the Q8 and GLE, in Coupe form, still offer better claimed interior space than the X6, which might be worth keeping in mind when you're shopping in this segment.
Should you consider the X6 M50d? The short answer is yes, definitely, provided you can afford it. However, your final decision may very well come down to a matter of brand allegiance and personal taste, which will ultimately determine where you sign on the dotted line. We therefore suggest that you book a few test drives before making your final decision. This X6 M50d is tough to beat, though.
Related Content
BMW Ends Quad-Turbo Production
Audi Q8 45 TDI quattro (2020) Review
Mercedes-Benz GLE 300d 4Matic AMG Line (2020) Review