The Audi Q8 range has been expanded through the introduction of a turbodiesel-powered offering. While we were quite enamoured with the V6 turbopetrol derivative, a diesel version may be a smarter proposition. We spent a few days getting to know the Audi Q8 45 TDI better...
We like: Potent engine, fuel consumption, fit and finish, futuristic cabin, refinement galore.
We don't like: Expensive, no 7-seat option.
Fast Facts:
Price: R1 573 500 before options (July 2020)
Engine: 3.0-litre V6 turbodiesel
Power/Torque: 183 kW/600 Nm
Transmission: 8-speed Tiptronic
Fuel consumption: 7.8 L/100 km (claimed)
Boot capacity: 605-1 755 litres
Performance: 0-100 kph in 7 sec.
What is it?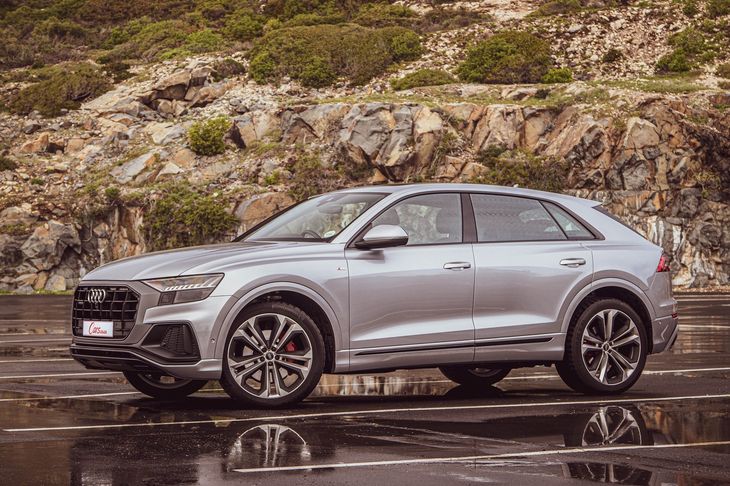 We first sampled the Audi Q8 in the middle of June 2019 and a year later, we're behind the wheel of the 45 TDI.
When the Audi Q8 first burst onto the scene, it wowed us with its jaw-dropping, coupe-inspired styling, exceptional finishes and tech-laden interior. The sharply-styled Premium SUV Coupe was an emphatic statement by Audi that it refused to be overshadowed by its fellow German brands BMW and Mercedes-Benz's X6 and GLE Coupe models.
But the luxury off-roader market is a cutthroat segment, to say the least. During the past 18 months, we've seen all-new versions of the BMW X5 and X6, Mercedes-Benz GLE and GLE Coupe, as well as the Porsche Cayenne and Cayenne Coupe. Truth be told, Audi hampered the Q8's prospects by offering just one powertrain when it launched the model in South Africa. However, a turbodiesel-powered Q8 derivative is now available locally (and, for those craving V8-powered Audi SUVs, well, they're on their way).
A glance at the sales figures highlights just how popular turbodiesel derivatives are in this segment. It's easy to see why: as a general rule, larger-capacity turbodiesel SUVs offer a more relaxed driving experience; their lofty torque outputs make them useful for towing caravans/horseboxes and, let's not forget the fuel-consumption benefit: diesel-powered SUVs tend to be thriftier than their petrol-powered counterparts. Mind you, in this segment, if you can afford to buy the beast, you should be able to afford to feed it.
This review focuses purely on the 45 TDI quattro's new turbodiesel powertrain, as we've had considerable experience with the Audi Q8 already, albeit powered by a 3.0-litre turbopetrol engine. How does this new turbodiesel-powered derivative fare – is it markedly better than its unleaded-consuming sibling?
How it performs in terms of...
Performance, fuel economy and handling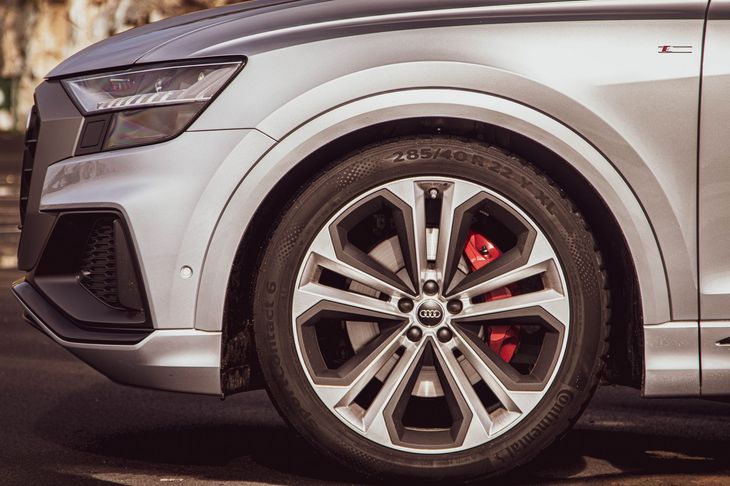 Despite being shod with massive 22-inch alloy wheels, the Audi Q8 offered a smooth and supple ride.
A 3.0-litre turbodiesel V6 lurks under the 45 TDI quattro's bonnet. It's not our first experience of this motor: we've previously evaluated it in the Volkswagen Touareg, but, as a matter of interest, the latter delivers a touch more power at 190 kW (as opposed to this Audi's 183 kW), but we doubt you'd be able to feel the difference. The 8-speed automatic transmission offers supremely smooth 'shifts, but isn't the most responsive 'box to change up/down when you're pressing on in the default modes. If you take command by using the steering-wheel paddles and switch to Dynamic mode, the Q8 becomes far more engaging to drive, but, it's still essentially a large luxury SUV, so don't expect fireworks.
For a vehicle with such large dimensions and bulky proportions, nimble handling is not a priority, but the all-wheel-drive Q8 – shod with its optional 22-inch rubber – proved reassuring to pilot around some twisty bits of tarmac. It's not an interactive driving experience, nor did we expected it to be, but the Audi managed to make us believe we're behind the 'wheel of a smaller vehicle. The steering is good too, with reassuring solidity and directness. We were ever-aware of the Q8's width, however – it's not a narrow vehicle, so parallel parking required some forethought. Thankfully, the parking cameras are excellent and we were able to slot into normal-sized bays without much effort.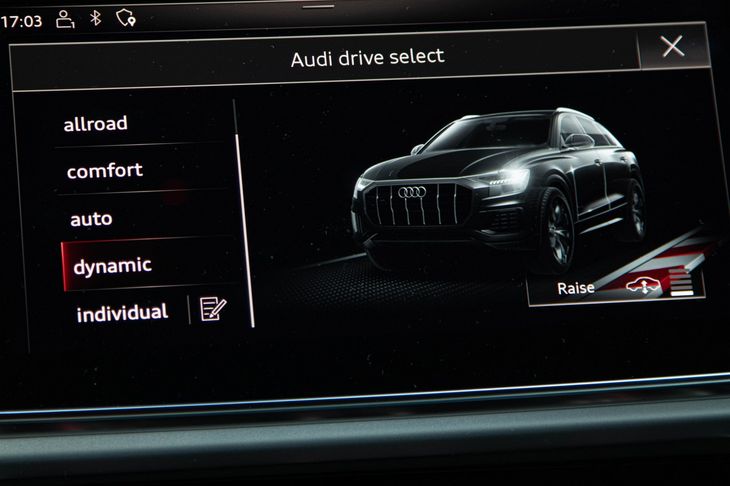 The various modes of the Audi Q8. It's interesting to see how the air suspension raises and lowers depending on the mode.
The 45 TDI quattro's real strength is its open-road prowess and, despite riding on large wheels, the Audi offers an impressive level of refinement and comfort, plus road-noise- and diesel-clatter suppression. With our shoot location entered into Google Maps (conveniently available via the Q8's touchscreen's Android Auto interface), we headed north along the West Coast. Mindful of the area's average-speed cameras, we engaged cruise control and were impressed by how crushingly competent the diesel-powered Q8 was.
With 600 Nm of torque on tap, overtaking manoeuvres were effortless; the Q8 will readily cover large swathes of tarmac with ease. It is immensely satisfying to lean on the accelerator pedal and feel the diesel motor stir. Don't be too heavy-footed – it will cause the transmission to hesitate before changing down gears, but still, the feeling of all 600 Newtons calmly hitting the tarmac is worth savouring. Audi has even managed to give its V6 TDI a bit of a sporty note – gone are the days of motors with harsh diesel clatter.
The Q8 has an 85-litre fuel tank and it's expected range from a to-the-brim fill-up is 962 km. During the 45 TDI quattro's tenure in our test fleet, we saw an indicated average fuel consumption figure of around the 8 L/100 km mark. If you use Eco mode, we're confident the figure could dip into the 7s. Our vehicle featured air suspension, which we noticed would raise and lower the vehicle automatically depending on mode. If you engage Allroad mode, the Q8 rises up majestically to offer enough clearance to clear most obstacles.
Could the 45 TDI quattro venture offroad with confidence, though? With Audi's integral all-wheel-drive system (with self-locking centre diff), which apportions torque between the axles, we'd say yes, it could easily tackle some gravel and muddy roads. Whether owners would be brave enough to risk scraping those gorgeous 22-inch alloys is a moot point.
Exterior styling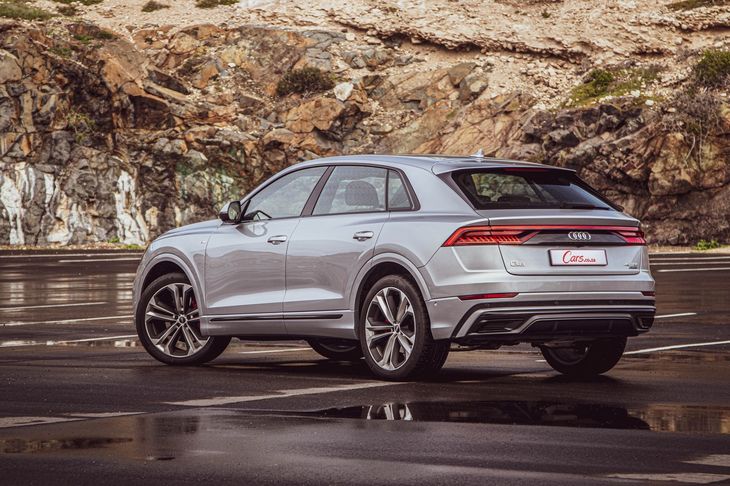 The rear lights of the Audi Q8 put on a show at night when you unlock the car and will wow onlookers
Make no mistake, this is easily one of the most visually-striking vehicles on the road. The Audi Q8 is classed as a coupe-SUV or Premium SUV Coupe (in #CarsAwards - powered by WesBank parlance). Whichever way a vehicle such as this ends up being described is a mish-mash because it's essentially a luxury, road-biased passenger car (as opposed to an off-roader) and it has 4 doors (2 more than it needs to be considered a coupe). Here's the kicker: no-one actually cares if the Q8 represents a contradiction in genres; vehicles such as the BMW X6, Mercedes-Benz GLE Coupe, Range Rover Sport and, recently, Porsche Cayenne Coupe, have achieved considerable sales success.
Granted, our silver test unit isn't as striking as the Dragon Orange-finished one featured in nearly all the launch material, but with its distinctive lines and 22-inch alloy wheels, it drew its fair share of admiring glances. Our test unit also came with the optional S-Line Platinum Package, which adds the aforementioned alloy wheels, red brake callipers and other addenda. The Q8 is chapter 1 of Audi's new design language and we're going to see many products with similar design cues.
Interior execution and features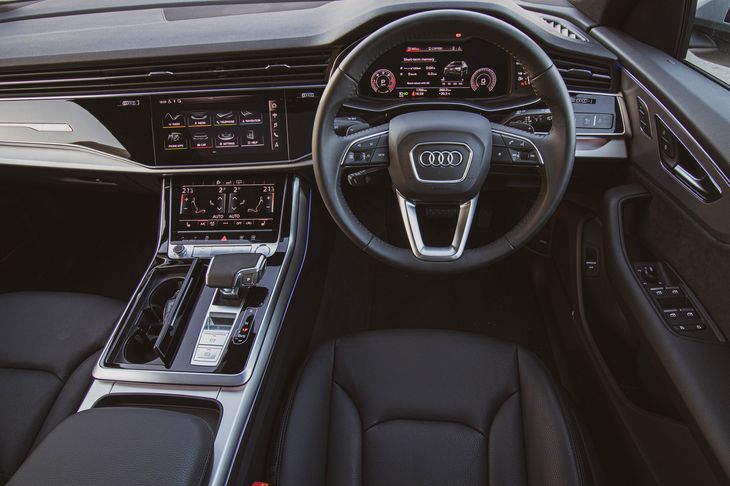 A technological masterpiece. Not only does the cabin exude quality and style, but it also incorporates impressive technology.
If the Q8's exterior styling piques your interest, the cabin will positively enchant you. The fascia is slick, minimalist, advanced... and unmistakably Audi at its most forward-thinking. Initially, you may find the fascia layout a trifle daunting and the interface of the touchscreen panels tricky to figure out, but after a few minutes, you're likely to get the hang of it all. Audi's digital dashboard (aka Virtual Cockpit) is on duty, but what's really interesting is the central setup, which comprises 2 screens. They're touchscreen units, but Audi has endowed them with haptic feedback, so when you select an option, there's a "click sensation" to make it feel like you've pressed a "button". The graphics and interface are sensational; they'd look more appropriate in a sci-fi movie than a 2020 SUV. Our only gripe? Keep a cloth handy – the screens are easily marked by fingerprints.
The first screen incorporates most of the functions, apart from climate control and ventilation, which is controlled by the second screen (below it). It looks quite advanced, but we discovered some neat tricks like swiping up and down on the temperature scale to make quick adjustments... No more manual adjustments of increments in half degrees! In terms of connectivity, Android Auto and Apple CarPlay are supported, which allows you to mirror your smartphone's screen on the main screen. Google Maps look great!
In terms of practicality, while the Q8 is appreciably large and spacious, it does lose out in favour of its Q7 sibling. Subjectively, there's a touch more room for rear passengers' legs, as well as fractionally more aft headroom, in the Q7. We could live with those compromises, but whereas the Q7 can be specced to offer seating for 7; the Q8 can't. It's not like the drawback is exclusive to the Audi: the X6 and GLE coupe suffer a similar issue in relation to their X5 and GLE siblings. If you absolutely need 7 seats, look elsewhere.
Standard features are comprehensive, which is what you expect at this price point. Audi's Matrix LED headlights are potent and the way they avoid dazzling other road users is remarkable. Heated seats, lighting themes, a Bang & Olufsen sound system with 3D sound, and a steering wheel festooned with myriad controls are just some of the highlights.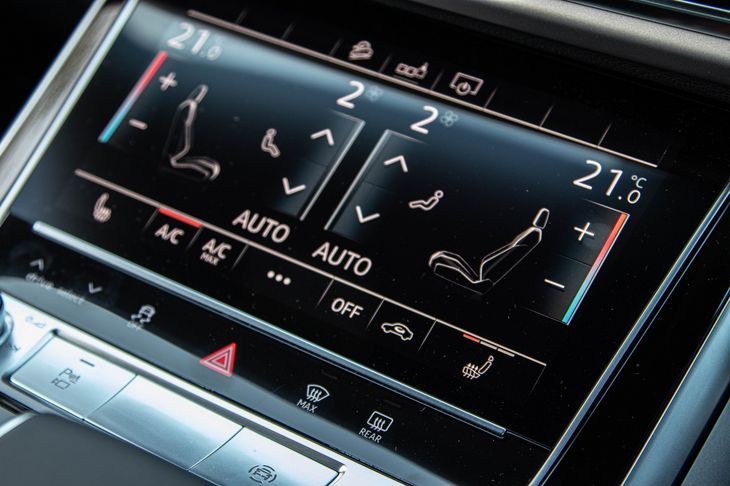 The second screen focuses on climate and ventilation control. Those heated seats were a lovely way to stave off winter.
Pricing and warranty
Our test unit came with numerous extras, adding R153 570 to the value of the vehicle. Headlining the options list was the S line Platinum Package (R80 840), which included things like adaptive air suspension, S line exterior package, 22-inch wheels and red brake callipers. A trailer hitch (R17 070) was fitted, as were power-latching doors (R10 020), the latter function closes the doors softly if you didn't push them hard enough. Our Audi Q8 also came with the phone box, which includes wireless charging for mobile devices.
The Audi Q8 45TDI quattro's base price is R1 573 500​, which includes a 5-year/100 000 km maintenance plan. Lane departure warning (R5 380), lane change assist (R9 210) and advanced tyre pressure monitoring system (R4 690) were 3 noteworthy additions to the safety package, which we'd also recommend for your consideration.
Take a look at specification details
Browse for a used Audi Q8 on Cars.co.za
Verdict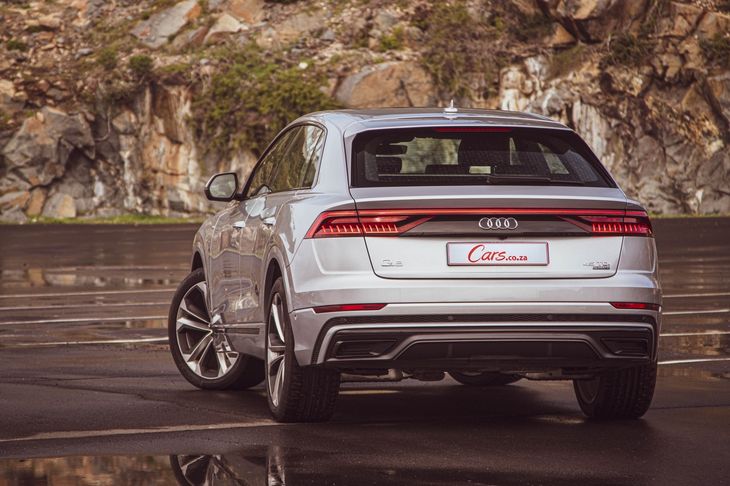 Does the addition of a turbodiesel powertrain broaden the appeal of the Audi Q8 and, importantly, can the oil-burning 45 TDI quattro outshine its petrol-powered 55 TFSI quattro sibling? We can confidently answer: "Yes, on both counts." Granted, there's something magical about a lusty petrol V6 that likes to clear its throat, but logically, the turbodiesel motor offers significantly more talents. The benefits are numerous – the Q8 45TDI is a more refined open-road cruiser, the engine doesn't need to be worked hard to produce the eye-widening acceleration and, best of all, if you drive with a measured driving style, you'll be rewarded with impressive economy. It's just a more accomplished offering.
Drawbacks? Well, there aren't many, but some are worth mentioning. We're puzzled by 45 TDI quattro's price premium over its similarly-engined Q7 sibling. Granted, the Q7 is due for a facelift before the end of 2020 (which will no doubt result in a price increase), but it's hard to justify the R400 000 difference between the derivatives. That being said, when you compare the 2 vehicles, the Q8 offers way more kerb- and road presence; many wouldn't look twice at the Q7, but the Q8 is a limelight-stealer of note.
And, if you demand more performance from the Q8 package, Audi South Africa has confirmed it will be introducing the potent SQ8 and RS Q8 before the end of 2020...
Related content:
Audi Q8 (2018) International Launch Review
Audi Q8 55TFSI quattro (2019) Review [w/Video]