The 4th-generation X5 has grown in size, as well as sophistication. We get to grips with an xDrive30d derivative equipped with an off-road package, which BMW has now made available on its Premium SUV in South Africa.
We like: Ride comfort, off-road grip/traction (with off-road tyres), luxury, performance/efficiency balance, quiet cabin
We don't like: Some gimmicky features/ergonomics, cheap-feeling gearknob
Fast Facts
Price: R1 194 296 (May 2019, without options)
Engine: 3.0-litre 6-cylinder twin-turbodiesel
Gearbox: 8-speed automatic
Fuel economy: 7.0 L/100 km (claimed)
Power/Torque: 195 kW/620 Nm
Own a BMW? Tell us about your experience here.
SERIOUS ABOUT BUYING?
Where does it fit in?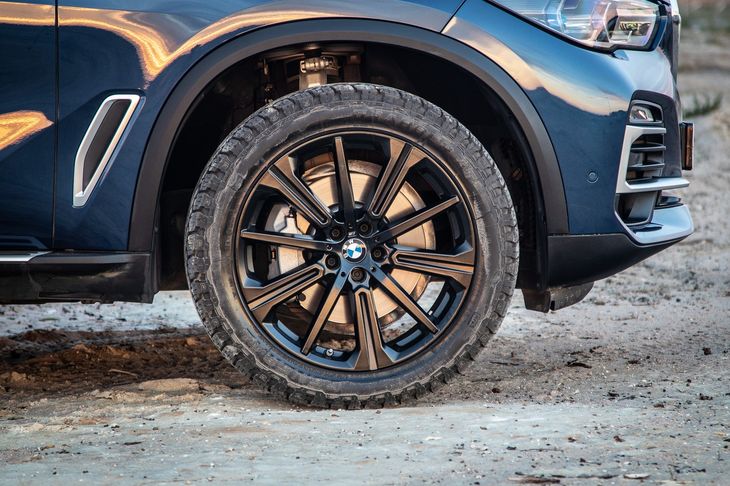 Our test unit featured 20-inch wheels wrapped in General Grabber rubber.
The X5 was the first X model that BMW produced. First launched in South Africa in 2001 and now in its 4th generation, the X5 has racked up more than 2.2 million worldwide sales for its manufacturer, making it one of BMW's most successful and important models. However, given the rampant rise in popularity of SUVs, the competition is also stiffer than ever before. Suffice to say BMW had to sharpen its pencils during the development of this new model... The result is an X5 that BMW says is more luxurious, more connected, more refined and more spacious than ever before. Also... for the first time in South Africa, it is now offered with an Off-Road package, as if to tick a final box in a list of talents that is already lengthy.
Is all that development (and enhancement) enough to propel this bigger, more high-tech X5 to the front of the Premium SUV segment once more? We evaluated the xDrive30d xLine derivative, fitted with the Off-Road package, to find out.
How does it fare in terms of...
Design & Packaging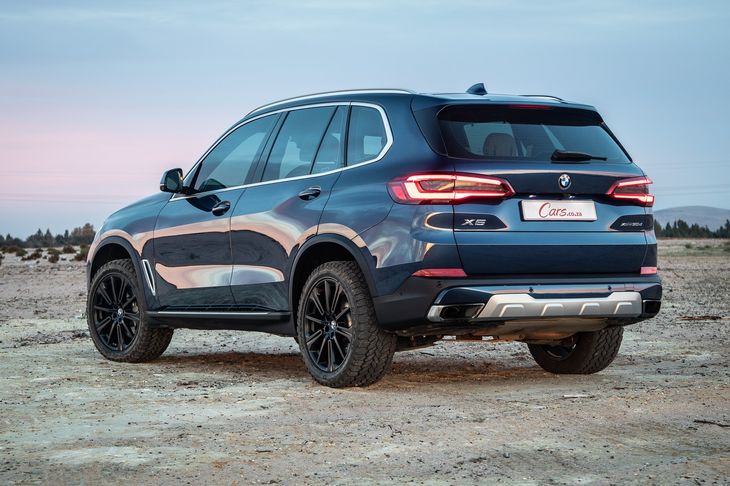 Longer, wider and taller than the vehicle it replaces, the 4th-generation X5 is an attractively styled Premium SUV.
BMW design is often controversial, either for adhering too strictly to the marque's design language, or for introducing something that splits opinion (such as the seemingly oversized new kidney grille treatment on the X7 and facelifted 7 Series). The latest X5, however, has received overwhelming praise for its styling and we can only agree – it is a nicely proportioned, muscular vehicle with just enough glitz to ramp up its kerb appeal.
You'd think that with the introduction of the X7, the X5 wouldn't need to be enlarged, but the latest iteration is 36 mm longer, 66 mm wider and 19 mm higher than before. Importantly, its wheelbase has been stretched by 42 mm, and the benefit (extra cabin space) is immediately noticeable, particularly the width. When seated at the front there is a commanding view from the electrically adjustable (and heated) sport seats. A variety of trim options are available, and our test car featured high-gloss Ash Grain Silver Grey wood trim, which is... an acquired taste. We did, however, like the stitched leather dashboard very much and the optional Merino white leather might not be entirely practical, but it certainly is suitably opulent.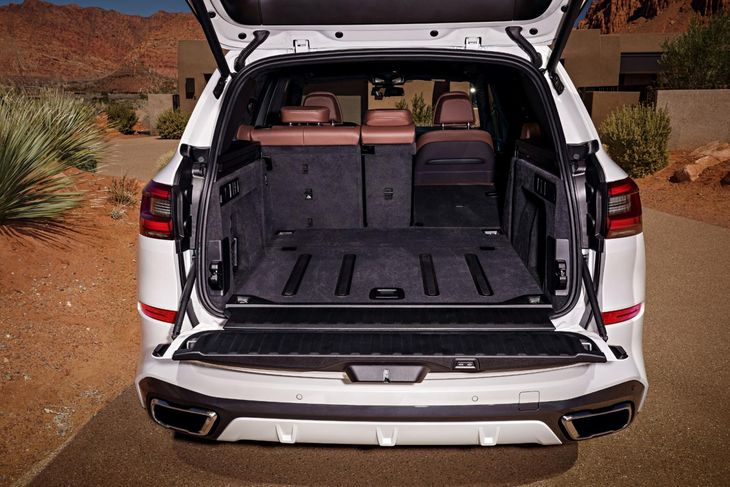 The convenient split tailgate and large boot endow the X5 with great long-distance family travel appeal.
Also fitted to our test unit was the so-called CraftedClarity glass interior elements and, once more, we feel this is an option box that can be left unticked. Several testers mentioned that the glass gearknob just doesn't feel particularly substantial, and its plastic backing feels a trifle "cheap". Nevertheless, we appreciate these options are there because tastes differ. There certainly is little amiss with the quality of the rest of the cabin.
The load bay is accessed via a split tailgate, which can be opened hands-free if the X5 is specified with Comfort Access. When deployed, the lower part is particularly handy as a place to seat small children while cleaning their feet after outdoorsy (read: "muddy" or "sandy") activities. The luggage area is big (BMW claims a 650-litre capacity) and, to free up generous utility space, the 2nd row, which has a 40/20/40 split, can be folded forward.
BMW's Premium SUV is also available with 3rd-row seating (although not specified for this test vehicle), which is a R30 800* option. If fitted, a control panel in the load bay can be used to slide the 2nd-row seats forward for easier access to the 3rd row, in addition to raising/stowing it.
Comfort & Features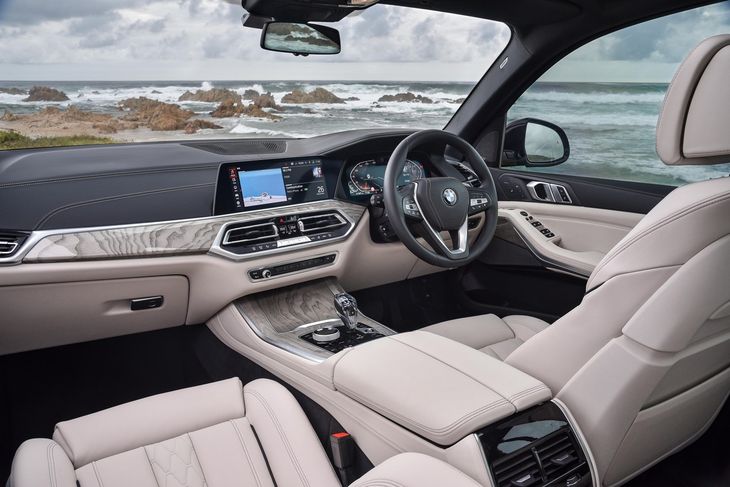 Spacious and affording the driver a commanding view, the X5 cabin can be tailored to the buyer's needs through a vast optional extras list.
You're unlikely to ever see a stock-standard X5 because there are simply so many options for buyers to choose from. Nonetheless, we'd rate the standard features list pretty comprehensive (in most respects). We'd recommend sticking to the smaller rim sizes (they start at 19 inches), as the lower-profile rubber on larger wheels is likely to reduce the ride comfort. The X5 is equipped with LED head- and taillamps, but having experienced the impressive BMW Laserlight with Adaptive LED Headlights (a R29 000* option) during long drives at night, we can highly recommend it.
Inside, the test unit was specced with the optional 4-zone climate control (R8 000*), although we found the relatively small temperature control buttons fiddly. While the standard seats already offer electrical adjustment, (budget permitting) you may want to add heating (R5 500*), massaging (R14 400*) and cooling (R9 800*) to them as well. You get "thermo" cupholders, which can chill or heat your drinks in situ, as standard. The roller sunblinds fitted to the rear doors of our test unit were also popular on those longer drives and, what's more, they're relatively affordable (R4 400*).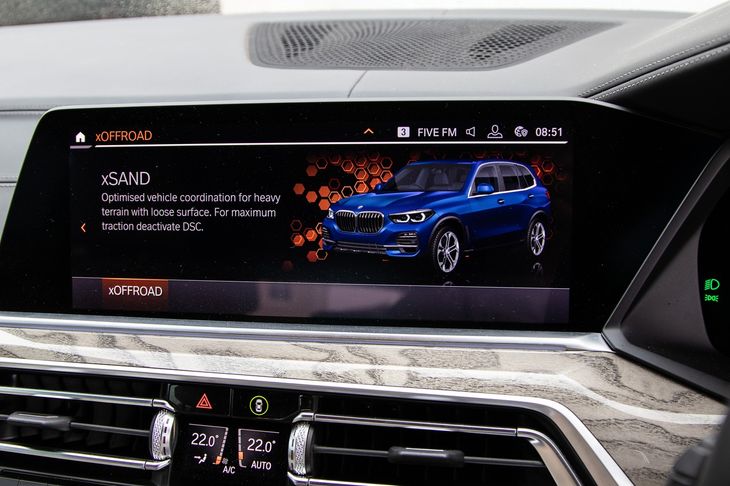 The Control Display screen offers crystal clear graphics and is also touch sensitive.
The X5 comes standard with BMW's Live Cockpit Professional system, which includes a 12.3-inch instrumentation screen, as well as a 12.3-inch Control Display. The graphics are crisp, modern and controlling the various features is no longer only done via the iDrive controller – you can access features through Gesture Control, Voice Control, the steering wheel, and the screen is also touch sensitive. As ever, with such staggering choice and so many features to play with, acclimatising to the ergonomics takes some time. A 20 Gb hard-drive-based multimedia system is standard, as are a pair of USB ports and Bluetooth/Wifi connectivity. Furthermore, a wireless charging pad is standard fitment.
The X5 is probably the most connected of the current crop of Premium SUVs on the South African new vehicle market (and there is a variety of digital services offered to customers at extra cost), but BMW has included the Connected Package Professional bundle as standard, which includes Remote Services, Concierge Services and Real Time Traffic info. Through its Open Mobility Cloud, the X5 can interface with the owner's own digital devices and it also offers Microsoft Office 365 with Skype for Business integration. A rear-seat entertainment system is offered for R38 400* extra.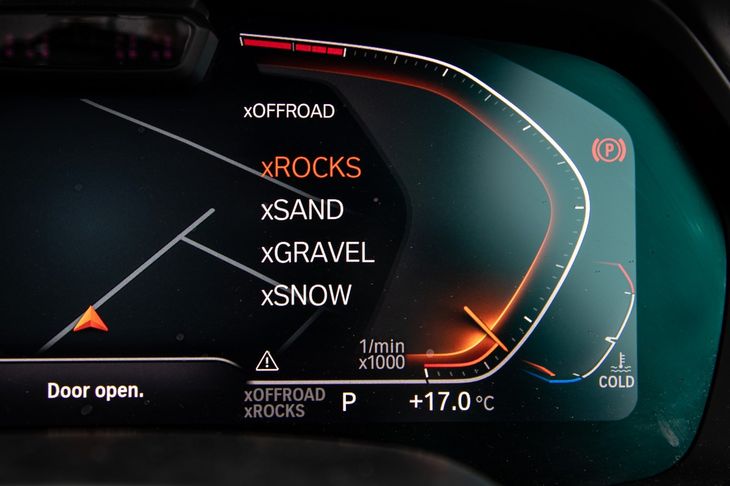 Pick the Off-Road option and you get special graphics on the instrument panel, showing which mode has been selected.
Included as standard is cruise control with a braking function, collision warning and pedestrian warning, but BMW additionally offers Active Cruise Control with a Stop and Go function (R11 600*), which is a boon on long-haul trips. Also available is Driving Assist (R15 800), which bundles a whole raft of warning and protection systems, including active side-collision protection and cross-traffic alerts. While park sensors front and rear are standard, you may want to consider adding the Parking Assist Plus system (R8 900*) to make the avoidance of kerbs when parking the BMW's task.
In summary, the standard car is more than comfortable enough, courtesy of a respectable standard-features list coupled with the vehicle's spaciousness, ride control and refinement. The standard noise-reducing acoustic windscreen undoubtedly contributes to the serenity in the cabin.
Performance & Efficiency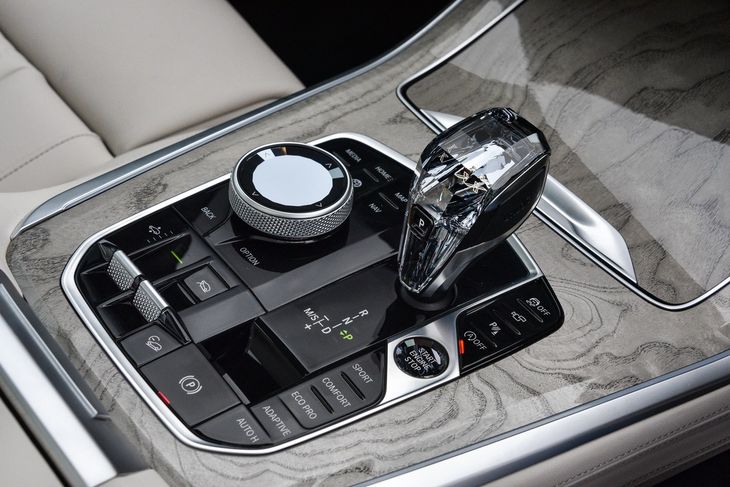 The CraftedClarity glass applications in the cabin received mixed feedback from the team.
The xDrive30d is powered by a twin-turbocharged 3.0-litre inline 6-cylinder diesel engine that delivers a meaty 195 kW at 4 000 rpm and 620 Nm of torque from 2 000 to 2 500 rpm. Both of those outputs are higher than what is claimed from the X5's main rivals from Mercedes-Benz and Range Rover. Mated with the beautifully slick and responsive ZF 8-speed automatic, the xDrive30d is claimed to accelerate from 0 to 100 kph in a swift 6.5 seconds – again, it's a figure that comfortably bests those of its rivals, and reinforces the X5's positioning as one of the most dynamic Premium SUVs. If you were ever in any doubt about its sporty pretensions, you should take note of the standard gear-shift paddles behind the 'wheel!
We took the X5 on 2 long road trips during its evaluation period; on both occasions, it was loaded to its full capacity with people and their holiday detritus. It's worth pointing out that even when the Eco Pro driving mode was selected, the vehicle remained suitably responsive when the driver pushed their right foot down on the throttle to overtake slower vehicles. An average combined cycle consumption figure of around 7 L/100km is claimed for this model, but we achieved a real-world 7.6, which is very impressive for such a large, performance-oriented vehicle.
And then there's the refinement – this is a very smooth, quiet powerplant that delivers its significant punch in a real iron-fist-in-velvet-glove manner.
Ride & Handling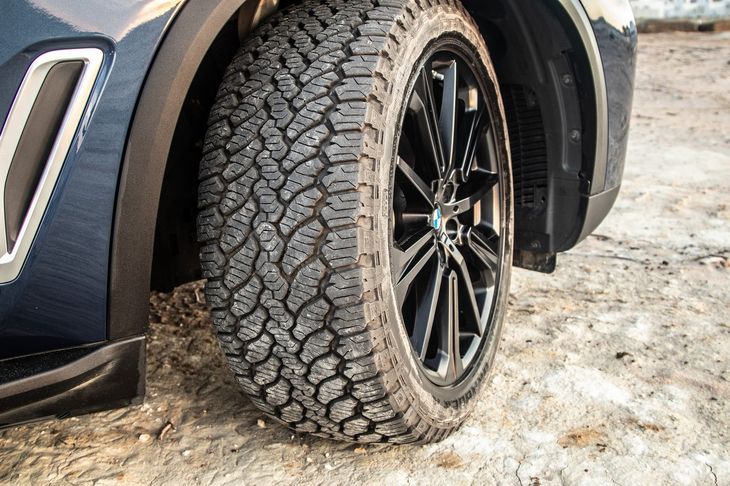 The optional off-road package, combined with the General Grabber tyres, imbued the X5 with very impressive off-road ability.
Our test unit came fitted with a number of options that ultimately make this report quite specific. The Off-Road package costs R30 500* and isn't merely a styling exercise, even if the rugged under-guard elements are quite obvious. You also get an extra button on the centre console to control the different driving modes, special graphics on the instrument panel and, in the case of this vehicle, grippy-looking General Grabber tyres.
If you opt for the Off-Road package you also have to select the adaptive 2-axle air suspension (a R25 100* option) that features self-levelling. At speed, it will lower the vehicle by about 20 mm, and in off-road conditions, can raise the ride height by around 40 mm. Tyre pressure monitoring is standard, as is the fitment of the electrically controlled rear differential lock. BMW says the latest xDrive all-wheel-drive system can shift power between the axles faster and, when needed, the sum total of the torque can be directed to the rear axle exclusively.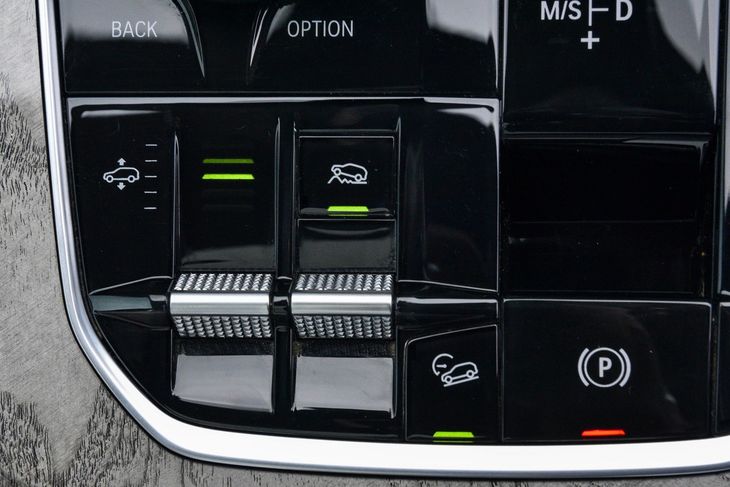 Simple switches allow the driver to toggle through the different off-road settings, and to raise/lower the ride height.
On the open road, we noted a slight vibration from those Grabbers (but only at lower speeds), while the X5's cabin remained a hushed environment at the country's legal speed limit. Even when shod with off-road-optimised tyres, the X5 is sporty and pleasant to steer with precision and excellent body control (although it does not offer much in the way of feel). When we headed off the tar onto gravel roads, the X5 was a revelation: it gripped and retained traction in a way we've not experienced with any X5 before; it massively boosted driver confidence in typically low-grip conditions.
In trickier off-road conditions (not that many owners will venture there), this X5 might surprise off-road traditionalists. The added ground clearance, grippy tyres and effectiveness of the sand, gravel, rock and snow modes give this supposed road-biased SUV notable capability on the rough stuff.
Pricing and warranty
The list price for a standard X5 xDrive30d xLine is R1 194 296 (*when this review was first published in May 2019), but our test unit came fitted with R300 000-worth of options, which bumped the price up to around R1.5 million. A 2-year/unlimited km warranty is included, as is a 5-year/100 000 km maintenance plan. We played around with the BMW configurator (find it here), and managed to specify an X5 with most of the features we deem necessary, for a total cost of around R1 250 000, an indication that the standard car is already pretty comprehensively specified.
Verdict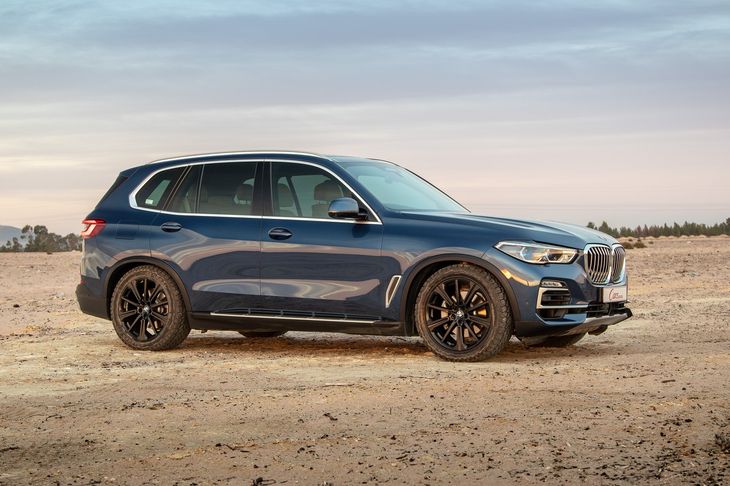 Once more, the X5 is a serious player in its segment and a strong candidate for Cars.co.za Consumer Awards glory next year.
The new BMW X5 offers a staggering breadth of ability, with only a few gimmicky interior "party pieces" detracting from a product that is very hard to fault. The xDrive30d's engine is refined, frugal and punchy, the ride quality strikes a great compromise between comfort and agility (even on off-road tyres), and inside, there is not only more occupant space, but also greater connectivity and, if appropriately specced, class.
While it remains to be seen how many SA buyers will opt for the Off-Road package fitted to this vehicle, it did highlight the X5's off-road capability – especially on poor gravel. Buyers that previously disregarded the X5 for being too biased towards on-road performance can now consider the BMW.
Overall, we now rate the BMW X5 as one of the front-runners in this tough segment. And, given the stellar performance of its powertrain, the xDrive30d is the pick of the range.
Looking to buy a new / used BMW X5?
Find one on Cars.co.za by clicking here