How much merit is there in buying an all-wheel drive, top-of-the-range compact SUV? The flagship CX-5's sales figures suggest buyers believe "quite a lot". How does the 2.2 DE AWD Akera model stack up?
We like: generous specification, quality interior and excellent ride/handling balance
We don't like: eye-catching 19-inch rims, low ride height are drawbacks on off-road routes
Also consider: Ford Kuga 2.0TDCi AWD Trend and Toyota RAV4 2.2D-4D AWD VX
What is it?
The CX-5 is one of the longest-serving products in Mazda's model line-up, but thanks to the fact that the Hiroshima-based company has been doing business in the South African market in its own capacity since late 2014, the venerable compact SUV has benefited from better marketing support and overall exposure. Shortly before the model underwent a facelift in April 2015, we tested this range's flagship version and were impressed by its combination of luxury and overall refinement.
Notable changes
This Akera-specification model is the best possible showcase of the cosmetic updates of the CX-5, including the bold grille, adaptive LED headlamps and 19-inch alloy wheels. Inside, the most noticeable upgrades are the provision of an electronic parking brake and the slick full-colour MZD Connect infotainment system that includes a standard satellite navigation system.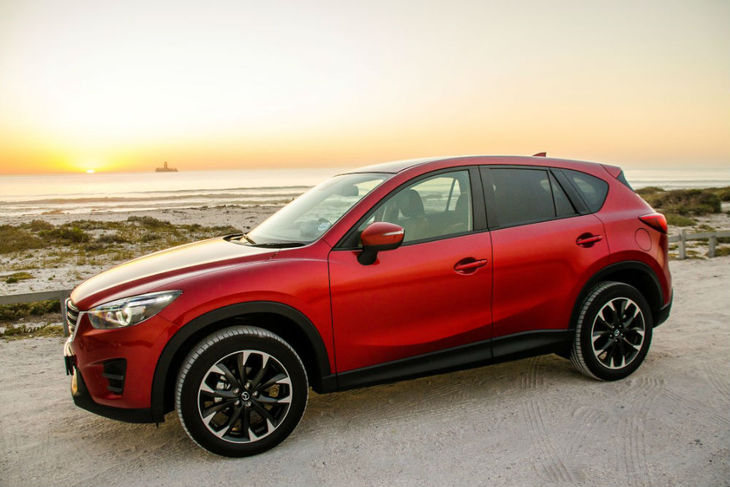 Stylish 19-inch wheels are standard on the Akera AWD model.
How does it fare in terms of?
Kerb appeal
Even though the CX-5 has been available in South Africa since 2012, its exterior design (claimed to be the first one from Mazda to incorporate the now ubiquitous Kodo design language) has aged remarkably well. The two-tone 19-inch alloy wheels fill out the wheel arches handsomely and complement the side cladding and black elements in the bumpers. The front end looks sharpened and particularly distinctive. Styling assessments are utterly subjective, but if a flagship compact SUV needs to make a statement, the 2.2DE AWD Akera, finished in Soul Red metallic paint, certainly hits the mark.
Luxury specification
At this price level, features such as leather trim with electrically-adjustable driver's seat, climate and cruise control, automatic lights, wipers and self-dipping rear-view mirror ought to be standard issue — and the CX-5 has all of those — plus parking sensors and a reverse-view camera.
However, the 9-speaker Bose sound system, which operates in conjunction with the smartphone- friendly MZD Connect interface (with satnav!), the blind spot monitoring and lane keeping assistant systems, and the adaptive LED headlights, which use a camera in the nose of the vehicle to alter the Mazda's lighting characteristics based on traffic conditions, are nice-to-have features that are standard issue. What's more, the keyless entry and start functions are especially convenient.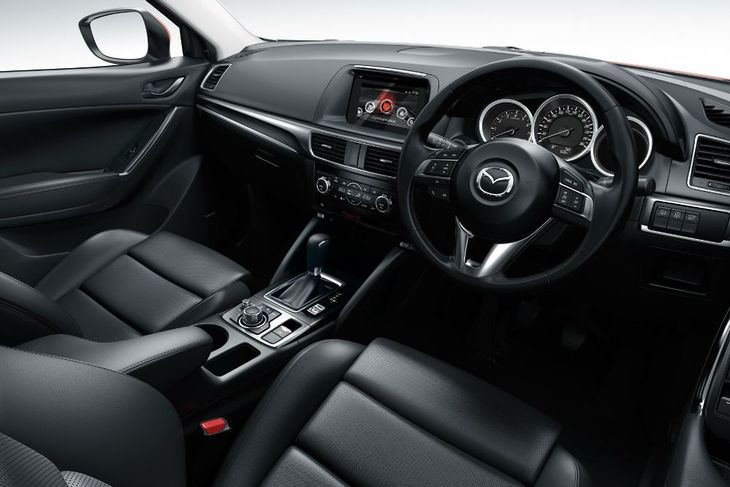 Updated cabin is loaded with standard equipment and build quality is superb.
Performance and efficiency
The hallmark of the 2.2-litre 4-cylinder SkyActiv-D motor is excellent refinement, especially for a turbodiesel motor. In the case of the Akera-specification model, the engine produces 129 kW and 420 Nm (at 2 000 rpm), and the powerplant is well-matched to the six-speed transmission, which changes ratios very slickly. Previous experiences with the CX-5 have taught us that the Mazda is an excellent tourer, and although the manufacturer claims an average fuel consumption of 5.9 L/100 km, we saw indicated figures in the early sevens, which are quite acceptable for a vehicle of this size and heft.
Handling and ride quality
The CX-5 is well-known for its sure-footedness, as well as a well-weighted and wieldy steering setup, but considering its 19-inch tyres have a 255/55 profile, which means they have narrower sidewalls with less "give", the Akera's remarkably forgiving ride quality is one of its finest traits. The Akera may offer all-wheel drive ability, but its ride height is 150 mm, which makes mild to serious off-road excursions, well, less than advisable. However, bear in mind that four-wheel traction and dynamic stability control are advantageous on gravel roads — or any slippery road surfaces, for that matter.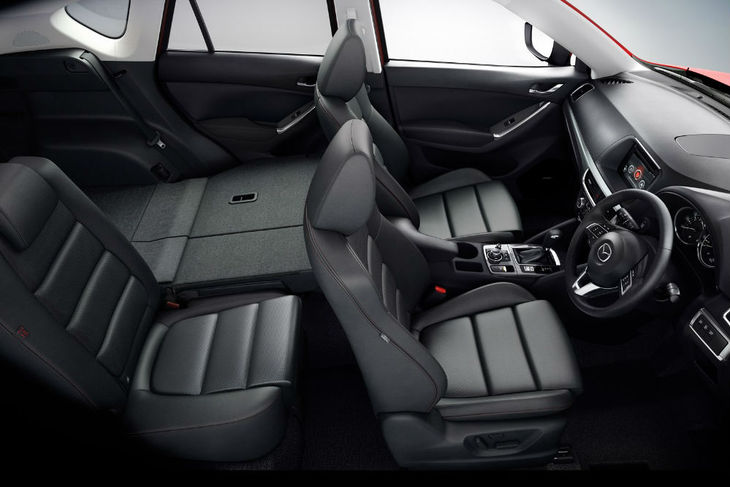 The spacious cabin and reasonably capacious boot endow the CX-5 with good touring car credentials.
Practicality
Superior build quality and interior finishes are major indicators for future durability, and in that regard the Mazda must rank near the best in its class. Although its claimed boot capacity of 403 litres is less than copious, the CX-5 offers reasonable rear legroom and good loading versatility by virtue of a rear backrest that can split and be folded forward in a 40/20/40 configuration, which not only facilitates loading wide, bulky objects, but will allow two passengers to sit on either side of a long object. What's more, the tonneau cover moves in unison with the tailgate (it never gets in your way).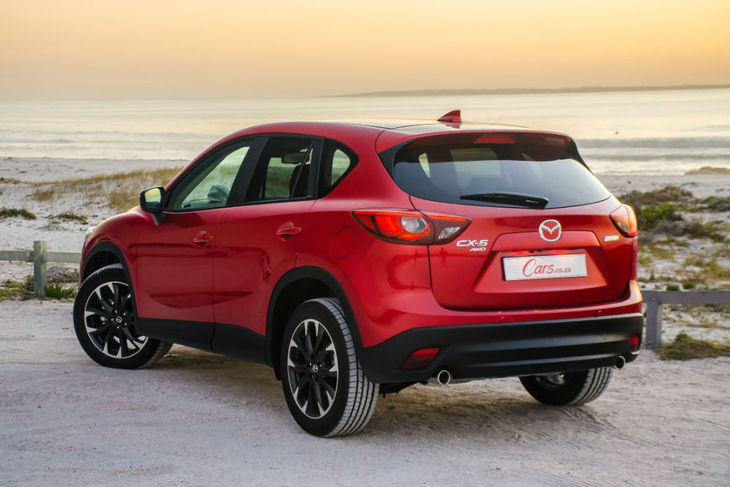 Low ground clearance and low-profile wheels mean that the CX-5 is not really an off-roader.
Verdict
One could make a case to save almost R60 000 by buying the identically-specced 2.5-litre petrol-engined CX-5 (Individual) derivative, or, if you want optimal fuel economy, opting for the far more moderately specced two-wheel drive 2.2DE Active derivative, which offers lower engine outputs but also the convenience of an automatic transmission. Ultimately, however, despite the fact that the Akera costs near the R500 000 mark, which seems steep for a compact SUV, it offers very good value for money compared with the similarly-priced Ford Kuga 2.0TDCi AWD Trend and the slightly more expensive Toyota RAV4 2.2D-4D AWD VX, which recently underwent a facelift too.
For those looking to buy a compact SUV as a luxurious vehicle, as an alternative to compact luxury sedan, for example, the Mazda wants for nothing, spec-wise. As a family vehicle, the all-wheel-drive configuration and its allied safety systems represent added peace of mind over and above the vehicle's 3-year/unlimited kilometre warranty and service plan.
Pricing
The Mazda CX-5 2.2DE AWD Akera retails for R486 600, which is near the top of the price range for a compact SUV. A 3-year roadside assistance is included in conjunction with the aforementioned warranty and service plan.
Compare the Mazda CX-5 2.2DE AWD Akera with its Ford Kuga and Toyota RAV4 rivals here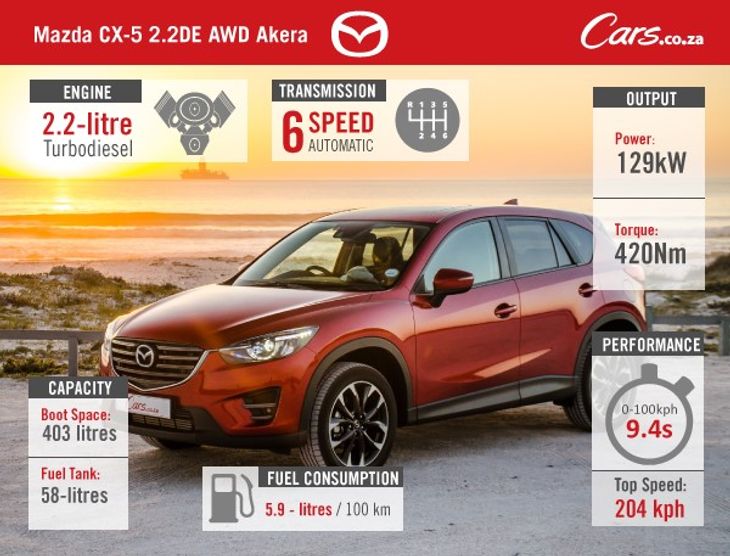 Interested in buying a Mazda CX-5? Search for one on Cars.co.za