AC Schnitzer is a tuning house renowned for its work on BMW's products, but now it has turned its attention to the BMW-powered Toyota Supra. What?!
We've seen many BMW products fettled and enhanced by AC Schnitzer over the years, but in some bizarre news, AC Schnitzer has worked some magic on the Toyota Supra. Granted, the Supra has a BMW-sourced engine in it and AC Schnitzer will know exactly what to do with it, but it's still a bizarre event.
The modifications are extensive, with the engine, handling and visuals all been given the AC Schnitzer touch. First up, the engine where the 3.0-litre straight-6 turbocharged has been tuned from 250 kW/500 Nm to 294 kW and 600 Nm. There's no mention how AC Schnitzer has accomplished this, but we'd guess there's a reflash of the ECU's software as well as some work done to the plumbing. There's a sportier rear silencer, which looks good and will likely sound good too.
The chassis and suspension have also been tweaked with the addition of an RS coil-over setup which allows for height/rebound/compression adjustments so the customers can tweak to their heart's content. The new suspension setup means the AC Schnitzer Toyota Supra sits 2.5cm lower than standard, which in turn helps with the centre of gravity and cornering ability.
The bodykit gains a matte black front splitter, rear wing with aluminium mounts, carbon bonnet vents, while the cabin gains aluminium shift paddles, iDrive cover, pedals and key holder. The visual upgrade is rounded off with 20-inch AC1 Light Alloy Rims in BiColor or Anthracite or 20-inch AC3 Lightweight Forged Wheels in Silver/Anthracite or Anthracite/Silver.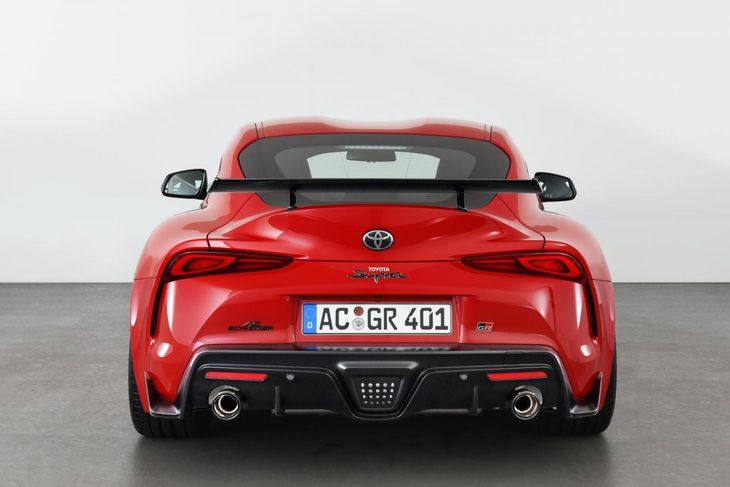 The Toyota Supra, tuned by BMW specialists AC Schnitzer
Further Reading
SA Tuner Creates 310 kW Toyota Supra
Toyota Supra TRD Concept Revealed
Toyota GR Supra 3.0T (2019) Review