BMW SA has an illustrious history of producing special and unique models for the local market. Now it plans a limited-edition 3 Series derivative to pay tribute to one of its most iconic models, the 325iS.
BMW and South Africa have a unique relationship. Our market has been privy to some special-edition vehicles over the years, with the most iconic arguably being the 325iS. The 325iS was built specifically to homologate a model for production-car circuit racing in the 80s and 90s.
The 325iS and 333i (which came before it) are held in high esteem and highly collectible; so much so that it's near impossible to find a one (at least in original condition) these days. The Gusheshe (as the 325iS is locally known) is an integral part of SA motoring history and word has it, Gusheshe 2.0 is on the way.
BMW South Africa is well aware of the prestige and reputation of the 325iS and will be launching a limited-run 3-Series to celebrate this motoring icon. The new BMW 330is Edition made a surprise appearance at the 2019 BMW M Fest and since then there's been very little word as to its planned arrival or what would make it special.
What do we know so far? Well, we know this special edition is based on a new-generation G20 BMW 330i and it will feature the M Sport cosmetic package and potentially a few hand-picked M Performance Parts too. The BMW 330is Edition rides on 20-inch 794M M Performance wheels, which we think are gorgeous. We suspect there'll be no changes to the 2.0-litre 4-cylinder motor, which produces a 190 kW and 400 Nm. Acceleration is rated at 5.8 seconds to 100 kph. Whether a standard 330i with some nice body parts and wheels will be enough to conjure up the same emotions as a 325iS remain to be seen – let's hope BMW SA has got the sentiment right or this could be a bit of a flop.
When is it hitting the showroom floors? A source close to BMW SA suggested there would be news regarding the BMW 330is Edition in the next few weeks and the local arm's website now features a page where potential customers can stay updated. From what we understand, there will be a production run of just 300 units of this derivative.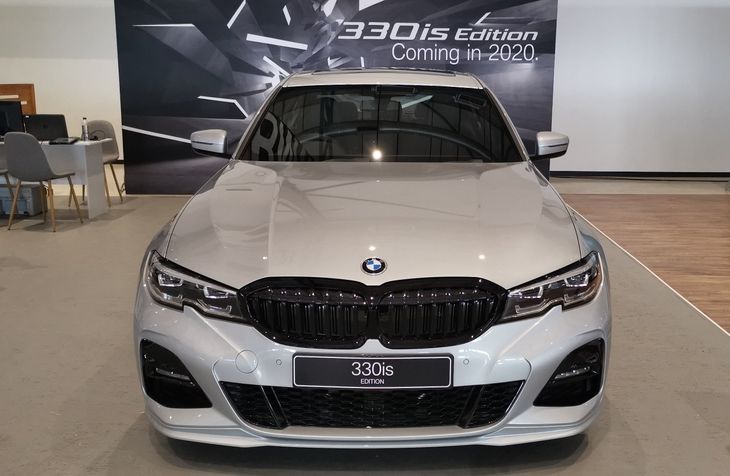 The BMW 330is Edition. Photo credit: Bimmerpost
Further Reading
Classic Drive: BMW 325iS "Gusheshe" & 333i
The unique-to-SA BMW 333i: SentiMETAL Ep4
BMW 330i Sport Line (2019) Review