The 330i is the entry-level petrol-fed derivative of the recently-launched G20-generation 3 Series (at least until a 320i will join the range near the end of 2019). We review a specced-up Sport Line version to find out if BMW's new business class sedan has returned to the pinnacle of its segment.
We like: An accomplished all-rounder, superb refinement/handling balance
We don't like: Reasonably equipped, but unsurprisingly, a nice one "will cost ya".
Fast Facts
Price: R676 016 (May 2019, without options)
Engine: 2.0-litre inline-4 turbopetrol
Gearbox: 8-speed automatic
Fuel economy: 6.4 L/100 km (claimed)
Power/Torque: 190 kW/400 Nm
Own a BMW? Tell us about your experience here.
SERIOUS ABOUT BUYING?
Check out full specification details and finance estimates here.
Some dealers regularly offer specials: Have look here.

The ostentatiousness of the refreshed 7-Series grille lessens the impact of the 3 Series' "huge nostrils", but they're distinctive!
Where does it fit in?
Much has already been written about the G20-generation BMW 3 Series. In case you didn't know, its wheelbase is longer than that of its (F30) predecessor (by 41 mm), its front and rear tracks are wider (by 43 mm and 21 mm respectively), kerb weight is lower (as is its centre of gravity), the structure is 50% stiffer than before, but the desired 50/50 front-to-rear weight distribution has been preserved.
Whereas BMW offered the previous generation with Modern, Luxury and Sport trim lines, the G20 comes to market (initially, at least) with a choice of Sport Line or M Sport packages, the former of which was specified for this Melbourne Red Metallic test unit. As part of its introductory product rollout, the Munich-based brand offers a Launch Edition with a R8 600* saving over a standard Sport Line, with (otherwise extra-cost) anthracite roof lining and a glass sunroof added to the package. However, as the stock 330i Sport Line is listed on our site, we'll review this car as such.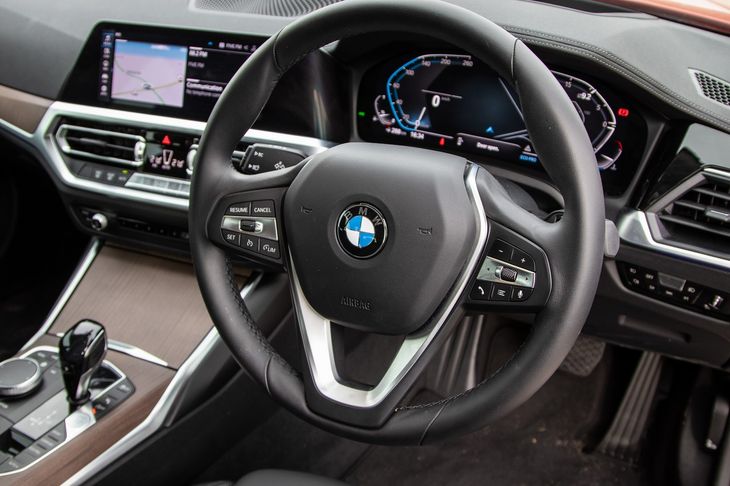 Drivers are greeted by the expansive double-screen electronic interface of the Live Cockpit Professional-equipped test unit.
How does it fare in terms of…
Kerb appeal?
Few of us have actually seen a previous-generation 3 Series unadorned by one of those previously-mentioned trim packages on local roads and we expect the same will ring true for this generation of BMW's business class sedan ­­– most buyers will either opt for Sport Line (R23 600*) or M Sport (R47 400*) executions. Although testers agreed that the "post-box red" paint finish of the test unit arguably flattens out some of the finer detailing of the G20 3 Series' exterior styling, the black high gloss side-glass trim and bumper inserts (especially in the elaborate air intake in the front valance) contrast tastefully with the vivid paintwork and especially the smoky LED tail-lamps. There's a saying that if a car looks good in a (so-called) "flat" body colour, it's bound to look really impressive with a metallic finish… That may be particularly applicable in the case of the 330i.
The long-nose, cab-back, stubby-tail GT-like proportions of the 3 Series is further enhanced by handsome 18-inch V-spoke wheels (R13 500*) and BMW Laserlight headlamps (R15 000*), the latter of which do not only provide an astonishing level of illumination (in our experience), but provide the 330i with a striking frontal appearance by virtue of those reimagined Angel Eyes/Corona Rings. As for the Sport Line execution, the package effectively serves the combined role of the F30's Luxury and Modern trims… it's subtly sporty, to cater for those with mature, sophisticated tastes.

The G20-generation's rear-end styling represents, in many people's opinion, the most elegant posterior ever seen on a 3 Series.
Cabin comfort & technology?
The 3 Series' predecessor lagged behind the opposition in terms of its cabin execution, which was sufficiently smart, but largely uninspiring. To be fair, in business class sedans, manufacturers want to carry over the best bits of their executive- and 1st-class offerings but without making the final products prohibitively expensive; it often shows in the diminished quality of the finishes. Although the general quality of plastics in the newcomer's interior is good, as opposed to stellar, BMW deserves considerable credit for producing a cabin that feels instantly upmarket, sophisticated (by virtue of the smartly-rendered digital displays), mercifully decluttered and, most importantly, the major touch points in the interior feel solid and weighty.

Carried over virtually unchanged from its installation in the 5 Series, Gesture Control allows settings to be changed by hand movements.
In terms of trims and highlights, there seems to be just enough in the way of metallic inserts, a hint of tactile stitching on the Sensatec-trimmed dashboard and the knurled texture of the climate control wheels, audio volume and iDrive controller knobs is a delight to touch. Also, the idea of combining the "Vernasca" Black leather upholstery (R18 200*) with dark brown open-pore (read: "unvarnished") wood trim might seem incongruous to some, but it lightens the otherwise sombre colour scheme tastefully. What's more, the cabin feels more spacious than in any preceding 3 Series; rear passengers are afforded reasonable head and legroom, a separate climate control console, a 12V charging point, plus a pair of USB-C sockets.
In what is sure to prove a popular (albeit R54 000*) option, the HEA Package includes BMW Live Cockpit Professional (a 12.3-inch touchscreen display, which is bigger than the standard 8.8-inch unit, and a fully digital 12.3-inch instrument cluster), Gesture Control, Connected Package Professional (which includes Remote Services, Concierge Services, Real Time Traffic Information and Apple CarPlay), a Harman Kardon surround sound system, a wireless charging pad and a head-up display. BMW continues to not offer Android Auto in its cars, with no solution available on the horizon either.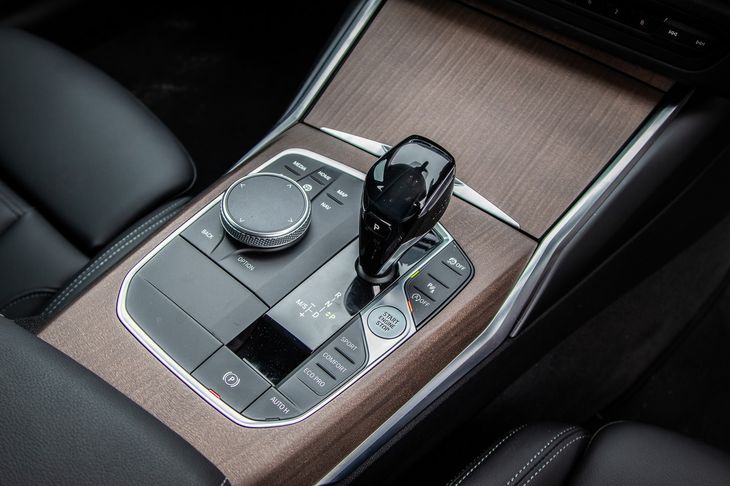 The layout of the centre console is paired back; BMW went to great lengths to make the buttons resemble subtle indentations.
Familiarisation with the 3 Series' myriad onboard functions can be a little overwhelming to begin with – simply because, in this case, the system accepts touch, gesture, voice and iDrive controller inputs, which means it's easy to toggle a setting to your preference, once you've decided which of your faculties to employ. Suffice to say a tech crash course on a short test drive is a small price to pay for the ability to make high-function, as well as the most analogue, inputs to the system… It accommodates a variety of users, from technophiles to old-school "prodders" and "twiddlers".
As for the BMW's much-publicised Intelligent Personal Assistant (IPA) voice interface, which is said to be capable of learning your particular preferences and tailoring the 3 Series' onboard settings to suit, "Hey BMW" seems handy as long as "she" understands exactly what you're asking "her" to do. But when CarPlay is active, Apple's personal interface, Siri, is happy to answer your questions too, so on one occasion, a tester asked "Hey BMW" to "navigate to the airport", which the IPA just couldn't fathom, so he gave Siri the same task, and "she" set up the route immediately. Hmm, it would seem that perfect co-existence between car makers' onboard and smartphones' live interfaces still lies somewhere in the future...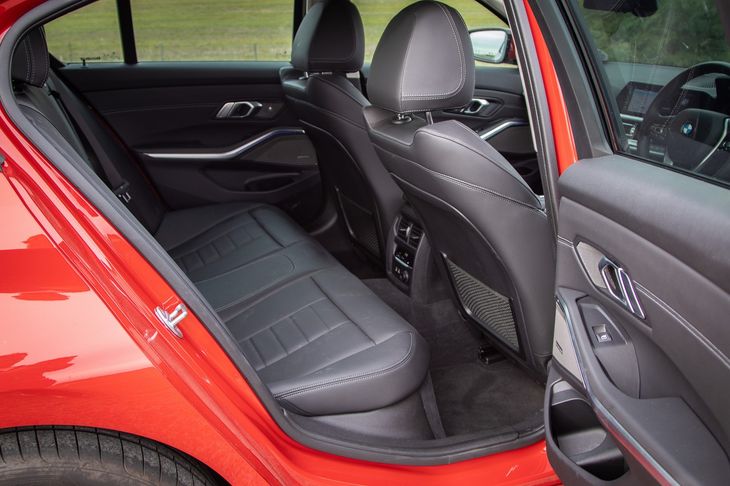 Rear passenger comfort is better than expected; headroom and kneeroom are acceptable, unless you have to sit behind a beanpole.
Ride & handling balance?
All of which brings us to the driving experience, a perennial highlight of 3 Series ownership...
Let's start with the on-road refinement: the G20-generation 3 Series sedan has very impressive acoustic insulation; at cruising speeds, the cabin is well damped from sources of mechanical, wind and road noise. Plus, by virtue of its innovative hydraulic bump-stops, the 330i Sport Line soaks up large bumps with aplomb, especially at higher speeds. Suffice to say, the newcomer is the "model" of a medium-sized luxury car, even if short, sharp road imperfections (such as freeway seams and cat's eyes, for example) still make their presence felt at times. This 330i's 18-inch wheels and tyres were not the most uncompromising options on the price list, but we'd still suggest it's quite okay to forego optional adaptive damping.
For all that refinement, the 3 Series still offers direct and crisp (if a trifle light) steering, sure-footed handling and commendable body control. The biggest compliment that we can pay the test unit was that, although it doesn't really engender spirited driving the way some of its predecessors used to, it was not averse to producing brisk turn of speed whatsoever; the manner in which it changes direction with measured predictability inspires confidence. Its demeanour suits a middle-of-the-range derivative. In terms of braking ability, apart from being a little grabby right at the point of grinding to a halt (at an intersection or traffic light, for example), the 330i Sport line provides effective, balanced stopping power in most situations.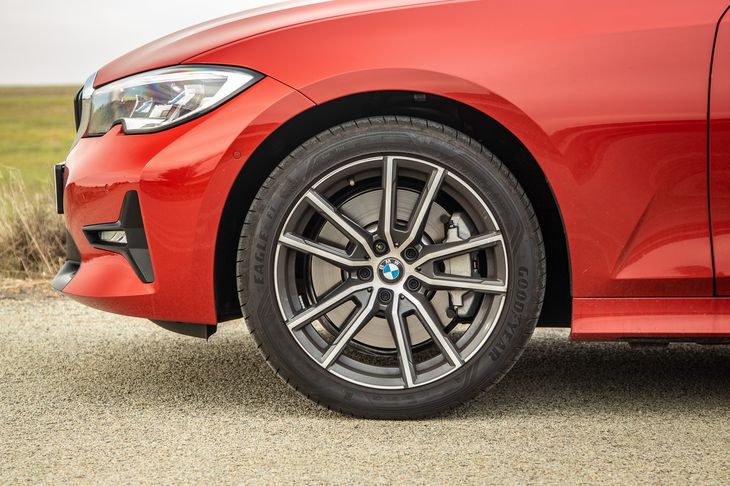 Could a standard suspension, in combination with 18-spoke wheels, be the best compromise between looks and ride comfort?
Performance and efficiency?
With peak outputs of 190 kW and 400 Nm (the latter produced between 1 550 and 4 400 r/min), BMW's latest 2.0-litre turbopetrol 4-pot delivers more than sufficient poke, even if its soundtrack is less than remarkable (and "audibly-enhanced" in Sport mode, which some purists hate). Like many of its forced-induction, direct-injection peers, it thrives in its low-to-mid rev range and sounds a bit strained at peak rpm.
It is smartly calibrated with its slick-shifting 8-speed automatic transmission however, which operates unobtrusively in the background to make the utmost of the engine's performance characteristics – one tester remarked that the auto 'box did sometimes seem unsure of which ratio it should select when ambling at lower speeds, but other testers were quite satisfied with it. With a claimed average consumption of 6.4 L/100 km, we feel the 330i Sport Line offers very good economy given its spirited performance potential, depending, of course, how much of the latter you call upon.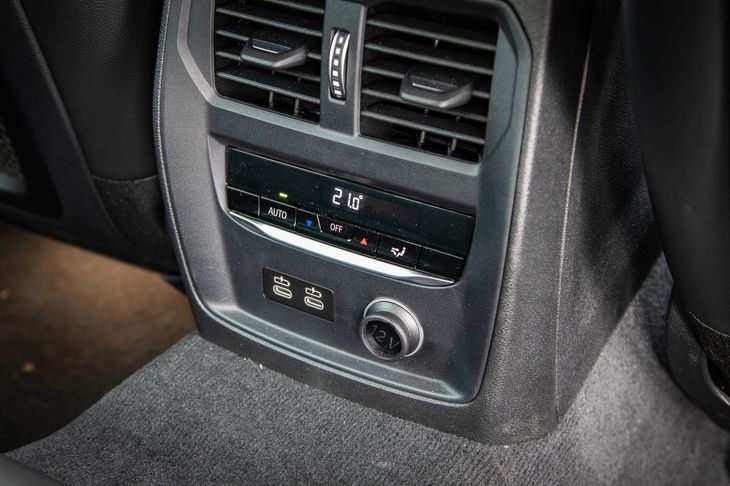 One nice-to-have standard feature is a climate control console for rear passengers, along with almost obligatory charging points...
Value for money?
When comparing this derivative with its direct rivals from Audi, Jaguar, Lexus, Mercedes-Benz and Volkswagen (all of which feature sporty trim packages, apart from the Lexus), the 330i Sport Line undercuts all of its competitors with the exception of the Audi, which is due for a facelift soon.
But there is a caveat: apart from Sport Line trim paraphernalia (including a festooned key fob), the usual plethora of safety systems, LED headlights, front sports seats and sporty steering wheel, 3-zone climate control, PDC front and rear, plus folding rear seats, many of this 330i's most impressive features cost extra... Full leather trim, the digital dash, a reverse-view camera (let alone a surround-view setup), the wireless charging pad (surely a must-have in luxury cars these days), high-beam assist and comfort access are all optional. To be fair, many of those are optional in most of the BMW's opposition too, but having just a smattering of those mentioned features as "stock" would have improved the Bimmer's value proposition.
Price and after-sales support
While the 330i Sport Line is listed at R676 016 (May 2019*), the evaluation unit had a recommended (by BMW) retail price of R815 215.51 (including CO2 tax, optional extras included). A 5-year/100 000 km maintenance plan and 2-year/unlimited mileage warranty are standard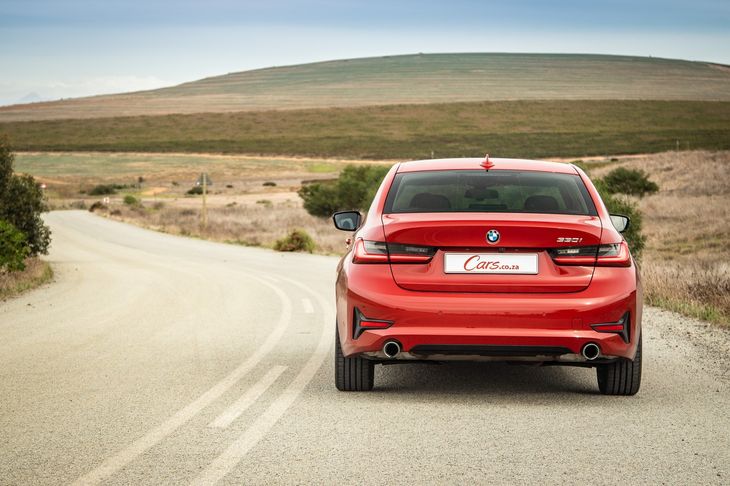 While the 330i is currently the entry-level derivative, common sense suggests its 320i smaller brother will be the more popular.
Verdict
Yes, BMW's new 3 Series is, once more, the benchmark business class sedan in the South African new vehicle market, but its re-emergence at the top of its segment is not the result of a decisive advantage in any one particular facet of its package. Its winning hand is its overall accomplishment.
The G20-generation sedan's kerb appeal is sophisticated, with just enough athleticism to appease traditionalists, but it's not a knockout. It looks fresher than the opposition, but given its newness, that's to be expected.
Its interior is well-made and laced with technology. Some of the gizmos are a bit novel, but the electronic interface does move the game along. Is it as solid and substantial as the Audi A4's cockpit? It depends on who you ask, but perhaps not.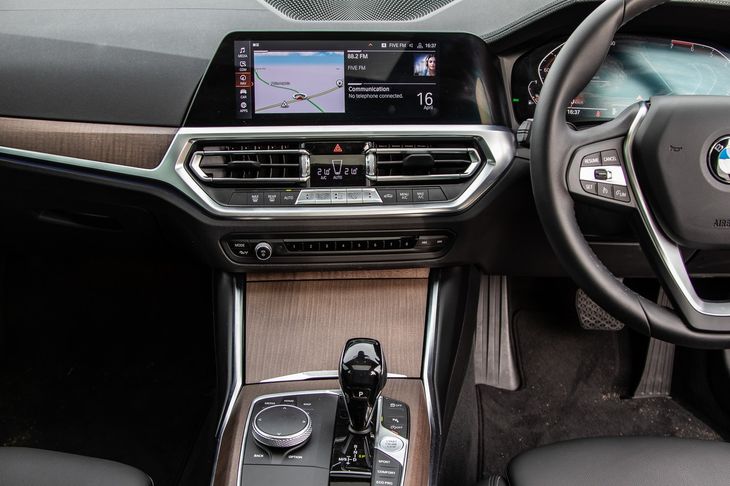 In terms of on-road refinement (acoustically and the absorption of road undulations), the 3 Series really impresses, because it also offers well- balanced handling, fast and crisp steering, plus virtually effortless performance from its willing powertrain. Is it as darty to drive and inherently playful as the Alfa Romeo Giulia, though? And what about its so-so secondary ride quality (the ability to ride out small, sharp bumps), would that preclude it from being a better long-haul cruiser than the updated Mercedes-Benz C-Class? It just might.
Those questions are largely rhetorical (and, at best, moot) because the 330i Sport Line demonstrates that in all those respective areas where it may be only as competent its various rivals, it comfortably outstrips them in other facets. It's all about the weight of merit; even though BMW's business class sedan has only once won its category in the Cars.co.za Consumer Awards ­– powered by WesBank (in 2018, with its 420d Gran Coupe Sport Line Sports Auto sibling), it's always been a frontrunner. When the 2020 edition of the #Carsawards kicks in, it almost certainly will be again.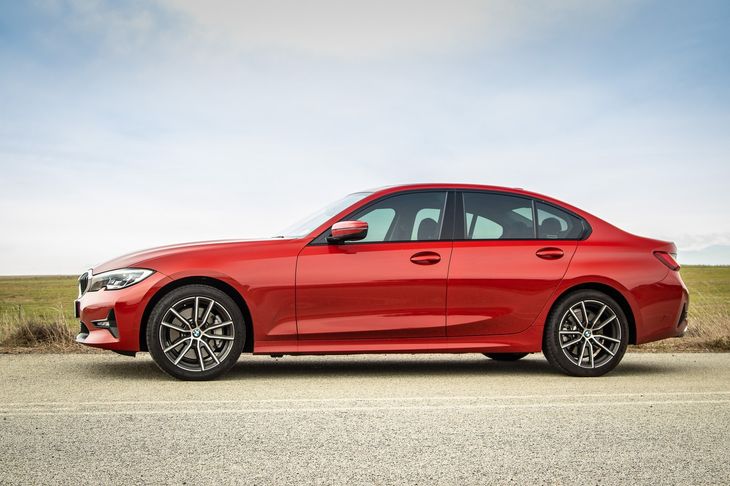 Despite the pronounced nose- and truncated boot sections, the 3 Series offers 480 litres' worth of luggage space...
Looking to buy a new/used BMW 3 Series?
Find one on Cars.co.za by clicking here.
Alternatives (click on the names for specification details):
Audi A4 40TFSI sport S line sports
The underappreciated A4 is overdue for an update, but scores strongly in terms of understatement and interior build quality. It arguably has the longest list of optional extras in this line-up, however.
Although it lives in the shadow of its 221 kW 30t brother, the 25t R-Sport is a satisfying driver's car and a nonconformist choice. It's already been updated overseas; the facelift will arrive in SA soon.
The IS was also recently updated but despite its (once regarded as outlandish) exterior styling, it is a pretty conservative choice in our market and a slow seller. Technology-wise it is not in the new 3 Series' league.
Better specced as standard than the 330i Sport Line, but that reflects in its higher asking price. Image-wise it's the best rival to the BMW as a refined luxury car, but it still lags dynamically.
Volkswagen Arteon 2.0TSI 4Motion R-Line
The recently crowned #CarsAwards champion in the business class category comes reasonably equipped and offers all-wheel-drive. Its cabin can't match the 3 Series' sheer "wow factor", however. Will it hang on to its title in January 2021?