BMW M has been the long-time sponsor and supplier of vehicles for the MotoGP season. For 2020/2021, the new safety car is the BMW M8 Competition Gran Coupe.
BMW M has been a sponsor and partner of MotoGP since 1999 and has always supplied vehicles as support and safety vehicles. Replacing the outgoing BMW M8 Coupe is this BMW M8 Competition Gran Coupe, completely decked out in BMW M branding and featuring the obligatory LED flashing lights.
With 460 kW and 750 Nm from a 4.4-litre twin-turbocharged V8 engine, the BMW M8 Competition Gran Coupe is no slouch at all, with a claimed 0-100 kph time of just 3.2 seconds. Or what MotoGP racers call 'quick-ish'. Sure, the BMW is very quick by vehicle standards, but will have a hard time chasing the likes of Mr Rossi, Mr Binder and co.
This particular BMW M8 Competition is based on the customer car, but boasts a lot of M Performance parts like a carbon engine cover, exterior mirror caps, rear spoiler, rear diffusor, carbon grille on the sides, carbon steering wheel, and custom-manufactured front flaps and splitter. The standard seats have been removed and in their place are purpose-built Recaro racing seats.
The BMW M8 Competition is on sale in SA in 3 flavours: Coupe, Gran Coupe and Convertible. See detailed pricing and specifications here.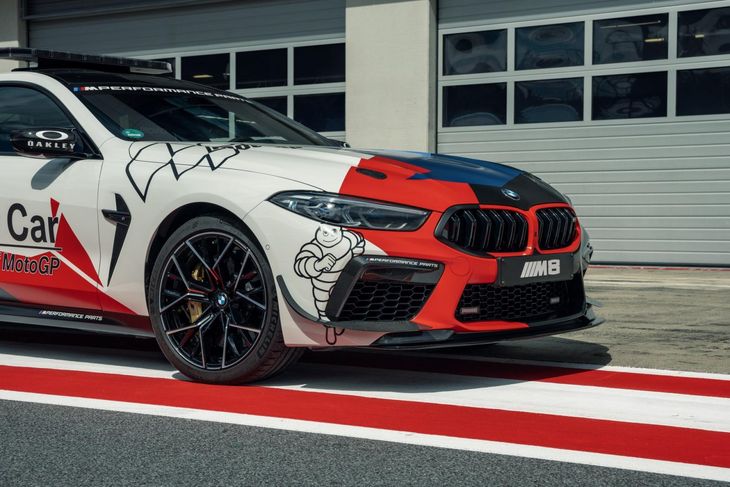 Further Reading
BMW M8 Posts Ballistic Nurburgring Time
Hot BMW M8 Competition is new MotoGP Safety Car
BMW M4 MotoGP Safety Car Announced