The M760Li xDrive is as close as we're likely to get to BMW offering an M-derivative of its 7 Series first class car, but does the flagship derivative manage to combine the seemingly disparate characteristics of a purist's driving machine, on the one hand, and a plush limo' on the other?
We like: Shattering performance, good value, split-personality dynamics, standard tech spec
We don't like: Slightly fidgety low-speed ride on poor surfaces (even in Comfort), likely depreciation
Alternatives:
Brutish Benz: These days, you can choose from 3 grades of S-Class – there is the "standard" Benz model, the fiery AMG, and don't forget the opulent Maybach derivatives. We think the most obvious rival to the M760Li is the AMG S65, sold here in long-wheelbase "L" trim only. It has slightly more power from its turbocharged 6.0-litre V12 and an extra 200 Nm of torque. Nevertheless, the rear-wheel drive Mercedes is slower to 100 kph, and lacks the driver engagement and accuracy of the BMW. It is also more than R500k more expensive! Read our launch review of the recently facelifted S-Class here.
Avantgarde Brit: Until Audi's all-new A8 arrives in South Africa, another alternative could come in the form of the mostly forgotten Jaguar XJ. The recently released XJR575 derivative features a 423 kW supercharged V8 engine, so it is not short on grunt. Nevertheless, it can't keep up with the BMW and Benz, and while its interior is visually striking, it lacks the definitive prestigiousness that makes the S-Class and 7 Series so desirable. It should be a hoot to drive, though. Not offered in long-wheelbase, so if your demands lean more towards the luxury limousine side, it may fall out of consideration. Find out more here.
Compare the BMW M760Li xDrive with the Mercedes-AMG S65 L and Jaguar XJR575 by clicking here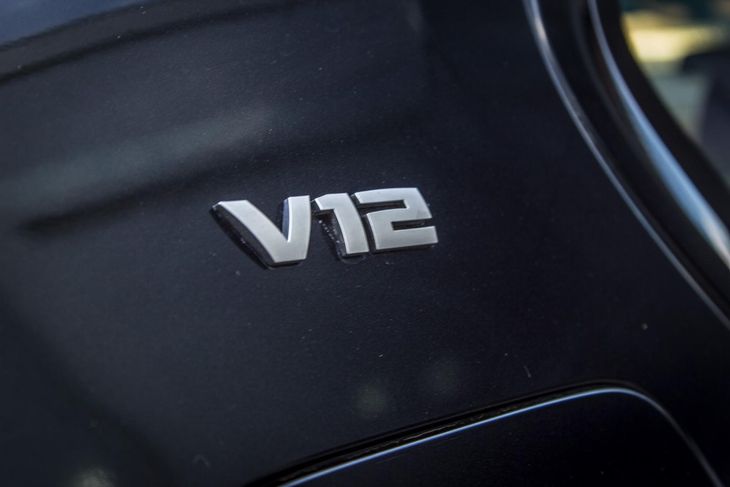 A V12 badge is rarer than ever these days, and a clear sign that you're driving the ultimate Seven.
Facts & Figures
Price: R2 801 836 (March 2018, no options)
Engine: 6.6-litre, V12 twin-turbo petrol
Transmission: 8-speed automatic
Power: 448 kW
Torque: 800 Nm
Fuel consumption: 12.8 L/100 km (claimed)
0-100 kph: 3.7 seconds (claimed)
Top speed: 250 kph (claimed/limited)
Attempting the impossible?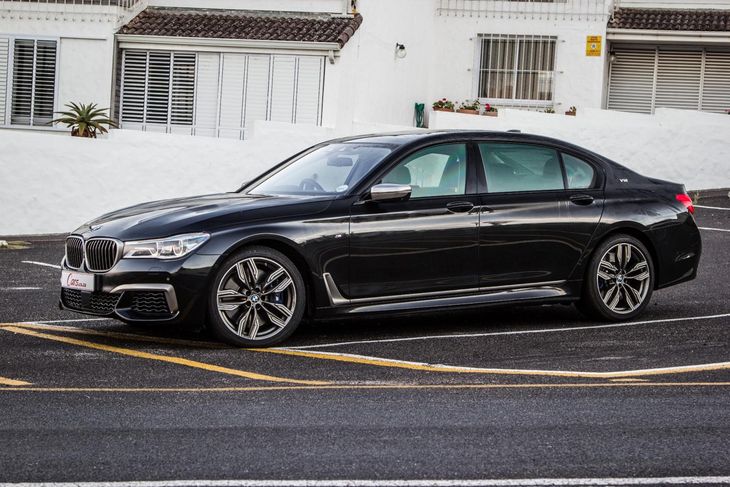 Finished in black and with the M Aerodynamic kit (standard) the M760Li looks sinister.
Right now, if you crave a heady cocktail of high performance, luxury and technology and you have a budget that stretches to around R3 million, BMW's new flagship 7 Series has arguably elbowed its way to the front of the consideration queue. After all, we know the latest 7 Series positively bursts with technology and clever – and some not-so-clever – features. Also, in long-wheelbase form, and with the right option boxes ticked, it has the stretch-out-and-relax appeal of a private jet. And now, with the addition of a twin-turbocharged 6.6-litre V12 borrowed from Rolls-Royce, it's got the performance of a supercar...
The question is, however, whether the newcomer is able to fulfil all of the expectations created by its eyebrow-raising specification sheet.
The Good
Iron Fist in Velvet Glove Performance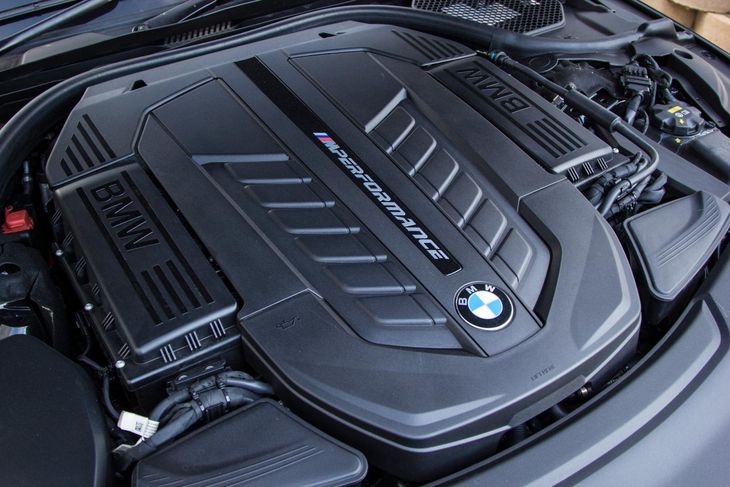 Underneath all of that black plastic nestles a 6.6L V12 with 2 turbochargers. Lag? What lag?
The M760Li's 6.6-litre V12 features a narrow, 60-degree V configuration, with the 2 compact monoscroll turbochargers positioned outside (and plumbed into) each of the pair of 6-cylinder banks. Maximum power of 448 kW is delivered at 5 500 rpm, and the full 800 Nm of torque becomes available from as low as 1 500 rpm. So... there's an awful lot of power on offer, and yet, when you first fire up the M760Li the immediate impression is one of refinement – very typical of a 12-cylinder motor, because it is inherently better balanced.
To transmit all that power BMW has employed an 8-speed Sport automatic transmission with M Performance-specific tuning to deliver "sportier" gearchanges. Of course, the character of the transmission changes as you scroll through the various drive settings; there are manual shift levers too, but an unexpected addition is a Launch Control function, fitted as standard.
There is nothing that can quite prepare occupants for the shock of experiencing a car as large as this launching from standstill to 100 kph in only 3.7 seconds. That figure, by the way, means it completes the benchmark sprint faster than any other current production BMW, barring the all-new M5 (3.4 sec). Pay a little extra (well, R40 500 to be exact) and you can get the M Driver's Package, which increases the top speed from the standard, electronically limited, 250 kph to an eye-popping 305 kph!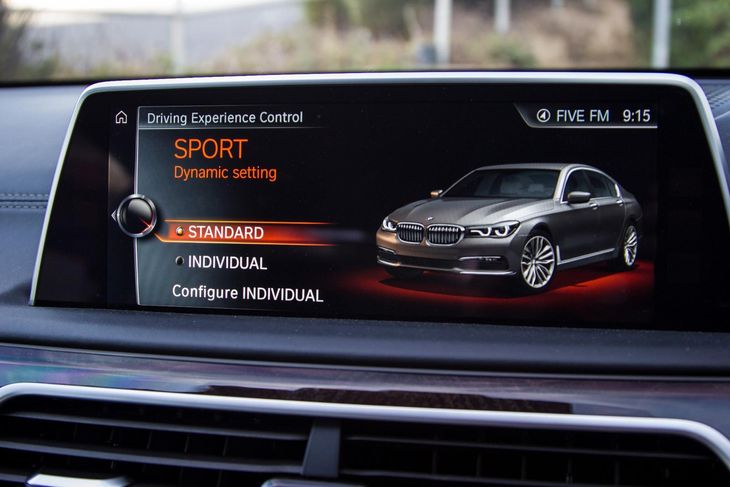 Various adjustable settings give the M760Li an astonishing breadth of talents.
However, the numbers tell only half the story. Pottering around town, the engine is quiet, refined... it purrs. Be gentle with it and you could even get quite close to BMW's claimed fuel consumption figure of 12.8 L/100 km. In fact, when the Bimmer's driven in its default setting, the accelerator pedal and transmission respond intuitively to driver inputs – as if to strike a fine balance between delivering first-class-car refinement, as well as subtle reminders of the potential that rests under the M760Li driver's right foot.
However, switch the BMW to its sportier modes and the M760Li comes alive with a furious snarl. Given the type of car that this is, we feel just enough of the sound reaches occupants' ears, courtesy of an active M Sports Exhaust system. BMW has definitely not made it loud, just for the sake of being loud... and that's a good thing.
So while the sound won't explode your eardrums, the relentless nature of the power delivery could blow your mind. Because the thrust builds so quickly from such low revs, and because the rev limiter is at nearly 7000 rpm, at which point the M760Li still pulls strongly, the rate of acceleration can feel scarily fast when you keep your foot planted to the floor.
Spread of dynamic talents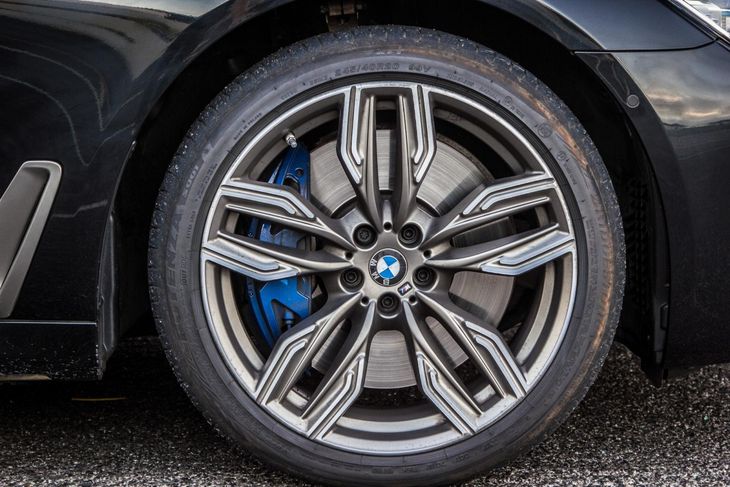 This 20-inch, lightweight alloy wheel is standard, but buyers can select from other designs, too.
The M760Li features BMW's xDrive permanent all-wheel drive system, which helps to put all that power down – and ensure traction in slippier conditions – as standard. It can distribute torque between the front and rear axles as required and apportion the percentages automatically, but in its standard form, the Bimmer has a rear-wheel bias to ensure a sportier driving feel. With its (relatively) light Carbon Core construction, low centre of gravity and tunable suspension and drivetrain, the current 7 Series has maintained BMW's tradition of offering the most dynamic option in the luxury sedan segment.
An Executive Drive Pro (active) suspension- and updated Dynamic Drive systems, the latter of which is claimed to reduce roll at both axles, are standard too. The stock air suspension has also been fettled to better suit the M760Li's dynamic positioning and, overall, it is clear the emphasis was on delivering exceptional comfort under normal driving conditions, and limiting body roll when cornering at high speeds.

Turn up the heat - Select Sport mode and the digital instrumentation switches to red.
BMW has been largely successful in achieving an admirable ride/handling balance. At lower speeds and in the appropriate setting, the M760Li displays the damping you'd expect from a traditional luxury sedan, provided the road surface is up to scratch (see further comments lower down in this article). It is definitely a car with which vast distances can be covered at considerable speed and in great comfort.
It's when you start going faster that the M760Li performs that magic trick that is such a hallmark of BMWs – it manages to shrink around the driver. Once more, selecting the appropriate settings for such driving is a must, but once that has been done, the Bimmer enjoys being hustled, rewarding the driver with fast, direct steering and the type of body control that would make sporty sedans 2 sizes smaller blush.
Good value...
Value for money is not a term one often gets to discuss at the price level of this car, but it's worth mentioning that the M760Li undercuts its key competitor by some margin, without skimping on too many of the nice-to-have features. Included are such niceties as BMW's Laser Lights, a panoramic glass sunroof, sumptuous black Nappa leather upholstery and remote parking (see video), among a great many other features. A top-notch Bowers & Wilkins 16-speaker sound system is also standard.
Our test unit also featured Executive Lounge rear seating (R54 100), which really makes aft occupants feel like First Class passengers. Tailored for 2, with extending footrests and individual heating/cooling and massage functions, rear occupants can also enjoy a comprehensive entertainment system that includes 2 ten-inch colour displays. You can even specify a Coolbox to keep the champagne chilled (R18 000).
The (not so) Good
Fidgety, lumbering around town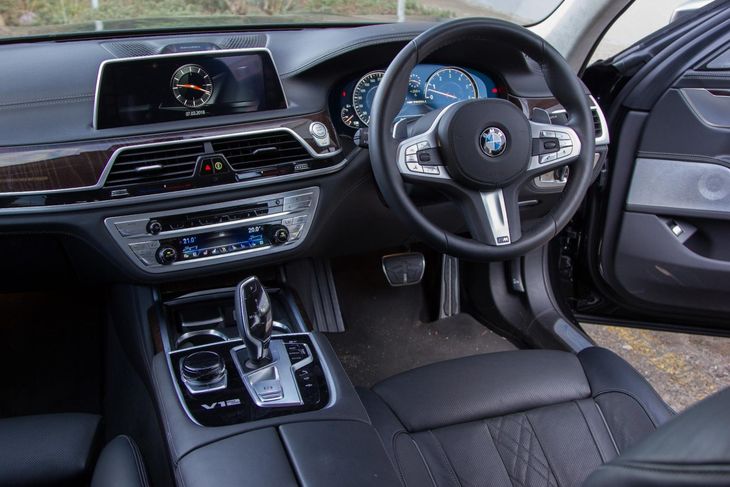 Impeccable quality and a great driving position, but some of the features are a bit gimmicky.
The M760Li's near-perfect scorebook is (slightly) blotted by a sub-par performance on some of our less impressive road surfaces. Undoubtedly this criticism applies to many other cars with air suspension and low-profile rubber, but given this model's undoubted flagship status, we think less tyre roar should reach the cabin. At town speeds – and remember our towns are littered with speed humps and bumps, nevermind potholes – the M760Li's resolute composure is occasionally somewhat ruffled. Some testers also noted that when the 7 Series slows to a standstill with the application of mild braking pressure (at the approach to an intersection, for example), at the very point of coming to a stop, the car jerks briefly, not alarmingly, but enough to make the vehicle's occupants' heads nod involuntarily, which is not refined.
Gesture control? No thanks...
We really do admire BMW's efforts in moving the tech game forward but, several 7 Series test cars later, we still don't think Gesture Control cracks it as a worthwhile feature. It simply comes across as gimmicky. Of course, you don't have to use it... so we're being picky here...

Pricing and Warranty
The M760Li has a base price of R2 801 836 (March 2018), but few cars are likely to arrive without any options. Check out the BMW configurator to virtually build your own and get an idea of accurate cost. However, as we explained earlier, the standard specification of this model is actually very comprehensive, and the price compares favourably with rivals from Mercedes-AMG and Jaguar. The M760Li is backed with a 2-year/unlimited km warranty and comes with a 5-year/100 000 km maintenance plan.
Verdict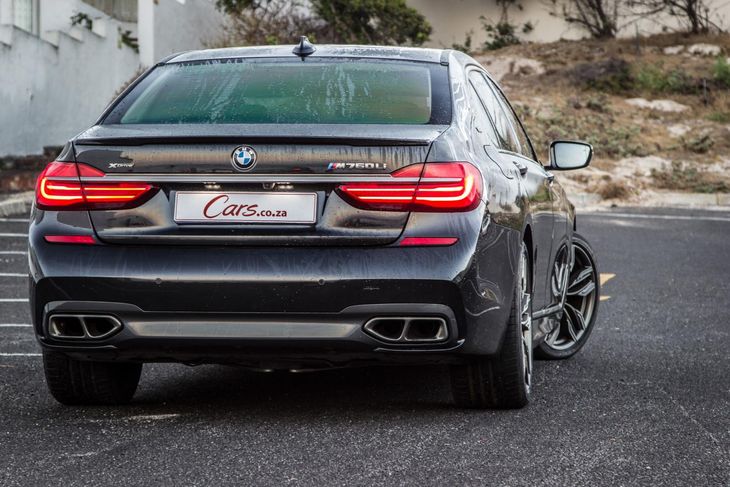 You won't be seeing many of these in SA, but when you will see it, this will be the most likely view...
For many wealthy consumers out there, the prospect of driving or owning the ultimate product of any brand holds significant appeal. These potential buyers are unlikely to quibble about minor specification issues, or an ever-so-slightly fidgety ride on poor surfaces. Those buyers will be very happy merely knowing they have acquired a car that sets a new benchmark in its segment for performance, luxury and technology. In other words, many of them will be happy buying an M760Li based on its specification sheet alone.
But what about those customers who care about what all those numbers, and all those drivetrain technologies, add up to? Well, every time they leave the confines of the city, venture out to (or stumble across) a challenging piece of road, the M760Li will reward them with proof that one can, indeed, have your cake and eat it. There are very very few cars that truly fit that description.
You may also be interested in:
5 Stages of Autonomous Drive (with Video)
Looking for a new / used BMW 7 Series to buy?