After months of waiting and teasers, Audi has finally showcased its all-new A8 luxury sedan. It's confirmed for South African market introduction for the middle of 2018.
This is the fourth generation Audi A8 and the Germans are claiming that this A8 is the first production car in the world which has been developed for highly automated driving. Visually there'll be no mistaking it for any other brand and its classic Audi design at its best. Deeply understated, yet sophisticated and just a teaser of what's inside.
The new Audi A8 is 37 mm longer and 13 mm higher than its predecessor model, but the width is marginally lower. The passengers benefit the most from the increased dimensions as Audi is claiming that the new A8 has the biggest interior in its class.
The Tech
The real points of interest with the Audi A8 is the technology and the folk of Ingolstadt have not held back. The Audi A8 demonstrates the latest and greatest tech currently available. The car makes use of Audi laser lighting and when those lights are on, double the range of a high beam is possible. Each headlight incorporates 138 LEDs and one high-performance laser diode, and these lights are able to shine at maximum intensity, without blinding other road users.
The cabin is one impressive place to be. There appears to be a massive switch from hands-on buttons to a digital touchscreen experience and a massive 10.1-inch touchscreen display dominates the cabin. For the rear passengers, there's another touchscreen, this time it's an 8.6-inch unit doing duty. There's extensive use of natural materials such as real wood inlays and leathers.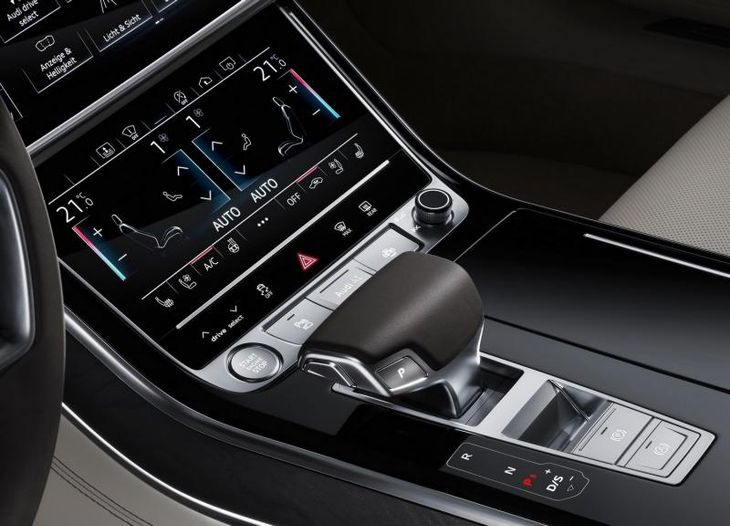 Buttons are being phased out in favour of all-digital touchscreens
Audi's Virtual Cockpit has been rejigged for A8 application and now features a 12.3-inch TFT monitor, which is fed by a separate unit by graphics specialists NVIDIA and it provides a full HD resolution of 1920 x 720 pixels. There is also a heads-up display.
For Passengers
One feature which tickled our fancy was the Relaxation Seat. Located at the rear right (rear left for right-hand drive markets), the passenger can recline it almost flat and rest their feet on the back of a front passenger seat. There's the option of having your feet warmed and massaged with multiple settings.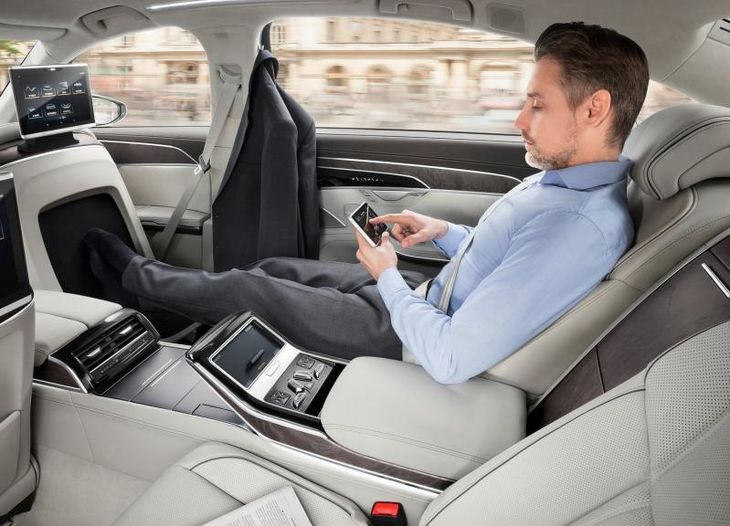 This guy is winning at life. His feet are being warmed and massaged, as he browses the Internet on the tablet
The rear passengers can also play with a device which resembles a smartphone/tablet and this controls things like climate control, seat, lighting, adjustment and media functions. You can also opt for the Audi tablets in the Rear Seat Entertainment package, which boast 10.1-inch screens and full HD resolution.
Autonomous Driving
Audi has fitted the A8 with a whole host of autonomous driving tech. It all falls under the Audi AI banner and things like automated traffic jam driving, remote parking and remote garage will be available for the first time. The new Audi A8 is a Level 3 autonomous car, which means that the vehicle takes over the task of driving in certain situations. It looks like the future has arrived as what you'll read next is mindblowing. "With the traffic jam pilot active, the driver can relax. They can take their hands off the steering wheel permanently and, depending on national laws, focus on a different activity that is supported by the car, such as watch a TV program on the 10.1-inch display in the center console."
If you want to try sleep during this time, the car will warn you repeatedly and if you still don't react, the A8 will come to a stop. The other two features are remote parking pilot and garage pilot, which is where the driver and passengers are outside the vehicle while it parks, or enters a garage. The entire process is controlled by the myAudi app on a smartphone.
The new Audi A8 also features a laser scanner which is able to scan the surroundings of the car quickly. This means that the assistance systems are able to react even quicker to situations such as cars braking hard in front of the A8.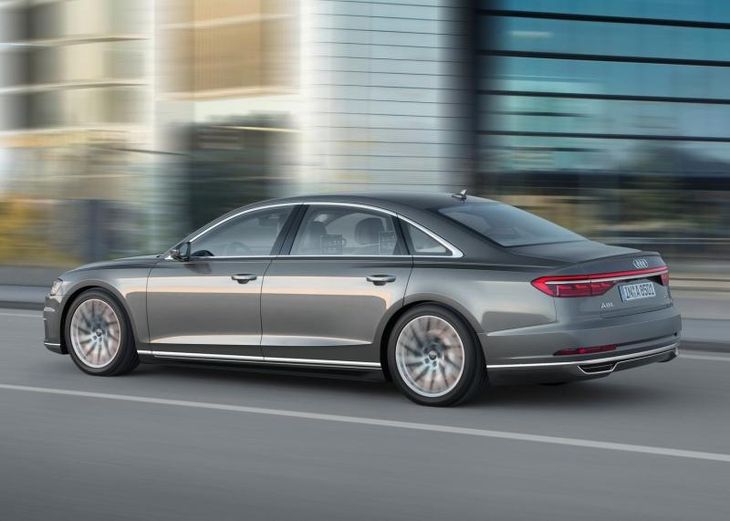 The new Audi A8 is a level 3 autonomous car
Engines and Efficiency
The Audi A8 has come to market with efficiency in mind. There are two seriously reworked turbocharged V6 engines. Kicking off the range is a 3.0-litre V6 TDI with 210 kW and 600 Nm, then there's a 3.0-litre TFSI with 250 kW and 500 Nm. V8 engines will follow later and they're looking promising. A 4.0-litre V8 with 320 kW and 4.0-litre TFSI with 338 kW will keep fans of the eight cylinder happy. The venerable W12 motor will also make an appearance in the long wheelbase A8 L, with a hefty 430 kW and 800 Nm on tap. Don't rule out a high-performance S8 either, but that'll likely come in 2019. The big V8 engines are able to deactivate their cylinders to further save fuel, while the W12 can shut down an entire bank of cylinders.
All engines will feature mild hybrid technology, which comprises a 48 Volt electric setup, with a lithium-ion battery located underneath the luggage compartment. Using this electrical power, the A8 can coast along from 55 kph to 160 kph silently. It's also able to drive for up to 40 seconds with the engine completely off. The braking system will harvest and recover up to 12 kW of power, which can be used to power the car. The new Audi A8 features a new eight-speed tiptronic gearbox and quattro permanent all-wheel drive is standard.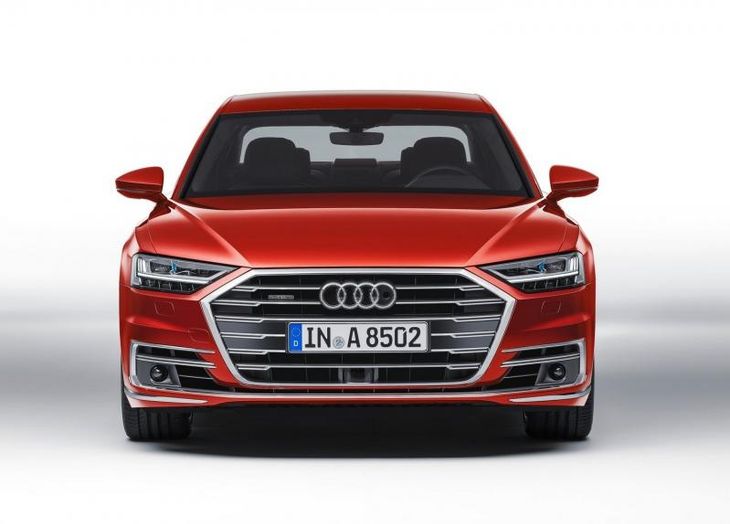 The styling is typical Audi: understated, classy and sophisticated
If you're wanting to go big, then the Audi A8 L e-tron quattro is your port of call. Featuring a 3.0 TFSI and an electric motor, it generates 330 kW and 700 Nm. It'll sprint from zero to 100 kph in 4.9 seconds, and the top speed is electronically limited to 250 kph. In all-electric mode, it is able to travel 50 km. This model coincides with Audi Wireless Charging, where a floor pad produces electricity and you simply park over the pad to charge the car.
Coming to SA?
The new Audi A8 is confirmed for South African market introduction and its due to arrive in the middle of 2018. It'll go up against the BMW 7 Series and Mercedes-Benz S-Class.
Watch the technology in action
Want to buy an Audi A8?
Further Reading
BMW 7 Series: A Tech Showcase [with Video]
Review: BMW 750i Design Pure Excellence

Review: BMW 740i

BMW 7 Series is the World Luxury Car of the Year