Has BMW saved the best for last with its new BMW M3 CS? It's a mix and match operation that blends bits from the Competition Pack and GTS in a final swansong for this generation of M3. Cars.co.za correspondent Richard Lane heads to the hills surrounding the Nurburgring to savour a machine that only 20 South African customers will have the pleasure of owning from new.
The taut, indigo form before you represents the end of the line for the F80-generation M3. It's called the Club Sport, or CS, and it uses the clout of internal combustion alone to drive the rear wheels. That's obvious, though, isn't it? Since its conception in the late 1980s, every 3 Series breathed upon by BMW Motorsport GmbH has been the same: propelled mainly by six cylinders, but occasionally four or eight, and always pushing and not, heaven forbid, pulling.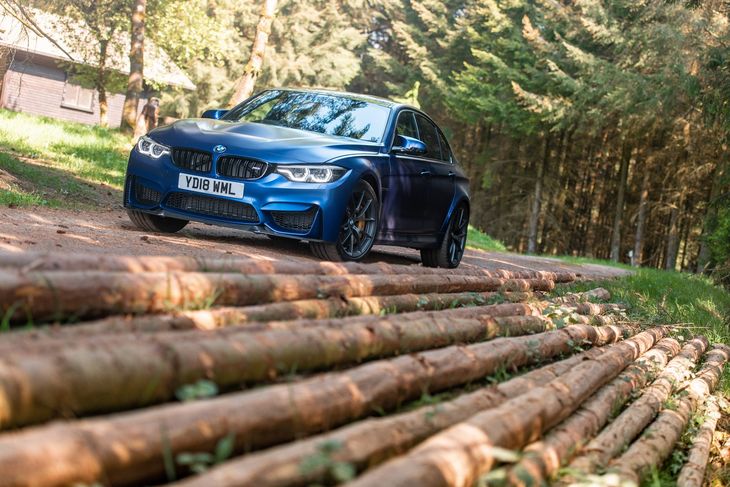 Few BMW M3s have looked this purposeful and poised.
But that might soon change. When the G20-generation car arrives a couple of years from now, it could well employ an electrified powertrain to reliably take total output closer to 370 kW, while allowing BMW's red-hot junior saloon to more easily conform with a stricter new Worldwide Harmonised Light Vehicle Test Procedure (WLTP).
Following in the footsteps of the latest M5, the successor to the F80 might also deliver drive to its leading axle, changing the habit of a lifetime. Nothing is certain, of course, but if it went this way, it would represent wholesale changes to the M3 recipe. Neither is it any stretch to imagine how such a development would sit with those who considered even forced induction a deplorable departure following the gloriously free-revving atmospheric 4.0-litre V8 of the E90/92/93-gen M3. M division boss Frank van Meel talks about how an M3 will always feel like an M3 no matter the hardware, but commercial and regulatory objectives mean he has little time for nostalgia. Petrolheads might feel differently, referring to the last "proper" this or that. As far as the M3 is concerned, the Club Sport could be "the one".
It means this lightweight, track-ready saloon is significant before you even get to the nuts and bolts, the composites and aerodynamics – and before you consider how uncommon a sight it will be on the road. The M4 coupé will remain in production for some time to come, but the last M3 of any description will go down the line next month (June 2018), its tenure lightly truncated by the WLTP test cycle.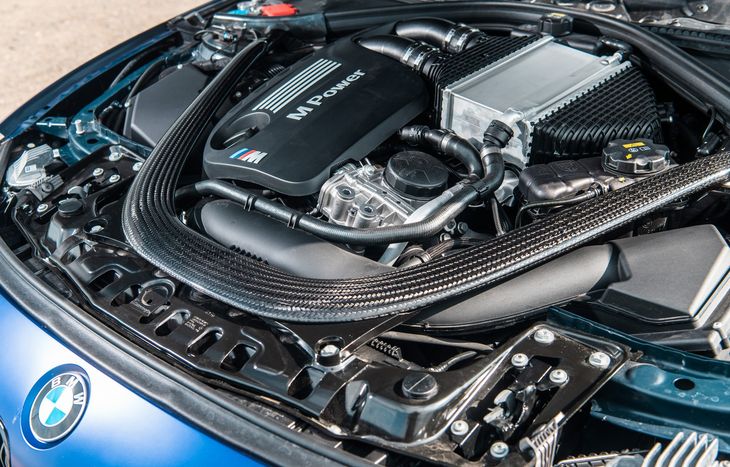 Possibly the last time we will see an M3 powered by a combustion engine alone.
The M4 was always intended to last a little longer and will benefit from a new particulate filter to facilitate that. The upshot is that no more than 1 200 examples of the M3 CS will leave BMW's Regensburg plant, and there's also a price sure to cement its rarity. You'd have to wholeheartedly buy into what is rather a niche corner of the automotive world – the one inhabited by factory-prepared track day sedans – to cough up R1 773 500. What you'll get in return is the same black-accented aesthetic formula you'll find on the M4 CS released last year.
What else do you get?
The body features a wickedly profiled carbon fibre Gurney flap to match a similarly aggressive front splitter. Painted on top but naked underneath, so too is the bonnet wrought of carbon fibre reinforced plastic (CFRP) – it's 25% lighter than that of a standard M3 – and if you sidle up to an M3 CS, eventually a broad, sunken vent ahead of the brutal power dome will reveal itself. It gives the car's snout a DTM-style rake, something of a gaping grin.
And forget a finger: you could barely get even a cigarette paper between the rear wheel arches and the semi-slick Michelin Pilot Sport Cup 2 tyres. They're wrapped around lightweight forged alloys wheels (20-inch at the rear and 19-inch at the front). On a Competition Pack M3 – until now, the most focused variant of the F80 M3 – you'll find the larger wheel size at the front, too, although the CS dials down the glamour for greater steering response. Even so, not since the M3 CRT of the noughties has the spiritual cornerstone of M division's operations held such deliciously serious visual appeal.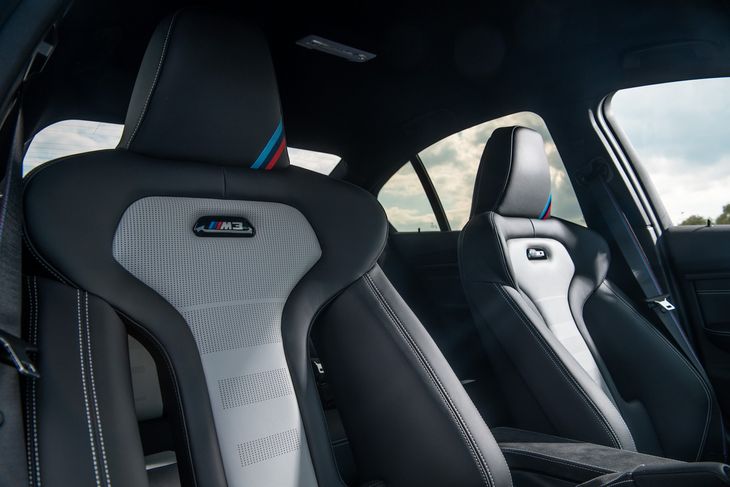 Special seats have chunks removed them to reduce weight.
And so you climb aboard and sink low into sinuous two-tone seats complete (or rather, incomplete) with cut-outs. Where the new M5 places its occupants a fraction too high, the driving position here remains near perfect, with your eye line grazing an Alcantara-clad 3-spoke steering wheel that, true to BMW form, is still strangely generous in girth. There's also Alcantara on the centre console and dashboard, which is pared back in terms of switchgear, but with no apparent lack of functionality.
There's climate control and BMW's iDrive-operated Professional infotainment system, and a Harman Kardon sound system is fitted as standard. The persona is satisfactorily hardcore, even if you don't get the lightweight door cards from this car's M4 sibling (a bonus, because those slimline pieces don't offer any storage).

Alcantara is used liberally throughout the cabin. It's elegantly moulded down the side of the transmission tunnel, complete with white stitching.
Despite an asking price to make you wince, BMW's S55 3.0-litre twin-turbocharged straight 6 doesn't benefit from the water injection system of the M4 GTS. It doesn't need that technology, developing only 7 kW more than the 331 kW you'll find in an M3 Competition Pack. And honestly, does a saloon capable of dispatching the 0 to 100 kph benchmark in just 3.9 sec and running on to a governed 280 kph need to be any quicker? It does not, but it can always be lighter. Strangely, this car's substantial use of CFRP results in a saving of only 10 kg over the Competition Pack car, but the centre of gravity is said to be usefully closer to the road.
Getting behind the wheel
Today, those roads are in the shadow of the Nürburgring. They're almost as challenging as the Nordschleife itself, only with more of the mottled surface that's limited to the jowl-tugging corner known as Karussell. Given the tyres in question, warm weather plays heavily into this car's hands, and straight away the precision with which an M3 CS turns in to corners is startling, even if you're familiar with the Competition Pack on which it is so heavily based.
Indeed, it's only the trio of steering modes, those wheels and tyres, the calibration of the ESC and the active M differential that separate Club Sport from Competition. The rack and its gearing are unchanged, as are the spring rates and suspension geometry, so there is still roughly 0.5 deg more negative camber than on a stock M3.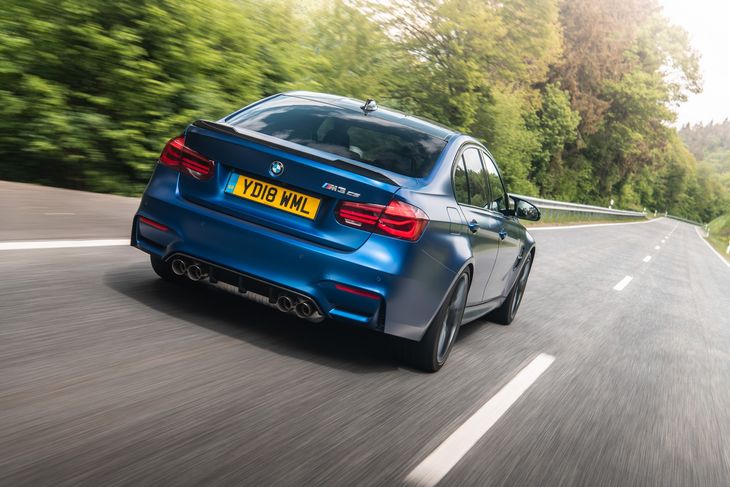 Even with the substantial use of CFRP, the CS is only 10 kg lighter than the Competition Pack.
The collective effect of these minor alterations is considerable, however. This is now a chassis of extraordinary composure, resulting from deeper reserves of tightly controlled pliancy than you might imagine. With less unsprung mass, there's an almost predatory manner to direction changes, and a palpable feeling that the chassis sets itself a touch earlier during the entry phase than an M3 Competition Pack does. Although it was hardly required, it feels as though a veneer of inertia has been peeled from the car. Owing to its B-pillars, the M3 CS is also fractionally stiffer than the M4 CS and that's not hard to detect if you drive the two in succession.
Anybody who has driven a McLaren will recognise the pedal feel of the brakes, too. Our test car was specified with BMW's optional carbon-ceramic discs (denoted by gold calipers) and feel pleasingly light on assistance, biting firmly and progressively and permitting you to lean increasingly hard on a front axle that wilted into understeer only once during an entire afternoon's committed driving. Such are the adhesive properties of the tyres, in fact, that 3rd-gear sweepers can rapidly boil down to mind over matter, and you get the gratification of feeling that differential, recalibrated for vast grip, subtly nudging the nose inwards under power.
Listen to the video clip below to listen to the M3 CS' provocative exhaust note:

The M3 CS then explodes out of corners with just a hint of squat and almost mid-engined poise. Aside from a 7-speed dual-clutch transmission that seems reluctant to downshift early, therefore limiting the opportunity for engine braking, our only objective complaint is that while the sensory relay from the contact patch to steering rim is improved, it's still a marginal affair. A clearer line of communication runs to the backs of your thighs, however.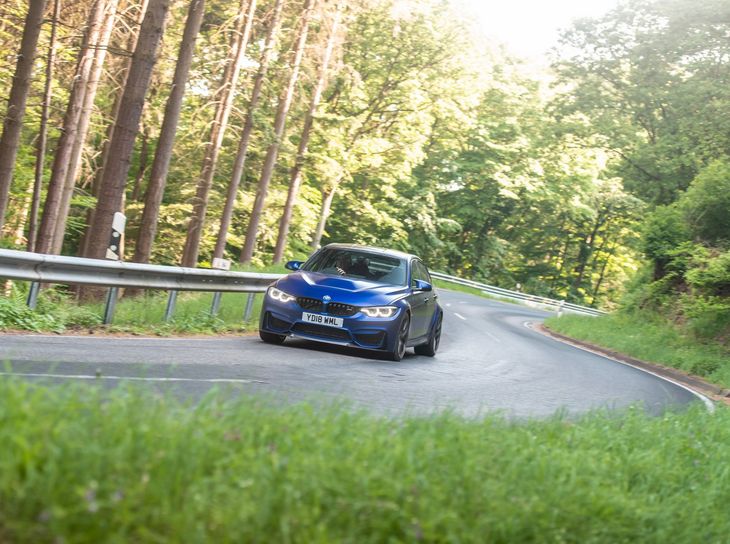 Small mechanical changes to the steering and M differential further enhance the M3 turn-in and corner-hugging ability.
But what of this engine? It has never been the most affable device, although, in this application, it barks viciously through a sports exhaust rounded off by a quartet of stainless steel tips. It also seems to punch harder through the mid-range than ever before, which is the result of an improved electronic mapping rather than any hardware changes. In the face of more powerful rivals, the M3 has long wanted for greater in-gear shove at moderate crank speeds, and now it has it.
With all that balance and grip, this car's limits are stratospherically high – too high, perhaps. Mind you, if you could work a useful degree of temperature into the tyres on, say, a damp day, it would likely satisfy its driver in a way few others can, not least because M has slackened off the stability control parameters both in normal driving and when you select M Dynamic mode. This F80 M3, which began life with a capricious dynamic character, has become deeply intuitive and is no small way likeable.
Where does it sit in the rankings?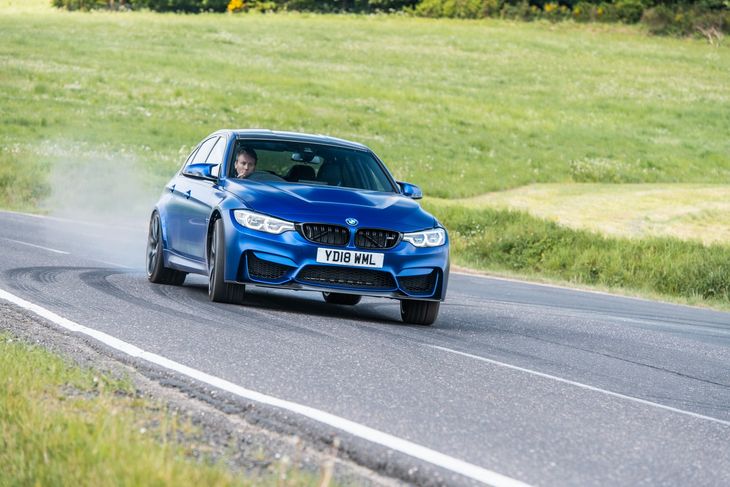 The M3 CS may just be the perfect M3, and just in time as the last one rolls off the line in June.
As you may have surmised, from a driver's perspective, the M3 CS is the most rewarding product M division currently offers. It is a deadly serious product, less affordable or playful or extroverted than an Alfa Romeo Giulia Quadrifoglio or Mercedes-AMG C63 S but equally usable and, in its own way, absolutely as fulfilling.
It would also run rings around those cars at a track day. In the cold light of day, even such a phenomenal bandwidth is not enough to justify a circa-R400 000 premium over an M3 Competition Pack that's terrifically capable. Then again, the contentment of owning "the one" should linger long after the sting of that expense has faded.
Related content:
BMW M3 Competition Pack (2016) Review
Drag Race: BMW M4 Competition Pack vs BMW M760Li
Track Battle | Audi RS5 vs BMW M4 CP vs Mercedes-AMG C63 S - Part 2
Track Battle | Audi RS5 vs BMW M4 CP vs Mercedes-AMG C63 S - Part 1
Special-edition BMW M3s: The Ultimate List
Alfa Romeo Giulia Quadrifoglio (2017) Video Review
Celebrating BMW M3 [with Easter Eggs & Videos]
Interested in buying a BMW M3?