In our first review of BMW's controversially styled 2 Series Gran Coupe (GC), the 220d derivative didn't quite win over the test team. Does the flagship M235i xDrive deserve a more favourable write-up than its turbodiesel sibling?
We like: Excellent performance, transmission, looks better with sportier trim, traction
We don't like: Lacks driver engagement – especially at the price, rear headroom
Fast Facts:
Price: R795 864 before options (October 2020)
Engine: 2.0-litre turbocharged 4-cylinder
Power/Torque: 225kW/450Nm
Transmission: 8-speed automatic
Fuel consumption: 7.6 L/100 km (claimed)
Top speed: 250 kph
Performance: 0-100 kph in 4.9 sec.
What is it?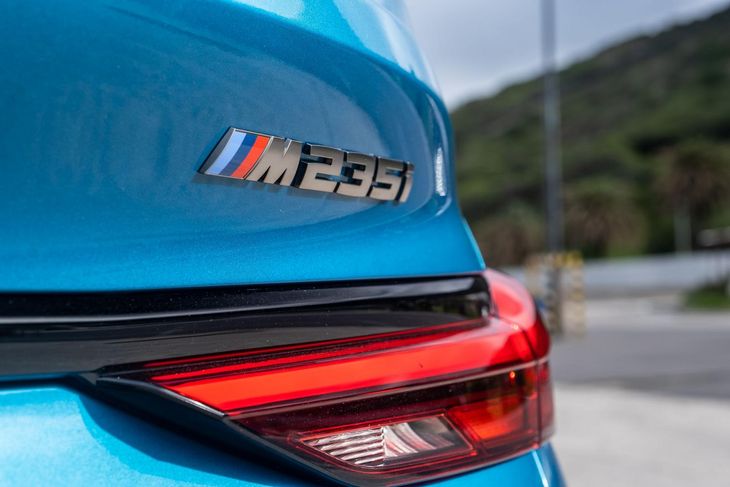 ​
M235i badge doesn't quite mean what it did in the past – this Gran Coupe has a 4-cylinder engine and all-wheel drive.
With the traditional sports executives (BMW 3 Series, Audi A4 and Mercedes-Benz C-Class, to name just three) having grown significantly in size, sophistication and price, premium marques have identified a gap in the market for something smaller, stylishly booted and with 4 doors, to bridge the gap between their entry-level hatchback offerings and those traditional C-segment sedans that are now priced beyond the means of most South African households, even fairly affluent ones. It's worth noting that you'll now have to fork out in excess of R1 million to drive a 6-cylinder 3 Series...
The premium manufacturers' niche-filling exercise sounds all good and well in theory, doesn't it? But wait... the M235i you see here is the flagship of the 2 Series Gran Coupe line-up and it offers more power than the bigger 330i (225 kW vs 190 kW), plus it's about R50 000 more expensive than its aforementioned 3 Series brother, which is, well, awkward. Given its price tag, the M235i Gran Coupe xDrive is therefore positioned as something of an enthusiast's 2 Series derivative, but can it live up to the lofty expectations created by the dark-grey M235i badge on its shapely boot lid?
How it performs in terms of...
Performance and ride/handling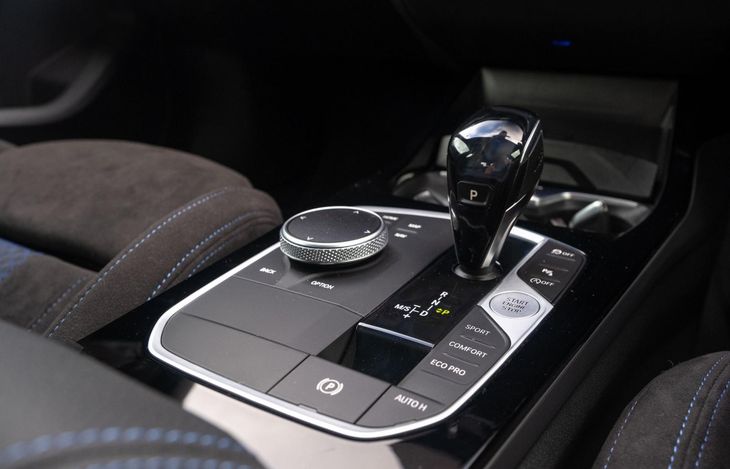 Shifting through BMW's smooth and responsive 8-speed automatic transmission, the M235i is no slouch.
As most of you will know, the M235i xDrive shares its powertrain with the M135i xDrive hatchback, which received a rather lukewarm response from this editorial team. Power comes from a transversely-mounted turbocharged 4-pot that pumps out an impressive 225 kW from 4 770 to 6 000 rpm and 450 Nm of torque across a broad rev range (1 750 rpm to 4 770 rpm). So, it's certainly not lacking in grunt; peak power is only 15 kW short of the output produced by the turbocharged 6-cylinder used in the previous-generation M135i, while developing the maximum torque is unchanged.
BMW claims a 0-100 kph time of 4.9 sec, which is identical to the previous M135i. Of course, the top speed is still limited to 250 kph. Somehow, however, the M235i Gran Coupe doesn't "feel" as fast as its numbers suggest (although it's obviously no slouch). This is probably a consequence of a combination of excellent drivetrain refinement and an engine that's lacking in aural character. The 6-cylinder is definitely missed in that regard.
The 2.0-litre motor is more fuel-efficient, however. BMW claims an average consumption of 7.6 L/100 km, which you'll struggle to achieve, but a real-world return of around 8.8 L/100 km is possible... and significantly better than what you'd be able to get from the inline-6 (with which we achieved an average of 10.5 L/100 km). Is fuel consumption all that important in a performance car such as this, however? We're unconvinced.

Nice-to-hold steering wheel has pleasant weighting and, generally speaking, the M235i Gran Coupe feels dynamically superior to the M135i.
Out on some challenging roads, the M235i GC makes good use of its firm M Sport suspension, all-wheel drive, Torsen mechanical limited-slip diff and overall mechanical refinement to put all that power down effectively. In "normal" driving it runs mostly in front-wheel-drive mode, but when traction is lost at the front, it can shuffle up to 50% of torque to the rear. It certainly doesn't struggle for grip often, and the weighty, accurate steering is a highlight. But somehow it never feels as fast (and therefore thrilling) to drive quickly; we get a sense there is an awful amount of electronic "thinking" that happens behind the scenes, making the keen driver (and particularly BMW aficionados) feel somewhat removed from the action.
How does that "electronic assistance" work? The M235i features the near-actuator wheel slip limitation (ARB) tech from the i3, which, according to BMW, allows slip to be controlled much more "sensitively and swiftly" than before. ARB is further assisted by BMW Performance Control, a yaw-moment distribution system that is claimed to increase agility by applying the brakes of the car's inside wheels when it's cornering quickly. All of this means that the M235i is a very fast car, and covers ground at a dizzying rate of knots, but it's not as engaging as fast, small BMWs of the past.
One could forgive the M235i Gran Coupe for its ultimate lack of driver involvement if it balanced that with touring comfort, but on South Africa's inconsistent road surfaces this BMW's ride quality was temperamental (the test unit had passive dampers). That said, it feels marginally more impressive to pilot than the M135i, though we're unsure why. Perhaps we're growing accustomed to four-cylinder, high-performance BMWs...
Exterior design & Packaging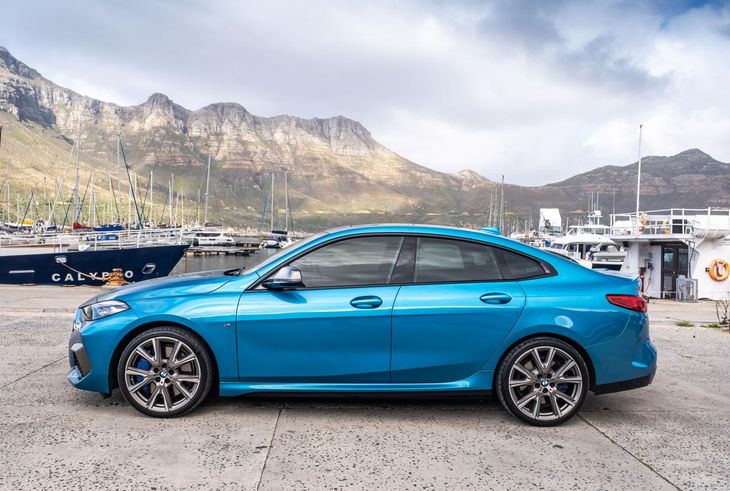 Make up your own mind about the 2 Series GC's design, but in M235i xDrive guise it certainly looks more purposeful.
Finished in its bright Snapper Rocks Blue metallic paint job (a no-cost option, surprisingly), and riding on striking 19-inch bi-colour alloys (R10 000 option), the M235i Gran Coupe test unit looked considerably more appealing than the 220d we tested before it. Of course, the standard fitment of various M styling pieces further "sportifies" the overall look, but without going entirely overboard. Compared with the 1 Series, the M235i's grille treatment is also more attractive, with a broader, flatter design compared with that of its sibling.
Ultimately, however, design is subjective – and, like so many modern BMWs, the 2 Series GC's appearance is polarising. Whereas Mercedes-Benz has been more successful with grafting a boot section onto a hatchback (A-Class sedan and CLA), the 2 Series GC's derriere arguably looks a little tacked on. That said, with its massive, rectangular exhaust outlets and the subtle boot spoiler, the M235i's high-performance pretentions are clear.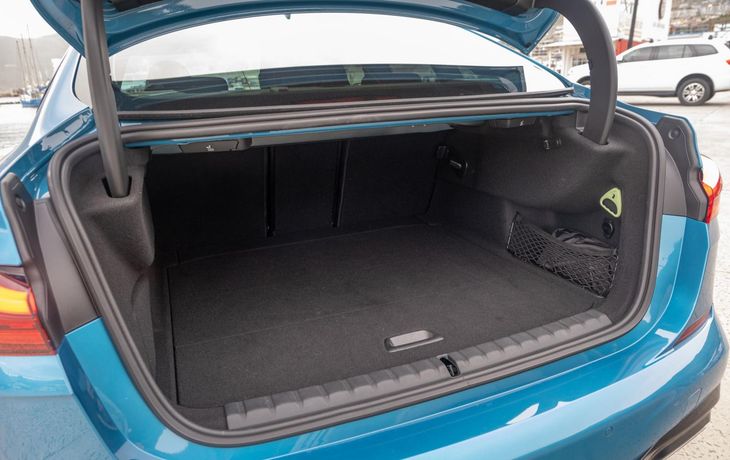 The M235i's boot is of a decent size (430 litres) and the rear seats can be folded down in a 40/20/40 split.
BMW has possibly been more successful with the practicality of the boot area. With a claimed luggage capacity of 430 litres, the M235i compares favourably with its rivals. It also boasts more space underneath the boot floor, and the rear seats can be folded down in a 40/20/40 arrangement. Rear accommodation, by contrast, is less impressive. While aft legroom is acceptable given the car's market positioning (it's not a family car) and the fitment of (optional) bulky M Sport seats, headroom is tight for occupants who are taller than 1.8m. There are no such concerns in the front, however, with the M235i boasting typically excellent seating comfort and support, as well as a wide range of adjustability from the steering column.
Interior execution and features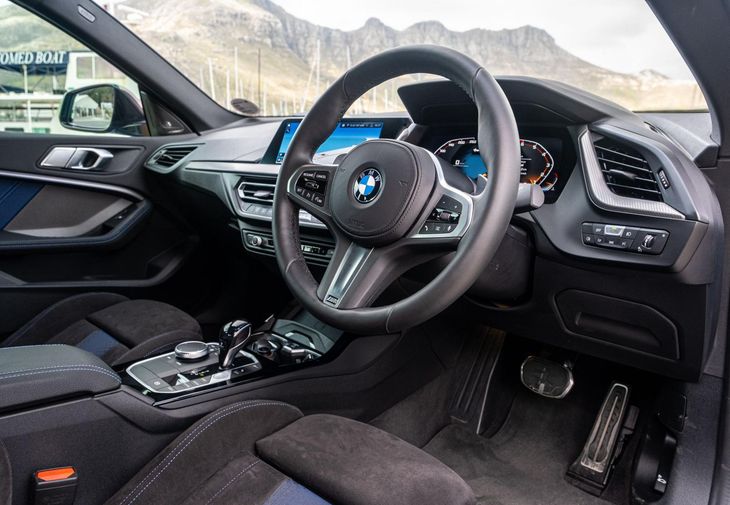 The cabin is identical to the 1 Series, which is no impediment – build quality and ergonomics are excellent.
The 2 Series GC shares much of its interior execution with its 1 Series hatchback sibling, which is a positive. The fascia is well made, using quality materials, and the ergonomics are superb. The only real negative is the "feel" of the stubby transmission lever in your hand – as is the case in many current BMWs, the lever just feels a bit too insubstantial and plasticky.
Our test unit featured smart "Trigon" dual-tone upholstery (a combination of cloth and Alcantara) – an option that also requires a buyer to tick the M Sport front seats option box (R8 100). The contrasting blue cloth also appears on the door trims, bringing welcome visual relief to a cabin that otherwise appears rather sombre. Also helping in this regard are the cabin's strategically positioned embedded LED lighting elements.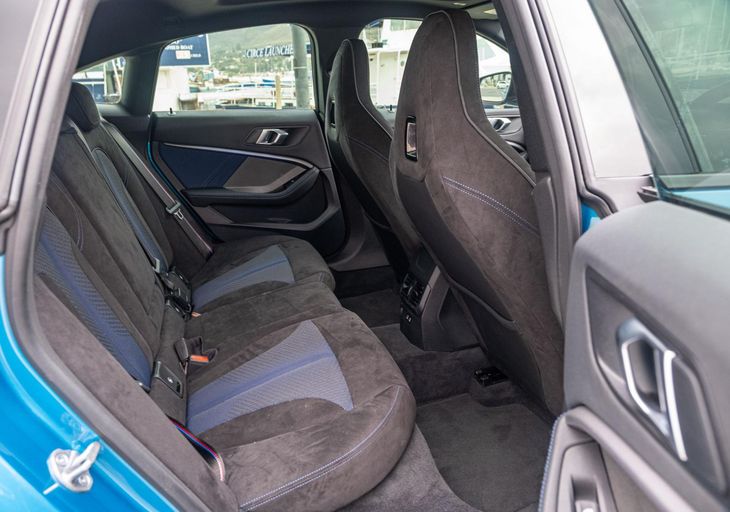 The test car featured Alcantara leather. Rear legroom is good, but headroom is tight for taller adults.
The M235i Gran Coupe is by no means poorly equipped (a relief, given its price). Standard features include digital instrumentation, a nice-to-hold multifunction M Sport steering wheel, dual-zone climate control, cruise control (with braking function, as an option) and BMW's Live Cockpit Plus with ConnectedDrive services and navigation. Options that you may want to consider adding: an electrically adjustable driver's seat with memory (R12 500), High Beam Assist (R2 150), heated front seats (R5 000), Comfort Access (R8 500) and a Harman/Kardon audio system (R4 400).
Price and after-sales service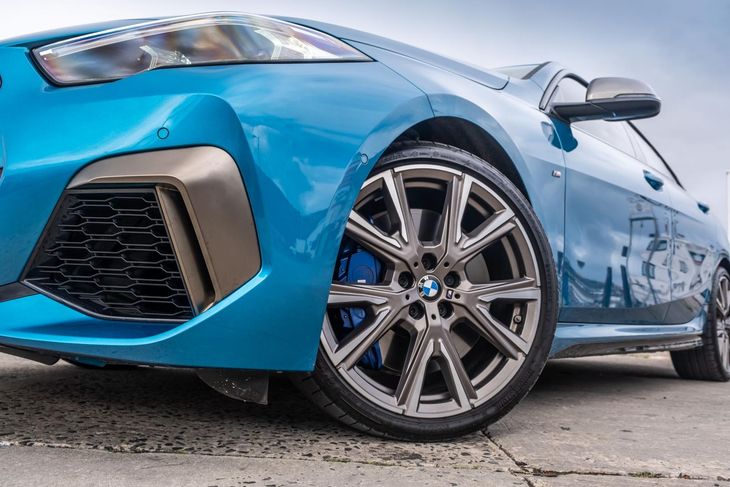 19-inch alloy wheels fill the wheel arches nicely but are optional. Brakes are 360mm ventilated discs at the front.
Listed at R795 864 before options, the M235i xDrive appears very pricey at first glance, especially compared with the cheaper 330i. Our test unit featured at least another R70k-odd of options, too. The price includes a 2-year/unlimited km warranty and 5-year/100 000 km maintenance plan.
Browse for a new or used BMW 2 Series on Cars.co.za
Verdict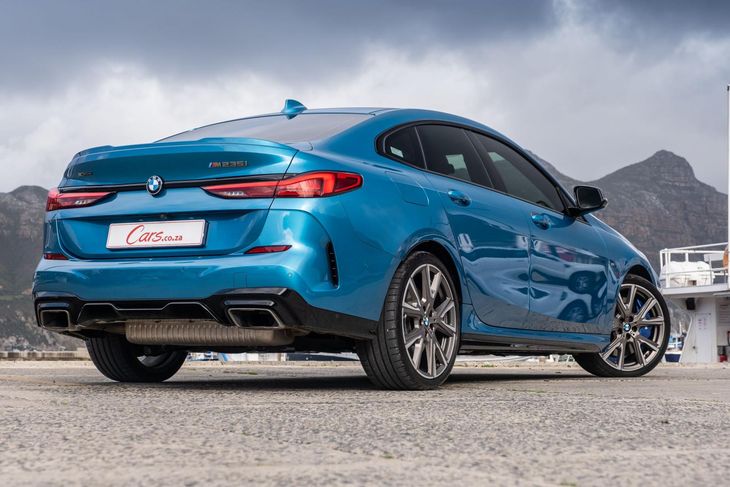 More convincing in M235i xDrive guise, the flagship 2 Series Gran Coupe is, however, a polarizing product.
The M235i Gran Coupe xDrive is a somewhat flawed machine that won't appeal to everyone... it's not even guaranteed to pique the interest of all BMW enthusiasts. Having said that, the flagship GC is nonetheless a vehicle that will hit the bulls-eye should its talents be in line with a buyer's particular requirements, provided that particular purchaser a) finds the design appealing and b) doesn't care too much about whether the propulsion comes from a 4- or 6-pot engine. And while the pricing looks odd initially, the optional extras are not outlandishly expensive, and so you can drive away with a fully loaded M235i Gran Coupe xDrive for a lot less than, say, the similarly powerful/swoopy Mercedes-AMG CLA35 4Matic.
So, to answer the initial question... yes, the M235i xDrive is a more resolved BMW 2 Series GC, and also, somehow, more convincing than the M135i xDrive on which it is based. Given its price advantage over similarly powerful rival offerings from Mercedes-AMG, the M235i Gran Coupe xDrive makes more sense than initial impressions suggest.
Related content:
BMW 2 Series Gran Coupe (2020) Video Review