The electric BMW i4 has been revealed. While all the details are not readily available, the announcement by BMW gives us a good look at the Bavarian brand's electric ambitions.
During the 2021 BMW Group Annual Conference, the Munich-based manufacturer took the covers off the new BMW i4. "With its sporty looks, best in class driving dynamics and zero local emissions, the BMW i4 is a true BMW. It makes the heart of the BMW brand now beat fully electric," said Pieter Nota, member of the Board of Management of BMW AG responsible for Customer, Brands, Sales.
The all-new BMW i4 is an all-electric vehicle that resembles the 4-door Gran Coupe. Don't get confused between this and the yet-to-be-revealed BMW 4 Series Gran Coupe, the latter will still be offered with internal combustion engines. BMW will be offering its new i4 in a range of different versions, with the difference being range and power output. BMW also gave us a little teaser, saying there will be a BMW M Performance derivative. An all-electric BMW M car sounds very tantalising and the brand claimed it will offer 'BMW typical sportiness, comfort and sustainable performance.'
As far as range is concerned, the highest distance offered by the BMW i4 is 590 km based on the WLTP cycle. For the performance fanatics, the new BMW i4 will have a power output of up to 395 kW and will accelerate from 0-60 mph in 'around 4 seconds.'
Do you understand all the electric car terminology? Our guide will help.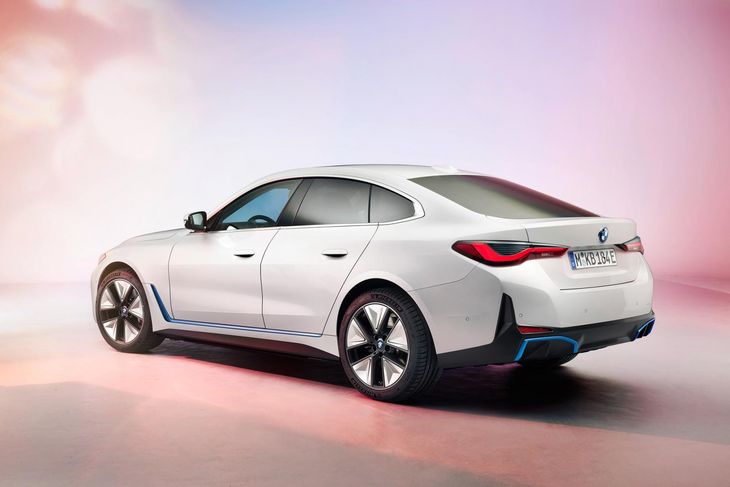 Further Reading
BMW 4 Series Convertible (2021) Specs & Price
Spy Shots: 2022 BMW 4 Series Gran Coupe
BMW i4 Dynamically Teased w/Video