That's not a typo, the BMW 5-Series GT has become the 6-Series Gran Turismo. This new model has just been announced and it's coming to South Africa before the end of 2017.
After many rumours and spy shots, the all-new BMW 6-Series Gran Turismo has finally been revealed. Billed as a combination of a comfortable, long-distance luxury sedan with the visual appeal of a coupe, the new BMW 6-Series Gran Turismo promises to be both sporty and elegant, with a healthy dose of space.
"The new BMW 6-Series Gran Turismo is geared towards discerning customers who place great importance on individuality. It is an eye-catching statement, packaged into a flowing, sculptural design language which gives the car a modern and sporty feel. The raised seating position ensures an imperious brand of driving pleasure, and the luxurious levels of space provide everything you need for a relaxing journey," says Adrian van Hooydonk, Senior Vice President BMW Group Design.
In terms of dimensions, the new BMW 6-Series Gran Turismo is 5 091 mm long (an increase of 87 mm over its predecessor), has an unchanged width of 1 902 mm and sits some 21 mm lower (1 538 millimetres). A revised cabin design has resulted in more headroom, despite the lower roof. Thanks to increased use of aluminium and high-strength steels for body and chassis components, 150kg has been saved.
There's clever use of aerodynamic aids such as an active air flap control with additional louvres in the grille, which only open when extra cooling is required. The underbody section is almost fully enclosed. Air curtains in the lower air intake at the front of the car and Air Breathers aft of the front wheels reduce turbulence in and around the wheel arches. There's also an active rear spoiler, which automatically extends when the car exceeds 120 kph and retracts again when it slows below 80 kph.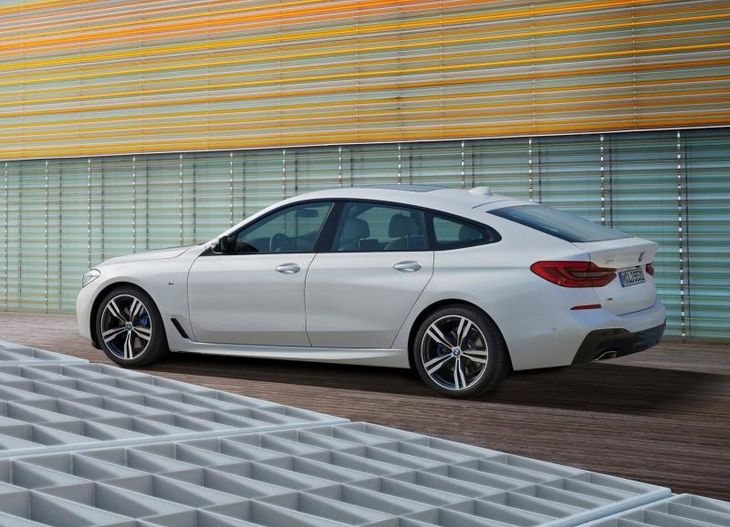 Trim Levels and Practicality
BMW has ensured that its new 6-Series Gran Turismo offers customers plenty of choice in terms of trim and design. There are two non-metallic and ten metallic exterior paint finishes as well as alloy wheels in sizes from 17- to 21-inches available. Sport Line, Luxury Line and M Sport are the trim levels to be offered. The BMW 6-Series Gran Turismo comes as standard with Dakota leather upholstery, which can be specified in a range of different colours and interpretations, depending on the equipment lines. The optional Exclusive Nappa leather is available in several different variants.
The BMW 6-Series Gran Turismo is fitted as standard with a sports leather steering wheel including multifunction buttons for the infotainment, communication functions and cruise control. If the eight-speed Steptronic Sport transmission is specified, shift buttons on the steering wheel allow the driver to change gear manually. Expect all the smart technology seen in the 7-Series and new 5-Series to find its way into this new model.
The rear compartment features 3 full-size seats with ISOFIX attachment points in the outer seats. Sports seats or comfort seats, active seat ventilation and a massage function can be ordered for the driver and front passenger. The boot offers 610 litres of space, which is 110 litres larger than its predecessor. BMW claims the new 6-Series GT can carry four 46-inch golf bags or ten crates of water bottles.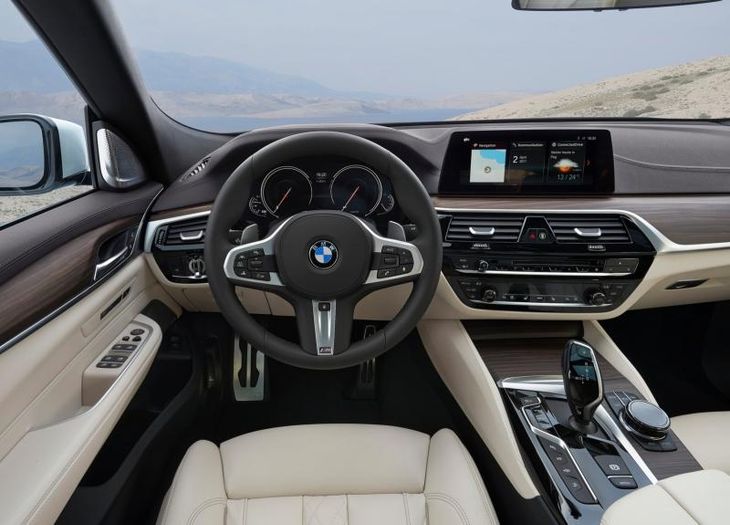 Engines and Transmission
There are a number of engines available for the BMW 6-Series Gran Turismo, all controlled by the eight-speed Steptronic Sport transmission. Thanks to improvements in the powertrain, aerodynamics and weight saving, the new model is more efficient and economical when compared to the outgoing model. The aluminium-construct engines comprise one 4-cylinder and one 6-cylinder inline petrol engine, plus a straight-six diesel unit will be available for the new BMW 6-Series Gran Turismo from launch. The two 6-cylinder variants can also be specified with BMW xDrive intelligent all-wheel drive. The 2.0 litre 4-cylinder motor in the BMW 630i Gran Turismo has outputs of 190 kW and 400 Nm. It'll do 0 to 100 kph in 6.3 seconds with combined fuel consumption claimed at 6.6 - 6.2 L/100 km.
Next up is the 3.0 litre 6-cylinder in-line petrol engine in the BMW 640i Gran Turismo and new BMW 640i xDrive Gran Turismo. With outputs of 250 kW and 450 Nm, it'll hit 100 kph in 5.4 seconds, or 5.3 seconds for the xDrive. The combined fuel consumption of the two models is 7.4 - 7.0 L/100 km and 8.2 - 7.7 L/100 km respectively. For the diesel fans, a 3.0 litre 6-cylinder in-line diesel engine with 195 kW and 620 Nm with all-wheel drive as an option, is available. The BMW 630d Gran Turismo powers from zero to 100 kph in 6.1 seconds, while the new BMW 630d xDrive Gran Turismo does it in 6.0 seconds. Fuel consumption is rated at 5.3 - 4.9 L/100 km for the BMW 630d Gran Turismo and 5.9 - 5.5 L/100 km for the BMW 630d xDrive Gran Turismo.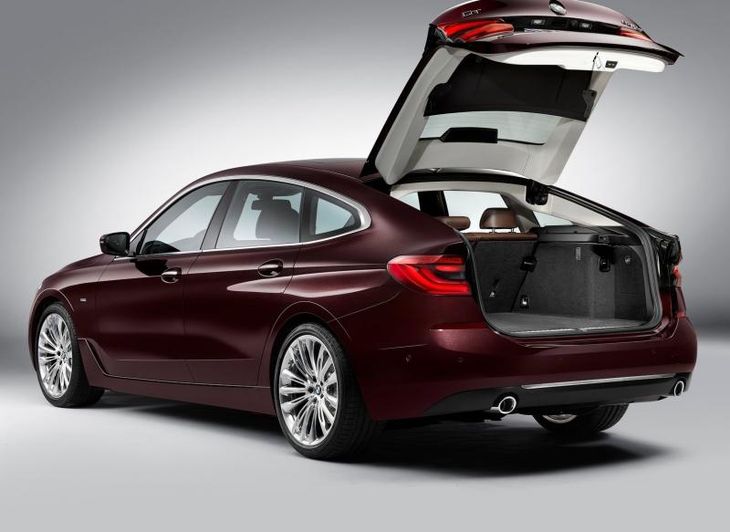 Coming to South Africa?
Yes, it is. BMW South Africa confirmed that the new 6-Series Gran Turismo will be making landfall before the end of the year. As it stands, two models are being offered: 640i xDrive Gran Turismo and 630d Gran Turismo, which we can expect to see launched in South Africa in November 2017.
Related content:
BMW 7 Series: A Tech Showcase [with Video]
BMW 750i Design Pure Excellence (2016) Review
BMW succeeds Benz as World Luxury Car of the Year
BMW 740i (2016) Review
BMW 7-Series (2016) First Drive
Interested in buying a BMW 6 Series?