The BMW 750Li is the champion in the First Class category of the 2016/17 Cars.co.za Consumer Awards – powered by Wesbank. In a rarefied segment of the market where opulent features and exclusivity are key requirements, does the 750Li represent the most logical real-world purchasing proposition if you prefer being driven... to driving?
We like: Terrific ride/handling balance, generous rear passenger comfort & convenience
We don't like: Parking bay-challenging dimensions, a handful of showy technologies
Alternatives
The allure of the three-pointed Star: To many, S-Class remains the last word, short of Ghost and Continental, in first class cars because of its sense of occasion and stellar reputation. As the Mercedes-Benz S500L is older than the 7 Series, it cannot match the BMW for in-car technology, but the arrival of a fancier facelift is imminent.
Luxury first, technology second: Much as is the case with the Maserati Quattroporte, Jaguar's approach to first-class motoring is based on heritage, sportiness and old-school luxury. The Jaguar XJ 5.0 Supercharged Autobiography costs a whopping R700 000 more than the BMW, however.
For maximum on-road/off-road swag: For those who cannot resist the allure of being chauffeured in aristocratic style in a vehicle that looks equally at home in front of the trendiest nightspot or on the manicured lawns of a country estate, the (admittedly long-serving) Range Rover L Autobiography Supercharged positively exudes opulence.
Compare the specs of the BMW to the Mercedes-Benz and Jaguar here
Facts & Figures
Price: R2 085 338 (May 2017)
Engine: 4.4-litre V8 turbopetrol
Transmission: 8-speed sport automatic transmission
Power: 330 kW
Torque: 650 Nm
Fuel Consumption: 8.0 L/100 km (claimed)
Top speed: 250 kph
0-100 kph: 4.7 seconds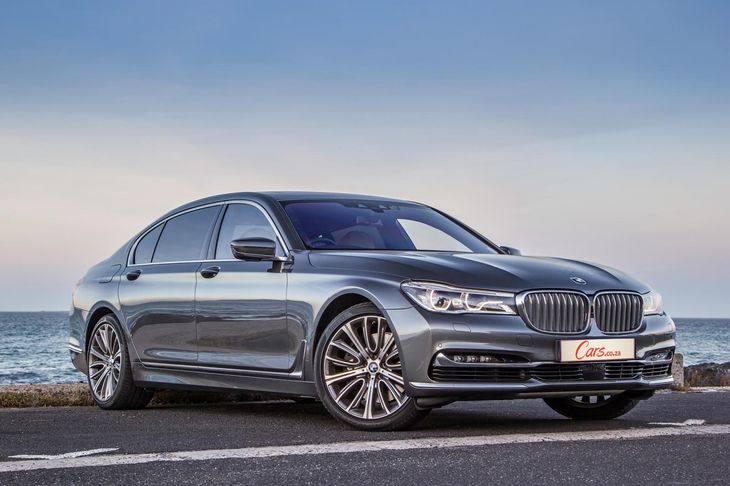 The test unit was shod with 20-inch V-spoke rims, which enhanced the exterior treatment over and above the Pure Excellence package.
We've previously reviewed the 740i and 750i Design Pure Excellence derivatives of the 7 Series and came away deeply impressed. This, however, is the 750Li, which is, with the exception of the performance-oriented 6.6-litre V12 M760Li xDrive, the top-spec (and most rear-occupant-oriented) derivative in the Bavarian firm's flagship range. It represents BMW's 2016 World Luxury Car of the Year-winning range's strongest alternative to first-class sedans produced by Mercedes-Benz, Audi, Jaguar, Lexus and Maserati. Plus, given its sophisticated engineering and technologically-advanced features, it begs the question: if the BMW "limousine experience" is so comprehensive, can the exclusivity of the Rolls-Royce and Bentley nameplates really justify the dramatic price premiums of the Ghost and Continental derivatives?
The good
Exemplary dynamism
The fact that, traditionally, BMW 7 Series sedans have exhibited levels of dynamic handling prowess that belie their extensive dimensions and significant kerb weights has never been in dispute. However, critics of the Bavarian first class sedans have been quick to point out that those engaging driving attributes came at the cost of ultimate ride comfort/on-road poise.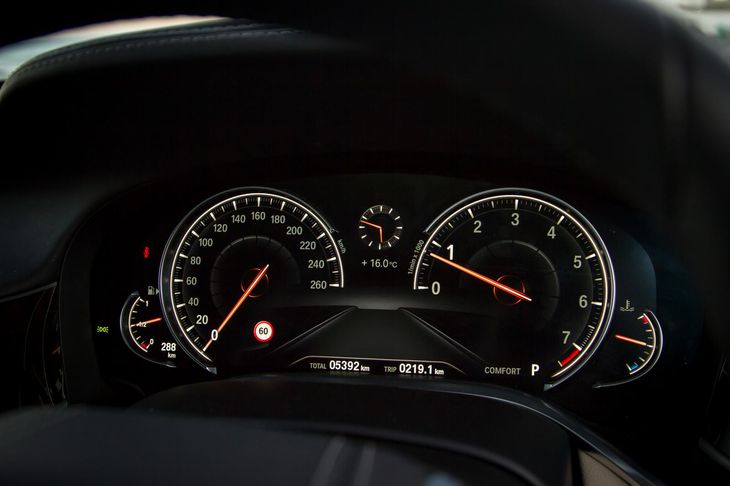 The 7 Series' fully-digital instrument cluster is tastefully executed; it strikes a balance between a futuristic and a classic look.
However, whereas that was true of the current Seven's predecessor, the 750Li feels as rapid and agile as it does pliant and composed, irrespective of driving or road conditions. By toggling the respective modes of the Driving Experience Control (with settings for Sport, Comfort, Eco Pro and Adaptive) a driver can task the BMW to adjust its adaptive suspension and throttle responses, steering assistance, transmission shift pattern and driver assistance systems settings. The system works insidiously and, in a word, brilliantly. In fact, Adaptive mode automatically learns from an individual's driving behaviour and is, like almost every feature in the 750Li, customisable.
Two additional standard features on the V8 and V12 7-Series derivatives are Executive Drive Pro and Integral Active Steering. The former uses an electro-mechanical active roll stabilisation function to reduce the 750Li's body movement to a minimum. The system uses active anti-roll bars, working in conjunction with Dynamic Damper Control and integrates information from the navigation system, driving style analysis and camera projection data. The latter uses a measure of rear-wheel steering to make the sedan easier to manoeuvre at low speeds and more agile at higher velocities.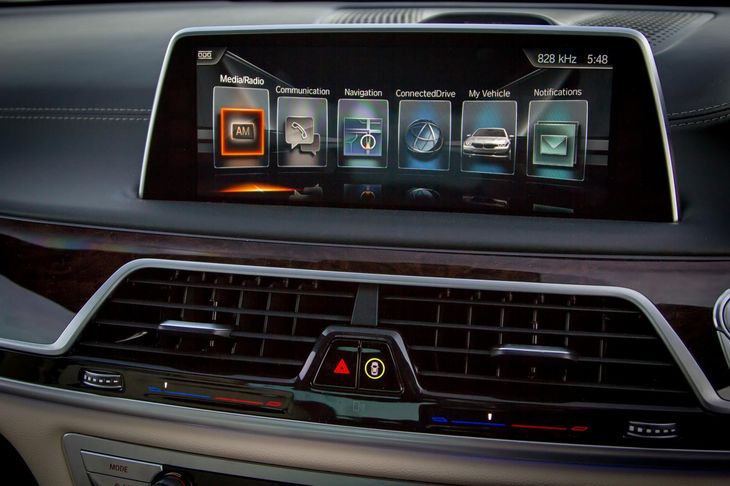 The large high-resolution infotainment display incorporates touch technology. The submenus look crisp and are customisable.
As a result, the breadth of the 750Li's on-road abilities is hard to fault: it is, simultaneously, one of the most dynamic large vehicles to drive and comfortable, pliant-riding cars to be driven in.
Additional nice-to-haves
Before we get to the integral rear-seat entertainment system, which is such a critical part of the long-wheelbase 750i derivative's user experience, it bears mentioning that over and above all the well-reported in-car technology, such as active cruise control with stop/go function, head-up display, 4-zone climate control, (hand-signal-recognising) gesture control, park assist, surround view and Display Key (to name the most notable ones), not to mention the plethora of safety systems that constitute the Driving Assist Plus bouquet, the 750Li comes with a trio of additional features that set it apart from its 6-cylinder siblings.

The first is a 600W Harman Kardon surround sound audio system comprising a 9-channel digital amplifier with individually adjustable equalising and 16 loudspeakers. Although it could be argued that the aural focus of the 750Li's audiovisual system is its rear occupants, the surround audio system delivers rich sound reproduction (it would cost R17 800 extra in a smaller Seven).
Then, in addition to the wide range of electrical adjustment afforded to the front pews, all four seats on the BMW have heating, as well as ventilation functions, which are a boon if the exterior temperature either plummets or soars. Lastly, the BMW Night Vision (with person recognition) uses infrared camera technology to detect people and animals in poor visibility situations and activates dynamic marker lights that Illuminate the endangered objects through the main headlights.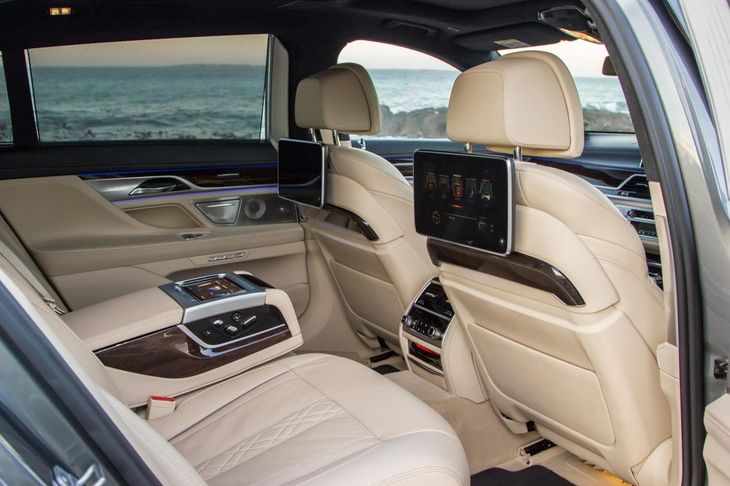 Although there is an even more lavish Executive Lounge option, the standard rear seat accommodation leaves little to be desired.
Integral rear-seat entertainment
As one may expect, the notably longer rear doors and 140-mm longer wheelbase of the Li version are to the benefit of rear occupants, who sit ensconced in electrically adjustable comfort seats with Alcantara-padded headrests and backrests that can tilt as much as 42.5 degrees. And, should the left rear occupant require even more legroom, there is a somewhat curiously named "Gentleman" function with which the front passenger seat can be adjusted forward from the back.
Allied to this, the centre armrest is adorned with the respective control consoles for the electrical rear seat adjustment (to the sides), a snap-in/snap-out 7-inch BMW Touch Command tablet that enables users to access comfort, infotainment and communication functions wirelessly, as well as a separate telephone handset with HD voice quality. As for the rear-seat entertainment experience, each front seat backrest is adorned with a high-resolution tiltable 10-inch screen that is connected with a Blu-Ray drive. The system can display AV material via HDMI, MHL (for mobile devices) and USB, plus it can be connected to wireless Kleer headphones (sold separately, BMW says).

Although electric roller sun blinds for rear side windows and windscreen are standard, the LWB version includes a white ambient highlight at the front of the rear doors, of which the light intensity can be controlled via a capacitive touch sensor or via the light setting in the BMW Touch Command.
In conclusion, whereas the rear legroom in a standard 7 Series is good, but not great, by luxury sedan standards, the 750Li offers generous comfort and convenience to rear passengers. Whether an additional handset is required in the age of smartphones and the entertainment package will be of significant benefit to busy high-profile executives on a daily basis are moot points. Suffice to say that aft occupants will be lavishly accommodated in the plush, enveloping rear seats and lack little for entertainment on longer trips.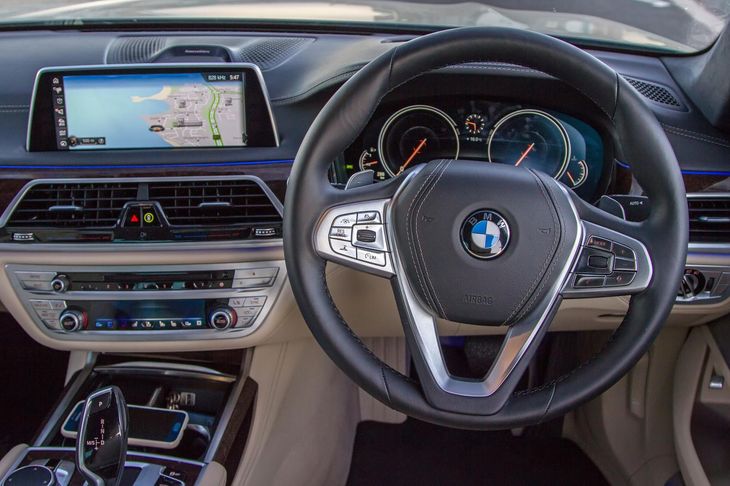 Although not all testers were enamoured with the metallic-look switchgear, the dark wood, light-leather interior combination drew praise.
The not so good
Super-size matters
Despite the weight saving measures (the 750Li has a kerb weight of 1 815 kg, which, to be fair, is more than reasonable for a sedan its size), the BMW is 5.2 metres long and nearly 2.0 metres wide, which makes it somewhat cumbersome to park and thread through gaps in traffic. For those who are accustomed to manoeuvring their large SUVs and double-cab bakkies within the confines of the city limits, the 7's exterior dimensions should not be too much of an impediment, especially because the limousine sedan has integral features such as Park Assist and Active Park Distance Control, which parks the car on its driver's behalf or stops a costly clang from occurring (if you're reversing at less than 5 kph) respectively.
Indeed, the 360-degree surround view (including a function to peer around corners when exiting a blind alley) and a plethora of ultrasonic sensors make it dead easy to monitor the 750Li's immediate surroundings, but, nonetheless, it does not make the spaces into which the car needs to fit any smaller. Yes, most 750Lis will be parked on designated spots during the day (and inside commodious garages at night), but take note: it's not a car for running errands, popping down to the shops or parking in a narrow street.
Are the Touch Key and self-parking just gimmicks?
While few will dispute that the ornate BMW Touch Key, with its touch control LCD colour display that relays vehicle status information (e.g. fuel gauge, range, service information, vehicles locking status, etc.) is one of, if not the most impressive passenger car fobs that have ever been put into series production (it can be charged in-car via the phone wireless charging function), some may wonder whether such data could not be shown (and in greater detail, with the same or more functionality) on a screen of a smartphone (paired with the car) instead.
We shudder to think how much it could cost to replace the Touch Key should it go missing, but, then again, few 7 Series owners will be too perturbed by that. Furthermore, the self-parking function, which allows users to manoeuvre the 7 Series fore and aft by using the Touch Key while standing outside the vehicle, can be useful, but, we doubt that most owners would ever want to park their cars in confined spaces where the sedan could be damaged if the doors of adjacent cars are opened recklessly/mindlessly. Besides, the calibre of motorist who can afford the second-most-expensive BMW sedan will, in all likelihood, have access to a garage that is big enough for the 750Li to be egressed easily once it has been parked...

The self-parking function was fun to show off, but although the BMW Touch Key is standard, the remote docking function isn't.
There are still extra-cost options
One might that think that in a R2-million-plus sedan little would need to be specified over an above the long list of standard features, but although the 750Li is lavishly equipped by almost all automotive standards, there are still nice-to-haves that need to be specified additionally. Given the overall asking price of the car, however, these aren't THAT expensive. Apart from extravagant features such as a panoramic sunroof with lighting elements (Sky Lounge), Executive Lounge seating (that offers a reclining function for the rear seats as well as electric footrests), a rear cool box, heating elements in the armrests and so forth, a leather-trimmed instrument panel costs R19 400, massage functions for the front and rear seats R15 700 apiece, remote parking R7 900, sun protection glazing R7 500 and Ambient Air (in-cabin perfume dispenser) R4 600. The last 3 could have been standard... but we're nitpicking.
Summary
Buying a first class sedan is not the product of a rational purchasing decision. A flagship limousine needs to be an expression of upper-crust status, demonstrate technological superiority, offer impeccable on-road refinement, incorporate lavish cabin trims and cutting-edge features, plus its performance needs to be muscular, yet effortless and demure. To that end, it is not at all surprising that the BMW 750Li was crowned the best First Class Car in the 2016/17 Cars.co.za Consumer Awards – powered by Wesbank (one of the several awards that the flagship Bimmer has garnered) because it shifts the goal posts for what a car of this ilk is supposed to be... and be capable of.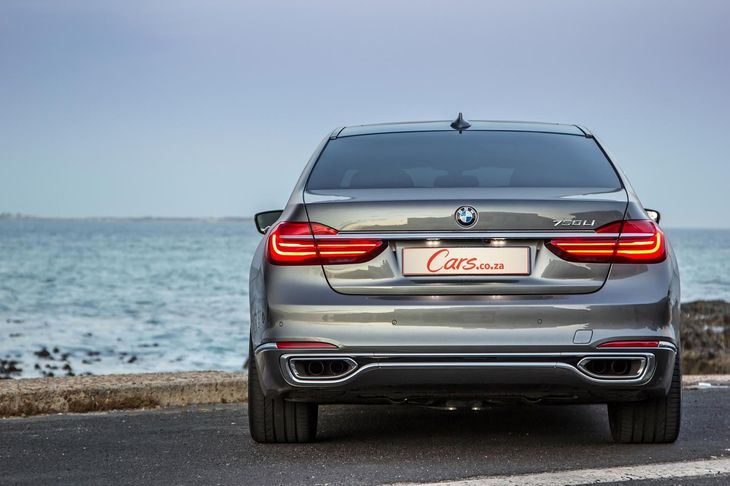 Although the 7 Series still lacks standout kerb presence in some people's opinion, it does exude a sense of effortless elegance.
In previous reviews, we've extolled the virtues of the G11-series BMW 7 Series for being a highly accomplished product from a driver's point of view and, through further familiarisation (with the 750Li) we've come to appreciate the car for the lofty levels of comfort and convenience it affords its rear occupants. Yes, the 750Li represents the high water mark for luxury sedans listed on Cars.co.za's price list (for around the R2 million mark, at any rate). It is a car that, for most mortals, is the very embodiment of a luxury limousine. It's just a pity that in a segment where brands engage in bitter warfare for technological superiority, the newest product is (almost automatically) deemed the best. Unfortunately for BMW, archrival Mercedes-Benz has already unveiled the facelifted version of its superb S-Class, which is due for release on the local market in the near future; for how long will the 750Li's reign last?
Related content:
BMW 7 Series: A Tech Showcase [with Video]
BMW 750i Design Pure Excellence (2016) Review
BMW succeeds Benz as World Luxury Car of the Year
BMW 740i (2016) Review
BMW 7-Series (2016) First Drive
Interested in buying a BMW 7 Series?