In a quest to usurp its newer rivals, the Mercedes-Benz E-Class, facelifted Audi A6 and Jaguar XF, BMW goes all out on its all-new 5 Series and the result is nothing short of sensational. Contributor Aaron Borrill reports from Portugal.
Lisbon, Portugal – It's been a long time coming but BMW's all-new 5 Series is finally here and it's got a pretty pertinent point to prove. Particularly since the newer Mercedes-Benz E-Class and Jaguar XF left the previous (ageing) model for dead when it came to technology, refinement and powertrain options. The leap forward with the seventh-generation is a tangible one and upon first glance, you're immediately struck by its stately presence and visual clout – think of it more as a downsized 7 Series. In fact, a lot of the substance that epitomises the 7 Series portfolio has trickled down in some form or another into the new 5 and the outcome is quite sublime.
Face value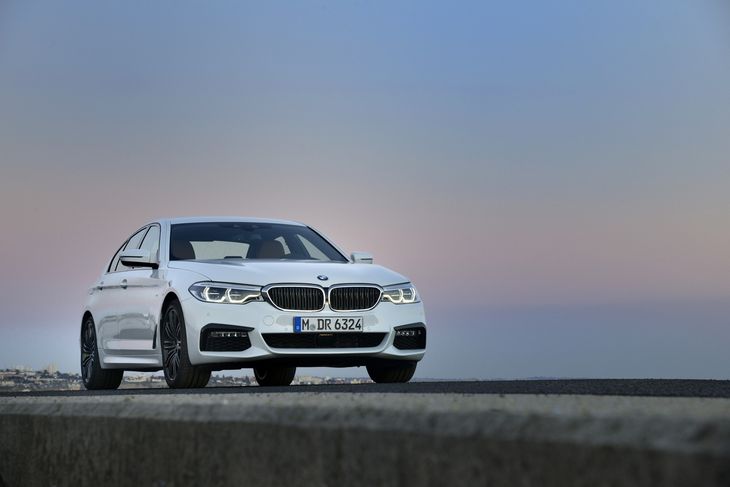 New face of the 5 Series merges headlights and kidney grille together.
The evolution in terms of design is hard to ignore. Like previously mentioned there's a lot of 7 Series lurking about but visually it still portrays the distinct essence of the 5 Series ethos. Closer inspection reveals newer headlamps that merge with the large double kidney grille as well as L-shaped LED taillights. 5 Series connoisseurs will notice the more dynamic character lines and the bevelled edge that traces the glasshouse and Hoffmeister kink – a first for any BMW.
Despite being 36 mm longer and 6 mm wider than before the clever use of surface pressings has created the illusion of a much smaller machine. In fact, the sheet metal is more functional than you might think boasting an impressively low drag coefficient of 0.22 Cd which minimises fuel expenditure and increases performance as a result. Of course, you can always ramp up the visuals by adding M Sport paraphernalia such as aggressively sculpted bumpers and side skirts as well as larger alloy wheels.
Luxury redefined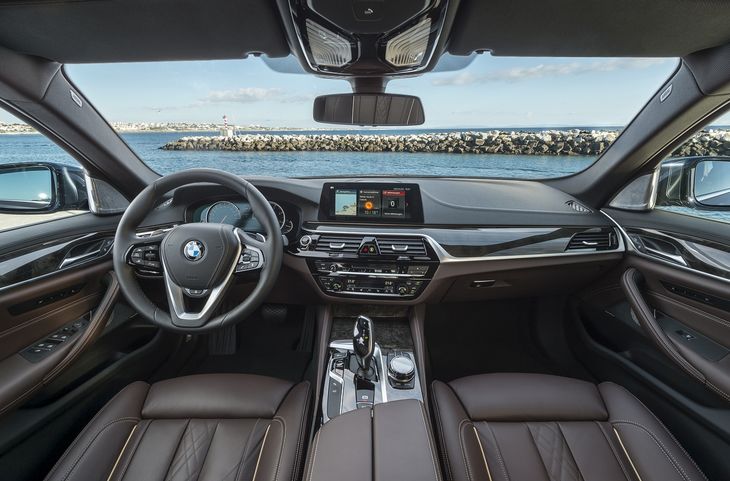 5 Series has gesture control abilities like the 7 Series.
Settle behind the thick-rimmed steering wheel and you're greeted by a typical driver-focussed BMW cabin. Luxury is obviously a large focus of the 5 Series philosophy and, as such, the onboard experience borders on first-class. Again the trimmings, architecture, wrap-around dashboard and TFT dials follow the same design direction as the big daddy 7 Series.
Ergonomics are naturally of the highest order which means the switchgear and controls are precisely arranged and as intuitive to operate as ever. Tech highlights include a 10.25-inch infotainment screen operated via the firm's signature iDrive controller as well as the gesture control system. Like the 7 Series, this system relies on you deliberately swiping your hand through space just ahead of the LCD screen (by means of a 3D sensor fitted in the roof lining) letting you control such amenities as your mobile and audio system without touching a button. It's very cool.
Anything else you need to know? Well, the cabin is almost perfectly insulated from the outside world. The Five is bereft of wind noise even when pootling along at speeds of 120 kph owing to special acoustic glass and aerodynamic body structure. It really is a refined space – brimming with exquisite trim and high-quality materials. It certainly has all the ingredients to trump the cabin-maker kings, Audi and Mercedes, but we'll reserve judgement for the inevitable group test.
Balancing act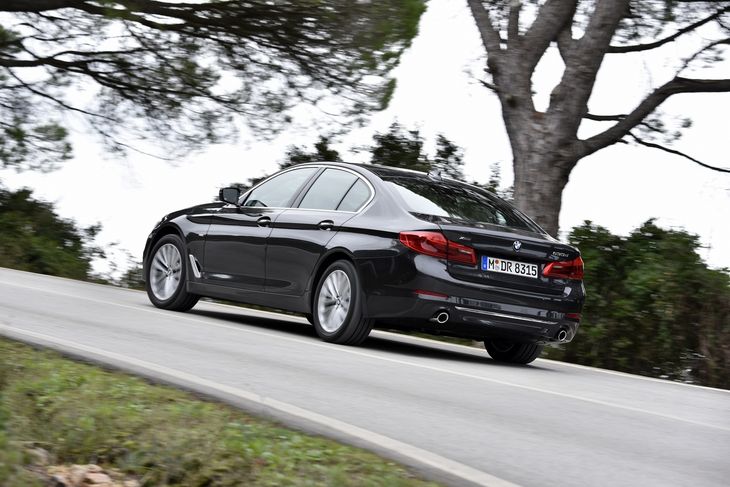 Around 100 kg has been shed for the new car, it's more athletic than before.
Despite the absent carbon fibre core, the 5 Series shares its basic platform with the 7 Series. Thorough use of aluminium in the panels, underpinnings and suspension has resulted in a car 100 kg lighter than its forebear. That may sound insignificant to some but it ultimately aids with agility, performance and efficiency. Apart from racetracks such as Estoril or Portimao, Portugal and its uncomfortably narrow roads isn't the ideal location to showcase a vehicle's handling prowess but the 5 Series is more athletic than you think.
By turning the rear wheels in the opposite direction to the fronts, Integral Active Steering is a chief contributing factor to the heightened sense of agility. As such it feels as lithe as a 3 Series if not as neutral in cornering situations. The steering is precise, well-weighted and full of detail and, together with the near-50:50 weight distribution, instils the driver with confidence in the bends. In terms ride quality the redesigned double-wishbone front axle and new multi-link rear suspension deliver a mix of sportiness and pliancy making it one of the better handling machines in the segment – a good omen for the upcoming M5. Adaptive dampers are optional but highly recommended items.
Six-cylinder showdown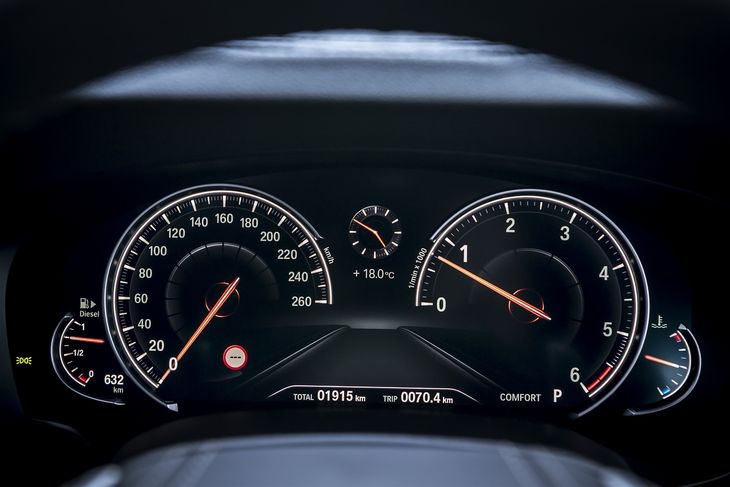 Diesel derivative surprised with its sporting abilities and sonorous engine note.
We drove two models on launch: the 540i and 530d, both of which are impressively powerful beasts. The new 540i is more the performance offering of the two producing 250 kW/450 Nm from its turbocharged 6-cylinder 3.0-litre engine. It sounds incredibly sporty and makes all the right noises. It's quick too and, together with the quick-shifting automatic 8-speed Steptronic auto 'box (standard across the range) it will reach 100 kph from standstill in just 4.8 seconds before topping out at an electronically governed 250 kph.
Despite the sportiness and athleticism of the 540i, it was the 530d that impressed most through the hills of Sintra. In fact, the improved sound deadening and sportier-sounding engine note gave the impression we were driving a turbopetrol rather than diesel derivative. Yip, there's no archetypal agricultural thrum. The heavily revised 3.0-litre turbodiesel mill employs an uprated TwinPower system that's good for 195 kW and 620 Nm of rotational thrust. The sizeable torque figure is available from as low as 2000 rpm – ideal for negotiating sinewy mountain roads. It's also pretty fast. Not as fast as the 540i but good enough to reach the 0-100 kph benchmark in 5.7 seconds. Like the 540i top speed is rated at 250 kph.
Fuel economy? Well, all models are geared more towards efficiency than outright performance so efficiency is very much on par with that of its rivals (6.5 L/100 km for the 540i and 4.9 L/100 km for the 530d). It's also got an Adaptive Mode which predicts an onboard driving style that best suits the current conditions via algorithms linked to the steering and throttle inputs. It's all very clever really.
Final say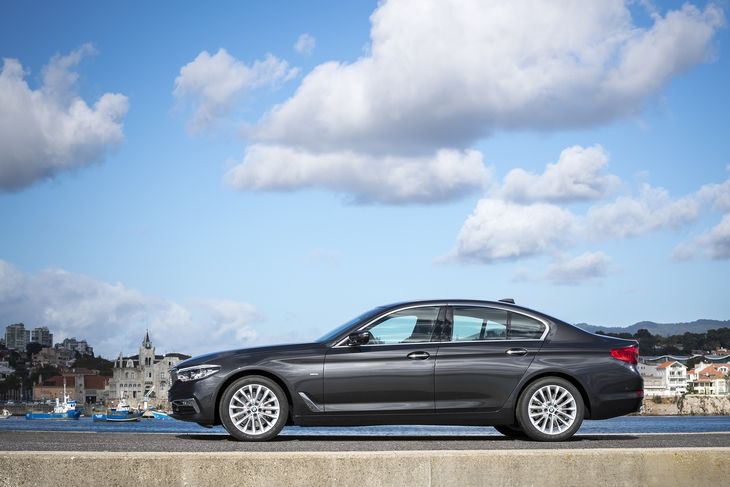 5 Series has what it takes to tackle the E-Class and other segment rivals now.
The new BMW 5 Series has undoubtedly stepped up a gear in terms of refinement, comfort and performance. Where the previous model was left trailing by the wayside owing to newer, more modern offerings from its rivals, the seventh-generation BMW 5 Series has certainly upped the ante and taken the fight directly to the Mercedes-Benz E-Class, Jaguar XF and Audi A6. Has it got what it takes to champion the executive saloon segment? Quite possibly. If you're looking for a car with limo tendencies, sophisticated style, sporty handling and gut-churning performance the 5 Series is the ultimate package. In fact, despite its overt opulence and superlative all-round comfort, it's still very much a bona fide driver's car.
The 5 Series launches in South Africa in February 2017. Pricing is yet to be finalised but expect it to be in line with that of the outgoing model. For now, the model range will comprise the 520d, 530i, 530d and 540i.
Related Content
Comparative Review: (previous-gen) BMW 520d vs Mercedes-Benz E220d (2016)
New BMW 5 Series Shown with M Performance Parts
Can new BMW 5 Series match Mercedes-Benz E-Class for tech?
New BMW 5-Series headed for SA [Video]